20 Stylish Ideas For Decorating Your Kid's Bedroom With A Dinosaur Theme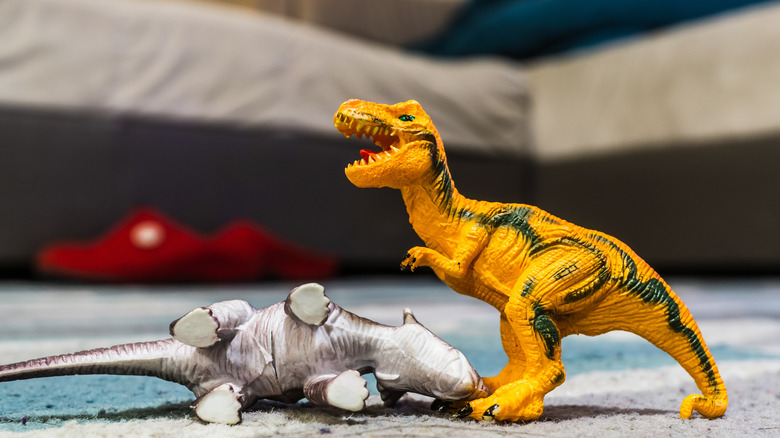 Wirestock Creators/Shutterstock
It's true; most kids have some kind of obsession with dinosaurs. So, if you have a kid who loves prehistoric creatures, it only makes sense to decorate their room with a dinosaur theme. On the other hand, if you want to expand your child's imagination and get them excited to learn along the way, this fun, whimsical theme for their bedroom will be the perfect way to do that.
Motherly says that a dinosaur-themed room can work for just about any age group, from a nursery for your baby to inspiring your big kids. Trang Tran, the museum store buyer at Fernbank Museum of Natural History, explains the appeal to Houzz, calling dinosaurs larger-than-life and such an essential part of history that it's easy to see why kids are so into them. Keep reading to see some stylish ideas for decorating your child's bedroom in a fantastic dinosaur theme. They'll love the décor so much that they may never want to leave their room!
1. A chic display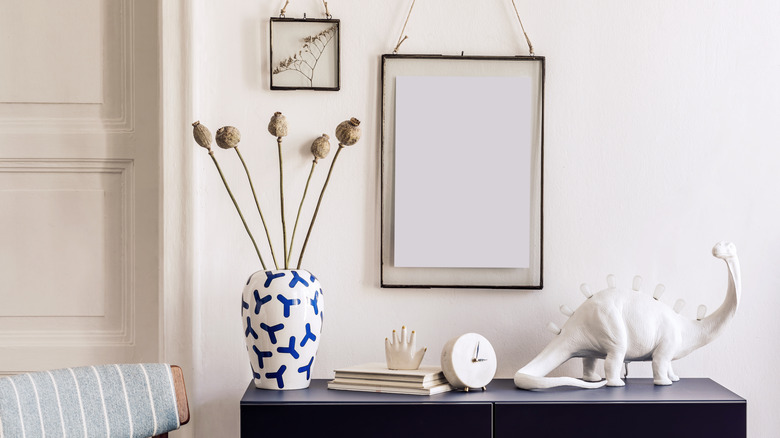 Followtheflow/Shutterstock
We love how chic this dresser looks with an oversized dinosaur proudly displayed and what an upgrade this would be in a dino-themed bedroom.
2. A sweet nursery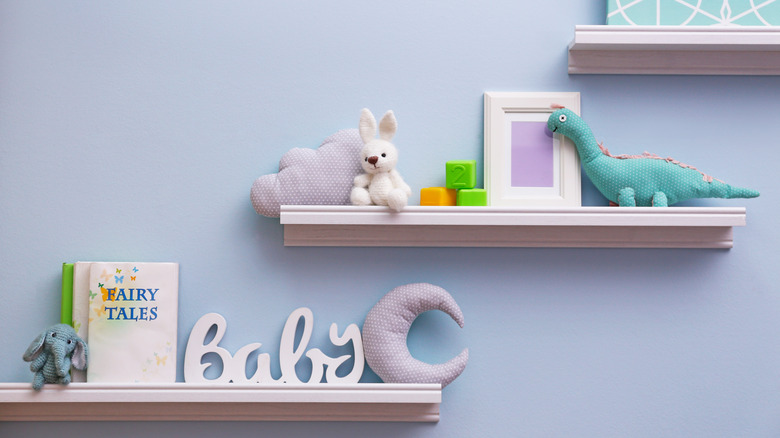 Africa Studio/Shutterstock
Set up a few shelves with your baby's favorite toys, and include a turquoise dinosaur for a pop of color in your nursery.
3. A prominent triceratops front-and-center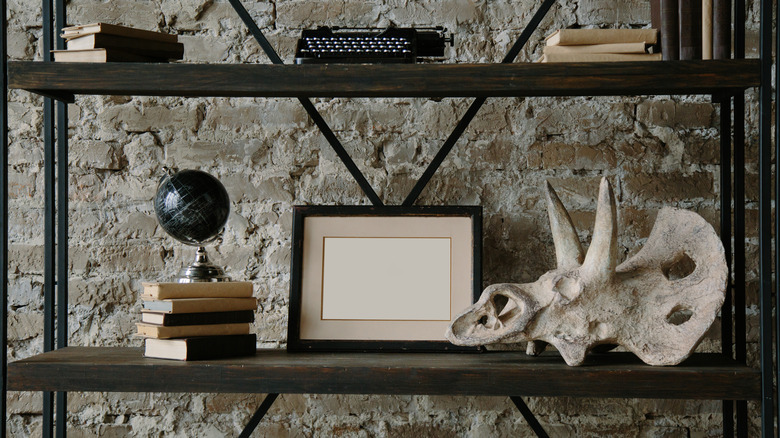 Kate Aedon/Shutterstock
Consider adding a worldly shelf with their favorite educational items if you have an older child, including a plaster replica of a triceratops skull.
4. Muted tones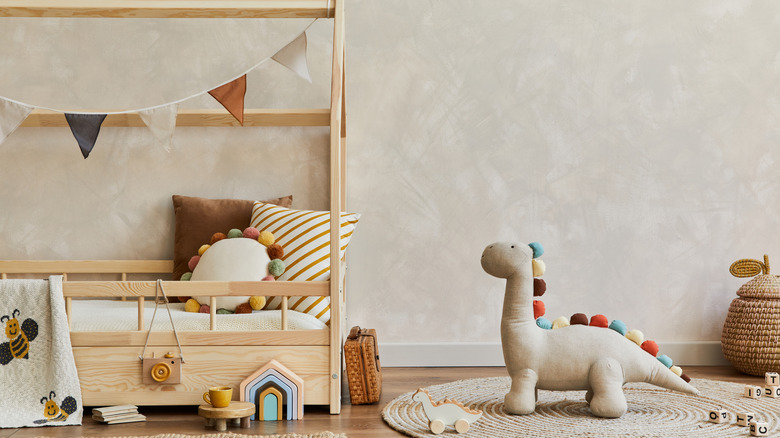 Followtheflow/Shutterstock
Neutral tones can make a child's room feel relaxed, and your dinosaur fan will love this plush toy.
5. Dino-focus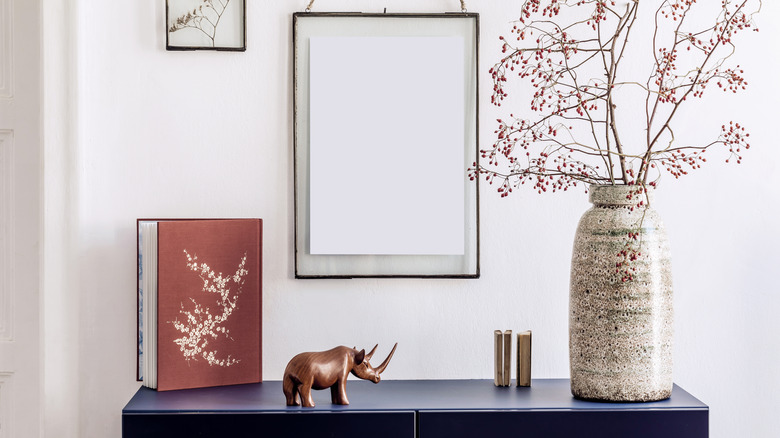 Followtheflow/Shutterstock
Make your child's favorite dinosaur the center of their world by setting it prominently on their dresser. If the toy also matches the rest of the décor, you've got yourself the missing piece of the puzzle.
6. Add a massive shelf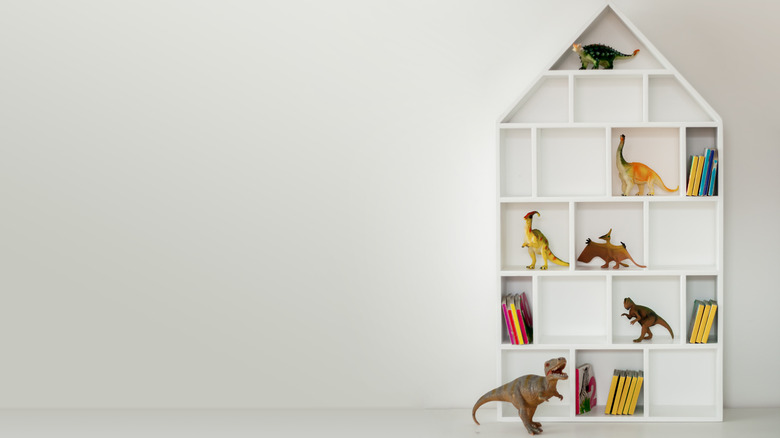 Kat Om/Shutterstock
Kids adore displaying their most precious possessions, so why not get a shelf for them to lovingly display their favorite dinosaurs!
7. Keep them on time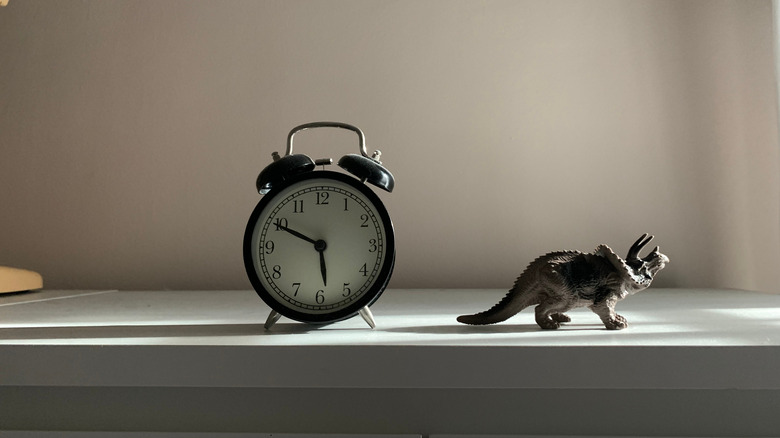 Raziq Abdul Samat/Shutterstock
If your family is like most, your mornings are most likely a rush. So why not give your dino-loving child some morning excitement by displaying a triceratops next to the alarm clock?
8. A bright blue nursery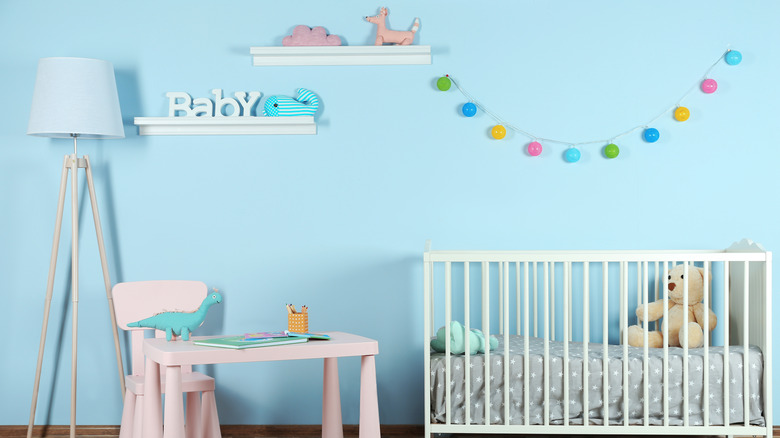 Africa Studio/Shutterstock
If an eye-popping blue nursery isn't enough, there are plenty of sweet reasons we love this room, and a major one is this light blue dinosaur proudly situated on the light pink table.
9. A bold statement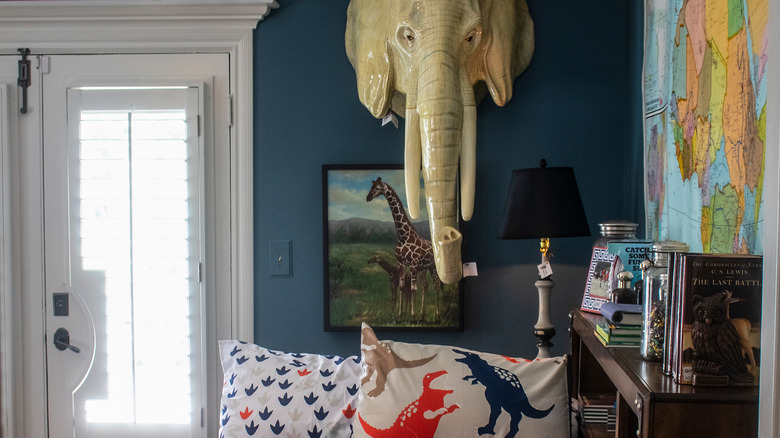 Vineyard Perspective/Shutterstock
Make a bold statement by letting your little one showcase everything they love, including dinosaurs found on the bedding, a massive elephant art piece, and giraffe artwork.
10. Natural elements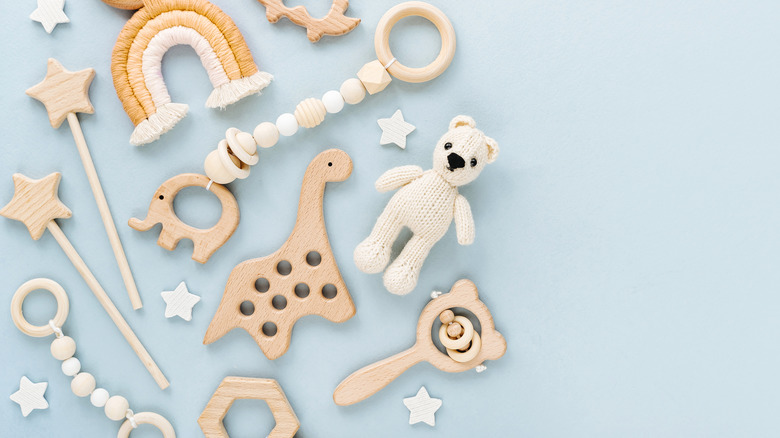 Igisheva Maria/Shutterstock
Beautiful natural wood tones add natural elements to the room, and we are sure your child will love the wooden dinosaur toy.
11. Add a chalkboard wall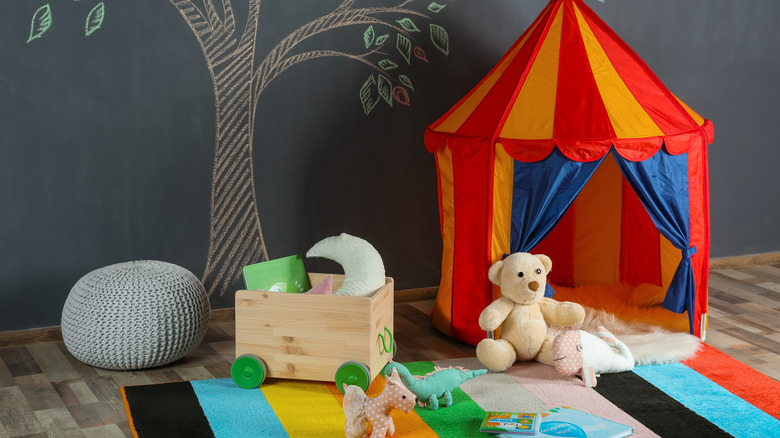 Africa Studio/Shutterstock
If your child loves to draw, adding a chalkboard wall to their room would be a perfect choice. They could even draw their favorite dino themselves.
12. Elegant accessories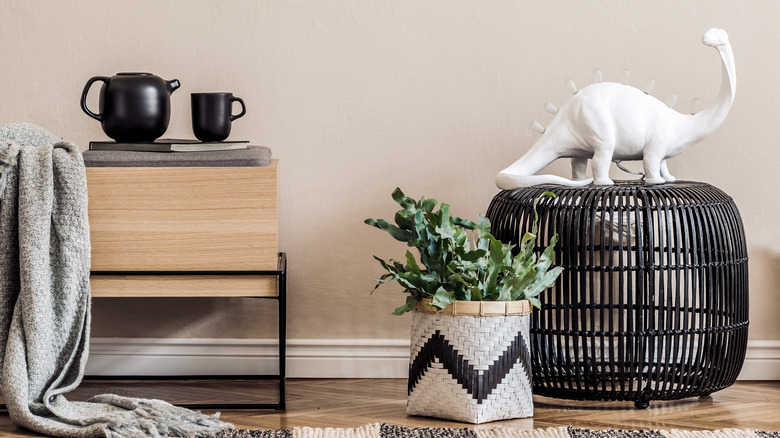 Followtheflow/Shutterstock
This room's interior is so luxe, but if you incorporate a bit of whimsical design with a large dinosaur decoration, we think your child would be amused.
13. A dino party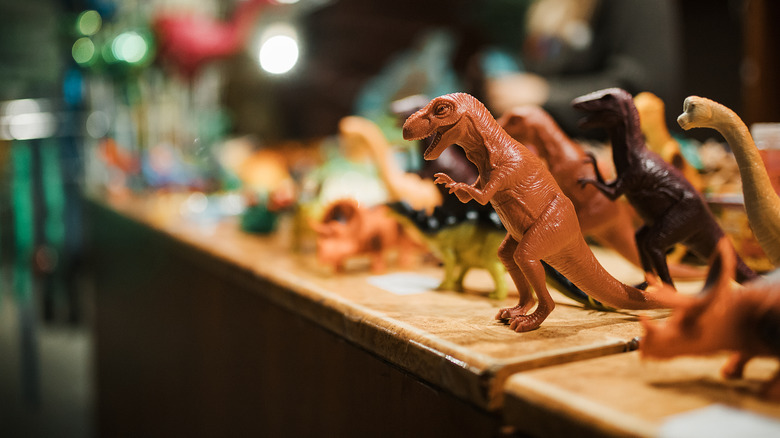 EvGavrilov/Shutterstock
This shelf is brought to life with a variety of dinosaurs that may give some excitement to the morning routine.
14. A fun art project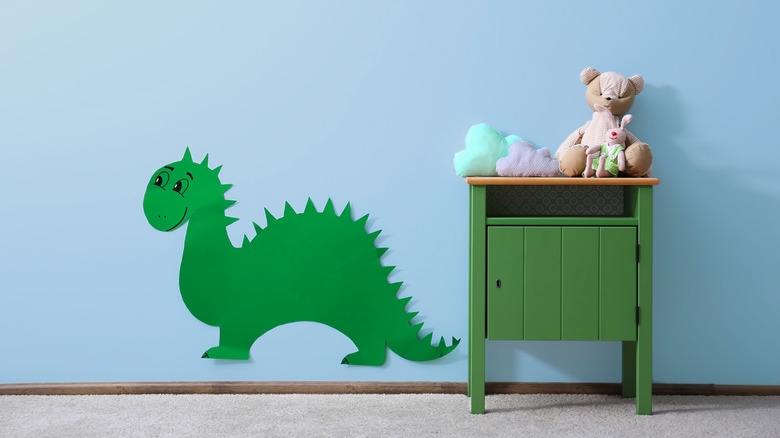 Africa Studio/Shutterstock
If your little one loves the diplodocus dinosaur, we suggest having them create their very own version to add to the wall!
15. Dinosaur showdown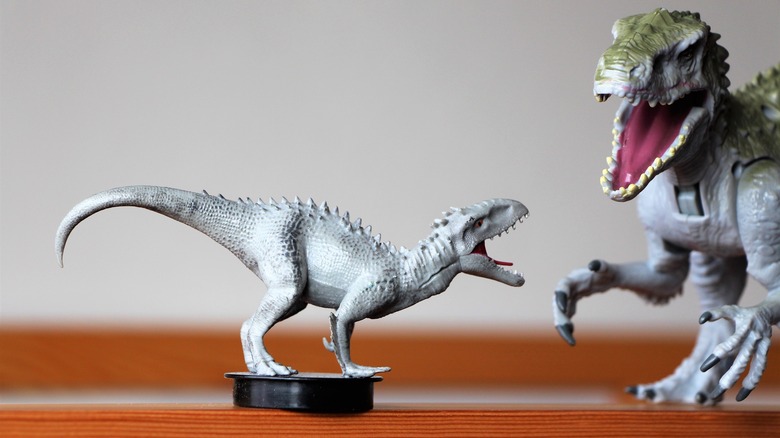 Saowanee K/Shutterstock
We don't think there's a kid on the planet that isn't obsessed with this next breed of dinos. So it's only fitting to have a showdown with an Indominus Rex vs. T-Rex, which could be displayed on a side table or dresser in the bedroom.
16. A dino-inspired lamp
OlgaKhorkova/Shutterstock
If you want to inspire your kid to get that homework finished right after they get home from school, consider adding a dinosaur lamp to their workstation.
17. Room to grow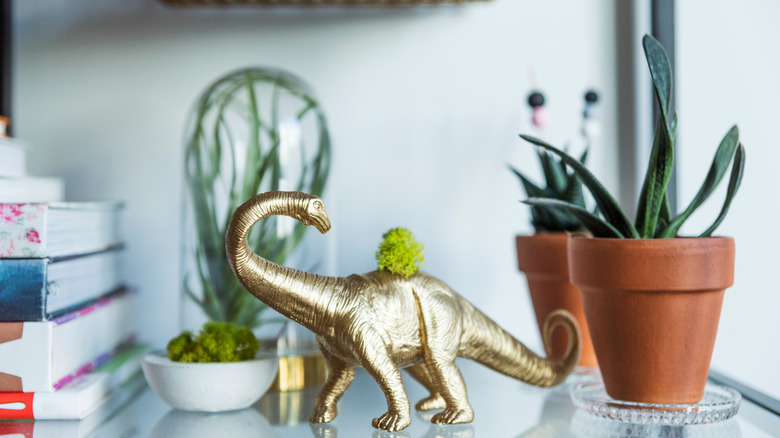 Followtheflow/Shutterstock
If your dino-lover has a thing for plants, you may want to use this idea. Simply spray-paint your child's favorite dinosaur gold and add a succulent for them to take care of.
18. Light it up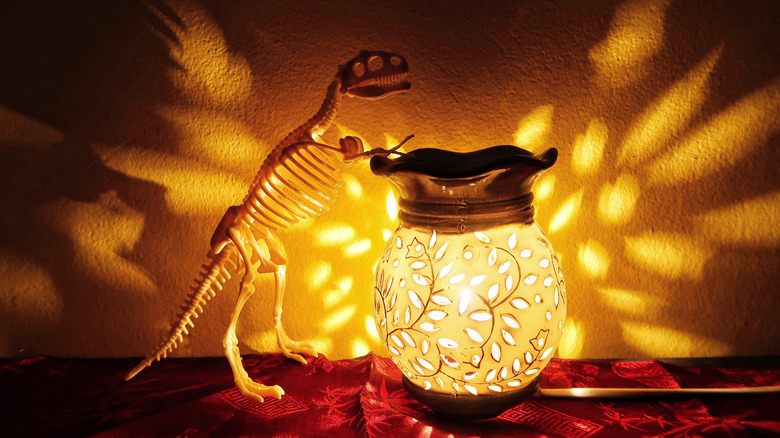 Varot Chuprasit/Shutterstock
We love this glowy option for a nightlight and we bet your child will love being watched over by a skeletal T-Rex, too.
19. A cool dinosaur mural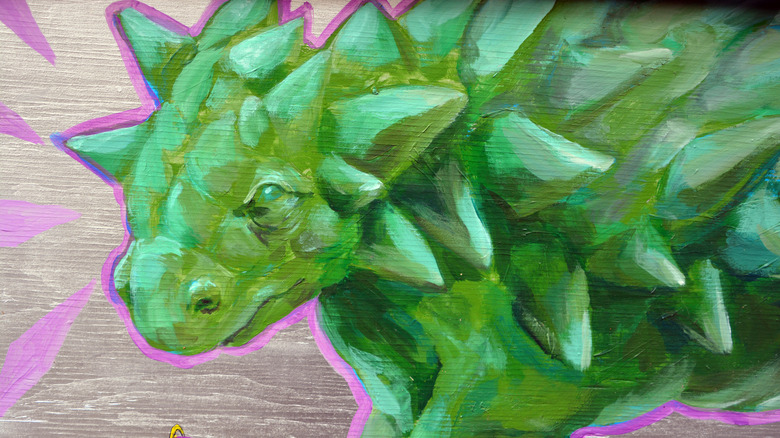 meunierd/Shutterstock
For art lovers, the idea of adding a mural to a wall in your child's bedroom of their favorite prehistoric creature is excellent.
20. A lovely pink dinosaur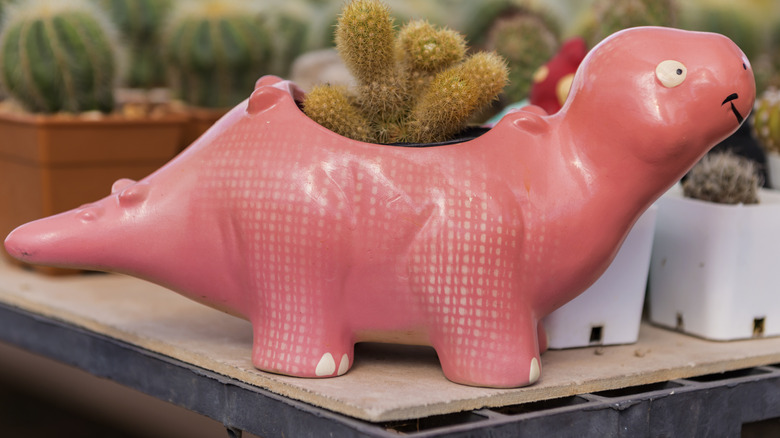 doctor_k/Shutterstock
Kids would love this bright pink dinosaur planter that would be perfect on a side table in their bedroom.