20 Designs For Raised Garden Beds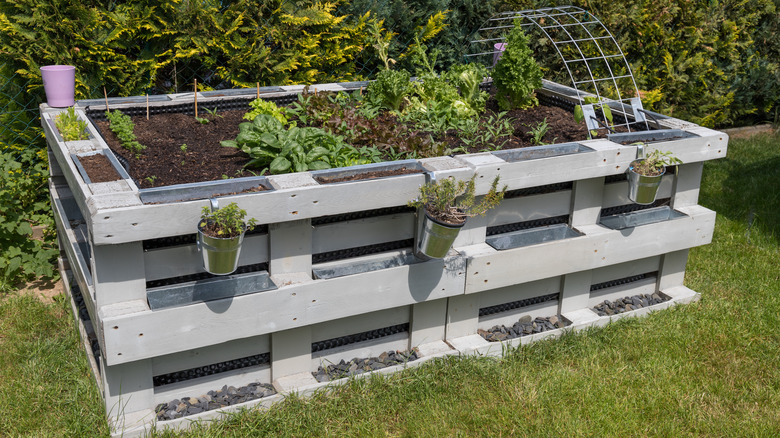 CorinnaL/Shutterstock
With more and more interest in home gardening, it seems like everyone is developing a green thumb and looking to spruce up their backyard. Luckily, you don't need a sprawling lot in order to fuel your gardening passion: Raised garden beds can be the perfect way to grow fresh vegetables or beautiful flowers without taking up too much space.
There are plenty of advantages to using a raised garden bed as opposed to traditional in-ground gardening. Because the beds are raised off of the ground, they can help stop unwanted pests from reaching your plants and keep weeds from growing in the precious soil, according to Better Homes & Gardens. Also, say goodbye to unnecessary bending over; your back and knees will thank you because they are easier to maintain. Now, let's take a look at some raised garden bed designs that could be perfect to start your backyard garden.
1. Create a walkway through your garden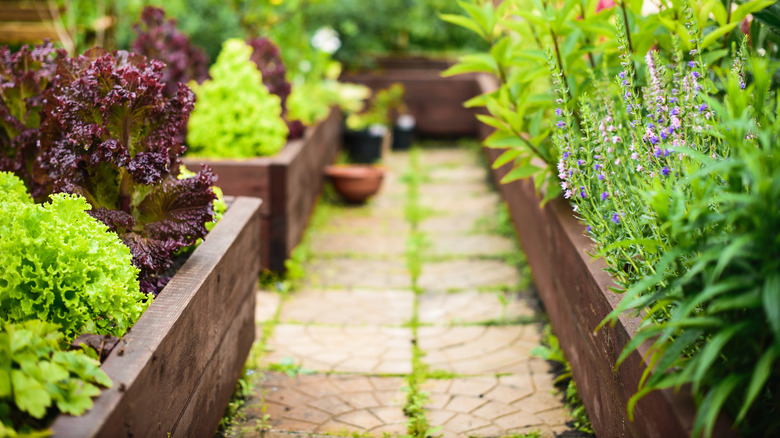 Nadezda Verbenko/Shutterstock
There's nothing better than a stroll through your garden patch. To make the most out of your raised garden area, lay down some nice patio tiles or create a pathway so you can effortlessly make your way from plot to plot.
2. Wooden design with metal siding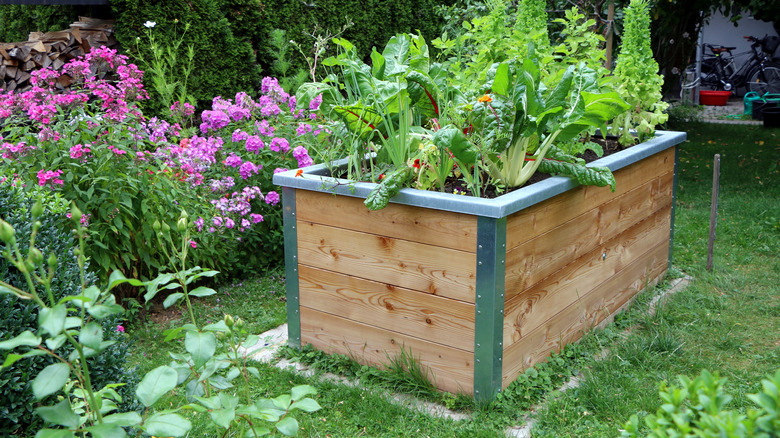 fotofantasia/Shutterstock
A well-constructed wooden raised garden bed can last you a good many seasons. However, if you want to avoid any separation at the joints of your design, make sure to install some metal siding. This will provide much-needed extra support so that your design will get the most use.
3. Fenced-in plot with stone path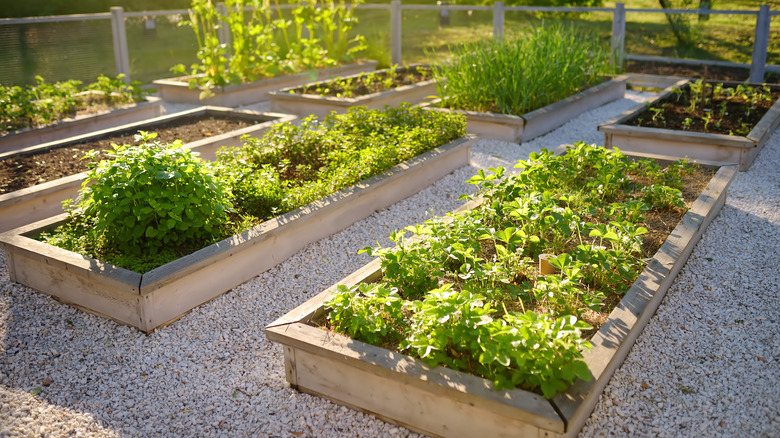 Maria Sbytova/Shutterstock
If you're looking for a way to keep your raised garden beds safe from critters, consider installing a protective fence and laying down some small stones for a path. The fence will help keep out pesky rabbits, skunks, or raccoons, and a thin layer of rocks will stop weeds and unwanted grass from growing.
4. L-shaped raised garden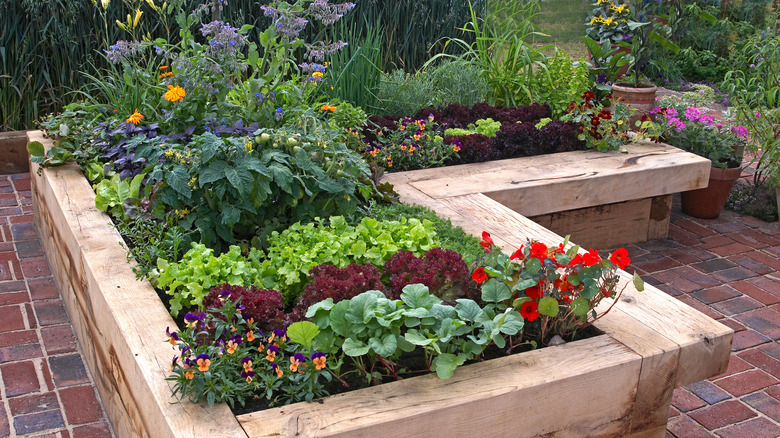 Gardens by Design/Shutterstock
A handy way to make the most out of your backyard garden is to install L-shaped raised garden beds. With this angled shape, you can pop these garden beds into the corners of your backyard or even use them to close off a certain spot where you would like to do your gardening.
5. Raised garden with metal siding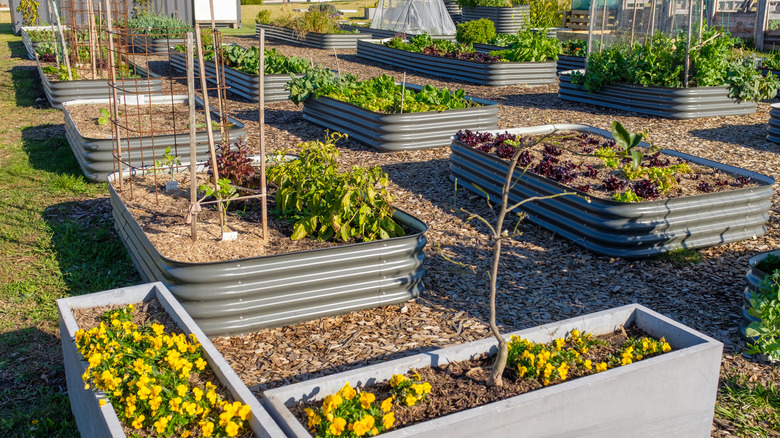 HollyHarry/Shutterstock
One possible issue with having a raised garden bed made from wood is that it could eventually break down over time. However, if you were to design your garden beds using weather-treated metal, you can ensure that it withstands the elements while also looking fantastic in your backyard.
6. Table-legged raised garden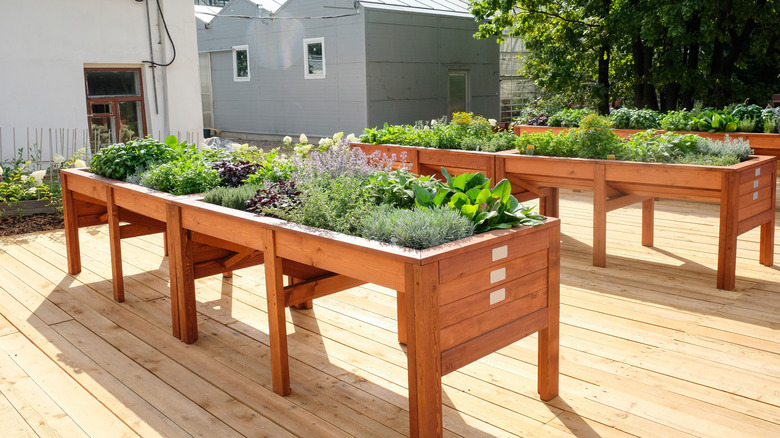 OhSurat/Shutterstock
Try a table-leg design if you need to add some extra height to your raised garden bed. With a taller garden bed, you can eliminate the need to constantly bend over, which could be harmful to your back. Also, the added space underneath can be handy for storing extra soil or garden equipment.
7. Plastic base raised garden
Fellers Photography/Shutterstock
A plastic raised garden bed can be a durable and affordable design for your backyard garden. Not only will the sturdy material hold all of your precious soil perfectly, but it is also fairly lightweight, allowing you to position and reposition the garden bed whenever and wherever you please.
8. Use a creative screen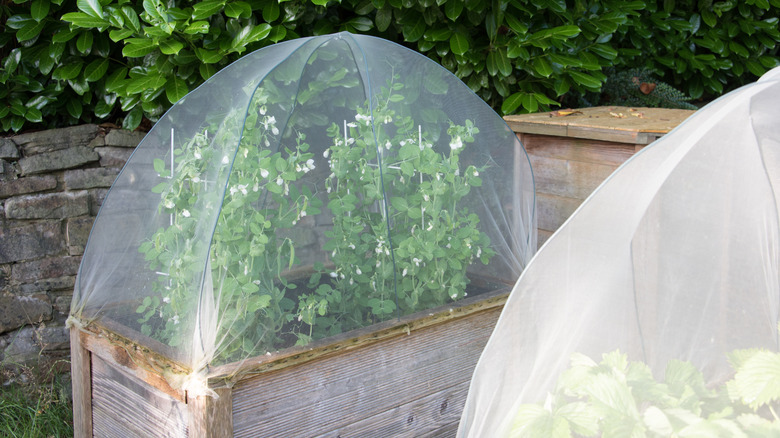 Julia Rauhe/Shutterstock
By installing a special garden screen over your raised garden bed, you can be confident that it will help to keep out squirrels and insects that may want to feast on your beautiful plants. Whether you use a cheese-cloth-like material or a thinner plastic mesh, installation can be easy, and your plants will thank you.
9. Hexagonal raised garden bed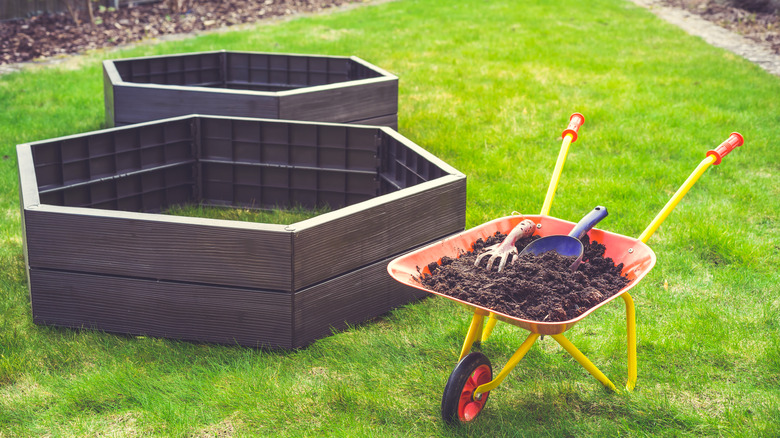 Ingrid Balabanova/Shutterstock
For a different look to your raised garden bed, try going with a hexagonal design. This type of garden bed is easily accessible from all sides; plus, if you have more than one, you can place them together to create a honeycomb look.
10. Tiered raised garden plots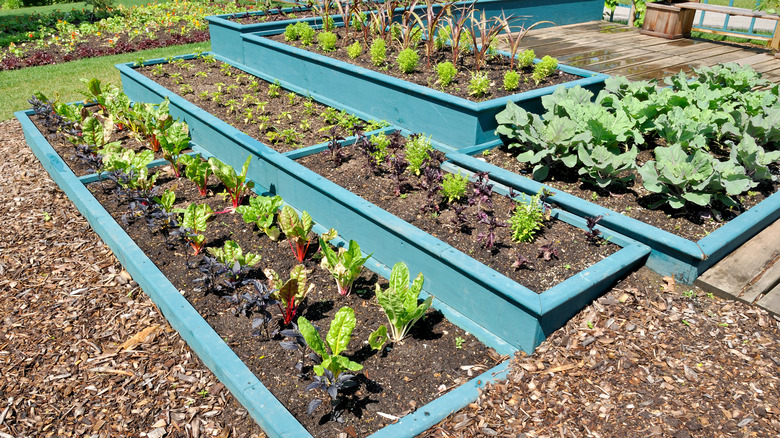 Alison Hancock/Shutterstock
Create an amazing cascading garden by designing a tiered raised garden plot. Not only can this be visually pleasing because you can play with the pattern and colors of what you plant, but it can also be perfect if you have a bumpier backyard or one with more of a slope.
11. Raised garden bed using old pallets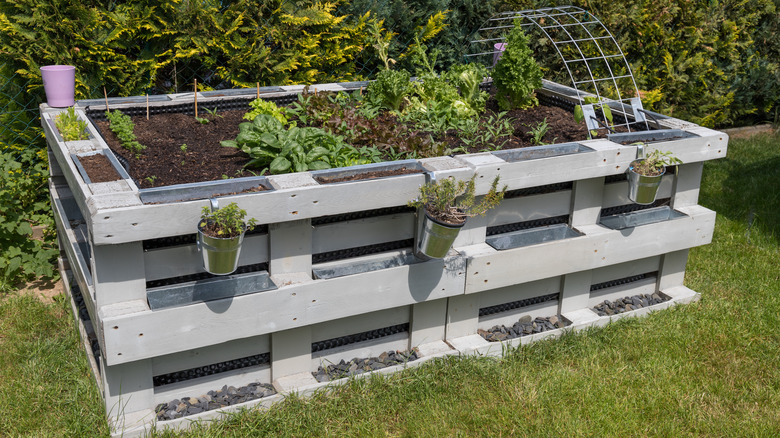 CorinnaL/Shutterstock
It seems as though you can find wood pallets just about anywhere, and they can have a wide variety of uses. These bits of free material can be easily cut and pieced back together to form an attractive raised garden bed. You can also use the extra pockets on the sides to plant herbs.
12. Raised garden against the house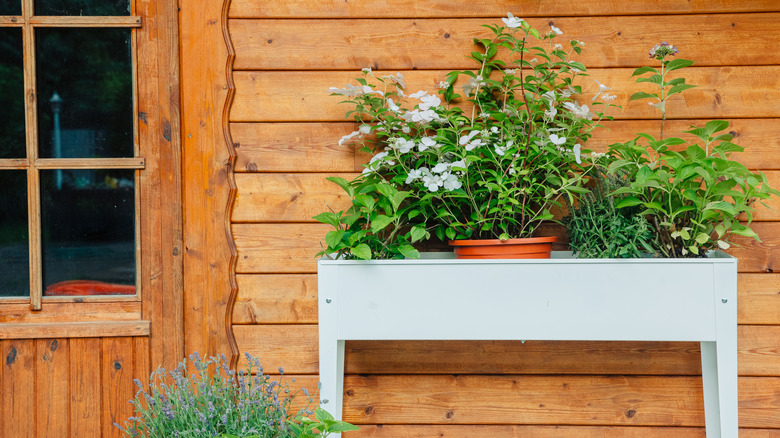 M Gl/Shutterstock
If you don't have the luxury of a big backyard, but you have a green thumb that needs to do its thing, then think of placing your raised garden bed right beside your home. This can allow for easy access from home and add lovely greenery to your outside space.
13. Pyramid-shaped raised garden bed
vaivirga/Shutterstock
A pyramid-shaped raised garden bed is a perfect idea, especially if you are growing strawberries or other plants that need room to move and grow. The stacking pyramid design offers some extra height to your plots and makes it ideal for easy watering.
14. Garden affixed to wall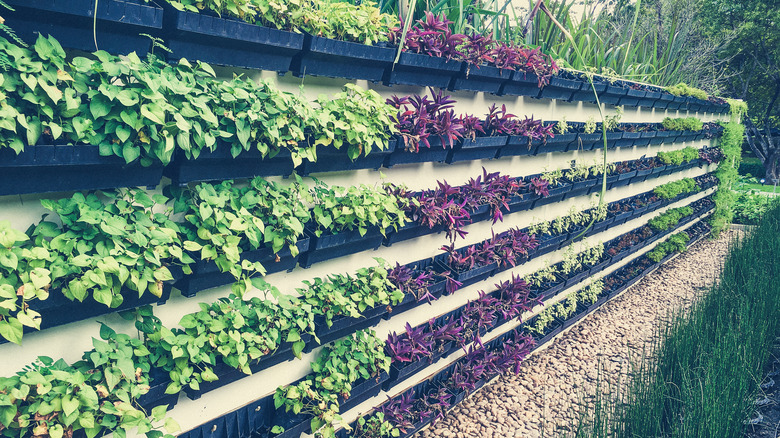 Akespyker/Shutterstock
Make great use of that backyard wall and create your own raised garden wall. By screwing in or hanging planters to your wall, you can design a breathtaking and super-functional garden that utilizes that empty space perfectly. Just make sure to affix the planters to the part of the wall that gets the most sunshine.
15. Tall dresser-like garden bed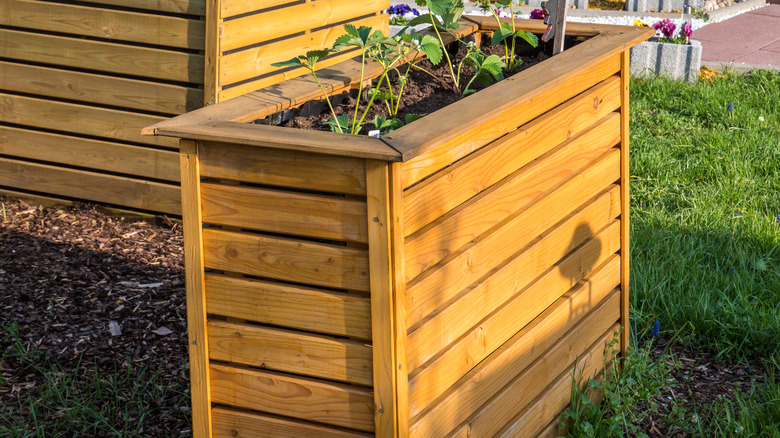 Animaflora PicsStock/Shutterstock
Traditional wood-paneled raised garden beds have an earthy look that can match well with any backyard décor. However, taller dresser-like garden beds offer easier access to your plants plus a more classy look. Additionally, it gives you the option to stain the wood to suit your own personal taste.
16. Raised garden for your deck
Alison Hancock/Shutterstock
What better way to add some life to your deck than to add a full raised garden plot? Luckily, you can design some that are narrow enough not to take up too much valuable patio space. Still, you might be pleasantly surprised by how much color it adds to your décor.
17. Get colorful with your design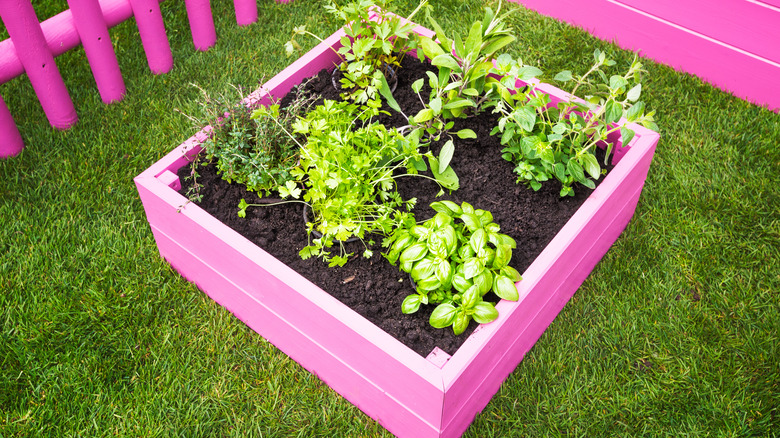 Irina Fischer/Shutterstock
There are no rules saying that you have to stick to the same rustic wood color when it comes to your raised garden bed. Be bold and experiment by painting your planters with bright, vibrant pinks, purples, or whatever makes you happy. To ensure that color lasts, get one that's suitable for outdoor conditions.
18. Install a bench
Gardens by Design/Shutterstock
Let's face it: Gardening can be tough but rewarding work, especially when you're working in the hot sun. That's why it can be beneficial to install a bench into your raised garden bed. Whether it's simple or elaborate, it can offer a nice rest while you work or just a place to sit and enjoy yourself.
19. Provide some shade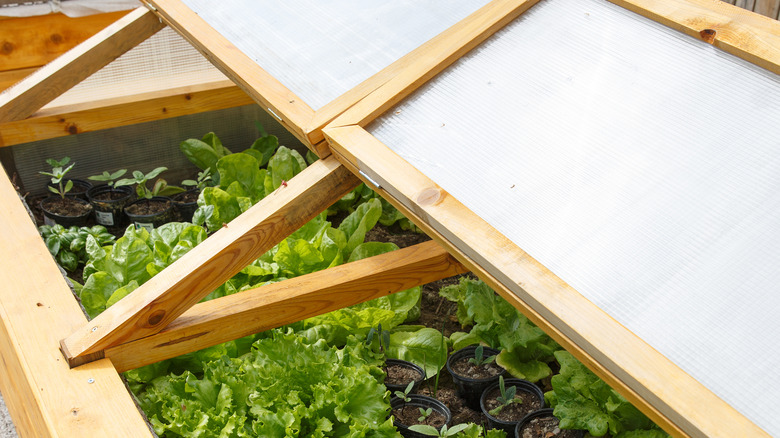 zlikovec/Shutterstock
Depending on the type of flowers or vegetables you are growing, it could mean that your raised garden bed might benefit from some extra shade. By designing a flip-up shade system, you can easily pull it up to allow the sun's rays in or flip it down to limit the exposure to your plants.
20. Get creative with your design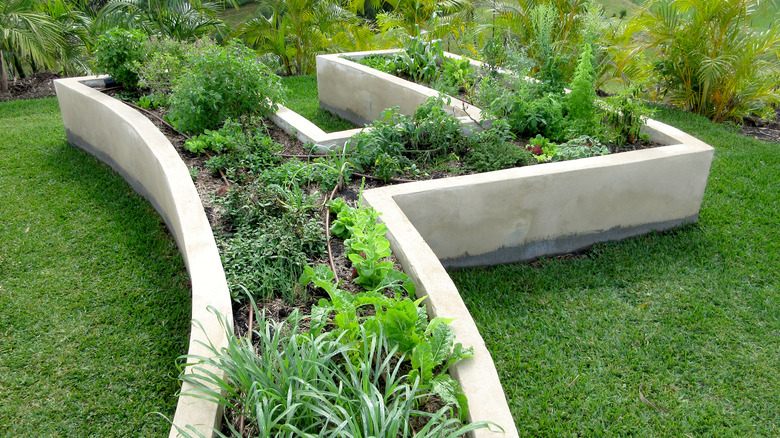 Jen Petrie/Shutterstock
All you need to create your own uniquely shaped raised garden bed is imagination. Okay, maybe some concrete, wood, and know-how. But if you have the will and gumption, you can develop the ideal raised garden design that strays out of the box and matches perfectly with your own special garden esthetic.