Why Some Kitchens Are Getting Rid Of Cabinets Entirely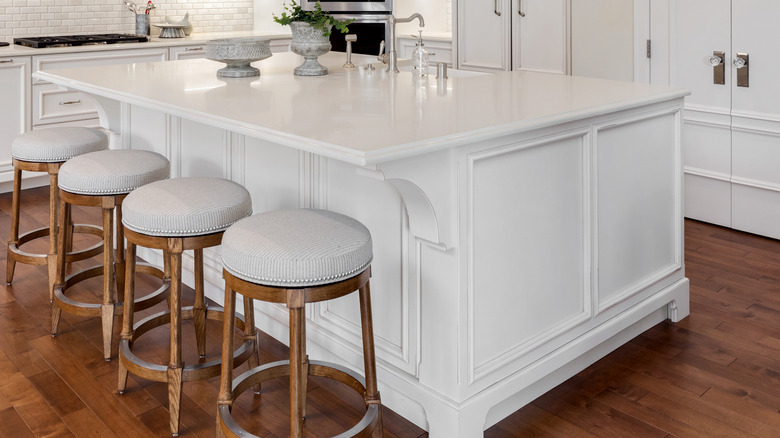 Breadmaker/Shutterstock
As many people know, the past couple of years in a literal plague have contributed to complications for individuals, communities, industries, and institutions. At the same time though, many people from different walks of life seem to crave creativity, connection, and opportunities for personal and property renewal. These desires seem to be evidenced (in part) by the measurable success of improvement-based social media channels, a renewed interest in the do-it-yourself (DIY) spaces, and many more consumer trends. Another offshoot has been a renewed interest in aesthetics. With many people choosing to live at and work from home, as the Pew Research Center reported, home renovations, home remodeling, and overall property revitalization industries have taken off. 
For some people, their focus has been on an overall overhaul in the home space. These folks enjoy finding fixer-uppers and bringing them up to code, per local requirements and regulations. For other people, their approach is more particularized. These people tend to gradually improve their home space by starting with one specific improvement in one space at a time in the home. And still, some people choose to revitalize the common areas of their homes, including living rooms, dining rooms, and bedrooms. 
Open-space kitchens are on the rise
Other people choose to expand their gardens during the COVID-19 pandemic, per The Guardian. Outside of refreshing traditionally shared living spaces and outdoor projects though, other people revamped their kitchens. 
The kitchen, like many other parts of the home, is ripe with opportunity. While it is a dynamic space where many changes and renovations may be made, one such kitchen-refresh trend is the cabinet-free cooking space. Why? For some, the focus is on de-cluttering. One way of de-cluttering a kitchen space is removing cabinets altogether and using alternative forms of storage. 
As Bob Vila reported, some people choose to use storage options including the following: an antique hutch, open shelving units, repurposed crates, shelves and accompanying baskets, vintage locker options, frosted glass fronts, and mix and match choices. Mixed and matched storage units, like mixed and matched color schemes, leave creative space to establish a visually distinct area. As YouTube channel The Kitchen Club emphasized, in some cultures (including for some people of Indian descent) it is common to have kitchens without cabinets.