The Best Candle Scents You Should Have In Your Home Study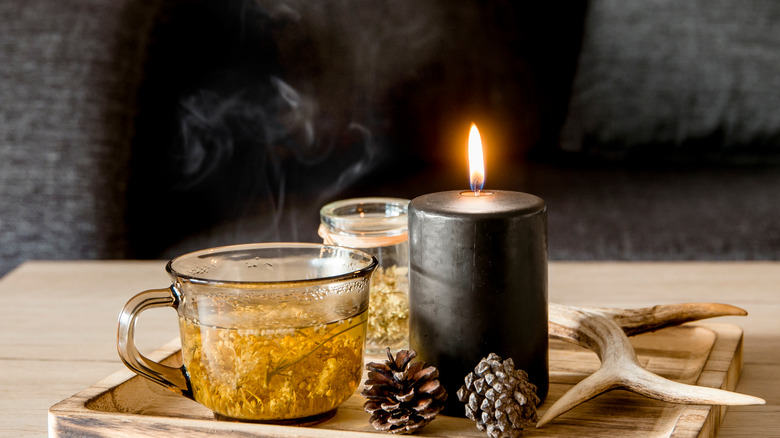 FotoHelin/Shutterstock
Your home study is a place of comfort. From modern design notes to classic furniture fixtures and décor, it's the perfect nook in the home to decorate. In addition, it's a place to take a break from the world, get caught up in a good book, or start on a new project. To that end, a beautiful space is important for those wanting to work or rest in the study. But something equally as important? How it smells. Whether you're working from home in the study, need to boost productivity, or just want to relax, there are scents that will energize, refresh, and heighten the senses.
Certain scents can alter behavior. The first brush with the air when walking into a space determines if someone stays or leaves. According to Mark Moss, the psychology head at Northumbria University, the right aroma can boost cognition because it interacts with brain chemistry (via Quartz). 
Adding a candle to a study not only sets the tone, it also creates a soft space that highlights the room's décor, sparking visual interest. Coordinating candle colors can be incorporated into accent pieces. As for aroma, a pine-scented study allows for a calming space to escape to. Just like walking through a forest after a fresh rain, the terpenols and esters from the needles fill the air with a pine smell, according to Adirondack Almanack. The balsam and vanilla notes from this candle from Dexter & Mason will reduce stress and provide a relaxing atmosphere.
Coffee helps the mind recharge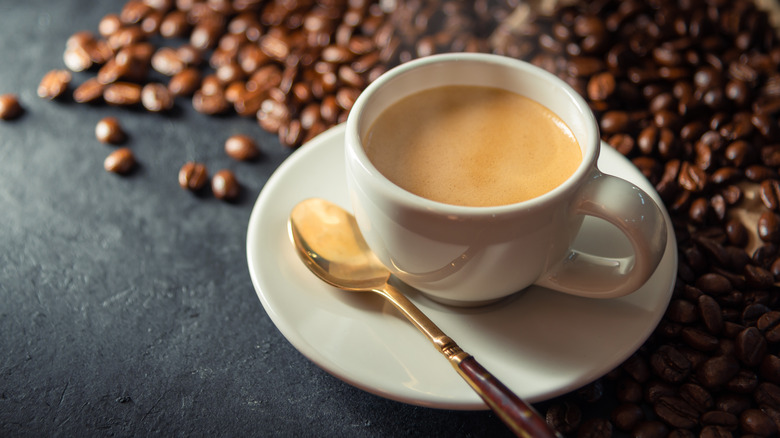 Vizaphoto Photographer/Shutterstock
The crisp, distinctive aroma of coffee beans brewing in the air is something that many people love. It can sharpen acuity and helps the mind and body recharge, according to WebMD. It also rejuvenates the senses, while also creating a sense of calm. This provides the stimulation you need to recharge and focus on the task at hand. 
Adding a coffee-scented candle to the study area is the perfect option. To add style and ambiance, choose a candleholder design that matches the style of your study and home. Check out this lush candle scent from Anthropologie; this espresso scent is a dead ringer for the real deal, giving off the rich aromas of roasted coffee beans with a touch of vanilla undertone. This coffee-scented jar candle creates the ambiance of cozying up in a corner coffee shop and sipping on a foamy latte or crisp, black cup of java, generating the perfect setting for tackling a project. 
Citrus scents help improve mental stamina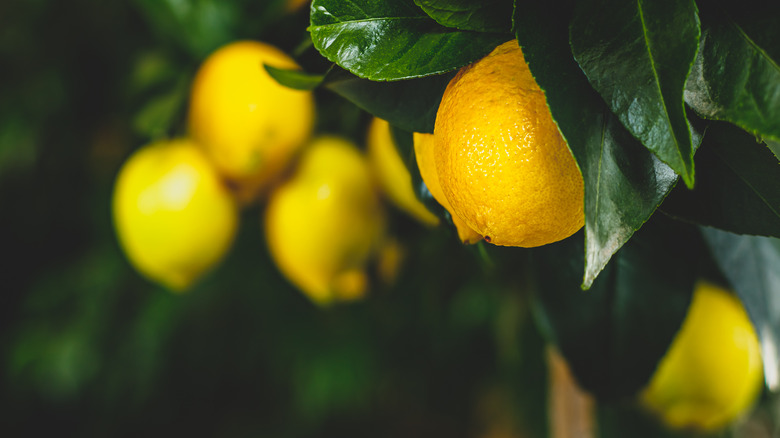 nnattalli/Shutterstock
Sometimes a little pick-me-up is all we need. To that end, getting a whiff of a zesty and fresh citrus orchard can invigorate the senses, per Well+Good. Specifically, tones of orange, grapefruit, lemongrass, and verbena can spark mindfulness. Choose a soy-based candle that gives off good scents like this Citrus and Basil candle from Hobo & Co. It has highlights of lime and mandarin with an herbal undertone of basil. This fresh scent is perfect for the study. Additionally, you can also boost mental stamina by adding a splash of color to your space, as noted by Healthline. Choose citrus candles that are bright yellow or that have a tropical hue like green or orange. This creates a dramatic effect on coffee tables and shelves in the study. 
Candles should be a pivotal component of every home study. It is the finishing piece of each room of the home and creates the perfect ambiance. The great thing? Scents can be changed up as the mood fits. Different aromas provide the necessary components to help uplift your mood and bring forth a sense of fulfillment throughout the day.