Why You Should Use Your Vacuum Cleaner To Clean Your Blinds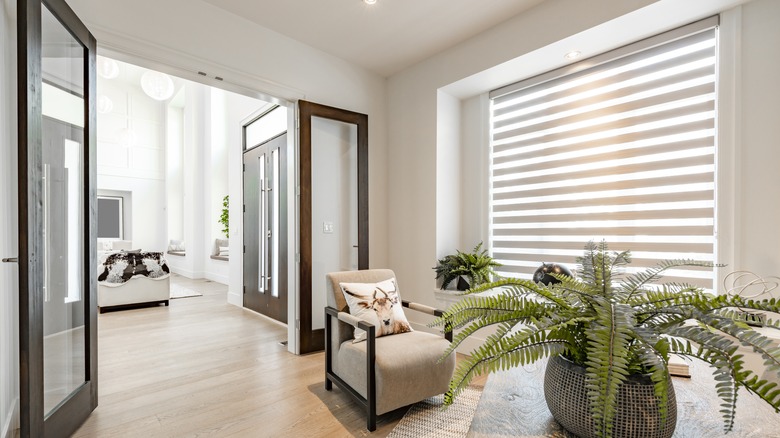 Sheila Say/Shutterstock
Windows are often one of the main focal points and defining features in a room. Therefore, you always want that area in your home to shine! If you choose to accent that space with blinds, they serve to filter light and provide privacy, but can also enhance your aesthetic and help pull design elements together. No matter what material they are made from, the goal is to keep them spotless and presentable.
Over time, the slats and rods on blinds can gather dirt. Because light shines directly in this area, dust fibers become more prominent to the naked eye. Debris can travel through the air each time the HVAC unit is turned on, or simply when a light breeze circulates. According to the AAFA, things like pet dander, allergens, dust mites, clothing fibers, and soil particles can accumulate on many surfaces, requiring thorough cleaning. 
The ultimate goal in any home is to create a welcoming living environment that is odor and bacteria-free. While there are many methods you can use to tackle dirty blinds, AchooAllergy.com emphasizes that there is one tool that is indispensable — the vacuum. When it's time to clean, you should always reach for your vacuum cleaner first. Read on to find out why.
Always vacuum first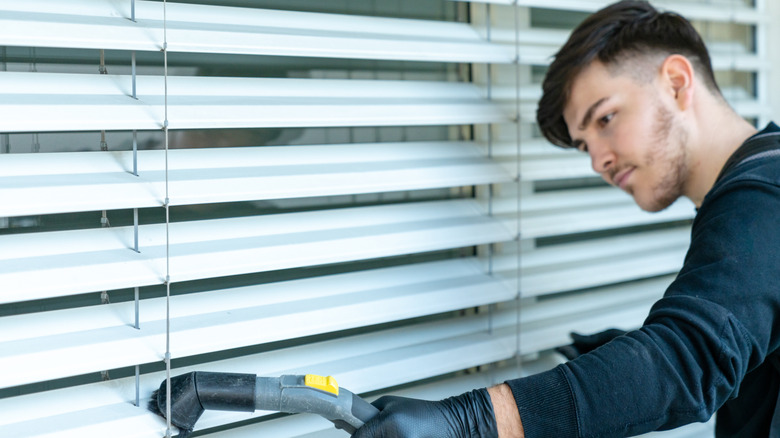 Beyond This/Shutterstock
When tackling a routine cleaning job, often the main goal in mind is to eliminate dirt and dust. In certain rooms, particularly the kitchen, mess such as grease can stubbornly cling to surfaces, leaving behind a sticky residue that is difficult to remove. Obviously, this can make cleaning a challenge. Blinds, in particular, seem to attract a great deal of loose debris that floats through the air, eventually building up an unattractive layer of grime. According to the EPA, all air both indoors and out contains particulate matter such as these, but regular cleaning can reduce their impact. 
For tough jobs, cleaning your blinds is a two-step process. First, suck away surface dirt and debris with a vacuum, and then follow up with an antimicrobial cleaner. If you try to wipe things down before vacuuming, you'll simply spread many particles around, creating a bigger mess. Instead, use a brush attachment to first remove the loose debris from the surface. Wiping a damp cloth afterward will remove any remaining, stuck-on residue, and the antimicrobial cleaner will also sanitize the surface to help prevent future build-up, explains NIPC. If you notice your blinds are really dirty each time you clean them, try vacuuming them more frequently – Molly Maid recommends at least once or twice a week. 
Try using additional attachments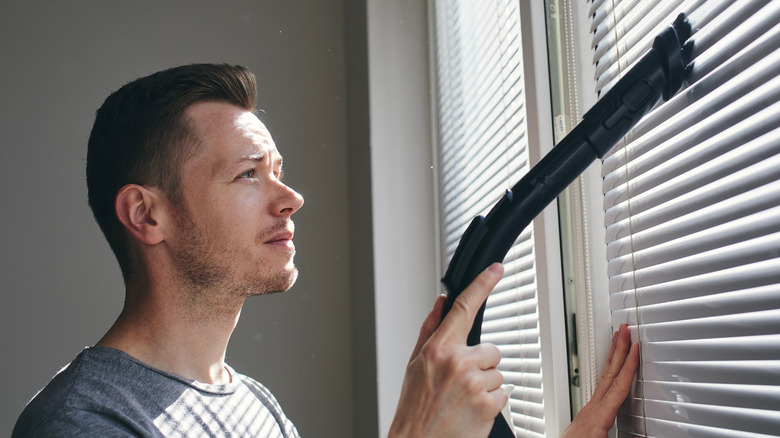 Jaromir Chalabala/Shutterstock
Though necessary, lugging out a big vacuum every week or more to clean your blinds can feel like a real chore. If you're looking for a solution, try choosing a lightweight vacuum model to combat dust in between deeper cleanings. The Shark Rocket Ultra-Light is a good featherweight model that still packs a punch when cleaning. Bagless, weighing under 9 pounds, and complete with a hand-vacuum attachment, it makes maneuvering into all kinds of nooks and crannies easy-peasy. 
While a brush attachment helps loosen up stubborn dirt, the crevice and upholstery tools are also handy to try out. Some vacuum models, like the MOOSOO K17, have a plethora of attachments that are designed to target hard-to-reach spaces such as blinds. It also converts to a handheld model to make blind cleaning a breeze.
For more sensitive individuals, indoor air pollution can be a real problem. According to the National Center for Healthy Housing, dust can cause or exacerbate health conditions such as allergies, asthma, and other respiratory problems. Though vacuuming helps reduce these airborne triggers, it also lets off some dirt exhaust during use. Thankfully, a HEPA filter vacuum attachment can trap this exhaust and prevent it from re-entering your home, states WebMD. The result? A cleaner, safer home that is both visually pleasing and odor-free.