10 Furniture Ideas For A Shabby Chic Inspired Home
Shabby chic is the ultimate feminine and cozy decorating style. House Beautiful explains that the term originated in 1989 as the name of a California boutique. Its concept was inspired by lovely and faded cottages and their gardens, mixing high and low pieces, and embracing patina. It was a fresher, more glamorous take on the Americana country style that dominated stateside interiors throughout the '80s. Shabby chic is also an alternative to the bold modernism that had also been popular, and it quickly went '90s viral.
White wood, plush upholstery, and sun-faded colors are hallmarks of shabby chic. The look can be easily overdone if one believes in too many ruffles and roses, and it fell out of fashion as the aughts ushered minimalism and mid-century into the decor mainstream. In response to years of stark lines and neutral schemes, favor for softer, homey design is resurging. Here are 10 must-haves for creating the shabby chic look at home.
1. An antique chair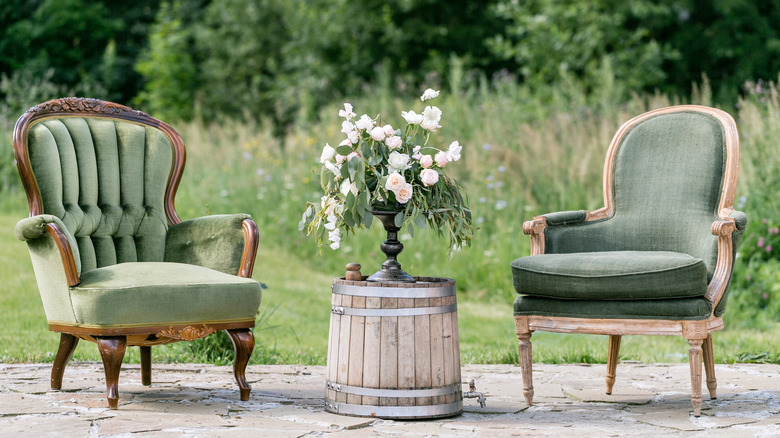 Fusionstudio/Shutterstock
An antique chair offers comfort, a vehicle for color or pattern, and a place for a favorite throw pillow. This sage green appears perfectly sun-faded, and the wood is nicely aged. Buy a reproduction or grab one second hand; according to The Spruce, you should clean and disinfect used upholstery pieces.
2. White and light painted wood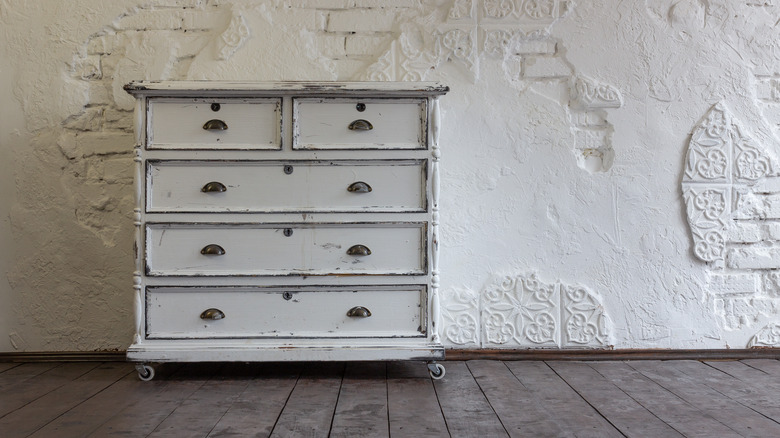 Refat/Shutterstock
Wooden furniture, flooring, and interior trim painted in shades of white or light colors are popular elements of vintage-chic design. The finish must be rubbed, chipped, or otherwise distressed, whether authentic or faux, to impart a worn and lived with feeling.
3. A faux fireplace
Nothing says cozy like a fireplace. Architectural salvage shops, antique stores, and flea markets are good places to look for a mantle; or one can be constructed from wood or brick veneer. Imitate the feeling of the real thing — which is just a warm and glowing focal point — with candles or fairy lights nestled among birch logs.
4. Tufted upholstery
Tufted upholstery references a bygone era. Because the cushions (or lack thereof) don't provide much plushness, you'll want to add throw pillows for layered and shabby chic comfort. This piece has graceful lines highlighting a feminine aspect and a light fabric fitting for the style. Upholstered headboards are a modern way to use tufting in bedroom decor.
5. An iron bed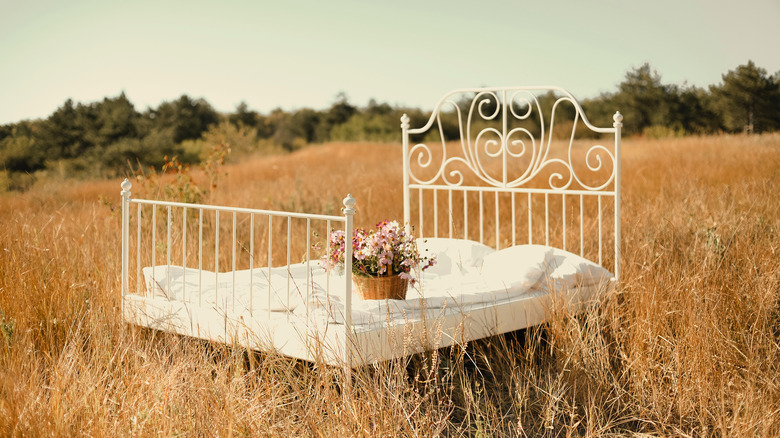 Dasha Petrenko/Shutterstock
An iron bed is another relic from the past that has new fans. Dress it with linen sheets, a pretty blanket, and a cozy duvet; keep it simple or go "The Princess and the Pea" with your bedding layers. A bed skirt and slumbering pets up the coziness factor.
6. Lacey textiles
Lace tablecloths and doilies have an old-fashioned appeal, and they also conceal marred surfaces. Create a subtle tablescape with white dishes, or mix china patterns on top of lace for a maximalist approach — and don't forget the floral centerpiece.
7. A dresser vanity
Swap out home super-store and builders' bland vanities for something unique. Antique dressers can be retrofitted with a sink and faucet. Or simply use them for extra storage, as shown here; if going with a dark painted finish, make sure it has some patina.
8. Garden furniture
A wooden garden bench works fabulously in an entrance, mudroom, or hallway and helps bring the outdoors in. Again, add throw pillows or drape a faded textile over the seat. Use an iron patio set as a charming breakfast spot; vintage sets already have great patina.
9. Slip-covers
Slip-covered upholstery has a relaxed, country-chic style, and the down-filled and synthetic down sofas are luxuriously comfortable. Sometimes slip-covers are strictly decorative; If you're shopping, ask whether they're removable and washable. They can be purchased for existing pieces too — great for hiding tired cushions.
10. A china cabinet
China collections often showcase decorative and floral motifs; roses are the shabby chic favorite. Put their color and pattern on display, mix in dried botanicals, mini oil paintings, and other treasures to create a practical cabinet of curiosities. Not just for the kitchen and dining room, this versatile storage piece works in a hallway or living room.