15 Ways To Decorate A Bar Cart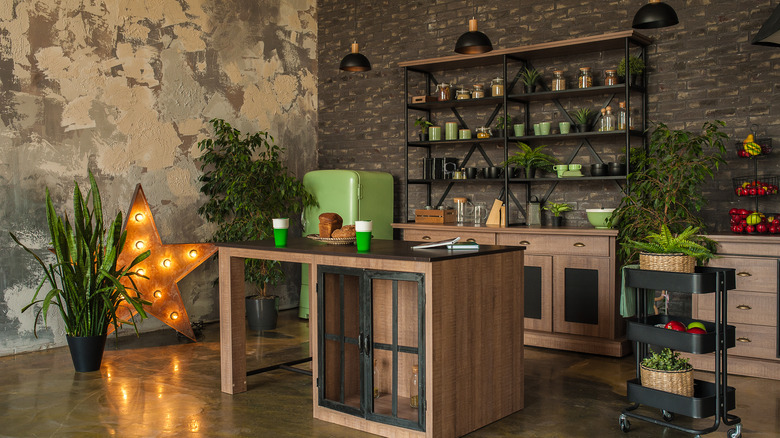 travin_photo/Shutterstock
One of the best things that come with adulthood is owning and styling your home bar cart, and according to Pep Lifestyle, you haven't reached the peak of maturity if you don't own one. There are so many items you can use to style your bar cart, and the fun part is you can be as creative as you want to be. Whether you change it up every season or keep it the same, there are various ways to decorate and design your bar cart. The only thing necessary to keep in mind is that your bar cart should match your personality and home décor style. Treat your bar cart like any other piece of décor or furniture in your home and invest in its appearance. Your bar cart should represent you whether you mix and match, go crazy, or keep it simple.
You can use several objects to decorate the bar cart that you've probably never even thought of, so get down, dirty, and creative. You have various décor items to work with, so use them to your advantage. Go for the bar cart style that suits you best and make your bar cart a stylish work of art in your home. Here you can find 15 inspiring and trendiest aesthetically pleasing bar cart ideas to ensure your cart is one for the books.
1. Candles
Candles are one of the best options for bar décor because they're easy and elegant, and you can match them with any theme. They are a bar cart necessity. Give your bar cart an old, Hollywood look by going for taper candles that match the overall décor.
2. Glassware
Glassware is like art, and you should treat it as such. Take advantage of your best pieces and organize them according to each type. Then, display your best glassware to give your bar cart a more luxurious, classy look.
3. Plants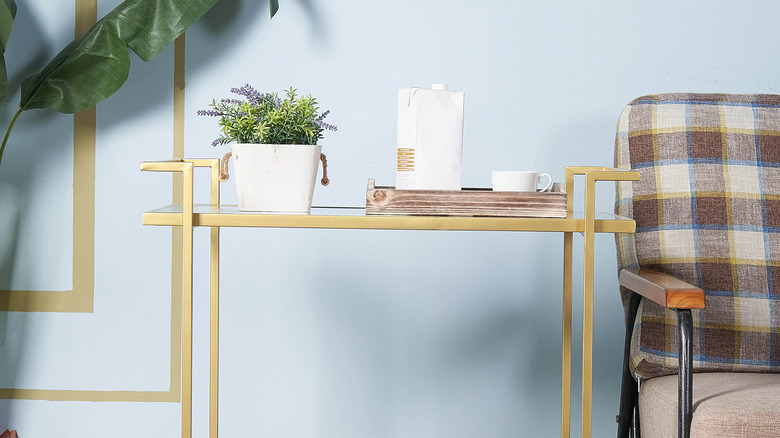 Alona Siurmenko/iStock
Your plant babies need a happy home just as much as your alcohol, so why not make an inspiring space into one. Create your bar cart style by adding some plants alongside your cart to compose an earthy, relaxed vibe.
4. Bartender kit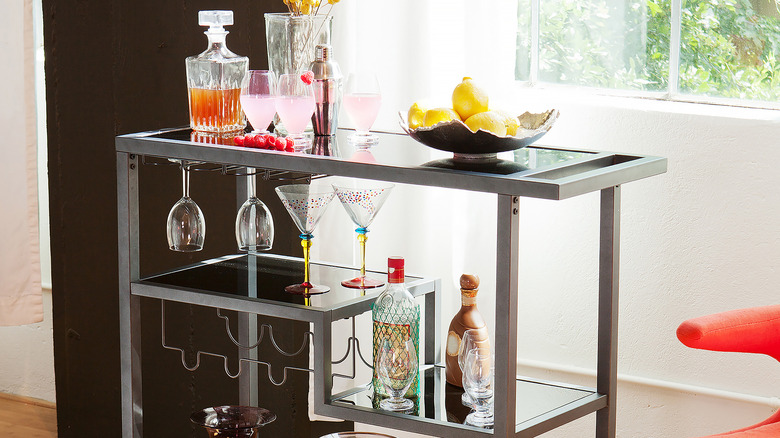 Alona Siurmenko/iStock
If you don't already have one, this is your sign to get a bartender kit for your bar cart; no bar trolley is complete without a bartender kit. So what are you going to use to make fun drinks and cocktails?
5. Tray
Trays are your best friend when it comes to home décor. You can keep it stocked with liquor bottles or glasses on it, and they'll have anything look elegant, making them the perfect place for a bar cart.
6. Artwork
Who doesn't love using art for home décor? Art makes any piece of furniture look extravagant. Consider hanging a painting or two behind or above your bar cart to match the style of your bar cart.
7. Party décor
What's a party without a bar cart? Liven up your bar cart and make it stand out by choosing a party theme like the one shown. Add a pop of color like the champagne glasses to give your loved ones an experience when they come over for drinks.
8. Signs
Make your bar cart look cute, fun, and festive by adding a sign with lights or chic letters to spark a happy mood every time you get a drink.
9. Color coordinate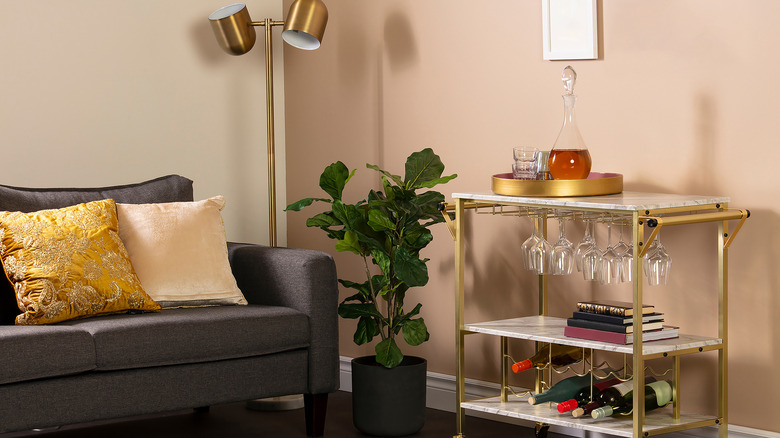 Alona Siurmenko/iStock
When it comes to styling your bar cart, color coordination is your friend because you want your bar cart to match the room's theme. Of course, every piece doesn't have to match, but having minimal items of the same color, like the flowers, books, and furniture, is a good way to coordinate the room and bar cart.
10. Vase with flowers
You can never go wrong with flowers, especially in a pretty vase. So add some fresh flowers to your cart to brighten up the room and add a beautiful touch of décor.
11. Books and magazines
An easy way to fill up extra space on your bar cart is by using books and magazines. It fills the extra space and gives your bar cart a sophisticated, chic look.
12. Fruit
Fruit adds a lovely, soft touch of décor and color to your bar cart. Not to mention, it looks extremely pretty and elegant to see in a bowl or, even better, as a dispenser for guests. The vibrant colors will stand out, and you'll receive many compliments on your display.
13. Make it vintage
Bring it back to the 60s and 70s and put on some old-school music whenever you're in the mood for a drink. It's a good way to fill up extra space and create an old-school aesthetic.
14. Mirror
Mirrors complement the décor of any piece of furniture, and bar carts are no different. A mirror is always a plus, and let's be honest, who doesn't like glancing at themselves every once in a while?
15. Rug
A stylish rug is just what your bar cart needs to create cozy scenery. Consider investing in a cow rug that matches your bar cart to blend the décor together. Your bar cart will look cute, relaxing, and extremely inviting.