40 DIY Bookshelf Ideas That Will Inspire Any Reader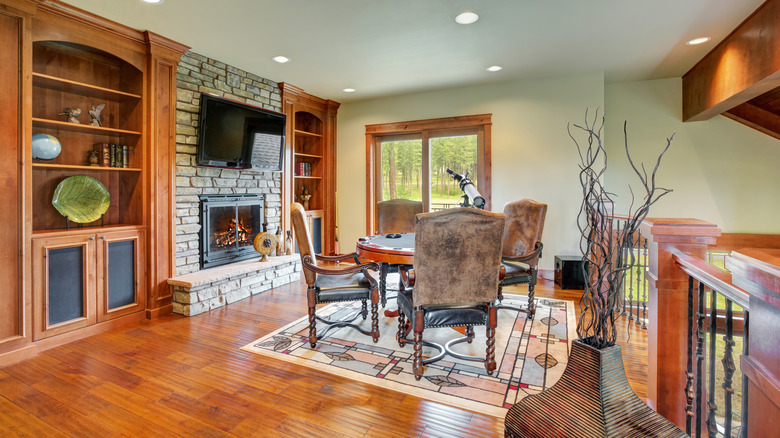 Artazum/Shutterstock
If your perfect idea of a cozy night at home includes curling up on your sofa with a good book, we couldn't agree more. We can't think of anything more pleasing than creating a comfy nook in your home for a relaxing session of flipping through the pages of a captivating book. When doing so, consider having your DIY bookshelf within arm's reach to indulge in your next page-turner.
The Spruce notes a DIY bookshelf is an excellent way to freshen up a room, but the real bonus is that it's a great way to have extra storage for your favorite items. Oprah Daily explains that you can create a dreamy freestanding bookshelf in a weekend with some elbow grease, from putting together wooden crates without tools to turning an old wardrobe into a spot for your favorite books; there's an idea for every skill level. Bookshelves are also an excellent way to add character to your home, especially since many older houses have them.
Keep scrolling to get inspired by these DIY options to create the most beautiful area to encourage the reader within or in your life.
1. Simple shelves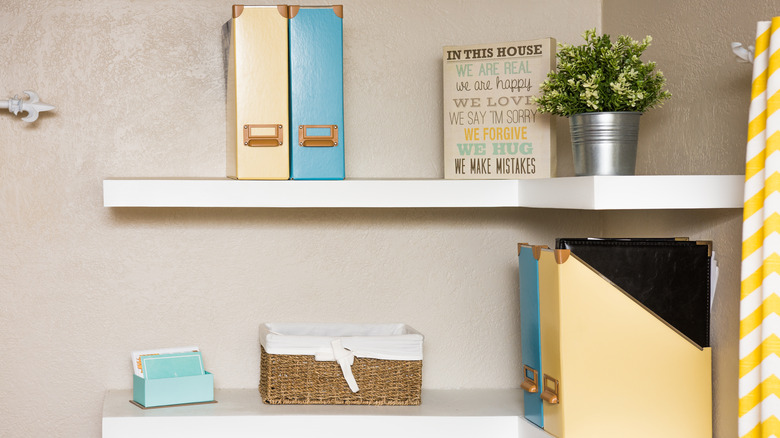 Brett Taylor Photography/Shutterstock
Adding floating shelves above an office desk or console is the perfect way to display your favorite books and an easy weekend project, not to mention a fantastic way to showcase your favorite things! But really, floating shelves are an excellent idea for any space in your home, whether you want to add them to your office, bedroom, or living room.
2. An adorable neon study nook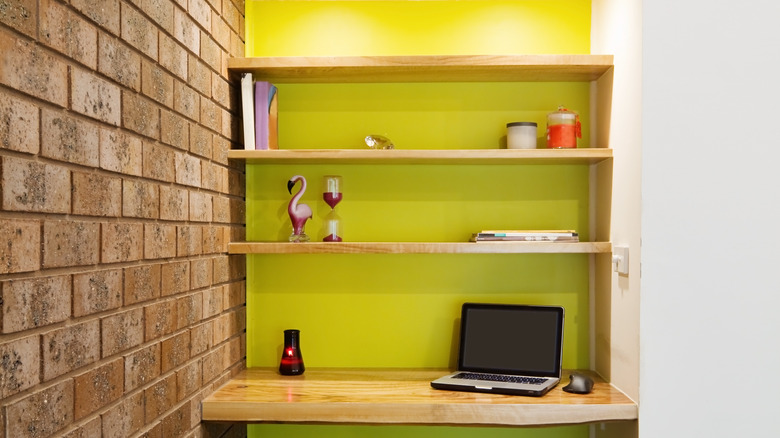 Jodie Johnson/Shutterstock
This bright neon green desk area is an excellent spot to get work done, and the built-in shelves provide plenty of opportunities to hold lots of books. We imagine that having bright walls and a beloved color of the '80s will invigorate the space and possibly inspire anyone in your family to be more productive. 
3. A tall vertical solution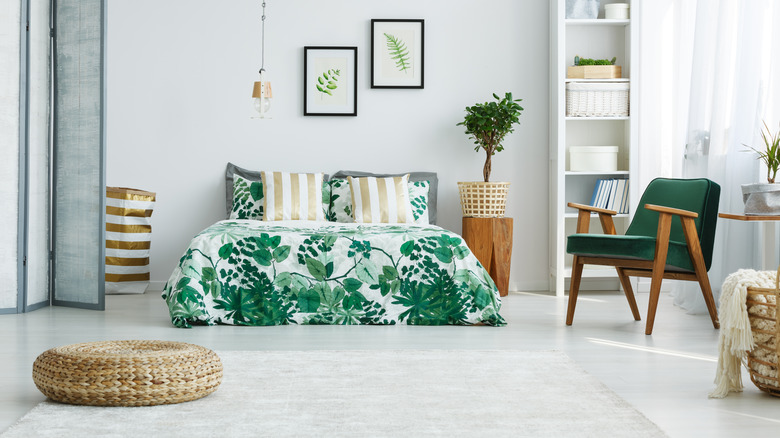 Photographee.eu/Shutterstock
This tall, white bookshelf would blend into any space, and we love how close it is to the bed, making it easy to curl up comfortably with a good book. The best part about a vertical bookshelf is that it can make a room feel relatively spacious. Plus, we can't help but be inspired by the tropical vibes of the bedding and wall art.
4. A masculine retreat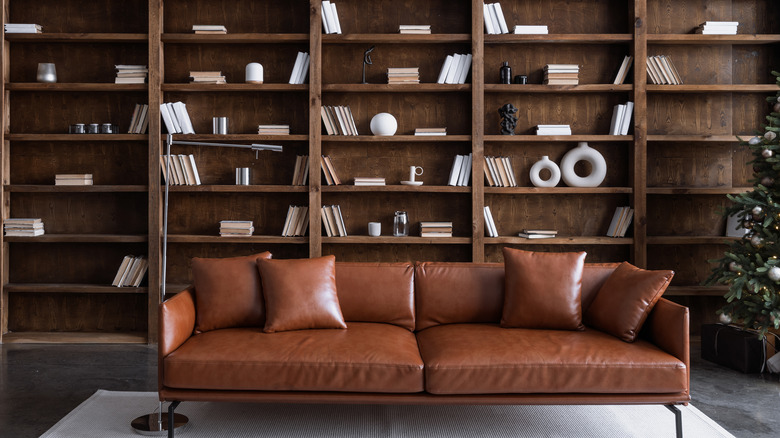 brizmaker/Shutterstock
These dark wood built-in bookshelves are so luxe that they remind us of a scene in a movie. It also creates an inspiring and relaxing spot to hold your favorite page-turner. The dark mahogany wood makes the room feel warm, and it perfectly ties together with the rich, brown leather sofa. There is no doubt that this space can double as an office.
5. Into the blue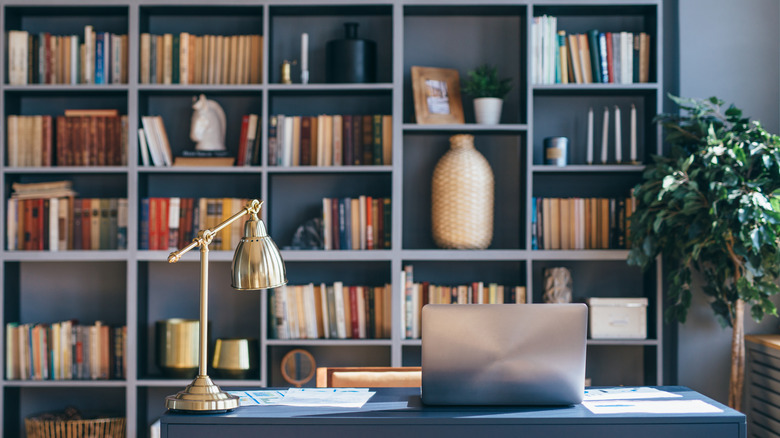 Undrey/Shutterstock
This beautiful built-in bookshelf is painted the prettiest shade of blue to match the desk. There are so many tints of blue that you could choose from, but we are drawn to this periwinkle hue that is a whimsical spin on the classic color! The homeowner adds plenty of visual interest by placing different items on the shelves alongside the books, from sculptures to vases.
6. This wooden bookshelf is divine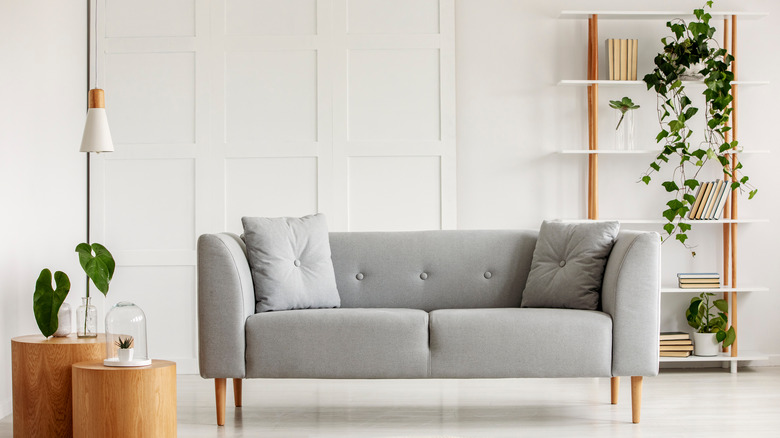 Photographee.eu/Shutterstock
This lightweight bookshelf would be an easy weekend project, and it looks great in this bright living room with a ton of natural light, a striking gray couch, and natural wood side tables. We love how the wooden bookshelf pops against the white walls. To make this simple room even more beautiful, add plenty of lush greenery to the space!
7. Just boxy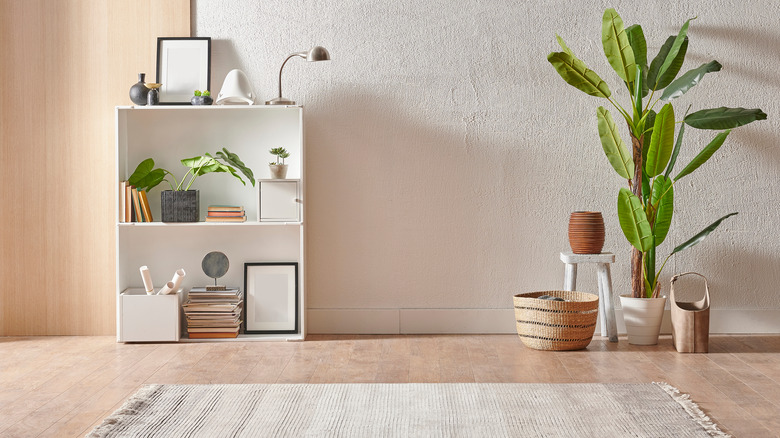 united photo studio/Shutterstock
This medium-sized, boxy, white bookshelf is ideal for displaying everything from books to plants, and if you want to create a similar look with built-ins or custom storage, this piece could work beautifully as inspiration. We can even see having two of this style of bookshelf flanking a fireplace in a living room or library to create the ultimate cozy atmosphere.
8. Room divider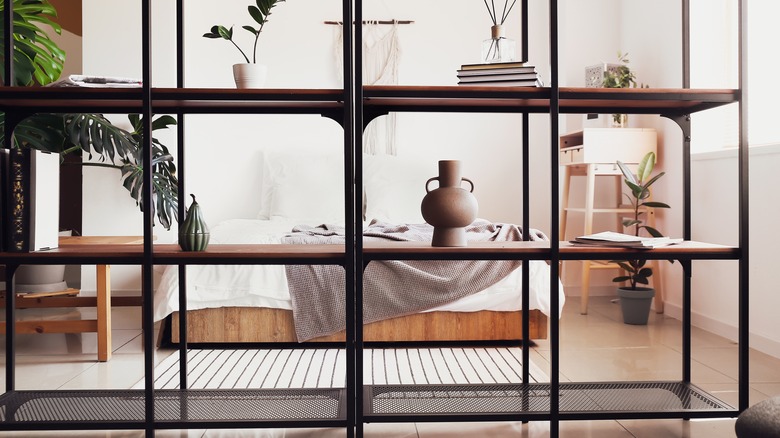 Pixel-Shot/Shutterstock
Consider using your bookshelf as a room divider if you live in a smaller space like a studio apartment in the city. This aesthetic is also a great way to divide an area to feel like you have separate rooms, allowing you to create, for instance, a living room and a bedroom. Adding fresh plants to your bookshelf can also bring life to the space.
9. Beige, but not boring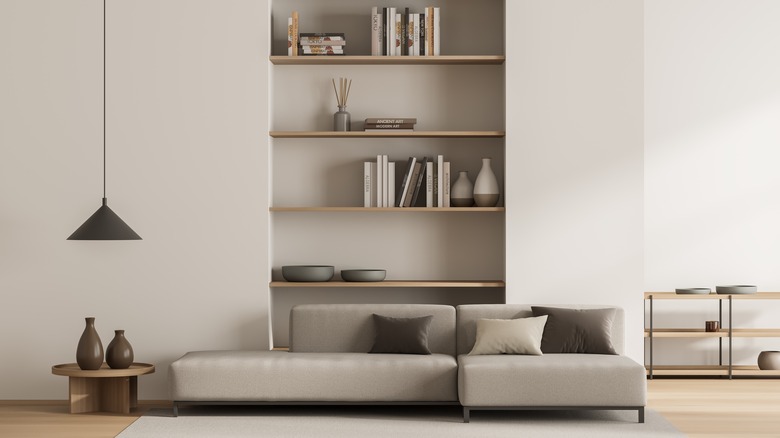 ImageFlow/Shutterstock
Who says beige has to be boring? This neutral-hued living room thrives on beige tones, and we can't get enough of the sophisticated built-in bookshelf that can perfectly display books, vases, and other notable objects. We adore that the homeowners went with darker hues for the pillows and vases to add more visual interest to the room and a minimalistic concept to create a relaxing space. 
10. All white built-in bookshelf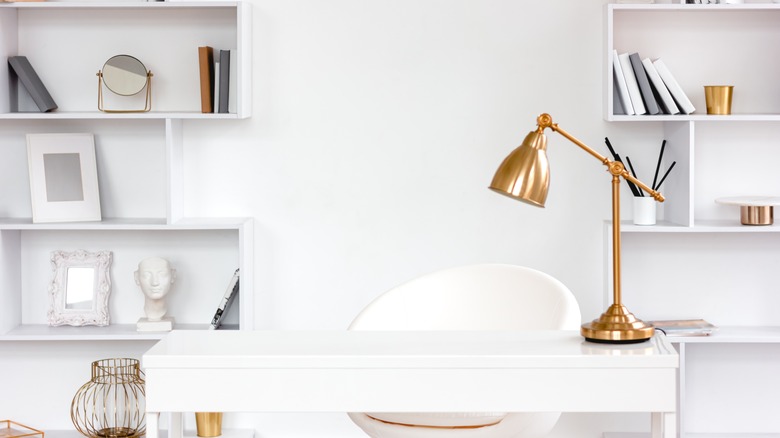 Yana Iskayeva/Shutterstock
The bright, all-white walls and built-in bookshelves make for a crisp study space where the entire family would want to hang out to get work done. This modern built-in blends with the rest of the wall, and it's a great way to add all of the pieces you love. It can also serve as a lovely personal space or escape!
11. Over the top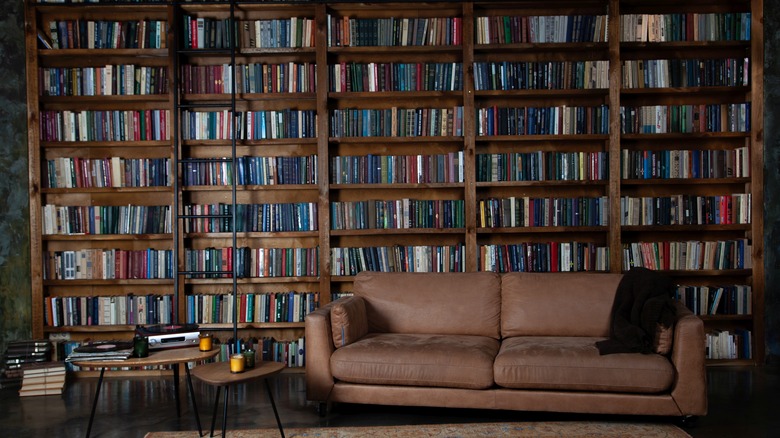 Real_life_Studio/Shutterstock
This over-the-top library features mounds of books filling an entire wall of bookcases, and is a beautiful space for any book lover. If you want to create a space that reminds you of the library in the "Beauty and the Beast," we suggest going for rich dark wood that extends from your floor to the ceiling; it would surely impress any guest you have over!
12. A bright room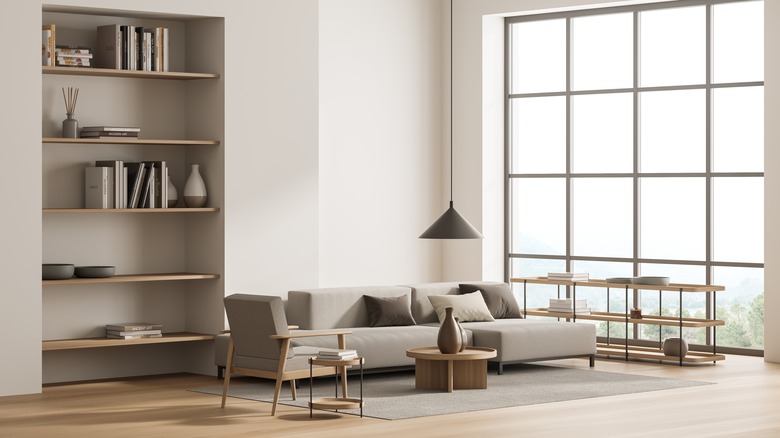 ImageFlow/Shutterstock
This bright, light-filled living room is unique, with a built-in bookshelf to highlight your must-reads. For this space, consider painting the inside of your built-in a slightly darker hue to make it stand out from the rest of the wall. For instance, the interior of this bookshelf was painted a beautiful taupe shade, while the rest of the wall is a light beige tone.
13. All the way up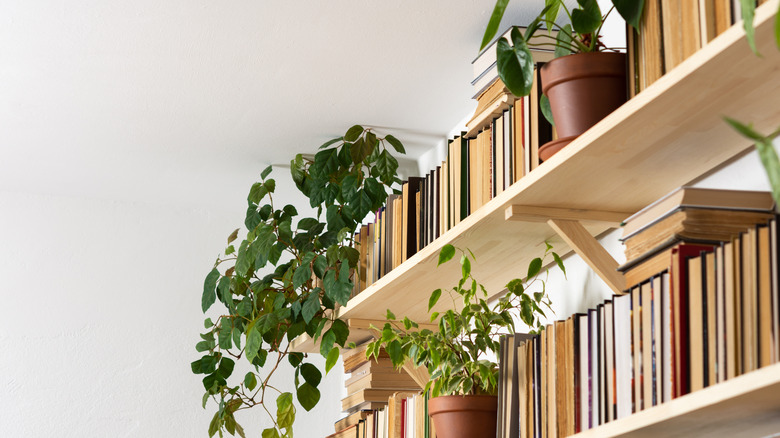 pundapanda/Shutterstock
One of the best ways to use the area you have is to place your shelves up to the ceiling, helping you to utilize every inch of the space available to you. Depending on your needs, you can put up as many as you want. This gives you the option to add one of those chic ladders to your bookshelf to reach all of your favorite books.
14. A pop of yellow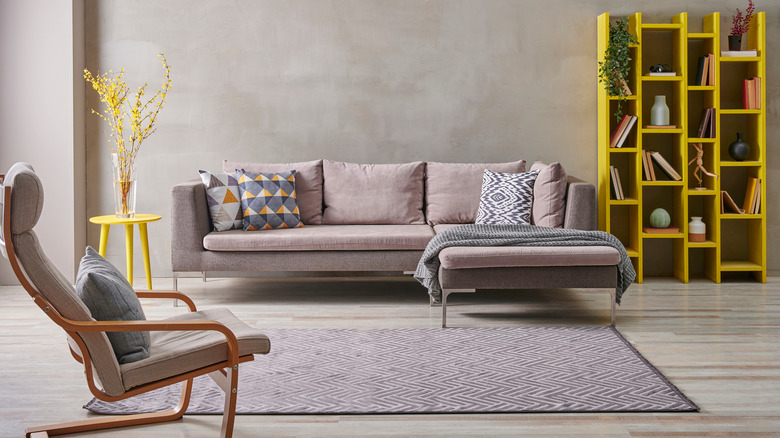 united photo studio/Shutterstock
When DIYing a bookshelf, consider a unique shape and color similar to this gorgeous bright, yellow option. If you keep the rest of the room in a neutral hue, a pop of color like this can create a tone of visual interest. We also love that they continued adding color by strategically placing a yellow table and plants next to the couch.
15. A modern built-in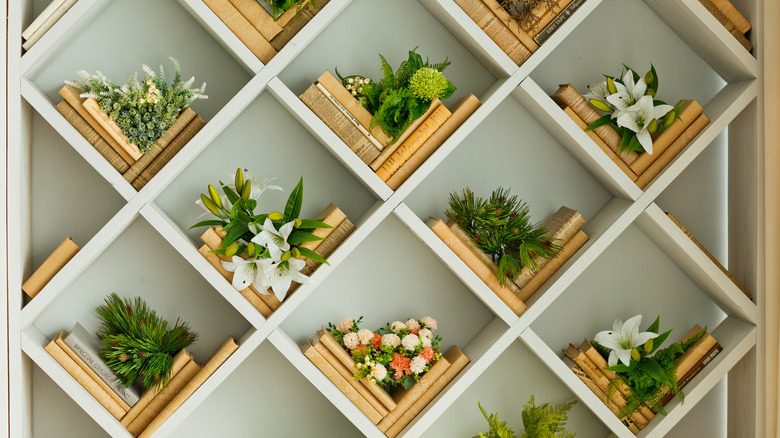 Tatiana Gekman/Shutterstock
Play with the format of your bookshelf as it doesn't need to be horizontal. We love the added flowers, which give it a fresh touch, especially if you're having guests over for a reading session! Another detail to notice is that the homeowners styled each book with a cover in a neutral color, which is a brilliant idea visually.
16. A classic look that totally stands out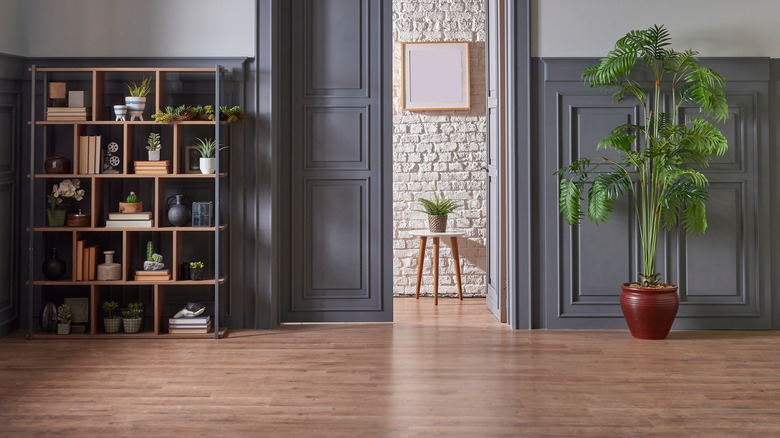 united photo studio/Shutterstock
This classic shelving option looks excellent against the dark gray walls with extraordinary detail. We love the mixing of materials that this room has, which brings a ton of visual interest to the space, from the painted white brick in the hallway to the elegant details of the wall in the living room.
17. A relaxing retreat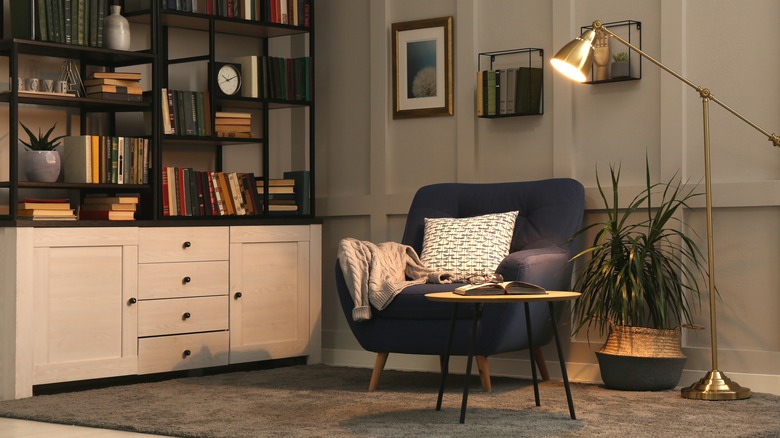 New Africa/Shutterstock
A gorgeous, plush comfortable navy chair with ample lighting sets the stage for this room, making it the perfect spot to catch up on your reading. The bookshelf is stunning, with plenty of storage on the bottom half that can conceal what you don't want to showcase. The open shelving on the top is where you can display everything that you want the world to see, from your books to your notable pieces.
18. A glorious Old World library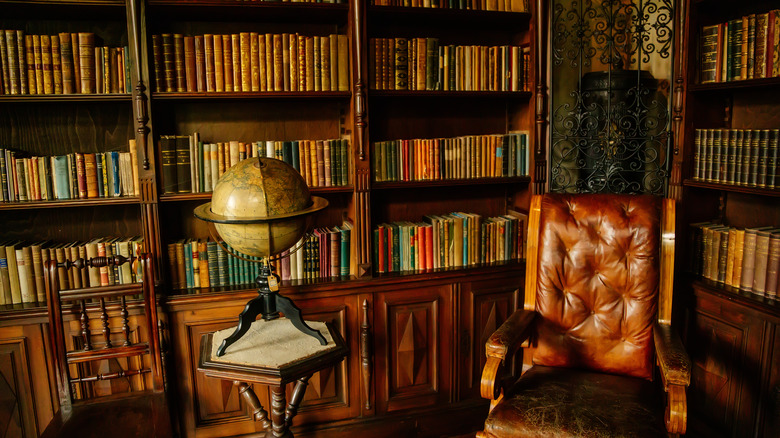 rudnitskaya_anna/Shutterstock
A gorgeous library with rich, wooden built-in bookshelves, a globe to inspire traveling the world, and a luxurious tufted leather chair is a total inspiration for an Old World style. Whether your built-in covers one wall or multiple walls, we suggest replicating this look in your home if you are in the market for a timeless style to impress your guests.
19. Roping you in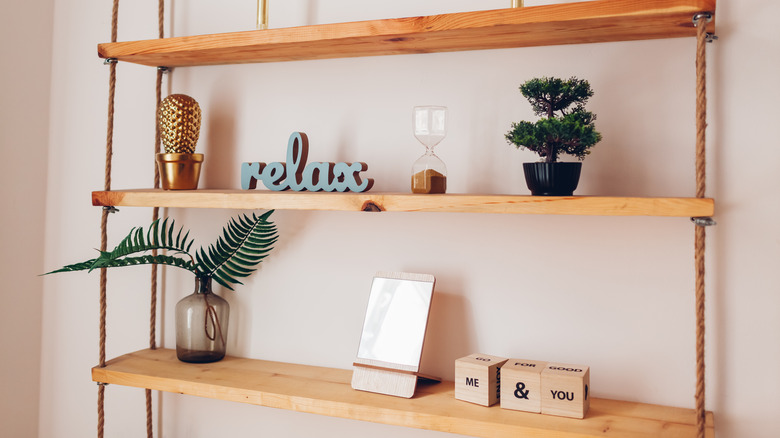 Mariia Boiko/Shutterstock
A simple bookshelf created with wood shelving and rope will be an absolute crowd-pleaser and could be an easy weekend project for just about anyone to take on. You can even make an indentation on your wall and use this look as inspiration for an ingenious built-in idea. While it's great for books, of course, you can also add fun knick-knacks to the shelf, too!
20. A total classic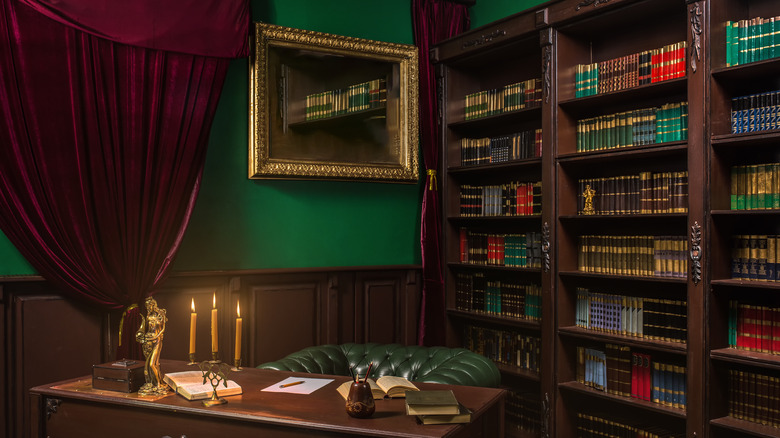 Ev. Safronov/Shutterstock
These built-in bookshelves pop against the Kelly green-hued walls. This older home exudes a classic style, but infusing a modern color can bring it into these times. Interior Designer Jane Scott Hodges, who owns Leontine Linens, explains to House Beautiful that bringing color into a contemporary home and adding antiques is a sure way to create a unique space. 
21. A unique configuration for your office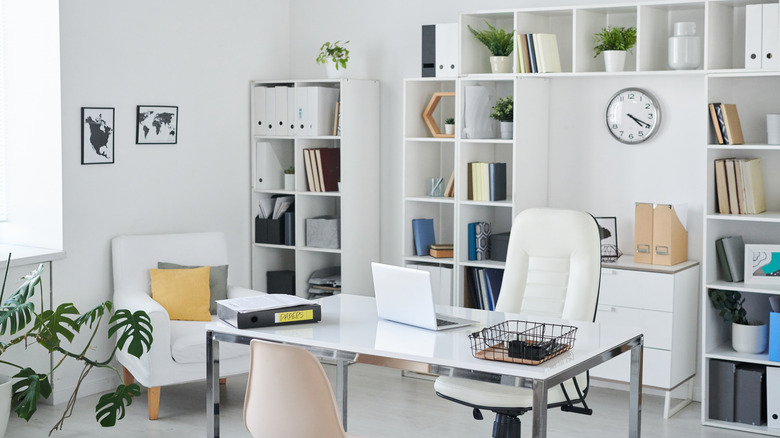 Pressmaster/Shutterstock
There's no need to have your built-ins confined to a specific configuration. Play around with the placement until you come up with a creative display. For instance, in this space, there's room for a dresser to conceal office supplies or essential paperwork, flanked by a sea of open-shelved bookcases that can display your favorite items.
22. Open to the possibilities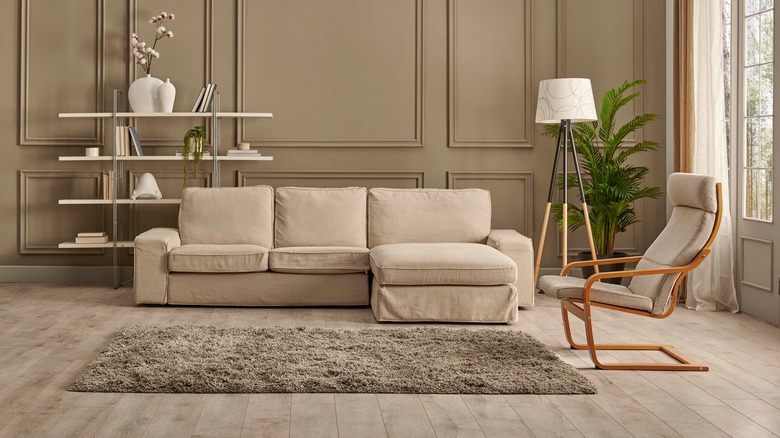 united photo studio/Shutterstock
This monochromatic living room with decorative wall trim has an open shelving option for storing books that we can't get enough of! You could easily slide this open shelving bookcase into a nook for a lovely homemade built-in look that inspires. This room is also an excellent example of how you can take a neutral tone and make it look attractive.
23. An option with plenty of hidden away storage
DLife Consulting/Shutterstock
This gorgeous built-in bookshelf features slick cabinets on the bottom that are great for concealing items you want to store away, while the open shelving on the top is ideal for photos, candles, and books. However, to keep clutter at bay with open shelving, Sharon Lowenheim, an NYC-based organizer and owner of Organizing Goddess, tells Bustle you'll want to ensure that you're only showcasing your favorite items. So having an area in your built-in bookcase that can hide your not-so-favorite pieces can be a game-changer!
24. Pops of color to inspire reading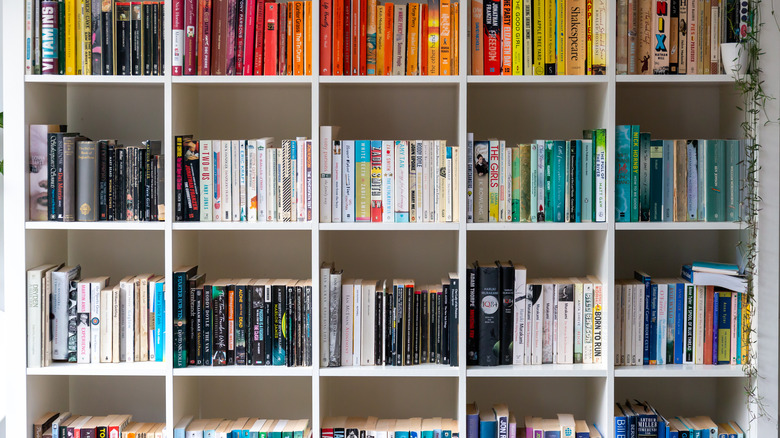 MagicBones/Shutterstock
This horizontal built-in is made to be more beautiful with color-coded books, which becomes something of an art piece, explains Tanya Willock and Temidra Willock-Morsch of Hidden Gem, a home design and gift store to The Spruce. The storeowners explain that coordinating your books by color is a great way to brighten up your space, and we agree, especially if your walls are painted in a neutral hue.
25. Walls and walls of books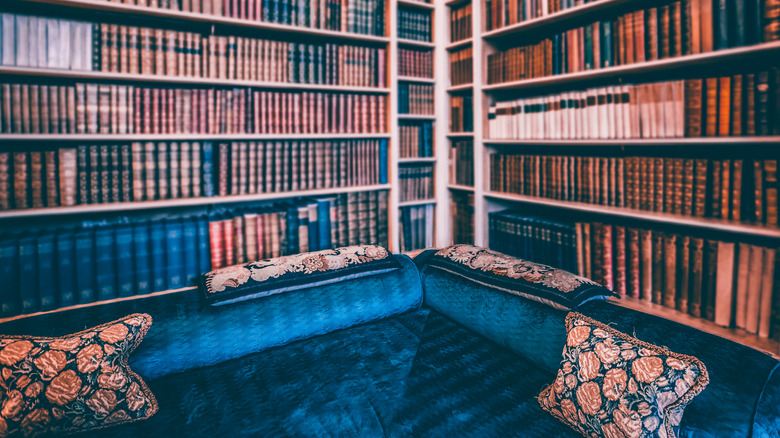 Melinda Nagy/Shutterstock
This library is breathtaking and features two walls with floor-to-ceiling built-ins for a beautiful book collection that would inspire any reader to spend the afternoon pouring over a total page-turner. We also love how they match the couch's luxurious blue tone and some book covers, a glorious detail not to miss! The throw pillows are a delicate touch, too, as they tie everything together.
26. Warm light to set the mood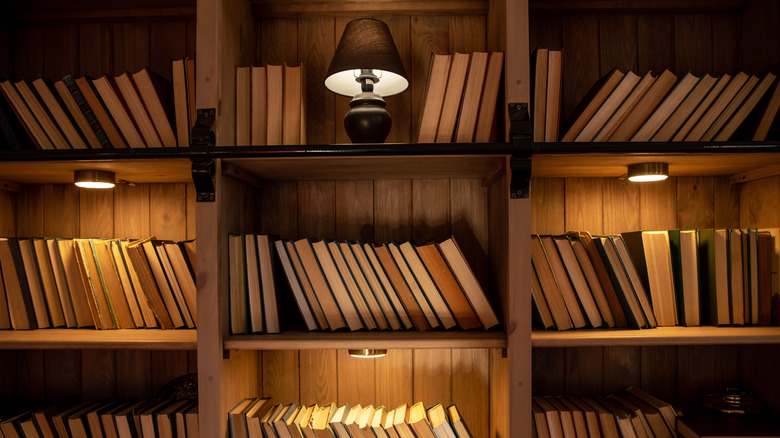 Marianna_ Zh/Shutterstock
To create a warm ambiance in your reading area, add low-lit lighting to your bookshelf, which puts a spotlight on your favorite books and creates an intimate atmosphere in your living room or library. These spotlights can significantly impact your ambiance for the better and can be easily purchased at just about any home improvement retailer.
27. A exciting vintage aesthetic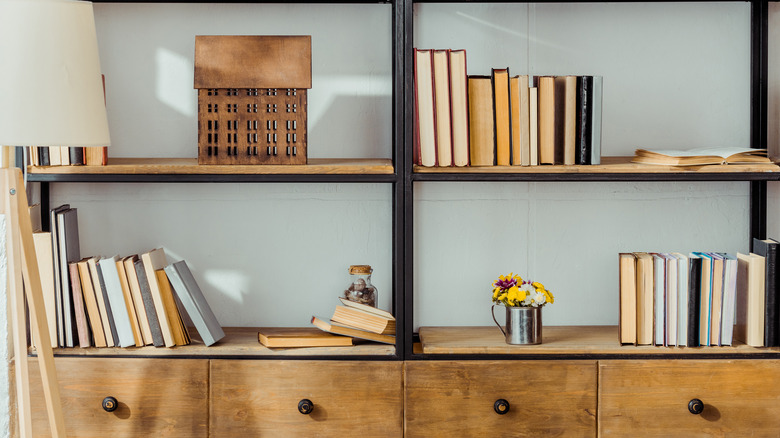 LightField Studios/Shutterstock
This open shelving option features wooden drawers with a vintage feel, which is an excellent way to show off all of your favorite must-reads. The warm woods of the drawers would also bring a cozy aesthetic to any room. To make it your own, you could consider changing up the handles on the drawers to add extra interest to this gorgeous shelving option.
28. Decorative bookshelves with elegant details
Julia Zavalishina/Shutterstock
These gorgeous built-ins feature decorative adornments above each bookshelf that help make this room opulent. Surprisingly, these can be purchased at most home improvement stores and add an elegant touch to your living room or library. This room is a complete standout, with a beautiful fireplace, hardwood flooring, vibrant rug, green painted walls, and an over-the-top ornate couch that seems inviting.
29. A gorgeous neutral office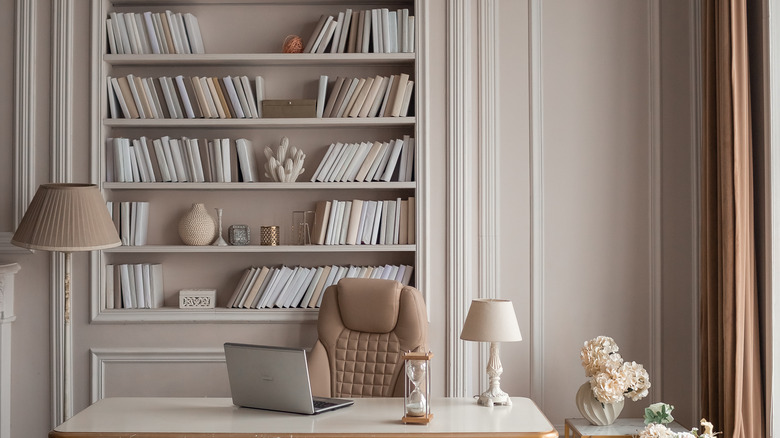 Sakharova Anastasia/Shutterstock
This beige office has a gorgeous built-in bookcase with plenty of details; even the books are in neutral hues, giving it a beautiful, earthy aesthetic that anyone could easily emulate. The homeowners maintained the color scheme throughout the room, which can be seen in the desk, walls, curtain, lamps, side table, ergonomic chair, and lovely spring flowers.
30. A complete living room wall takeover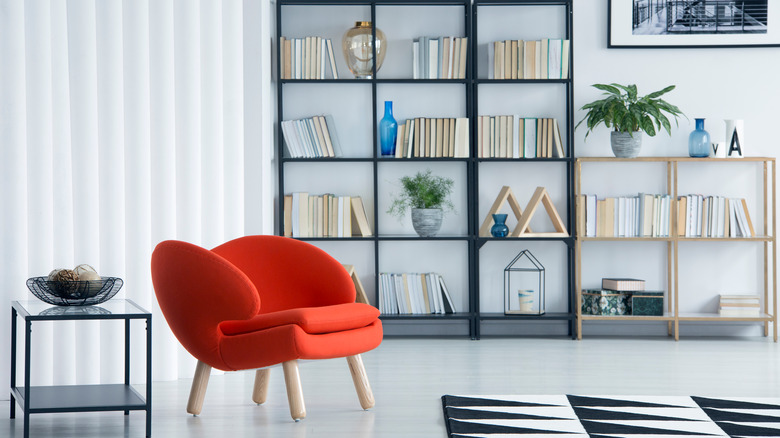 Photographee.eu/Shutterstock
These bookshelves take over the entire wall in this modern living room, giving homeowners plenty of space to display books, potted plants, family photos, vases, collectibles, etc. To add an infusion of color to the room, consider a bright red modern chair like this one that brings visual interest to an otherwise neutral space.
31. Repurpose your favorite furniture piece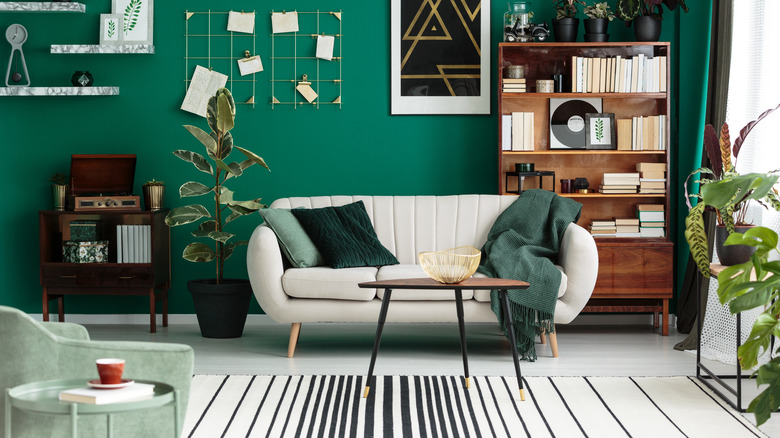 Photographee.eu/Shutterstock
One of your favorite pieces of furniture could be the perfect bookshelf, especially if you have a nook to place it in. Not only can this be a pretty easy weekend project, but reusing furniture that perhaps you found at a thrift store can give it a new lease on life!
32. Get creative with your ideas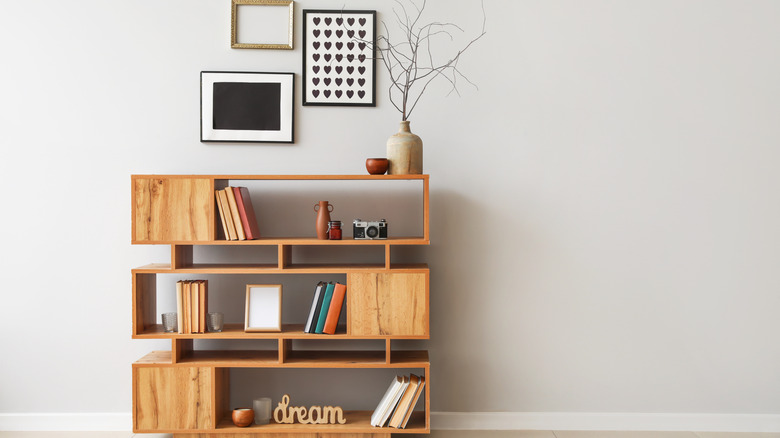 Pixel-Shot/Shutterstock
Consider creating a DIY bookshelf that is unique with lots of visual interest. The warm wood adds extra zeal to your space, while the configuration allows you to showcase your most fabulous pieces — which can be switched up often to freshen your room! Try adding a gallery wall above the bookshelf to draw eyes to exciting artworks.
33. The perfect placement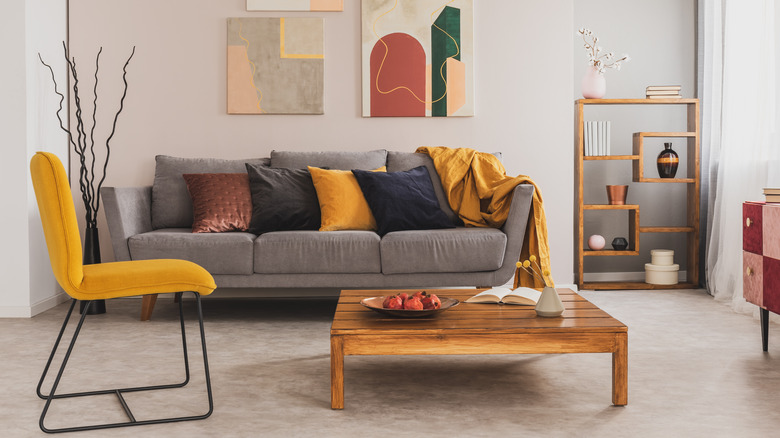 Photographee.eu/Shutterstock
Any wall indent or nook in your home can be the perfect opportunity to add a bookshelf to the space, even if it's a simple wooden one. Next, you'll want to add lots of colors like these homeowners did throughout the room: colorful art, bright fabrics, an eye-popping chair, a variety of pillows, and a gorgeous console.
34. Color coordinate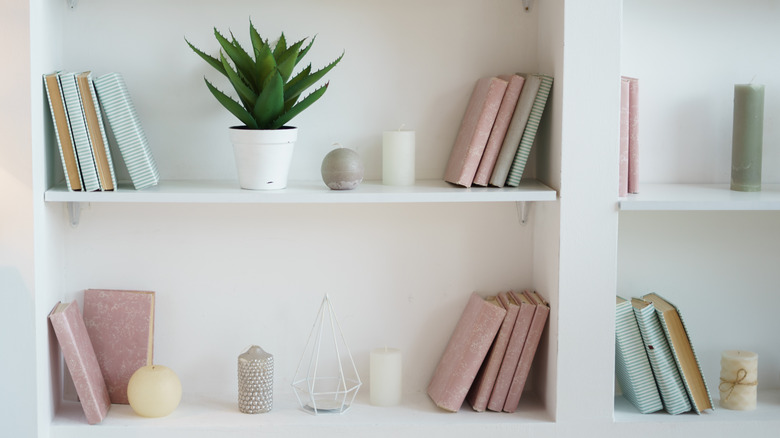 Nelia L/Shutterstock
This basic white bookshelf aesthetic is pulled together with coordinated books in pastel hues, including light blue and pink. Finish decorating your built-in shelf with loads of candles and a succulent that is stunning and easy to take care of, which we find very appealing! This look is clutter-free and will make any guest that comes to your home swoon.
35. A functional home office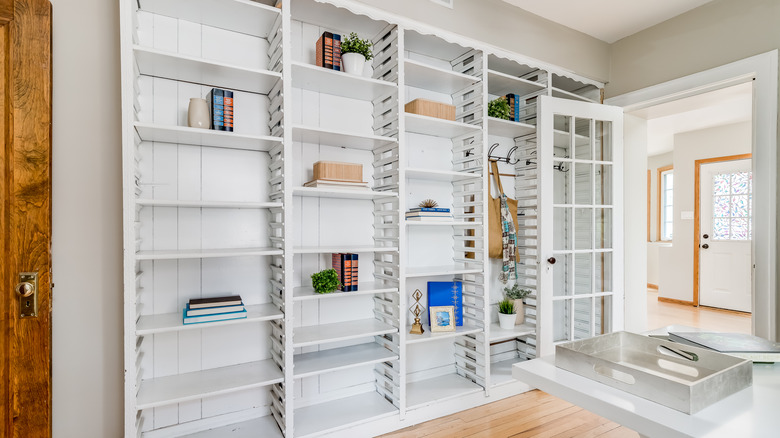 Hendrickson Photography/Shutterstock
A former closet was reimagined and turned into a spectacular built-in bookshelf for a home office based in Chicago. It is entirely functional, with lots of space to add everything you need to get work done, but it can also be styled to showcase your most precious possessions, from photos to vases and so much more! 
36. A beautiful home with loads of character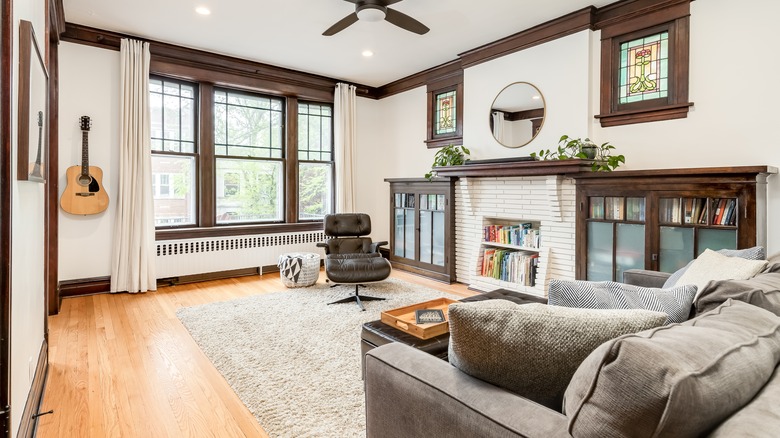 Hendrickson Photography/Shutterstock
It's no secret that an older house is filled with lots of character, from unique mahogany moldings to gorgeous brick fireplaces. This beautiful living room features built-ins with wood trim, creating the perfect opportunity to add interest. It bursts with inspiration that could be emulated in any space for a timeless aesthetic that will look nice for decades to come.
37. Case closed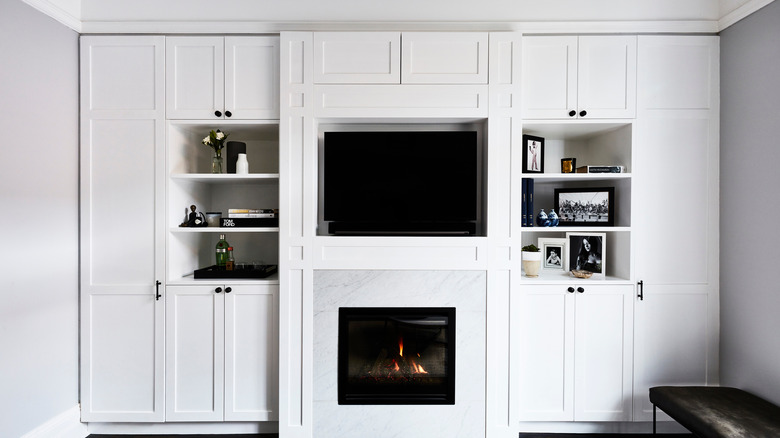 PhotoMavenStock/Shutterstock
If you don't want fully open shelvings, the great idea is to add cabinets to your built-ins so you can display your favorite books or show off pieces from your collectibles. This built-in bookshelf has everything you need, from a TV to watch your favorite shows to a fireplace to bring a cozy feel to the room, and it will help you stay organized.
38. Make your built-in bookshelf stand out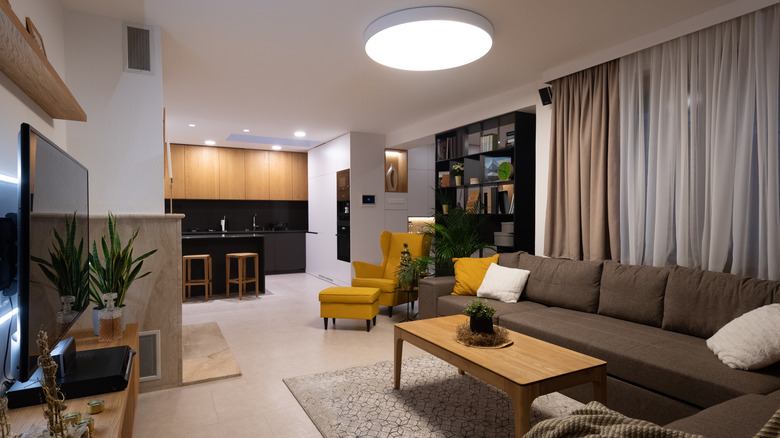 Ventura/Shutterstock
The stunning black bookshelf stands against a bare white wall and is large enough to hold many books and anything else your heart desires! To bring more visual interest to your living room, consider adding pops of yellow (or your favorite color), as seen with the accent chairs, pillows, and throughout the room to bring life to the space.
39. Paint it with serene hues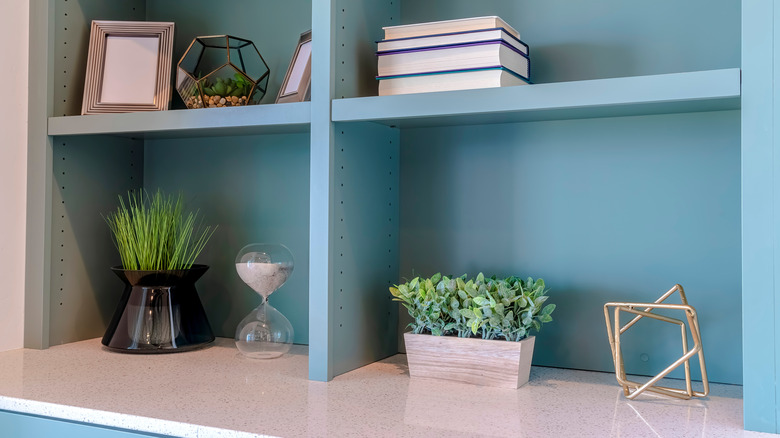 Jason Finn/Shutterstock
Add a bit of panache to your bookshelf by painting it a pretty color, like the light blue option in the photo. This particular shade of blue reminds us of the beach, which is always a good idea! Adding just a few objects to the shelf will contribute to the serene feeling, from potted plants to personal photos. 
40. A built-in that becomes the focus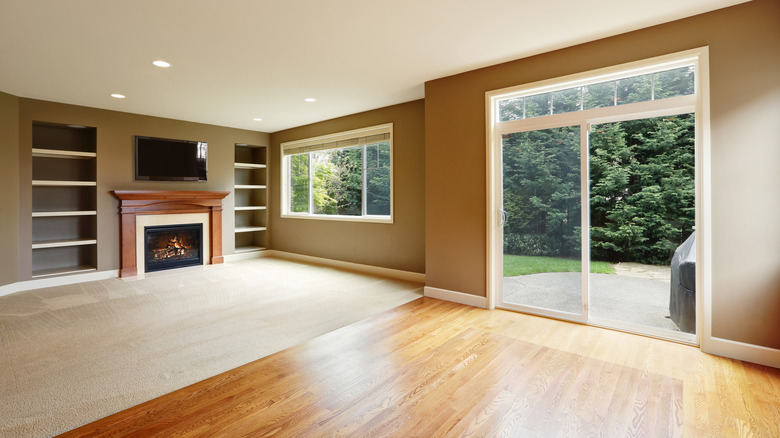 Artazum/Shutterstock
Make your built-in bookshelf the main focal point of the room, like on either side of a cozy fireplace. The last thing you need to do is fill it with beautiful objects and your favorite books to complete the look. The homeowners went with a neutral paint color while keeping the shelves white, creating more visual interest.