15 Ways To Make A DIY Bird Feeder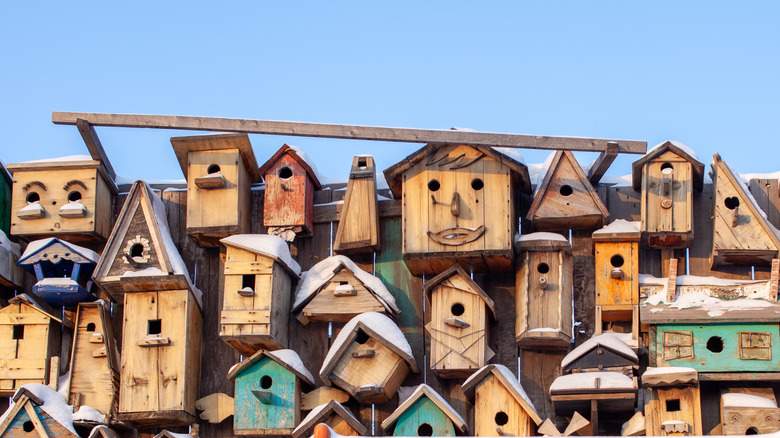 ANATOLY Foto/Shutterstock
Birdwatching can be a delightful pastime. Spending your days listening to the sound of cheerfully chirping birds and watching these adorable creatures could be both relaxing and mood-lifting. According to The Spruce, other positive benefits of having these feathery friends around your yard are that they can eat pests in your garden, munch on your weeds, and help to pollinate flowers. There is also a solid educational value as you discover the types of local wildlife in your backyard.
When it comes to attracting different birds to your home, there's nothing more appealing than a homemade bird feeder. These types of do-it-yourself projects can range from simple feeders made from items found around the house to more complex projects that may take a little more time and elbow grease. However, creating a reliable bird feeder doesn't have to be complicated or expensive; it can be a generational project completed with a small budget. Although there is no shortage of bird feeders available online or in large retail stores, it can be pricey as some models cost upwards of $100, as per The New York Times Wirecutter. When it comes to simplicity, cost-effectiveness, and sheer fun, making a bird feeder from scratch can be a rewarding experience.
1. Make a birdseed ornament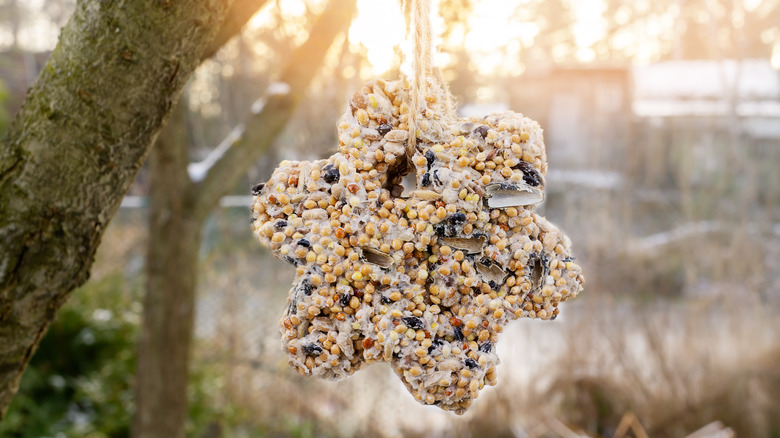 Medvedeva Oxana/Shutterstock
Try this easy recipe for birdseed ornaments for a simple and inexpensive project that can be fun for the whole family to make. Combine a mixture containing birdseed, corn syrup, flour, water, and gelatin — or agar-agar powder if you're vegan — then pack it into either a cookie cutter or any desired shape, according to a recipe on Birds & Blooms. Once the mixture has had time to dry, you can run a piece of string or ribbon through your ornament, then let it hang on the nearest tree. Then sit back and let the birds enjoy themselves.
2. Wooden tray bird feeder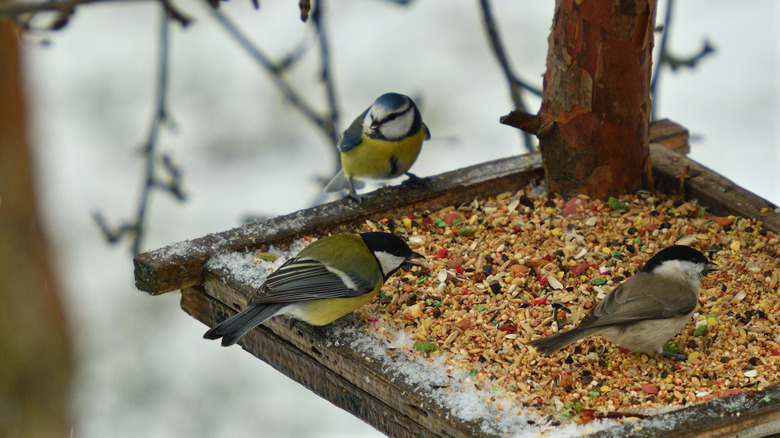 Klimek Pavol/Shutterstock
If you have some spare wood lying around the house, why not repurpose it to make a bird feeder? Start by measuring a square piece of wood, 12 inches by 12 inches long, with a notch in one of the corners. Next, take some small lengths of wood and glue them to create a border. Finally, take your feeder to a thin trunked tree so that the notch rests against the bark. Then nail the final bordering wood to attach the tray-like bird feeder to the tree. Fill with birdseed, and you are all done.
3. Orange rind bird feeder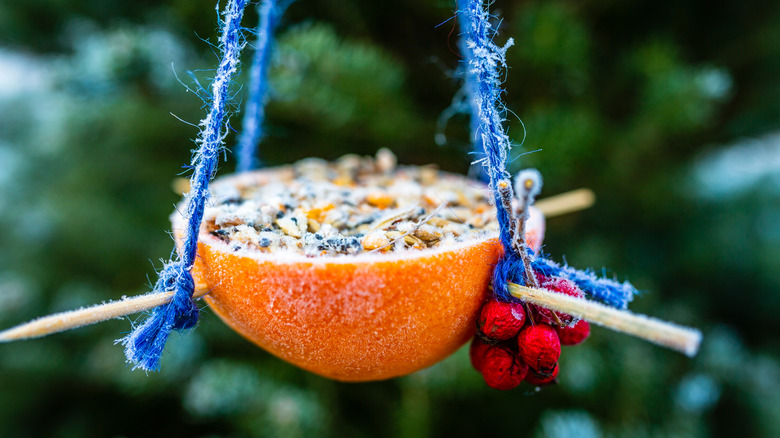 iMarzi/Shutterstock
Make use of those leftover orange peels by turning them into bird feeders. It is effortless and affordable; cut an orange in half, scoop out the fleshy insides, and have them as a snack. Then, pack one-half of the orange with a mixture of birdseed and a little bit of honey or corn syrup to bind them together. Take two wooden skewers and stick them through the orange about an inch below the surface in an "x" formation. Use some string to attach to each end of the skewer, then hang from a tree branch.
4. Clay tray bird feeder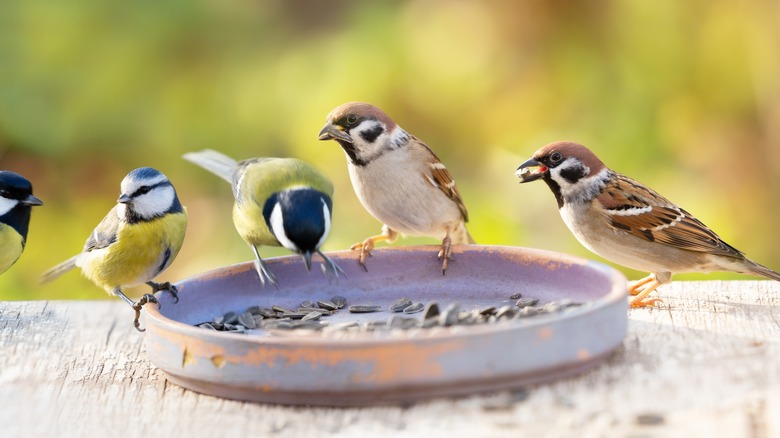 Nitr/Shutterstock
Whether you have an old ashtray lying around or want to make good use of those grade school pinch-pot skills, a simple clay tray would provide the ideal bird feeder. If using an old ashtray, clean it thoroughly before packing it with birdseed. To make a pinch-pot, purchase a small amount of potter clay, wet your hands slightly, and work the clay until it resembles a round, shallow tray, as per The Pottery Wheel. Let the clay dry, place the birdseed, then set it in the perfect birdwatching spot.
5. Reused plastic bottle bird feeder
Kristine Rad/Shutterstock
Do you need an effortless way to indulge in birdwatching while reusing those recyclables? Then why not make a bird feeder out of your used plastic bottles? No matter the size, take your used plastic bottle and rinse it thoroughly. Once the bottle is dry, use a utility knife to carefully cut out a rectangular hole roughly halfway up the bottle. You want to allow enough space for the bird to get their head in. Then, pour birdseed into the top with a funnel, cap the bottle, attach a string, and hang it from a tree branch.
6. Coconut shell bird feeder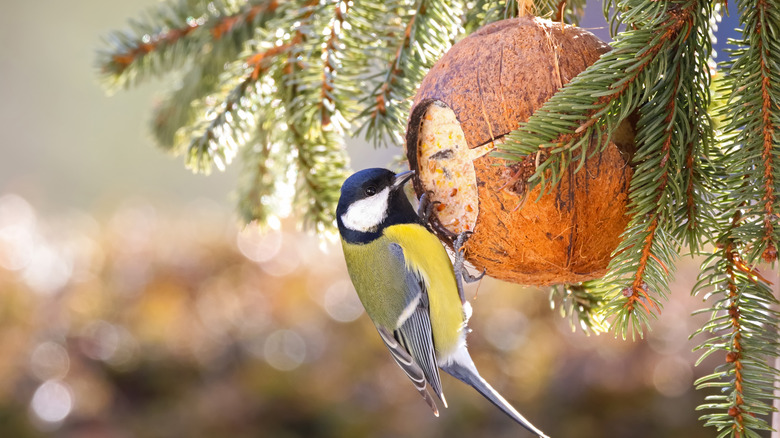 sasimoto/Shutterstock
Coconut shells can be very durable and would make for a beautiful bird feeder with a bit of modification. To make a hole into the side of the coconut shell, use either a hole saw drill bit or a Dremel if you have one available. Once you have created the opening, pack in some loose birdseed or make Birds & Blooms' birdseed ornament and place it into the coconut shell. Then attach a piece of twine or string to the coconut shell and drape it over the nearest tree branch.
7. Mesh bowl bird feeder
DJTaylor/Shutterstock
Some of the simplest, most cost-effective bird feeders can be made using materials around the home. If you have a collection of wire mesh storage containers that are just lying around and not getting much use, you might be able to use them creatively to feed your local birds. Take the mesh bowl or container and affix it to a coat hanger using a string or wire to attach it to a railing within view of your window. Then pop in your birdseed of choice.
8. Tree stump bird feeder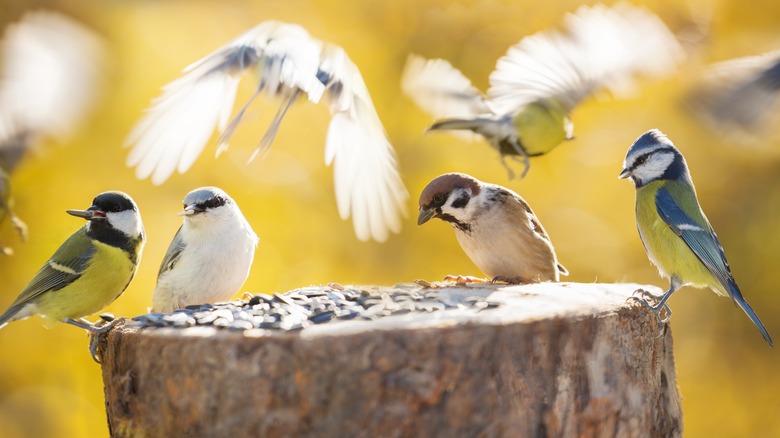 Nitr/Shutterstock
For an effective bird feeder that will only cost you the price of the birdseed, take a look around your backyard for a tree stump. If you find one, carve out a minor groove into the top of the stump and place some birdseed in it. If you don't have a stump handy, take a walk around your neighborhood, and you might be surprised by what nature provides. Using a piece from a recently felled tree or even a smaller log might do the trick. The look will be natural, and the birds will enjoy it.
9. Pinecone and peanut butter bird feeder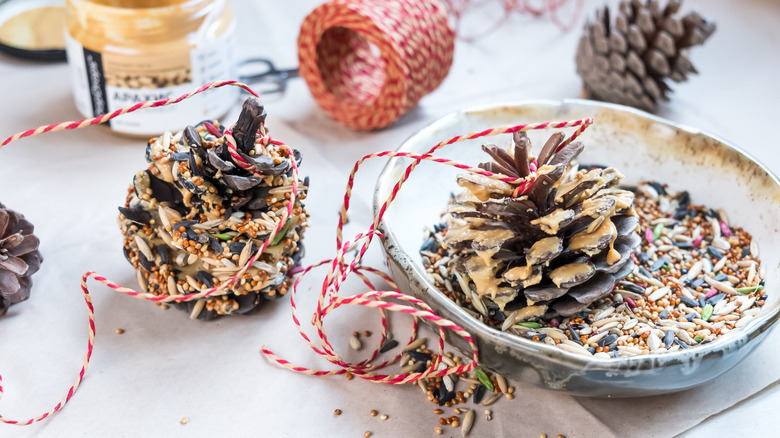 Julie Style/Shutterstock
For a fun activity with elements of a scavenger hunt and arts and crafts, try making a pinecone and peanut butter bird feeder. Take a walk around your neighborhood or through the local forest and see if you can scrounge up some fallen pine cones. Once you bring them home, use a knife to spread peanut butter all over the pinecone. Then roll it in a bowl of birdseed, and wrap a string around it so you can hang your creation from a tree. Another simple, cheap project that can be fun for the family.
10. Vintage cup and saucer feeder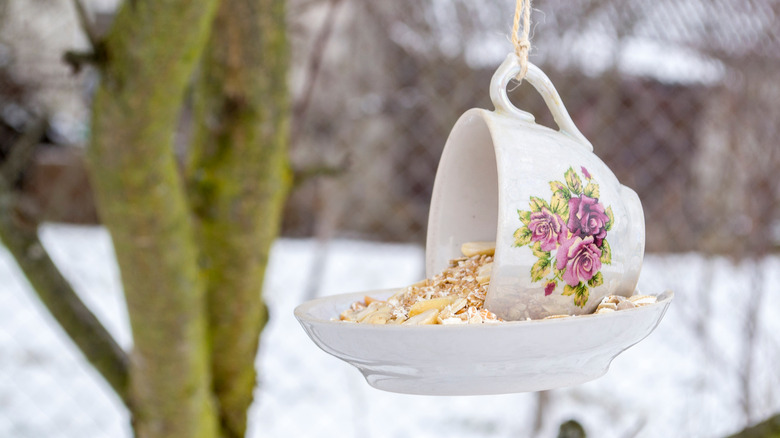 Svitlyk/Shutterstock
If you happen to have a teacup and saucer that you are willing to sacrifice for the good of bird-kind, feel free to use that. However, you could also visit a thrift store for a low-cost option to find a quirky cup. When you're ready, super glue the bottom of the cup to the saucer so that the handle faces up, then attach some twine to the handle so you can hang it from a branch. If you are crafty, give this bird feeder project a go!
11. Milk carton bird feeder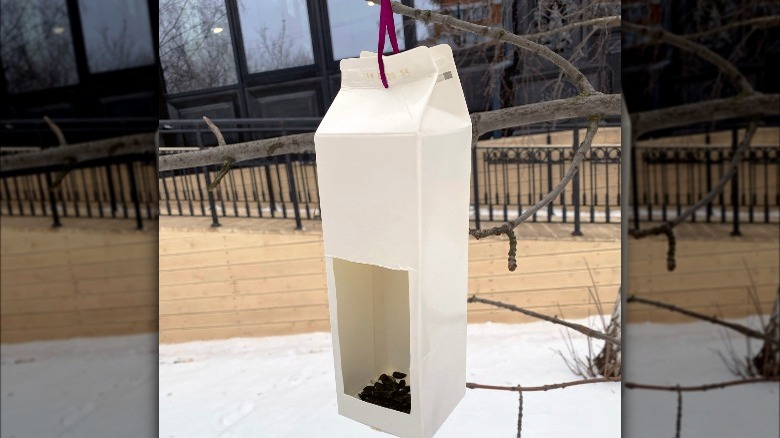 Kylosova Maria/Shutterstock
Another easy project that uses your recycled goods is to create a bird feeder using an old milk carton. Take the milk carton, rinse it out, and leave it to dry. Cut a rectangular slot about 2 to 3 inches above the base when it's ready. Then place some birdseed inside the carton, being careful not to overfill it. Punch a hole into the top lip of the container and pass some string through. You could paint or decorate the outside of the carton to fit your aesthetic; then, you are ready to hang it.
12. Lard bird feeder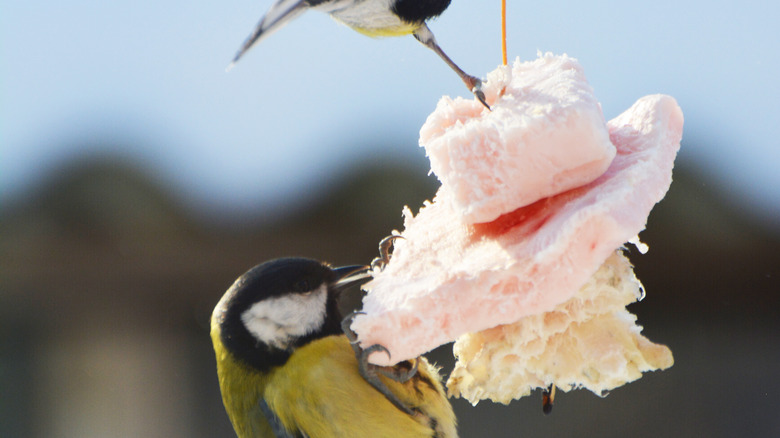 Orest lyzhechka/Shutterstock
According to the Bird Feeder Expert, lard bird feeders may sound a little wild, but the energy in this fatty concoction can be beneficial for birds. Take some room temperature lard or suet to make this feeder and mix in some birdseed. Once the ingredients are thoroughly mixed, roll them into balls around a piece of string, place them onto a plate or cooking sheet, then let them cool in your refrigerator. When the balls have had time to set, you are ready to hang them up for the birds.
13. Paper roll bird feeder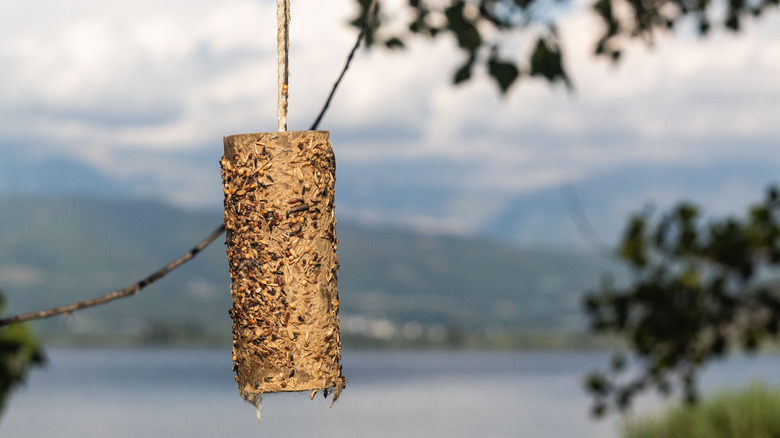 Adam Kipris/Shutterstock
You can make a paper roll bird feeder the same way as a pinecone and peanut butter feeder. Simply grab the middle of a finished roll of toilet paper or paper towel, and punch a hole into the side. Pass a string from the top through the side to act as a hanger. Then spread some sticky peanut butter all over the outside surface of the roll, and sprinkle some birdseed so that it sticks to the peanut butter. Now you have created the perfect, affordable bird feeder.
14. Wire mesh cylindrical feeder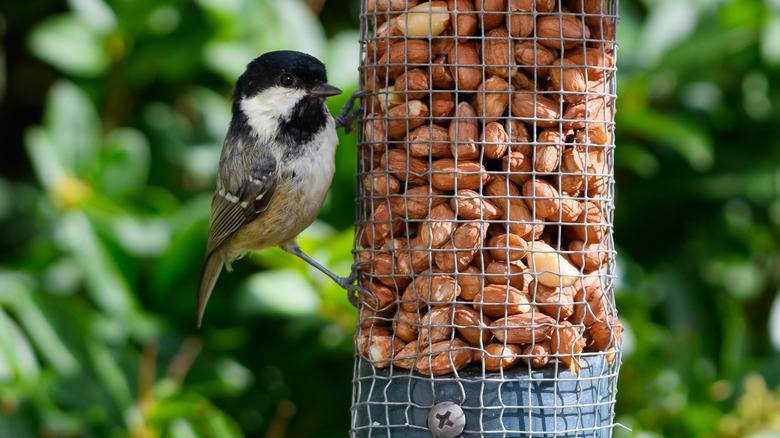 Roger Utting/Shutterstock
Here's a bird feeder project if you don't know what to do with that leftover wire mesh or chicken wire. First, put on some bulky work gloves and carefully trim the wire to the desired length. Then roll that wire around a plastic or wooden round base. Take some screws and attach the wire to the bottom. Next, pour birdseed into the top and fill the cylinder. Then use a thin wire or twine to run through the top and attach it to a tree branch.
15. Classic wooden bird feeder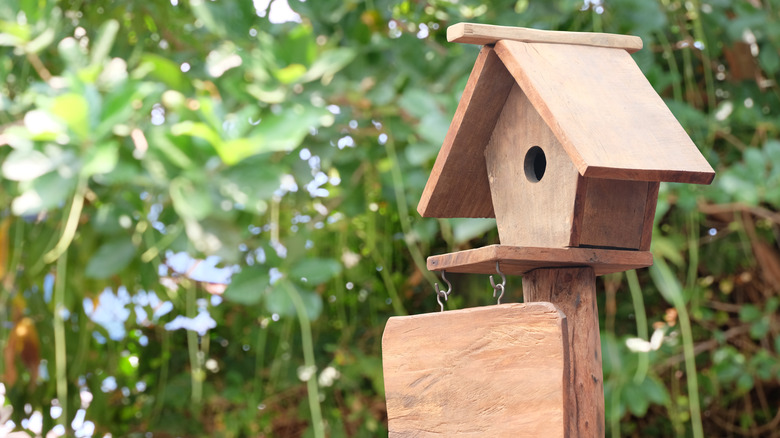 Weerayuth/Shutterstock
If you want that classic bird feeder look and don't mind putting in the extra time and money, this could be the project you're seeking. With plenty of easy-to-follow templates available at AllCrafts, you need to provide the wood, glue, nails, saw, time, and patience to follow through and create your bird feeder. Even though these feeders may cost you a little more than the previous projects, you could still build a suitable bird feeder for less than you would expect.