Everything You Need To Know About Crypton Fabric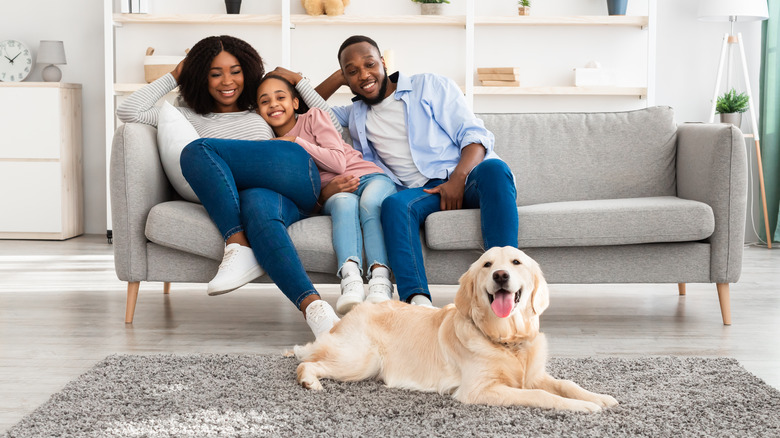 Prostock-studio/Shutterstock
If you've shopped for upholstered furniture in the last few years, you've most likely heard the term, performance fabric. It's a category of textiles that offer stain and moisture resistance, a degree of protection against sun fading, and an odor and microbial guard. Crypton fabrics, with their silver-ion technology and moisture barrier, provide the highest level of durability among these. 
According to How Stuff Works, Crypton was originally utilized in hospitals before transitioning into use for outdoor furniture and interior design for the hospitality industry. It has even made an appearance in the White House before subsequently finding its way into our homes as well. A fantastic option for families with young children or pets, it affords ease surrounding the enjoyment of common spaces and makes entertaining at home less stressful — pizza and wine are more delicious than ever. It's also a logical upholstery covering on an indoor porch or patio where sun fading would normally be a concern. 
With most innovation, time softens the user experience, helping to evolve products into more consumer-friendly versions of the first iterations; so, too, performance fabrics have become better. They have a nicer hand, are being manufactured in increasingly varied colors, patterns, and textures, and are more readily available. Pottery Barn, a brick-and-mortar and e-commerce home decor retailer, lists 1,280 search results for Crypton on its site alone. Product offerings are growing as well, with upholstered headboards, ottomans, bed linens, throw pillows, and pet beds, among other options. 
What is Crypton?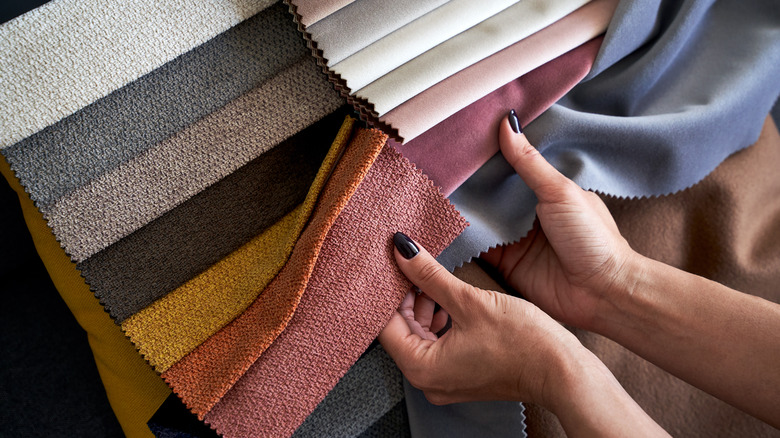 Oleksandr Berezko/Shutterstock
The benefits of fabrics are their softness and malleability. But those same qualities make them inherently susceptible to staining, absorption of liquid, odor, microbes, and general degradation with use. 
Crypton uses a patented treatment that allows fabrics to maintain their benefits while providing a solution to the aforementioned negatives. Each textile is coated in a combination of substances and further heat-processed to create lifetime protection, rather than a temporary, topical fix. Most of the fabrics are cleanable with an enzyme-based detergent (such as Tide or Dawn) and water solution; they are the only textile designated by the Environmental Protection Agency as able to be disinfected. A naturally inspired silver-ion protection is non-leaching and prohibits the spread of odor, bacteria, and mildew, while the fabric's processing prohibits the growth of mold and viruses.
Though manufactured with innovative technology, the company notes its commitment to sustainability, creating a fabric devoid of unhealthy amounts of formaldehyde, the man-made chemicals PFOA and PFOS, and carcinogens. The resulting product is third-party GREENGUARD Gold Certified, meeting stringent chemical emissions criteria "helping to reduce indoor air pollution and the risk of chemical exposure" via volatile organic compounds (VOCs), per UL. Located in North Carolina, Crypton is a member of the Sustainable Furnishings Council; they participate in a rigorous recycling initiative of their fabric remnants and packaging, and their end-product fabric is recyclable, too. 
Crypton fabrics look and feel luxe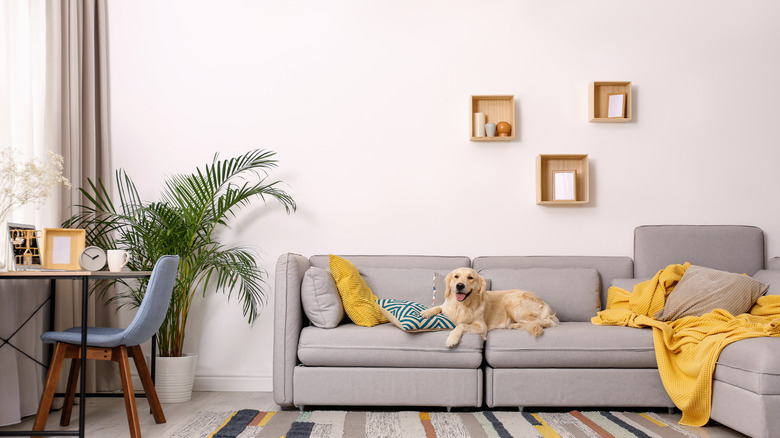 New Africa/Shutterstock
Top designers approve of and are opting for performance fabrics in their projects. Options range from luxe velvet to cozy chenille and supple leather. Neutrals, bold colors, and printed choices mean no limitations to impede the desired interior style or scheme while offering durability for high-traffic and frequent-use areas. Many furniture retailers offer Crypton fabrics as part of in-stock assortments and custom-order collections. According to the Crypton website, advances in the manufacturing process ensure it doesn't affect the hand, or feel, of the fibers, while the patented moisture barrier (offered in particular categories) is breathable, helping to maintain the comfort of the resulting upholstery.
One of the most impactful earth-friendly habits we can adopt is the manufacture and consumption of less — choosing a Crypton product may mean a less frequent need for furniture replacement. Additionally, the longevity and stain-resistance of Crypton fabrics represent a good value in regard to household expenditure, with some categories of the product line offering a five-year warranty. It takes a great deal of time and effort to create a room design; you'll want your thoughtfully selected pieces to last for a while, and Crypton fabrics can help with that.