Home Depot's Recent Earnings Has Experts All Agreeing About Home Sales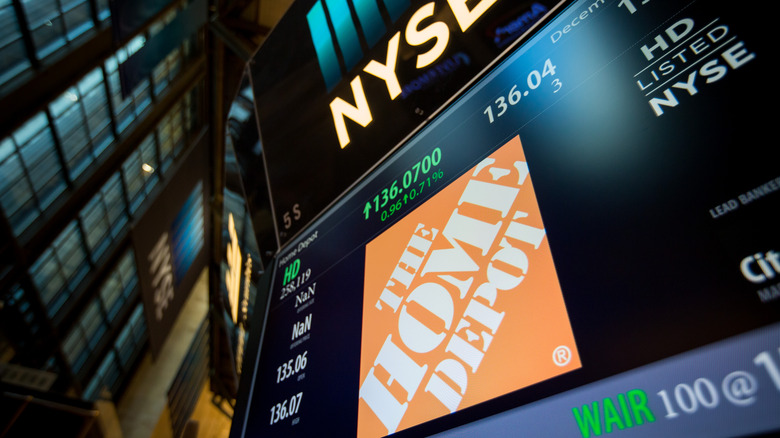 Bloomberg/Getty Images
This week has been interesting for large retail companies' stock prices. Big-box stores such as Target and Walmart both saw significant tumbles in their stock values early in the week, as they posted earnings reports that showed profits and growth were slower than expected in an economy where inflation continues to rocket upward at record highs. In contrast, Home Depot announced on Tuesday that its sales and earnings were higher than expected for the first three months of 2022, and it is adjusting its earnings outlook for the rest of the year, saying it anticipates growth in sales to continue, as covered by CNN Business. Investors took notice, with Home Depot's stock rising 2% on Tuesday and continuing to grow throughout the week.
What is setting Home Depot apart from Target and Walmart, two of its biggest competitors? Home Depot's exclusive focus on home and garden merchandise differentiate its customer base from that of other retail stores, and this might be providing it a level of protection from the inflationary pressures and supply chain issues other retailers are facing. Home Depot is still paying more for materials than it was a year ago, and it is still facing product shortages, but its consistent sales numbers despite those adverse economic conditions demonstrate that the red-hot housing market in the United States isn't slowing down anytime soon. Americans are continuing to buy new homes and renovate old ones, and such high demand is protecting Home Depot from inflation and boosting its profits.
Interest rate hikes and home sales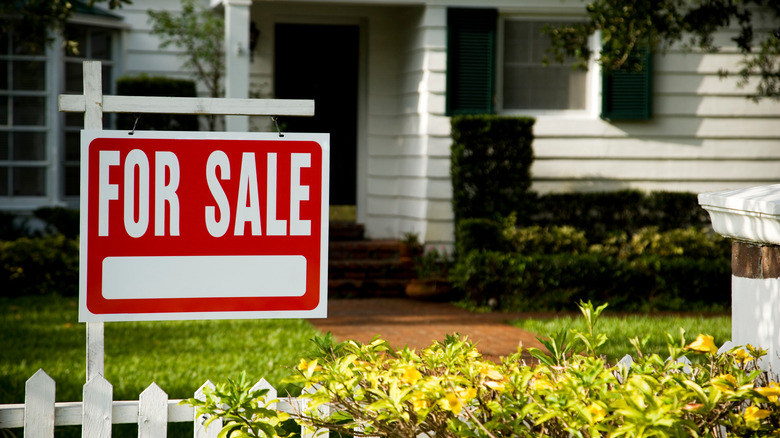 Juice Flair/Shutterstock
The U.S. Federal Reserve, a government agency tasked with maintaining a healthy economy in the United States and forecasting/mitigating any economic risk, has been grappling with the impacts of inflation and how to best address skyrocketing costs for goods and services, reports CNN Business. Inflation, which Investopedia defines as the declining value of a currency such as the dollar due to consistently increasing prices, has risen 8.5% over the past year, according to the most recent report from the U.S. Bureau of Labor Statistics, which also notes that inflation is now at its highest level since December 1981. Traditionally, the Federal Reserve attempts to reduce inflation by raising interest rates, which makes it more expensive to borrow money and has historically cooled off the economy and slowed the pace of rising prices.
Increased interest rates would mean prospective homeowners end up paying more in interest on mortgages and home loans, leading to some people being priced out of the market. Decreased demand for homes would hypothetically result in a subsequent decrease in home sales, which might lead to a decrease in home sticker prices. However, CNN Business reports that analysts are interpreting Home Depot's growing sales as an indication that the interest rates aren't yet affecting the housing market, and, in fact, the market may be just too hot to cool down.
Home sales, the supply chain, and COVID-19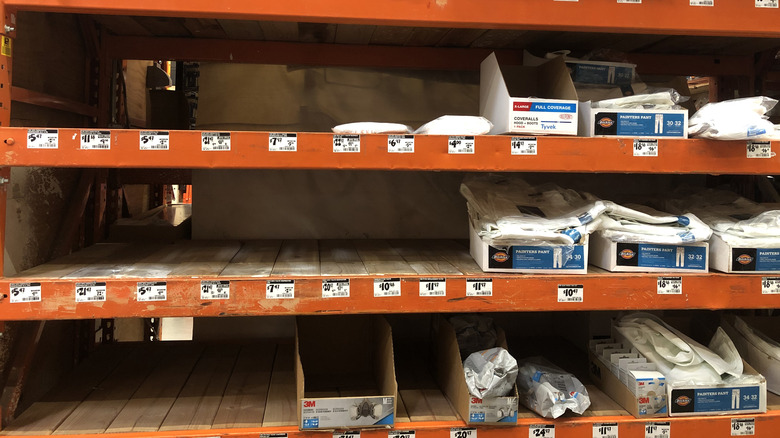 Justin Sullivan/Getty Images
Per CNN Business, Home Depot's new peak in earnings may be indicative of another continuing market trend: people are still spending more time in their homes than they did before the pandemic, which has led many to reconsider their living spaces and work to improve them. Even as offices reopen and travel rates begin to creep back up, the pandemic fundamentally changed how most people think about their homes. And, as NPR has covered, many millennials capitalized on the opportunity of low-interest rates during the peak of the pandemic to become homeowners and take on the costs of home maintenance for the first time –- which is where Home Depot and its multitude of home products come in, of course.
The pandemic is also spurring on the hot housing market in another way: supply chain disruptions. Supply chain issues continue to plague construction markets, forcing real estate developers to press pause on many projects that would lead to newly built residences. This situation increases demand for the ever-shrinking pool of existing homes. Supply chain shortages and inflation also enable Home Depot to raise prices on its products, and with home improvement continuing to be a top priority for many Americans, increased prices won't be keeping them away. Home Depot's success is directly related to the American housing market, and with their impressive recent earnings numbers, we shouldn't expect to see home sales slow down any time soon.