What To Do With Your Christmas Tree After The Holiday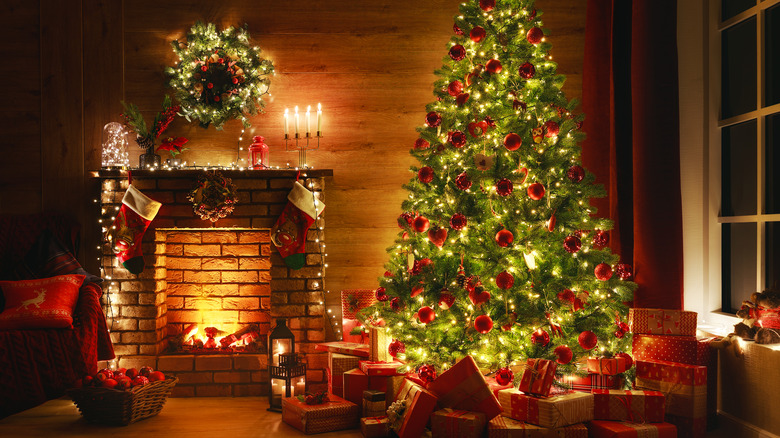 Evgeny Atamanenko/Shutterstock
In a 2018 study by the American Christmas Tree Association, researchers discovered that nearly 100 million Americans brought a Christmas tree into their homes for the popular winter holiday. Though the study also shows that a disproportionate number of those festive households put up an artificial tree –- 82% to be exact -– there is still an overwhelming desire for real trees during the holiday season. Furthermore, the National Christmas Tree Association reports that an estimated 25 to 30 million real Christmas trees are sold across the U.S. on a yearly basis, with an estimated 350 million real Christmas trees currently growing on specialized farms across all 50 states.
People buy artificial trees for a variety of reasons, and according to PBS, the number one reason is convenience, as many artificial Christmas trees already come pre-lit. However, for those who get a real Christmas tree every year or for those who are looking to begin a new tradition of doing so –- either for environmental reasons or simply for that fresh pine smell –- there are multiple ways you can dispose of and recycle your tree in an easy, environmentally friendly way.
What to do with your tree after Christmas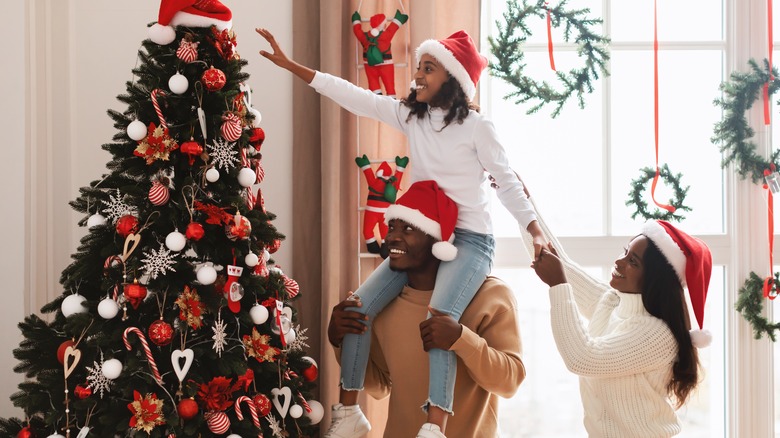 Prostock-studio/Shutterstock
Because of the biodegradable nature of real Christmas trees, there are a lot of different ways you can recycle yours after the holidays come to a close, including to be turned into mulch, among other purposes. The National Christmas Tree Association recommends researching your options locally, as different types of tree recycling services and availability can vary depending on your community. 
One of the easiest ways to recycle your real tree after Christmas is by utilizing curbside pickup. Many communities have curbside pickup services on designated dates following the holidays where the city will come get your tree free of charge. It will then be turned into mulch and utilized in other public areas, such as in parks to provide cushioning for hiking trails. If your community does not offer curbside recycling, you will likely be able to find a recycling center that will allow you to drop your tree off to be utilized for the same purposes.
As it turns out, farm animals -– especially goats -– love to eat Christmas trees, which is another option for recycling your tree in a way that your local barnyard friends will thank you for. According to Fox 17, pine needles contain a lot of Vitamin C and act as a natural dewormer for goats -– not to mention, they love the taste. Just be sure your tree is free of ornaments before offering it up to any farm animals as a snack!
Why buy a real Christmas tree?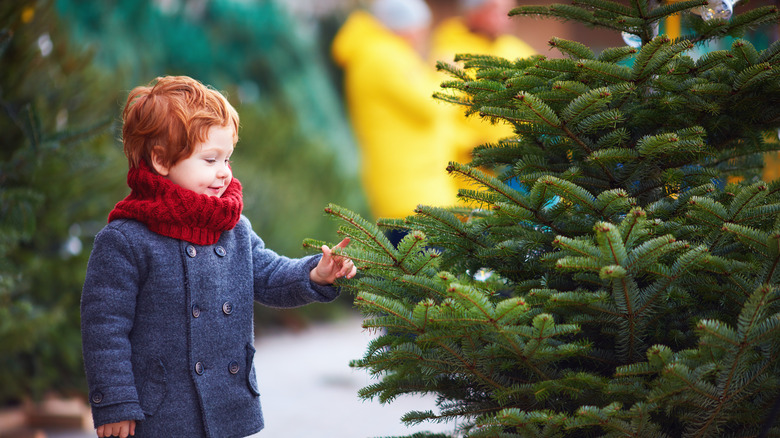 Olesia Bilkei/Shutterstock
Artificial trees may be easier to set up every year, but the National Christmas Tree Association reports that real Christmas trees are far better for the environment than artificial Christmas trees. Artificial trees are typically manufactured from a variety of metals and plastics, notably PVC, which is notorious for containing the harmful substance, lead. On top of that, artificial Christmas trees get about six to nine years of use, on average, before getting tossed out. From there, they remain in a landfill forever due to the inability of metal or plastic to biodegrade.
On the other hand, real Christmas trees absorb carbon dioxide and emit oxygen, which is why we rely so heavily on trees in general. There are a number of other benefits that come from growing Christmas trees on farms, which include providing a refuge for wildlife and preserving both water resources and the soil. Most notably, however, real Christmas trees are naturally occurring, and in turn, biodegrade naturally, making them easy and environmentally safe to recycle.