10 Ways To Incorporate Your Kids' Art In Your Home
Children's art is fun, bold, colorful, and happy. With joy and exploration in creation that almost seems palpable, it's easy to understand why we save every single piece. Usually stacked in a drawer or box, they continue to grow, multiplying: bunnies, round dogs with pointed ears, stick people in front of stick houses, yellow, radiating suns with wide smiles. This time in kids' lives is fleeting, as is the unfettered way in which they draw and paint out of desire and engagement with the materials — later often supplanted by self-critique and careful attempts at imitation.
While we all want to celebrate our kids and show them unconditional support, it may be a bit more difficult for the minimalists, the anti-clutter crowd, and the greige enthusiasts to match calmer aesthetics with the pride and love in our hearts. But according to PBS, making art teaches kids real-world skills, like critical and creative thinking, and hand-eye coordination. It builds self-esteem in both younger and older children. And we can appreciate that it keeps them busy for awhile. As a parent, it's is a win-win situation, as long as everything's washable. Displaying art encourages the process, instills pride, and gives your home a boost of color, too. We've come up with some understated ways for even the more chaos-weary among us to share their children's art; and if you're one of those go big or go home types, you'll love more ideas for showcasing the riot of movement and pigments in yours!
Pillows
Accent pillows are a great way to add a little pop! Have your child's artwork printed on fabric or let them go nuts with paint and cotton. If you're new to sewing, stick with a square or rectangle, or try no-sew tape. For the advanced, try irregular shapes and fun double-sided images.
Placemats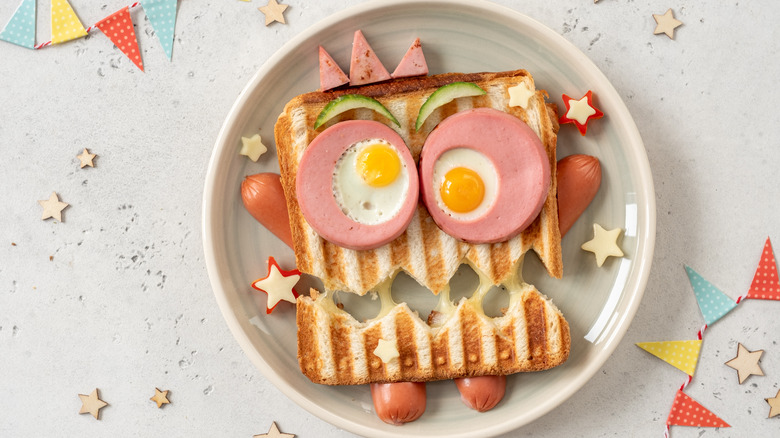 Placemats are a perfect bite-sized art display. For permanent use, paper artwork can be laminated or pieces can be printed on fabric and then treated with iron-on vinyl. For a temporary decoration, cut butcher paper to placemat or table-top size and let kids draw, paint, and stamp until they've had their fill.
Screen time
Take digital photos of your child's artwork – it's easier to pare down the physical pieces when there are records of them. Then create a photo album to display on a screen. Seeing their art on a TV bigger than they are will light your kid up! It can then also become your phone or computer background.
Scrapbooks and digital books
For crafty parents, a scrapbook of your child's artwork is a great project that can be as fancy as a clothbound book, or as easy as a binder of envelopes filled with favorites. If you're digitally inclined, you can upload photos and create a hardcover online. Make one for each child, or one per year. 
Headboard
A headboard can be anything that delineates the bed from the rest of the room. Hang artwork-printed fabric between two curtain rods, tack a canvas masterpiece to the wall, or use painted wood boards, as above. You can even frame out a headboard with contrasting wall paint and let your child create the picture inside.
Feature it
Choose one or two pieces to highlight and designate a place to display them. You can occasionally switch them out, and float small pieces on a big sheet of paper in larger frames. Your child will delight in selecting what feels special enough. Seeing their work featured prominently will positively influence how they look at it, and themselves.
Coasters
If your child doesn't mind, you can collage parts of artworks to make an interesting design or feature details that are particularly pretty all on their own. Online tutorials suggest purchasing inexpensive ceramic or wood tiles, then adhering and sealing the artwork to ensure it's waterproof. Back them with protective felt and you'll have artwork that lasts.
Windows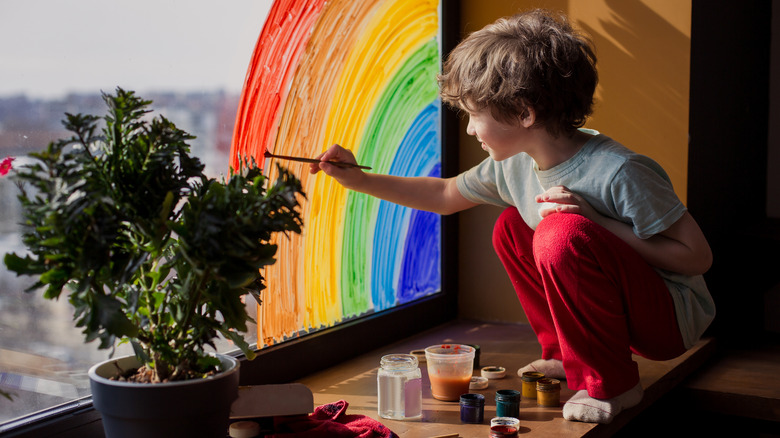 Da Antipina/Shutterstock
Windows are wonderful to paint or draw on! They offer a smooth surface that allows color and creativity to shine. Temporary glass paint and markers are readily available at your local craft store and the color will wash off when it's time for a new view.
Shower curtain
Make bath time better — abstract splotches of color, haphazard stripes, or whimsical line drawings of favorite animals can all be printed onto fabric. Shower curtains (or drapes) are a functional and easy way to highlight the finished product. Break out the no-sew tape again for the hem and rod pocket, or use a grommet kit. 
Gallery wall
A gallery wall of children's art is an eye-catching focal point in any room. Whether arranged randomly or neatly ordered, several pieces will create a surprising display of color and pattern. Best of all, if there are multiple kids in the house, everyone gets a welcomed debut.