The Deck Cleaning Tricks You Should Be Using Yourself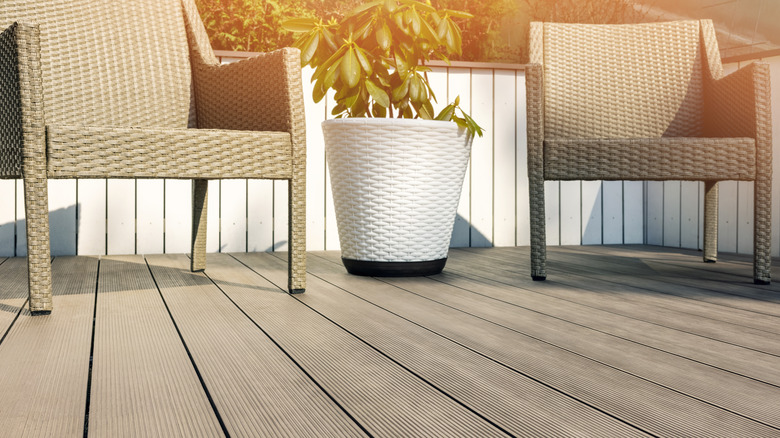 ronstik/Shutterstock
If you own a deck, you know how enjoyable these outdoor spaces can be, especially during the warm months. Decks are great places to host parties, BBQ delicious food, sit in the sun, and relax with a good book. 
If you're looking to add a deck to your home, it may be worth the cost. First, decks are relatively cheaper than other house additions. According to Home Advisor, a deck typically costs $4,000 to $11,000 to complete. Second, they are typically built quickly. Furthermore, decks require minimal upkeep. However, to keep your deck at its fullest potential, you'll want to clean it regularly. If you have a wooden deck, aim for yearly maintenance for cleaning, sealing, and staining. If you have a composite deck, less checkups are required. Either way, keeping your deck clean is key to fully enjoying your outdoor space.
When cleaning your deck, there are two methods to keep in mind. First, you'll want to remove any fallen debris once a week. This can be done with a broom or a leaf blower. Second, you'll want to remove any stains and mold at least once a year. For this, you'll want to use a cleanser and an outdoor brush. 
Removing debris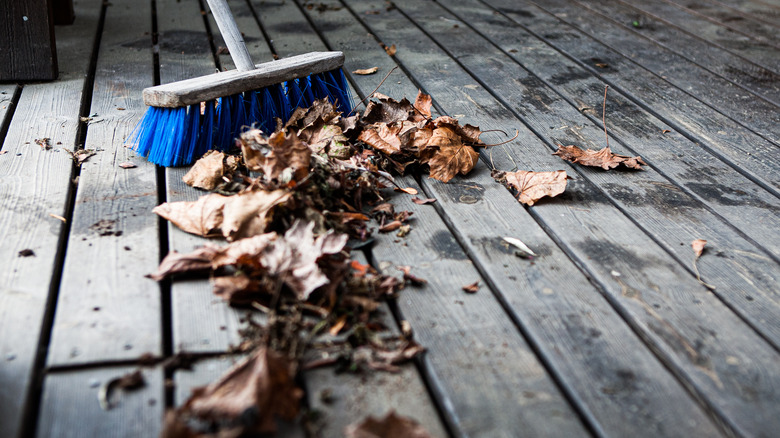 Sussi Hj/Shutterstock
Anyone who owns a deck knows the struggle of keeping debris off your space. Without regular cleaning, leaves, twigs, dirt, and pollen can start to build up. Most recommend sweeping your deck regularly.  You can remove debris with a regular broom. To do this, you may need to rearrange some furniture, or completely remove it from your deck. If you want the process to go faster, you could try using a leaf blower. You can also use a broom to gently wipe away any spider webs that may have collected on your furniture or in the corners of your house.
Sweeping or leaf blowing your deck once a week will not only remove debris but will also remove puddles of water. This is important because water can damage your deck. If your deck is made of wood, water can widen cracks and splits, or cause your deck to warp, per Seal-a-Deck. Avoid water damage by brushing off any puddles after it rains.
Another tip is to focus on areas where debris can easily build up, such as between the boards of your deck. Other areas include the corners of your house or between railings. Debris that isn't cleaned off can lead to mold and mildew. If your deck is made of wood, this can damage the boards. Using a leaf blower between the boards may be more helpful than using a broom. You may also need to use a cleanser and water.
Removing stains and mold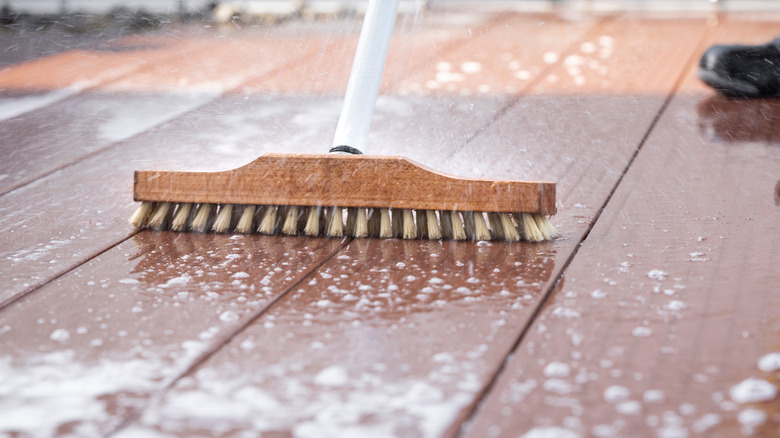 Tamara B/Shutterstock
A deeper clean than just a weekly sweep is recommended at least once a year. For this, you will want to remove all furniture, plants, and grills from your deck. You'll also want to cover any nearby plants, as some chemicals may damage your landscaping. Once your deck has been cleared and swept, use your outdoor hose to gently wash away any built-up dirt. To remove stains or mold, spray with a cleaning product made specifically for outdoor spaces, per The Creative Cottage. After letting the cleanser sit for a few minutes, use an outdoor brush to scrub the problem area. 
If you're wanting a more natural deck cleaning solution, try vinegar or baking soda. Vinegar is a natural cleaning tool used by many to remove odors and scum. It can also remove mold easily, as well as keep away ants. Baking soda is also a great alternative, as it is used to clean many surfaces. For example, when paired with dish soap, baking soda can keep your sink sparkling. You can also trust baking soda to remove BBQ grease around your grill.
While some may be tempted to pressure wash their deck, The HTRC does not recommend doing so. Pressure washing could damage it, especially if it's made of wood. Using a cleanser and a brush is the best way to keep your deck safe and super clean.