15 Tips To Boost Curb Appeal On A Budget
tokar/Shutterstock
If you're thinking of selling your home then having nice curb appeal can be vital to getting the best return on your investment. When people are driving past your house or have a personal viewing, their first impressions can make or break the sale of your home. In some instances, curb appeal can result in a positive increase in the value of your home by up to 11%, according to Royal Homes.
Luckily, it can be incredibly easy and affordable to beautify the appearance of your home. Projects like simply keeping a regular lawn maintenance schedule, tidying any unnecessary messes, and adding plants or furniture can result in a positive curb appeal as well as make you feel proud about the look of your home. Even if you're not planning on selling your home, it can help to positively affect your mood if you're constantly coming home to a visually impressive house. These steps don't need to take up a bunch of your time, but you will surely be happy with the results. Ahead we will give you helpful curb appeal tips on how to keep the façade of your home looking great without having to break the bank in the process.
1. Keep your walkway tidy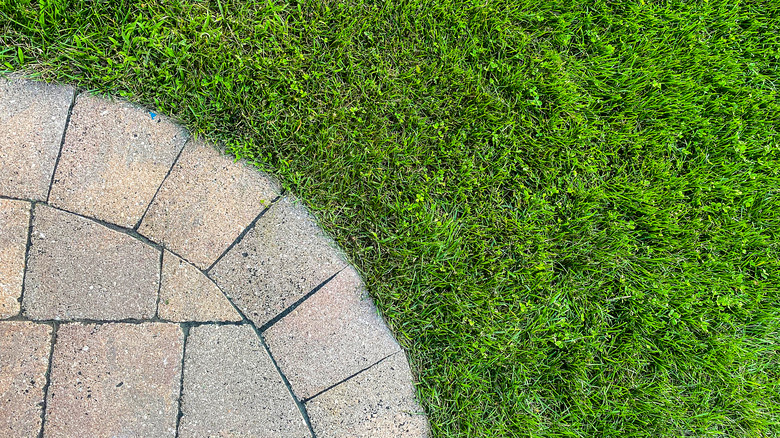 Jason Grant/Shutterstock
A quick way to make the front walkway of your home look neat and tidy is to trim away any long grass. Sometimes grass or weeds can grow over the sides of your walkway or through any brickwork and cracks. Using a set of garden shears, garden trimmer, or even a simple pair of household scissors to cut away errant weeds and grass can make a big difference in the overall look of your home. Depending on what tools you have available around the home, this project can be done without having to spend a dime.
2. Paint your front door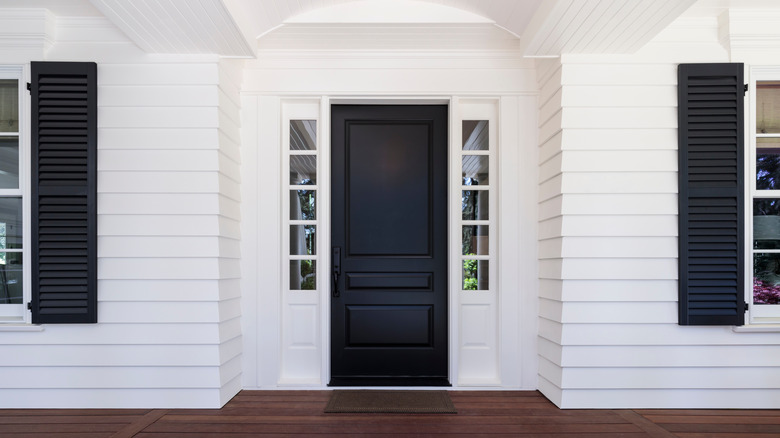 David Papazian/Shutterstock
Your front door is highly visible and depending on its condition, it could leave either a good or bad impression. If the paint on your door is fading or chipping away then it's time to apply a fresh coat. Make sure you strip or sand off the old paint before adding a new layer. The cost of a new can of paint can run you anywhere between $23 to $55 depending on the brand plus an additional $6 to $30 for the cost of brushes. However, the extra money and time will be well worth it.
3. Add some potted plants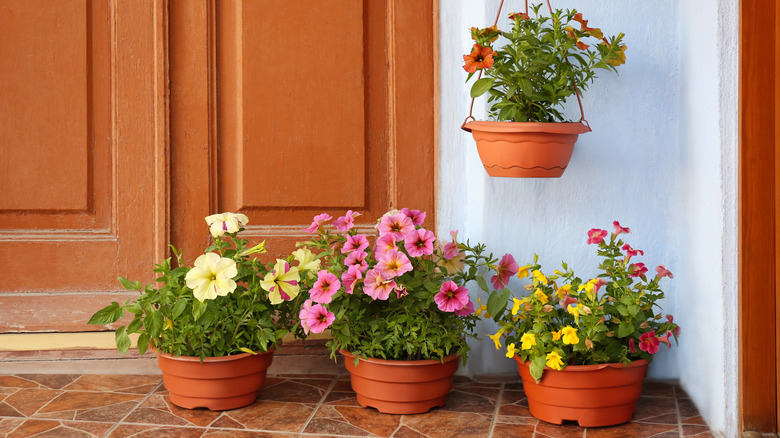 New Africa/Shutterstock
Bring some life to your front porch by popping in some colorful potted plants. This can be an enjoyable and easy way to make the curb appeal of your home look more unique and desirable. Play around with a variety of color schemes and plant types to get the combination that is perfect for the style of your home. Depending on the size and number of plants, this project could cost anywhere between $18 to $40 per plant. Also, have fun placing the plants in funky decorative pots to add further pizzazz to your porch.
4. Purchase new address numbers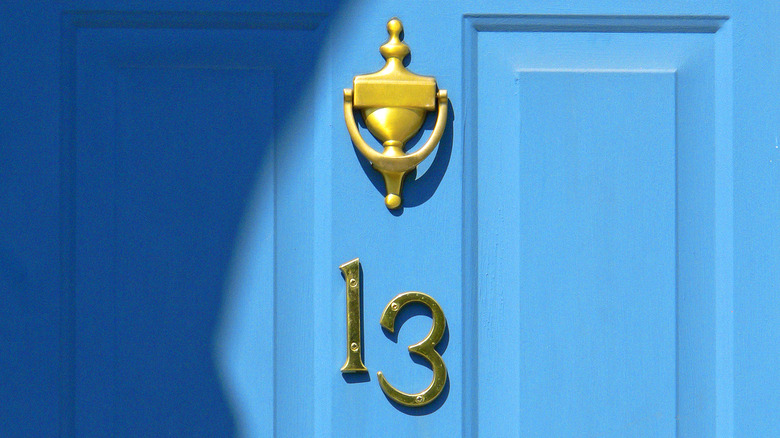 KishoreJ/Shutterstock
Do you still have the original house number signs from when you first moved in? Then it might be time for an upgrade. If you've found that these signs have become weatherworn, chipped, or tarnished then this could be a cost-effective way to boost your curb appeal. Consider taking off your existing numbers and giving them a quick clean or even a little coat of metal polish if the material allows it. Otherwise, a new house number sign can cost anywhere from $2 per number to up to $100 for a full plaque or sign.
5. Add front porch furniture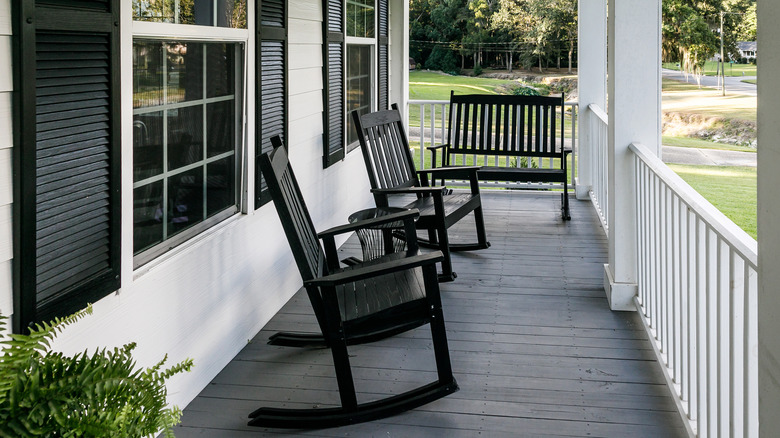 Ursula Page/Shutterstock
Having furniture on your front porch is an effortless way to make this outdoor space seem cozy and inviting. However, if the furniture you have out there already is in a state of disrepair then it could create a bit of an eyesore. For a simple glam up of your existing wooden chairs or tables, it could be as easy as slapping on a fresh coat of paint or wood stain. For plastic furniture whose colors are fading, try picking up a vibrant shade of spray paint. You might be pleasantly surprised by the results.
6. Bird feeders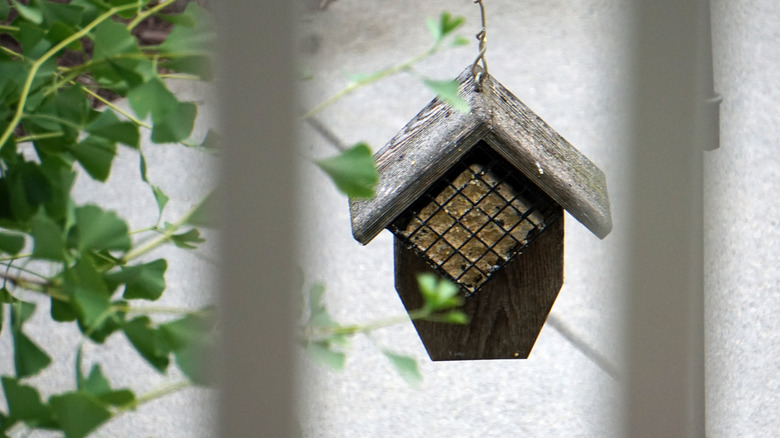 Richard L. Bowman/Shutterstock
There's nothing like the sights and sounds of beautiful wildlife to add to the overall enjoyment of your home. Having a wide array of local birdlife visiting your home can give your place a nurturing feel. One way to attract stunning birds to your front porch is by hanging a bird feeder. Although you can easily purchase a brand new feeder from a store, there are plenty of DIY bird feeders you can make that will cost you next to nothing. These projects can utilize the materials that you have at home while also being a fun activity.
7. Get a new mailbox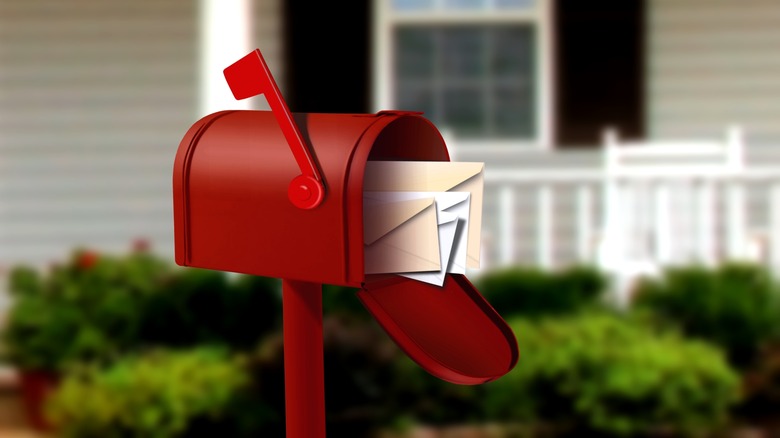 Aina Jameela/Shutterstock
Whether you have a mailbox attached to the front of your home or there's one at the end of your laneway, it is important that it doesn't look shabby — otherwise, it may be detrimental to your home's curb appeal. A way to updo your existing wooden mailbox without breaking the bank is to sand it and add a new coat of paint or stain. In the case of a metal mailbox, repaint using spray paint. Or you can find DIY plans to make a mailbox on your own and upcycle materials you have on hand.
8. Window flower boxes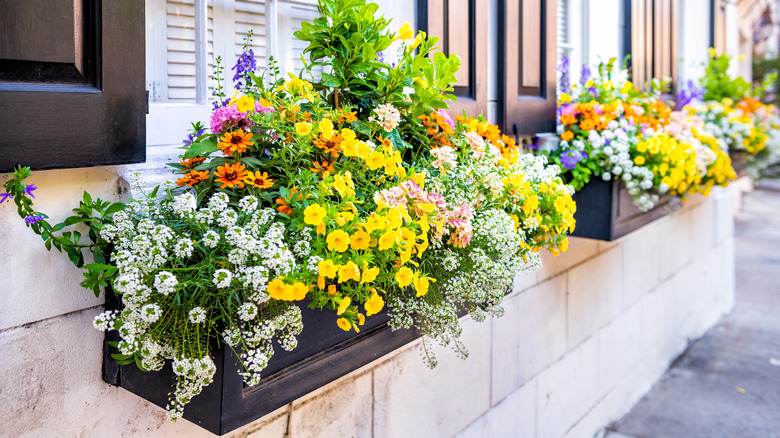 Andriy Blokhin/Shutterstock
Just like potted plants, having a beautiful array of flowers growing from window boxes is sure to increase the curb appeal of your house. Window flower boxes look like rectangular planters that hang neatly from your home's front porch window. These handy planters can help to add a pop of color to the front of your space and can be a lot of fun to work on. Also, because they are up off of the ground, you can be sure that little critters like squirrels and rabbits won't be tempted to munch on your precious plants.
9. Update your porch lights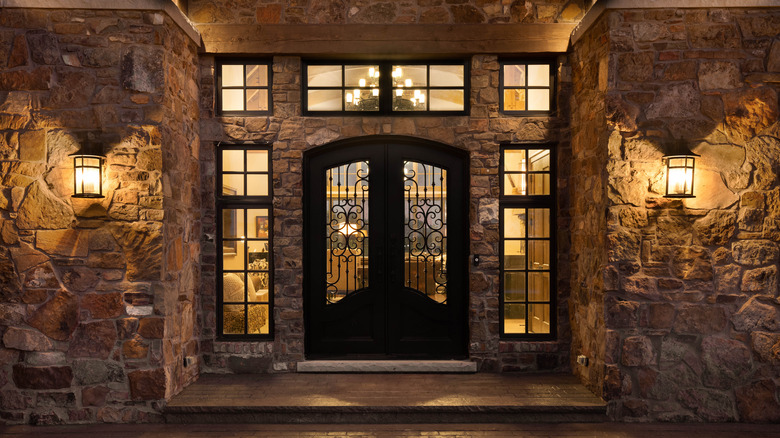 Hendrickson Photography/Shutterstock
There's nothing that dampens the feel of a cozy porch more than lackluster lighting. Especially if you enjoy spending your nights relaxing on your front porch or entertaining guests, it can be hard to do under shabby light fixtures. Luckily purchasing new porch lights can be fairly inexpensive, with some costing as low as $10. As long as you have had existing lighting, the process of switching them out can fairly simple. Having a properly lit porch can also double as good security to deter would-be thieves from targeting your home.
10. Keep your grass trimmed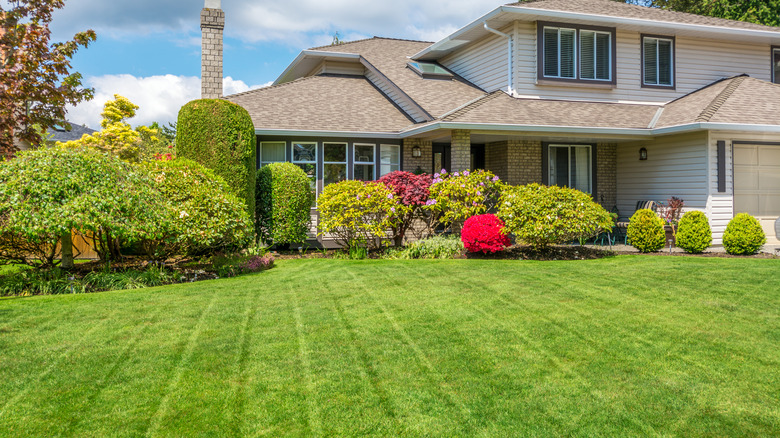 ppa/Shutterstock
One of the easiest ways to boost the curb appeal of your home is to keep your grass neatly mowed. If you let your grass grow out of control, not only will it look messy and unkempt, but it will give the impression that the rest of your home is untidy as well. Some helpful tips on getting the most out of each mow are to make sure to cut your lawn when it's dry and leave the clippings on your lawn as they make for good nutrients for the rest of your lawn.
11. Power wash your driveway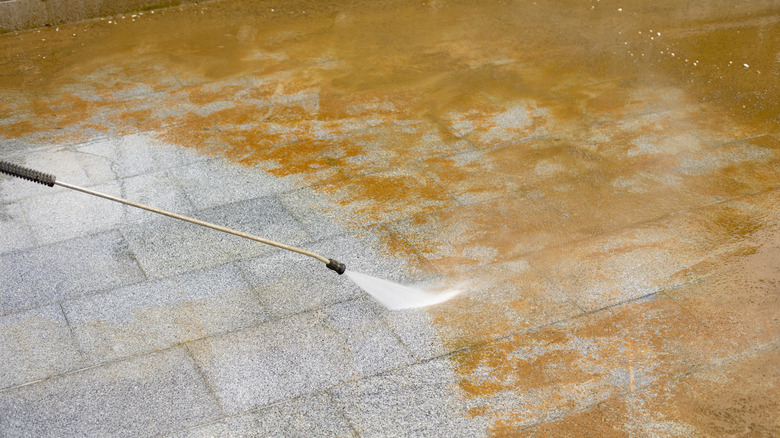 Oleg Kopyov/Shutterstock
Your driveway and walkways are among the first things that people see as they approach your house. So if your driveway is filthy or has grease stains, then it might be time to power wash it in order to get it back to looking its best. Power washers expel a hard stream of water that can blast out deep-set dirt that sets into bricks or concrete. These wonderful machines can be rented for as low as $40 a day and can help to bring a whole new look back to the front of your property.
12. Lay down fresh mulch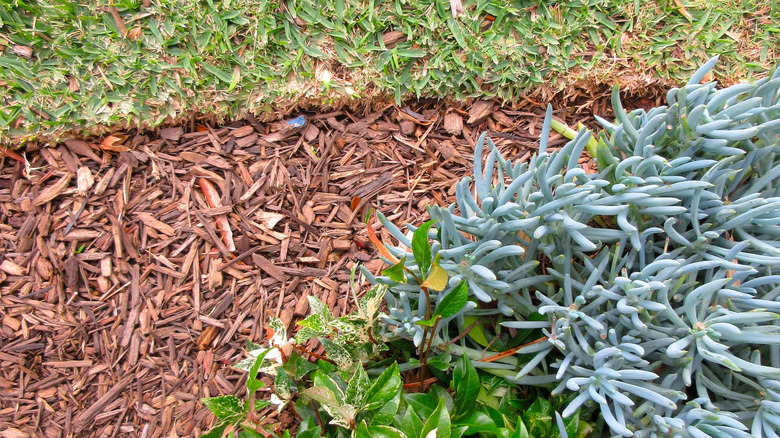 Jen Petrie/Shutterstock
There are plenty of benefits to scattering mulch in your front garden. The most popular type of mulch comes from the shredded bark of certain types of trees. It can come in natural colors, red, or even black to help accent your existing plants or decoratively outline your garden patches. Mulch is extremely beneficial as it can help to keep the moisture in the soil below as well as add nutrients as it breaks down. Bags of mulch can cost as low as $3 a bag and be the perfect way to highlight your front garden.
13. Put away unused materials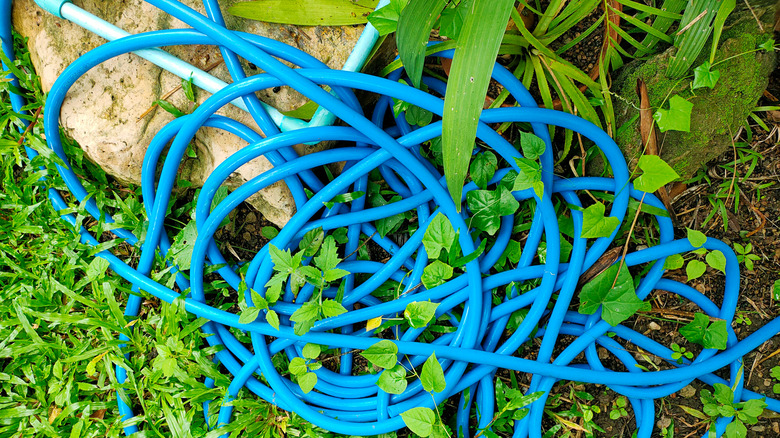 namkhao/Shutterstock
It goes without saying that having a bunch of materials just laying around the front of your home will make it look messy and uninviting. Uncoiled garden hoses, kids' toys, bicycles, and other items can be easily put away in your garage or shed. Unfortunately, when not taken care of it can give a negative impression of your house, especially if you're thinking of selling to potential buyers. A quick tidy of your front lawn will cost you nothing but the time it takes to perform the task and will reward you with an organized appearance.
14. Paint your garage door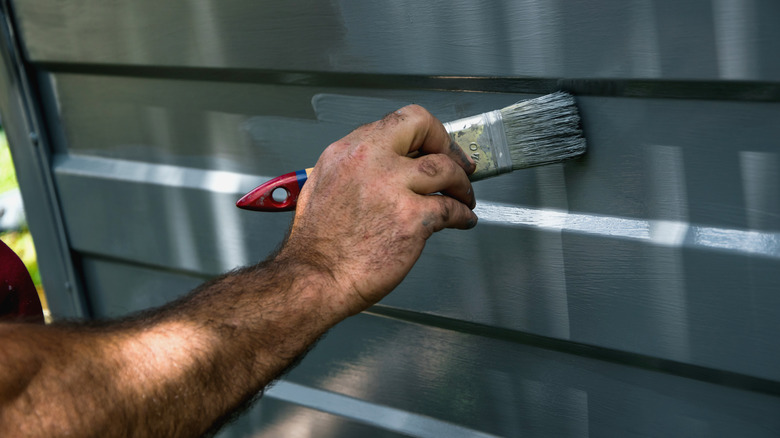 682A IA/Shutterstock
The door to your garage can be very visible from the street in front of your home. Whether you have a metal garage door or one made from wood, you should make sure that it is kept free from sun damage, peeling, and chipping as it can be an unpleasant sight for passersby. A fresh coat of paint can make all the difference when it comes to curb appeal. Try matching the color to your front door and window shutters to create a cohesive sense of style for the façade of your house.
15. Lay down an outdoor rug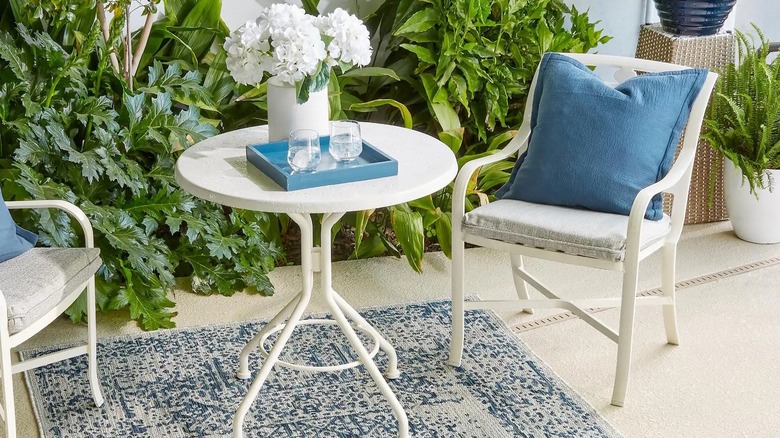 DesignStock09/Shutterstock
Adding an outdoor rug to your front patio can be the perfect way to introduce colorful patterns and a sense of coziness to your outdoor space. Especially if you have a concrete porch, a good comfortable outdoor rug is just the thing to soften up the area and make it more inviting for entertaining guests. These types of rugs are usually weather-resistant and can be made from materials that won't fade in the sun. Depending on the style you choose, an outdoor rug can cost anywhere from $30 to over $100.