The Best Time To Shop At West Elm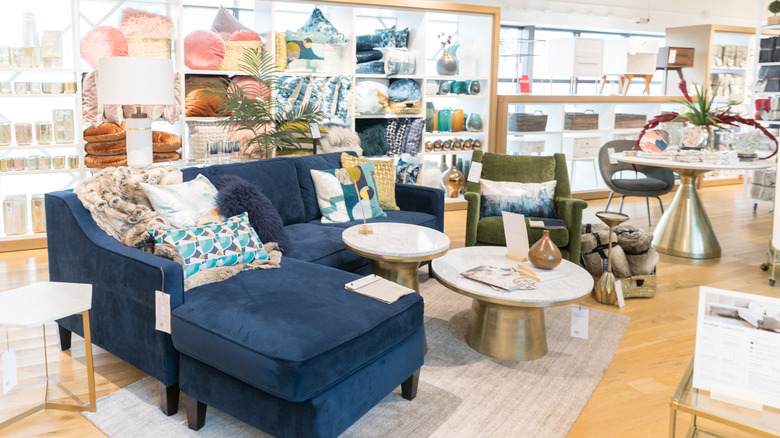 Helen89/Shutterstock
West Elm has exploded in popularity since its inception in 2002, thanks to its high-quality home furnishings that are both eye-catching and sustainably sourced. According to Williams-Sonoma, Inc., the parent company of West Elm, the retailer gets inspiration and frequently collaborates with artists from all over the world, and even sells one-of-a-kind, handmade products from some of those artists. In addition to benefiting from the work of artists around the globe, Williams-Sonoma also states that West Elm partners with corporations and organizations that support those artists and the communities they live in; so when you're stocking up on all the unique and trendy West Elm pieces you can get your hands on, you can feel good about knowing where they came from.
While Williams-Sonoma's subsidiaries are all higher-end stores aiming to attract the luxury shopper per Seeking Alpha, it is possible to shop at West Elm without having a luxury budget — if you know when and how to shop the deals.
Watch the calendar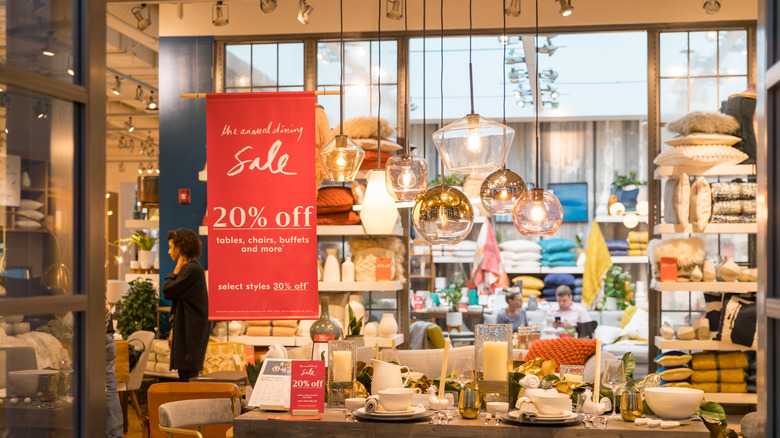 Helen89/Shutterstock
The Krazy Koupon Lady notes that everything at West Elm eventually goes on sale, so if you see a throw pillow or a rug that you just have to have, it might be best to wait until it gets marked down (because it definitely will). Because West Elm's sale calendar, like many retailers, is based around national holidays and events, it isn't hard to notice patterns in their annual sales — which can help determine when the next sale will be and what kind of discounts will be offered.
By shopping in line with the sales calendar, The Krazy Koupon lady says shoppers can expect to save up to 30% on most of these sales events, many of which take place over three-day weekends such as Memorial Day, Labor Day, Independence Day, and President's Day. These sales usually offer 30% off plus free shipping if shopping online. The same discount provided over these three-day weekend sales is also offered at West Elm's end-of-season sales, which typically occur immediately following a holiday. The end-of-season sales are an excellent time to stock up on holiday décor to store and use the following year. Shopping West Elm's annual white sale in January is a great way to score hotel-quality bedding and towels for 20% off.
Keep an eye out for pop-up sales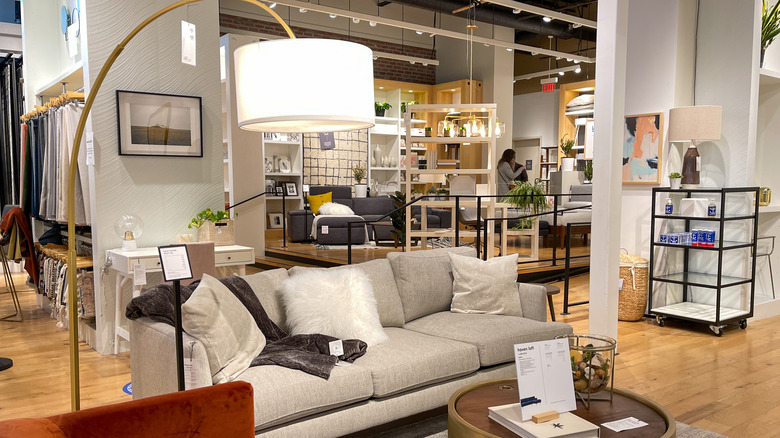 Joni Hanebutt/Shutterstock
In addition to following a regular annual sale schedule, West Elm holds sporadic sales throughout the year for seemingly no rhyme or reason, and that doesn't seem to follow any calendar. According to Frugal Reality, the discounts at these sales vary, and they are usually valid on select products, departments, or themed categories, depending on the season or the time of the year.
Unlike West Elm's annual sale calendar, which follows a fairly regular schedule, it can be more difficult to notice patterns in the timing of the retailer's monthly sales. For that reason, RetailMeNot recommends signing up for the West Elm email list or downloading the app, which will send you notifications and keep you in the loop about upcoming sales and in-store and online promotions. Unlike many stores, West Elm does not frequently offer promo or discount codes, which is why shopping during the sales events is extra worth it — since doing so is one of the few ways to save money at the pricey retailer. However, RetailMeNot notes that signing up for the email list is the best way to access the rare discount codes if and when they become available.