The Hidden Downsides To Wood Countertops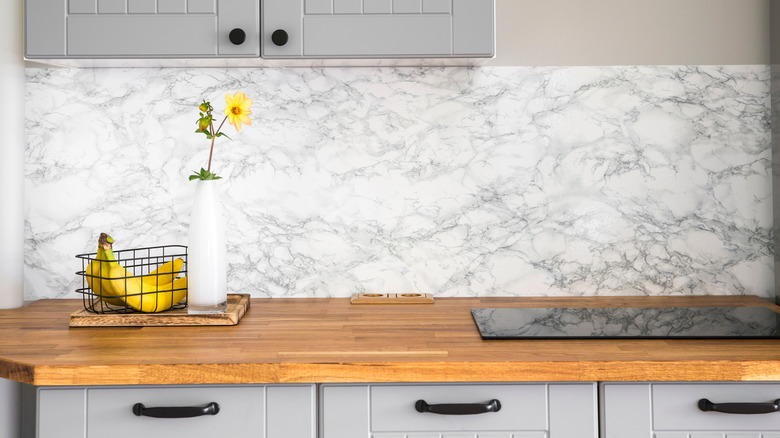 FotoHelin/Shutterstock
Wood countertops add a warm atmosphere to any kitchen. They have become much more popular in recent years, and it's not hard to understand why. There are quite a few benefits to installing wood countertops, and they can complement a wide variety of kitchen styles, notes CounterTop Guides. Whether your design style is minimalist, modern, eclectic, contemporary, or bohemian, wood countertops will look gorgeous in any type of kitchen. Moreover, these countertops are renewable and eco-friendly, per Prudent Reviews. 
Wood countertops are typically cheaper than materials like quartz, granite, or other types of stone. According to Prudent Reviews, wood countertops cost about $30 to $60 per square foot, whereas, quartz is about $50 to $150 per square foot. Additionally, food can be prepared directly on most wood countertops. However, while wood countertops may be beautiful, sustainable, inexpensive, and convenient, they do come with one major downside: they are also easily damaged.
The ways wood countertops can be damaged
fizkes/Shutterstock
Every downside to wood countertops falls under the umbrella of being easily damaged. If not sealed correctly, wood countertops can harbor bacteria, especially if used as a food preparation surface, warns Laurysen Kitchens. They are also easily dented, scratched, and stained, and If you're not careful about where hot pans are placed, the wood can even be burned, which could leave a permanent mark. Extreme weather changes can cause wood countertops to warp or split, notes Prudent Reviews. Water, if allowed to sit on the countertop for too long, can also be a cause of damage, and regular chemical cleaners should not be used, as they can harm the surface. Because of all these potential dangers, the maintenance cost of wood countertops can increase rather quickly.
If durability is your main concern when choosing the most suitable countertop, wood is perhaps not your best option. Instead, try quartz, granite, or laminate. Ranked as the most durable countertop material by Caesarstone, quartz is resistant to stains, bacteria, and chemical cleaning products, and is also heat-resistant.
How to care for wood countertops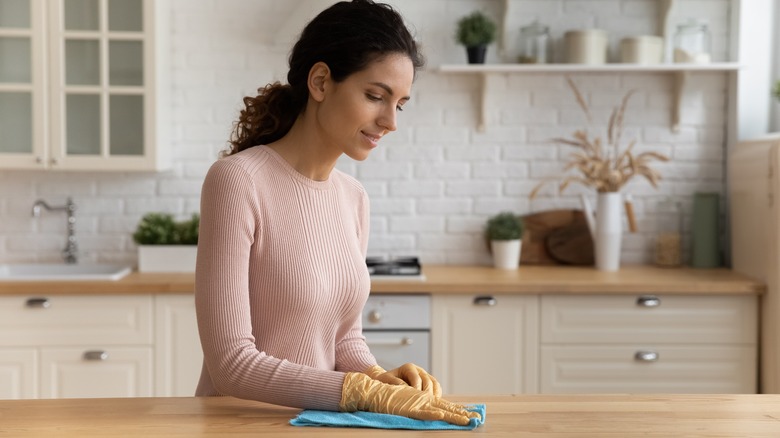 fizkes/Shutterstock
If you just can't say no to the beauty of wood countertops, it's important to understand how to properly care for them. The first way is through regular maintenance. To remove scratches, dents, and grooves, you can sand down your wood countertops with sandpaper. This will not only improve the appearance but also help limit bacterial growth. After doing so, follow up with food-grade mineral oil, which can be found at the drugstore, suggests The Art Of Doing Stuff.
Another way you can take care of your countertops is by cleaning them regularly. As stated, harsh chemicals should not be used, but there are plenty of more natural cleaners that are great substitutes. HGTV recommends scrubbing the wood with dish soap and a sponge. Then, to disinfect the countertop, pour white vinegar onto a towel and rub it into the surface. You should let the vinegar soak for 15 minutes, then after it has dried, you can apply a mixture of 1 cup of lemon juice and ½ a cup of salt to remove any stains.