The Hidden Downsides To Dishwasher Drawers
A dishwasher is a kitchen appliance some use every day, especially in households with large families where dishes constantly pile up. While using a dishwasher is usually easier than washing dishes by hand, it can still be inconvenient. For instance, they take up a lot of space. When open, they may block walkways or other cabinets, per Kitchinsider. Dishwashers also require lots of bending and reaching to load and unload, which may not be feasible for some.
If you've looked into a more convenient dishwasher model, perhaps you've come across dishwasher drawers. Also called dishdrawers, these appliances were released by Fisher Paykel in 1998, per Designer Appliances. They can be purchased as either single or two-drawer models and look similar to a standard dishwasher. Kitchens & Baths Unlimited lists the main benefits of dishdrawers: they save energy and water, are great for compact spaces, and allow for easier access. They can also run multiple loads on different cycles at the same time. Even so, there are some downsides to dishwasher drawers that should be considered before you buy.
The hidden downsides to dishdrawers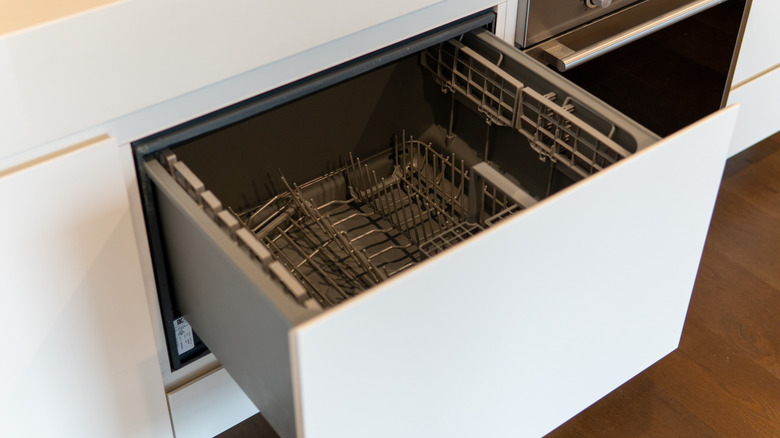 anystock/Shutterstock
The first downside is that larger dishes may not fit into a dishdrawer. The typical dishwasher drawer is about 17 inches high, per Kitchens & Baths Unlimited. If you like to put everything in the dishwasher — even pots and pans — a dishdrawer may not be a great option for you. Another downside is that users can feel inclined to fill them up too much to save energy and water, leading to unclean dishes, per Home Guides.
Something else to consider is that dishdrawers have far fewer design choices than standard dishwashers do. For a while, the only company that sold them was Fisher Paykel. Now, there are other options by brands like KitchenAid and JennAir. Still, there aren't as many options on the market.
The final and probably most compelling downside to dishdrawers is that they are much more expensive than a regular dishwasher. This is because they have special installation requirements, per Upgraded Home. If you're on a budget, choosing dishdrawers may be a mistake.
Some may still be enticed
However, for some, dishdrawers are the solution to all their dishwashing problems. If you're someone who doesn't use many dishes, a single drawer may be an excellent option for you, per Remodelista. Installing a dishdrawer instead of a full dishwasher saves kitchen space and allows for clean plates more often without wasting water or energy. You could also benefit from a dishdrawer if you love entertaining, per Kitchens & Baths Unlimited. Dishdrawers allow you to wash dishes more often and on different cycles simultaneously, so all your entertaining silverware can be clean by the end of the night.
Finally, according to Kitchens & Baths Unlimited, dishdrawers are great options for those with accessibility preferences. Because dishdrawers can be installed higher than regular dishwashers, less bending and reaching is required. If you still want the same amount of dishwasher space, you can purchase multiple drawers. You can also install dishdrawers wherever convenient for you, like on either side of your sink, so less movement is required.