15 Subtle Ideas To Incorporate A Camping Theme In Your Home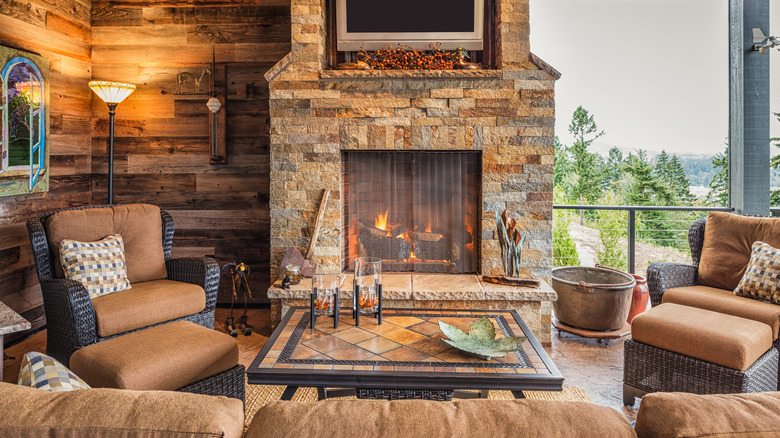 Breadmaker/Shutterstock
If you love breathing in the fresh air, soaking up the sun's lovely rays, and basking in the beauty of nature, then you may want to maximize any outdoor space you have at home. That might involve bringing splashes of style to a balcony or turning an enclosed porch into the perfect space to chill out. Or, you could bring the outdoors inside by incorporating a camping theme into your home.
When it comes to camping essentials that can provide you with the ideal inspiration, the experts at REI Co-Op have put together a checklist that includes everything you might need to keep you safe and comfortable as well as connected to nature. While you might not need a sleeping bag or cooler while at home, you can still use the same types of items to capture a camping vibe. For instance, check out the following ways to incorporate a camping theme into your home.
1. Indoor tent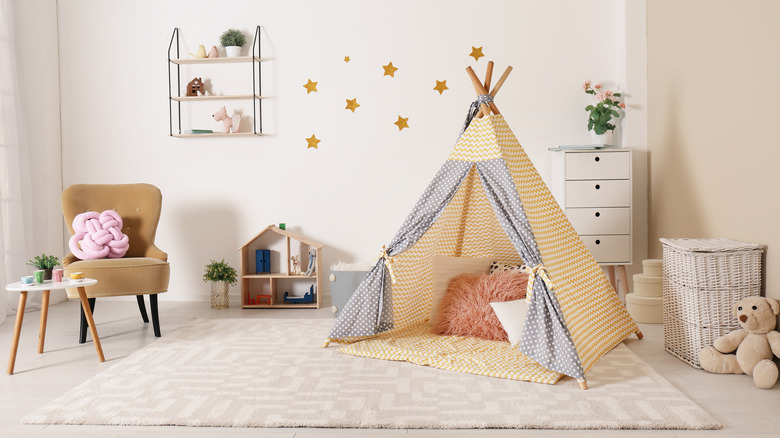 New Africa/Shutterstock
Setting up an indoor tent is an easy way to add a campsite vibe to your home. While it can be a fabulous spot for you to crawl into so you can read a book or take a nap, it can also be a great place for a teenager to chill or a little one to play.
2. Comfortable hammock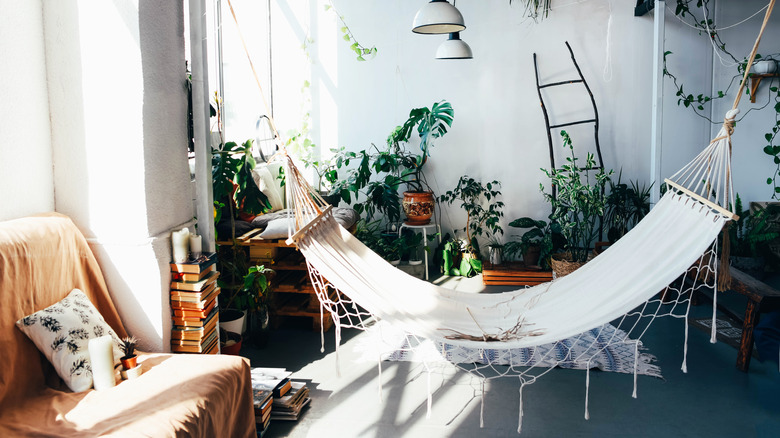 Maryna Terletska/Shutterstock
When you're on a camping trip, you don't necessarily have to spend the night in a sleeping bag. You can also suspend a comfortable hammock between two trees in order to get some blissful rest. With a little ingenuity, you can also hang up a hammock in your home to enjoy the same kind of relaxed comfort without the mosquitos.
3. Faux fur rug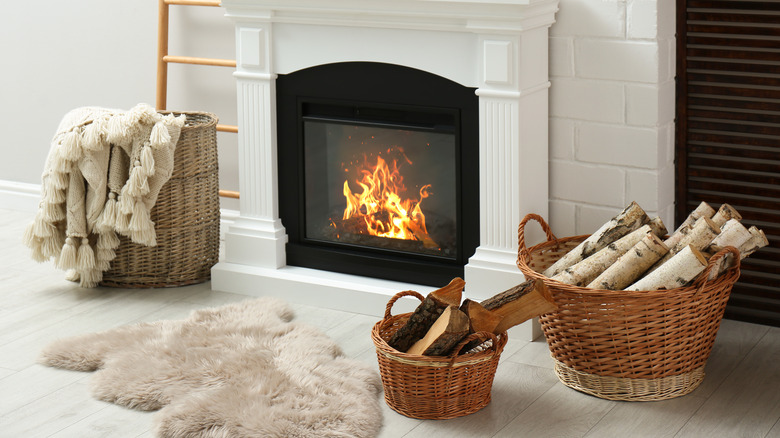 New Africa/Shutterstock
Add a cozy hint of camping-inspired décor to the floor of your home with a faux fur rug. Thankfully, since the material is not made from an actual animal, you can get a faux fur rug in pretty much any size, shape, or color that you desire, which means it will be perfectly suited to your indoor space.
4. Bug art
It can definitely be annoying to have to deal with insects, spiders, and other creepy-crawly creatures while camping, and bug spray is certainly a must-have for many people when spending time in nature. By hanging bug-themed artwork, you can capture the creative essence of those beings found in nature without having to deal with the actual insects themselves.
5. Forest mural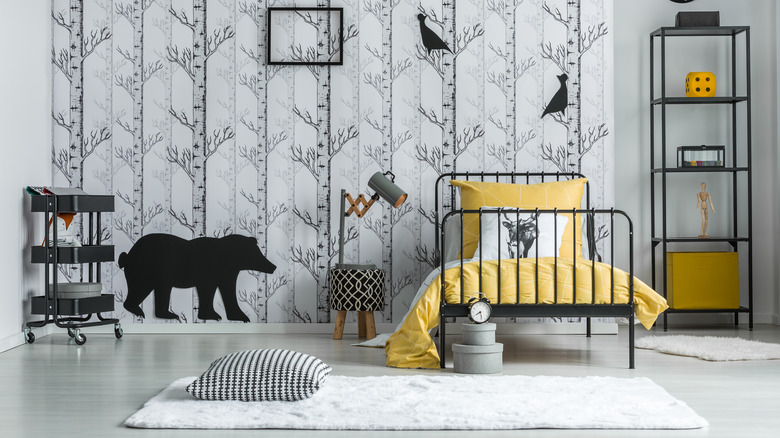 Photographee.eu/Shutterstock
You can still feel like you're out in nature even if you're hanging out in your living room, bedroom, or kitchen by adding a forest-themed mural to one or more of your walls. Consider a large piece of wall art that includes images of trees, birds, and maybe even a bear if you're feeling bold.
6. Mountain climbing wall
Take your camping-themed mural up a notch and create a space to get some exercise at home by turning that wall into an indoor climbing experience. All you need are a few climbing holds along with appropriate fasteners or wall anchors. Just make sure they're securely fixed to a stable spot on your wall.
7. Framed map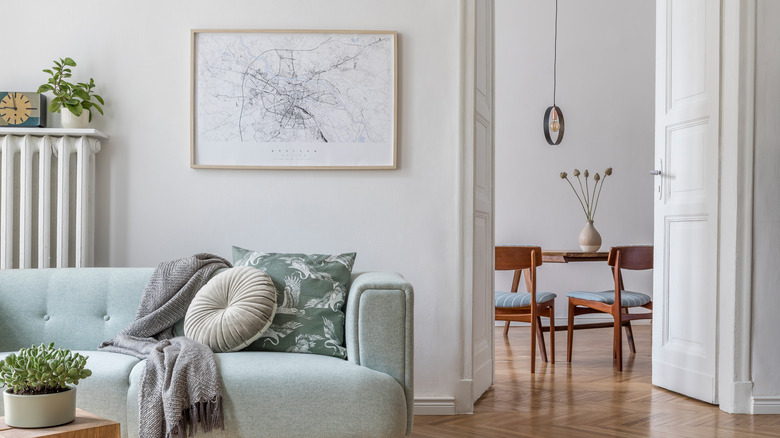 Followtheflow/Shutterstock
Do you have a favorite camping area or an ultimate camping destination on your bucket list? If so, find an attractive or rustic map of the area and pop it in a frame. Not only will it look cool as an artistic piece on your wall, it might also make you feel like you're back out on the trails.
8. Lantern lighting
Light up your home by using the same kind of illumination you would while camping. You can add attractive or worn lanterns to your functional décor, or you can use larger lanterns as your main source of light. Simply putting a few smaller lanterns around the room will provide a wonderfully warm and glowing ambiance to the space.
9. Natural wood accents
Using wood as part of your décor seems like an obvious way to embrace a camping theme, however, it might not be that easy to choose what exactly to use. Consider larger pieces like raw wood shelves and logs made into end tables, as well as smaller touches like firewood and kindling stacked in a corner.
10. Cozy blankets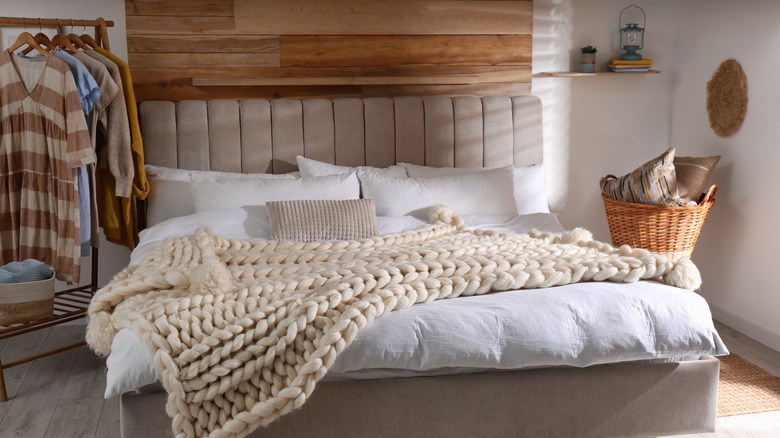 New Africa/Shutterstock
When you're on a camping trip, the nighttime can get a little chilly which is why it's a good idea to have a few cozy blankets available to keep you warm. Throw a few of those same blankets around your home to keep you comfy and make you feel like you're at a campout.
11. Picnic table
If you love having picnics while camping, then you can enjoy that same kind of fun every day by using a picnic table inside. Although it can be tricky to climb into the benches of a standard picnic table, you can always opt for an indoor setup that has detachable benches. This will still produce that outdoor picnic atmosphere.
12. Decorative antique ax
Spend a day at the flea market or stop by a local antique shop and you'll surely find plenty of items that can be used to enhance your camping theme. Keep a look out for old tools, such as axes, that you might use on a camping excursion. They make great decorations when hung on a wall.
13. Star decorations
One of the benefits of camping is getting the chance to sleep in the great outdoors, which means that you can stare up at the star-filled night sky above before drifting off into sweet dreams. Add star decorations — lights, decals, or even hanging sculptures — around your home to capture that same kind of magical moment.
14. Plenty of plants
Fill your home with plants to make it feel like you're constantly traipsing through a forest filled with trees, a meadow dotted with flowers, or a cactus-boasting desert. Consider opting for puffy ferns, tall palms, and intriguing succulents depending on the kind of outdoor scenery and setting you're trying to recreate.
15. Stone fireplace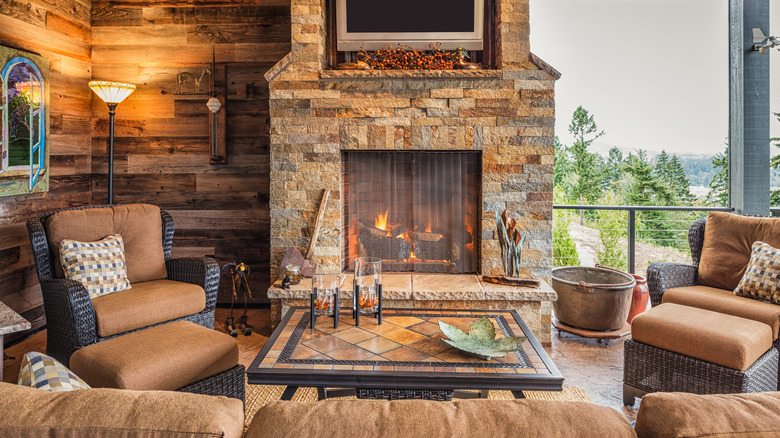 Breadmaker/Shutterstock
While some areas allow you to have a campfire in your backyard as long as you follow certain safety precautions, it's not exactly a good idea to have the same kind of fire inside your home. Instead, you can opt for a stone fireplace that can offer the same sort of vibe in a more appropriate manner.