The Best-Reviewed Product At Lowe's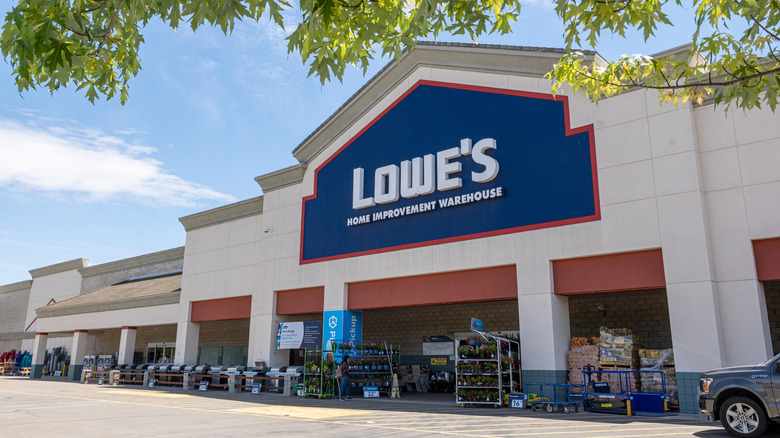 Bloomberg/Getty Images
As avid DIYers, we're always excited to spend a few hours at Lowe's to find unique supplies for our next projects. But as with any store, some products are much better than others. Wondering which of Lowe's products is the very best? We scoured each department's top rated section to find out!
With a staggering 11,876 reviews and 4.8 stars, the Westinghouse remote electric start portable generator seems to take the cake! Though this specific model has a steep price tag at $1,249 USD, it isn't hard to see why so many people have flocked to purchase a generator. In general, a generator is one of those items that may not be useful most of the time, but can quickly become essential in a life-or-death scenario (especially if you live in a particularly cold climate). Since you might not use yours right away but want to be sure that it's dependable, a slew of outstanding reviews are practically worth their weight in gold.
What are reviewers saying?
As you might expect, the generator has no shortage of positively electrifying reviews. Several reviewers on the Lowe's website say that the generator appears very sturdy and looks like it'll be built to last. Another common thread? Many people mention that they're purchasing the generator in case of bad storms or a rolling blackout. It's a good backup plan since working from has become more common (via Apollo Technical) and extreme weather events are happening more frequently (via Yale), potentially affecting people's income. Shoppers also report using their generator to power relatively remote spaces, such as camping trailers or rural homes.
Though you might think of a big, bulky, and ultimately cumbersome structure when you imagine a generator, one particularly glowing review by Nick150 tosses those worries aside. According to Nick, the generator was "[e]asy to store next to [his] tool box without taking up too much space," so it's probably not going to take over your whole garage.
You can't have it all
While the overwhelming majority of reviews were glowing, there were a few that provided some insights about the generator's potential downfalls. The most common complaint was about the generator's noise. Reviewer Rosy said that the generator was much louder than a previous unit that she had replaced. Nick also mentioned that, while the generator was relatively quiet for its size, it was still loud enough for the noise to be noticeable. However, other reviewers seemed to disagree. Guardian noted that the noise was lower when the generator was run on propane (via Lowe's), potentially indicating a way for noise-sensitive users to reap the generator's benefits without the irritation.
Unfortunately, reviewers also had other complaints. Chuckwarrick was upset that they were promised 5-day delivery on the product page, only for the delivery timeframe to jump to 30 days after the generator had been purchased. Similarly, Monkeytunk was frustrated that their generator arrived with cosmetic damage. Though it was minor, they wished it had been caught before the product left the warehouse. A small issue perhaps, but with such a high price point, we'd be upset too. Overall though, the generator seems to be pretty well-loved — and considering its rating, we aren't surprised.