The Least Expensive Home Goods Item At Costco With The Best Reviews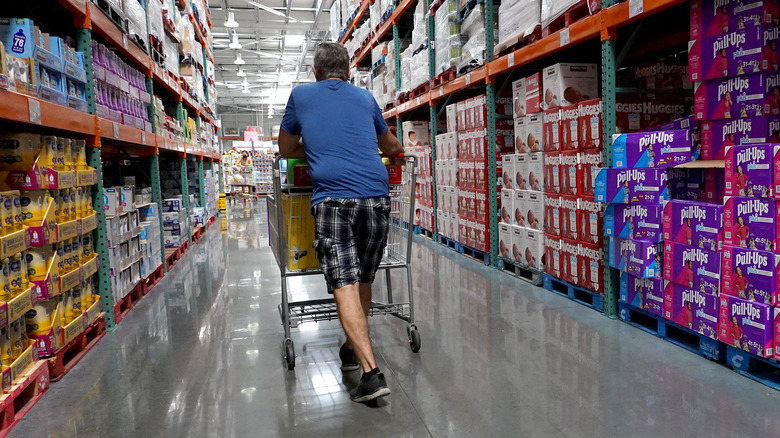 Joe Raedle/Getty Images
While Costco may have cemented its reputation as a great place to buy bulk groceries (or dirt-cheap hot dogs), as noted by Go Banking Rates, it also arguably boasts an impressive and affordable home section. Whether you're looking for a new set of pots and pans or a cute piece of décor, chances are that Costco can come to the rescue. But which product strikes the best balance between affordability and great reviews? The award might just go to the iDESIGN Pantry Bins 6-piece Set, which retails for $42.99 and has a 4.8 star rating with 1,447 reviews. 
Although the bins are made with plastic and are not dishwasher safe, all of the pieces are BPA-free. Also, the bins have handles which makes transportation easier. Wondering about the dimensions? The set contains a couple of sizes (two of the bins are 8x10x3 inches, while the remaining four are 8x10x5 inches), though all six pieces can be stacked upon each other to simplify storage.
What are the reviews saying?
As you can probably imagine, with 1,447 reviews and 4.8 stars at Costco, the iDesign Pantry Bins seem to have an endless stream of compliments. Several reviewers praise the quality of the plastic, while others mention that the clear material is very helpful since it allows them to see the contents at a glance (via Costco). 
Inside a well-stocked pantry, the transparency is all but invaluable. Reviewer Lmjim was very excited that the bins were durable and made in the U.S., though they also noted that the bins were more helpful in a cupboard than a freezer. To be fair, cold temperatures can cause plastic to become brittle, as noted by Chem Ceed, and the bins are labeled as pantry bins rather than freezer bins. So, the product simply may not be suitable for colder temperatures. Ultimately though, many reviewers seemed to agree that the 6-pack of bins was extremely helpful in their quest to become organized. As reviewer Michelle wrote, "My pantry is now organized chaos vs just chaos."
The potential issue with these bins
Although the bins had a staggering number of positive reviews on the Costco website, some shoppers were still unhappy with their purchase. Nearly all of the negative reviews had the same complaint: Bins had arrived broken. While user Jim W noted that the packaging was terrible and provided no buffering, AliMiami mentioned that the bins cracked easily in use. In other words, the cracked bins may have been partially due to product quality — not just inadequate packing.
To be fair, plenty of products occasionally break (especially during shipment). Ideally, customers can return the product to the retailer (such as Costco) and receive a refund or a replacement. Unfortunately, one reviewer complained that when they tried to return their warped bin, Costco reportedly provided the manufacturer's phone number to instead request a replacement. They called the manufacturer a few times but apparently did not receive a response until reaching out via email. Likewise, Costco directed reviewer Sharie to the manufacturer's email per her review, but she said the company stopped responding after a while. While mistakes inevitably happen, these kinds of issues can be headaches for customers.