30 Victorian-Inspired Bedrooms You'd Want To Sleep In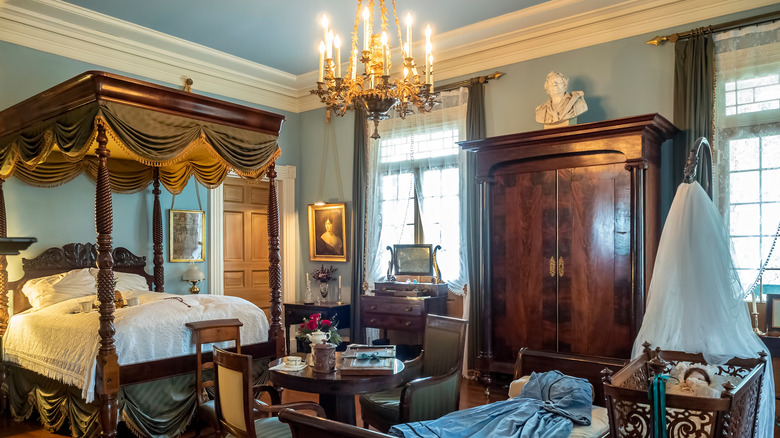 Dr. Victor Wong/Shutterstock
If you wish to create an ultra-romantic bedroom, taking inspiration from the Victorian period is an absolute must. The Victorian decorating style forms an inviting space that exudes romance and is the perfect place to share with a partner. In the Victorian era, the standard colors used were deep reds and blacks, according to MyDomaine. The outlet says there are a few things you can keep in mind, such as keeping the room classic so it doesn't feel dated, going with traditional floral wallpaper, proudly displaying a fireplace, and of course, not forgetting a chandelier! 
MasterClass agrees and shares several ways to decorate in a Victorian style, which became popular during Queen Victoria's reign between the 1830s and early 1900s. The company says to look for rich colors, tapestries, and furniture that is a bit over-the-top. Here are stunning, Victorian-inspired bedrooms we think you'd want to emulate for your own bedroom.
1. Gilded details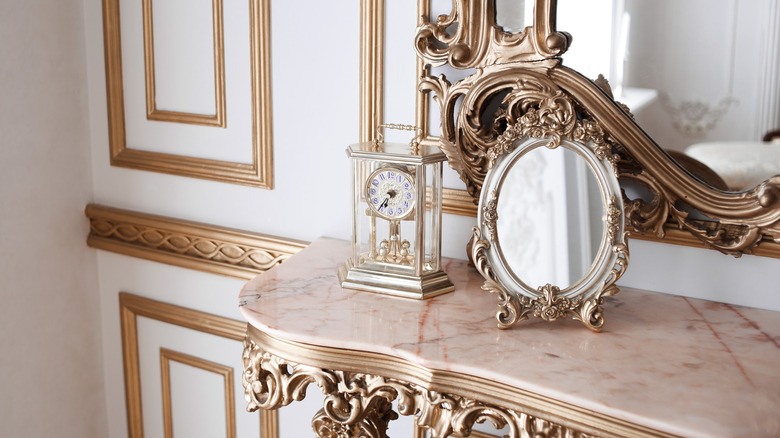 Nelia L/Shutterstock
The Victorian era was all about opulence, so be sure to add gilded details as this homeowner did in their home. An intricate clock and a small detailed mirror make this over-the-top marble table the perfect scenario for a gorgeous bedroom that would make this space a complete standout.
2. Go with an ornate bed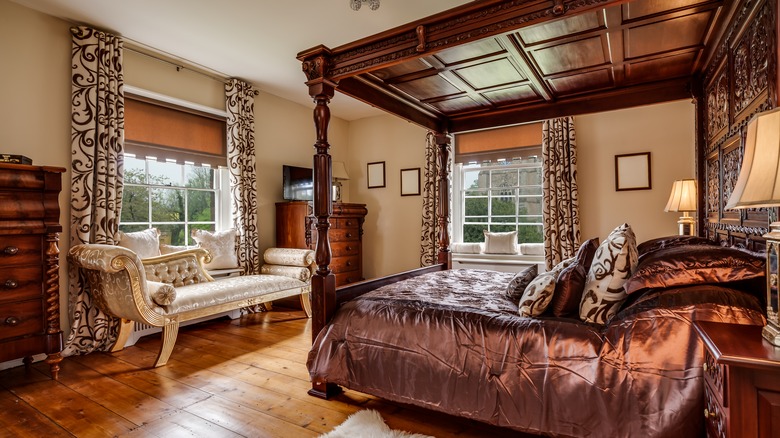 Mike Higginson/Shutterstock
In keeping with the elegance of the time, a bed that's a bit dramatic, aesthetic-wise, is always a good idea. This wood-carved four-poster bed frame is to die for. It looks beautiful with different wood tones, as seen in the flooring, and we can't help but notice other Victorian-era-inspired furniture like the exquisite chaise lounge.
3. Pick up a modern-day fainting couch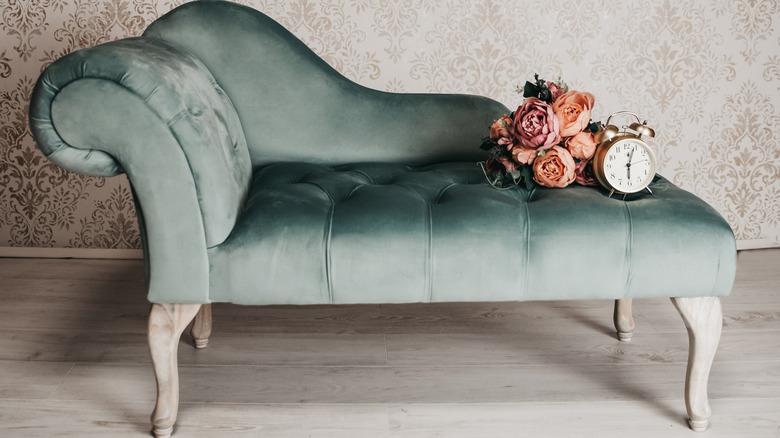 Fotopoema de Gabriela/Shutterstock
The chaise lounge became stylish during the Victorian era mainly because corseted ladies needed respite! According to Elle Decor, it was thought that they were created since women often fainted from wearing extremely tight corsets. However, interior designer Danielle Rollins believes it had more to do with keeping the room tidy after the maid made the bed.
4. Add an opulent mirror
sergiophoto/Shutterstock
A mirror that is accented in gold is a beautiful way to add a bit of grandeur to your bedroom, don't you agree? It's also an excellent way to make a room appear larger. According to MyMove, it can make the space feel more open, and they suggest putting it near a window for the best effects.
5. Luxury done right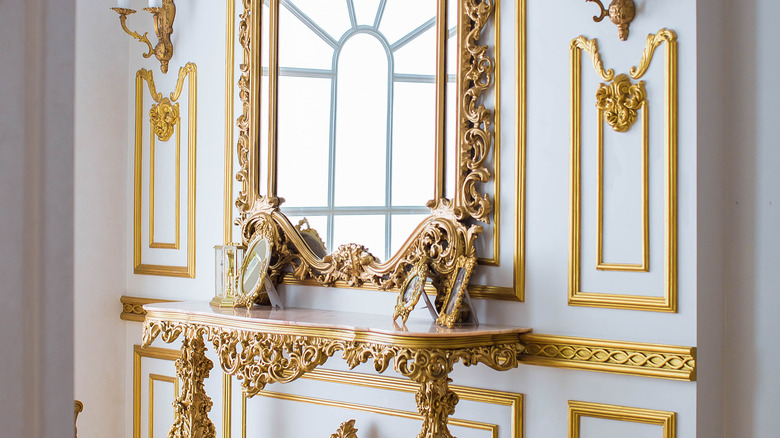 Popova Tetiana/Shutterstock
This white room is done up to the nines with all of the right gold accents on the trim work, the oversized mirror, and a glitzy table. The faux candle sconces give the space that certain je ne sais quoi, and it would be the perfect set-up in the corner of your bedroom.
6. Focus on the classical details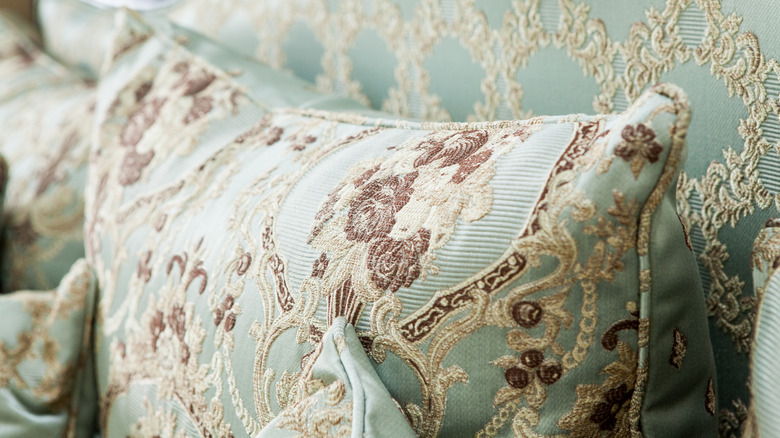 VintageStyle/Shutterstock
Luxe fabrics were a big part of Victorian times and an easy way to emulate the style of modern days. We say you'll get bonus points if you can match your wallpaper to your pillows and bedding!
7. Into the blue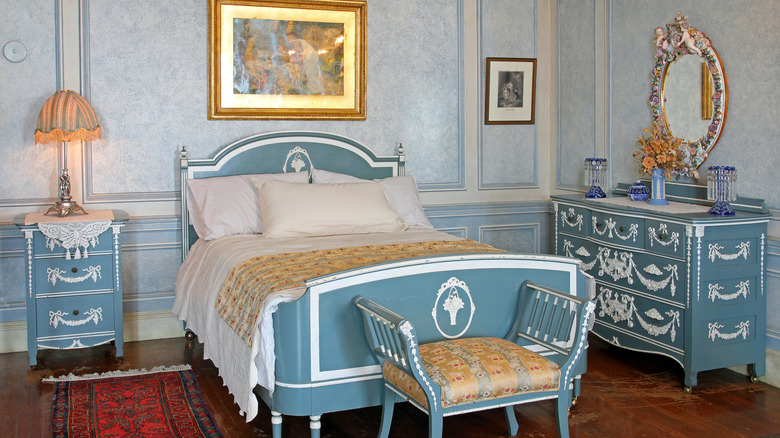 Alexander Sviridov/Shutterstock
This Victorian-style bedroom shows one major element of the style of the times, matchy-matchy furniture in a light baby blue, with luxurious patterned detailing painted on the front of every piece of furniture, from the dressers to the bed.
8. Choose an over-the-top headboard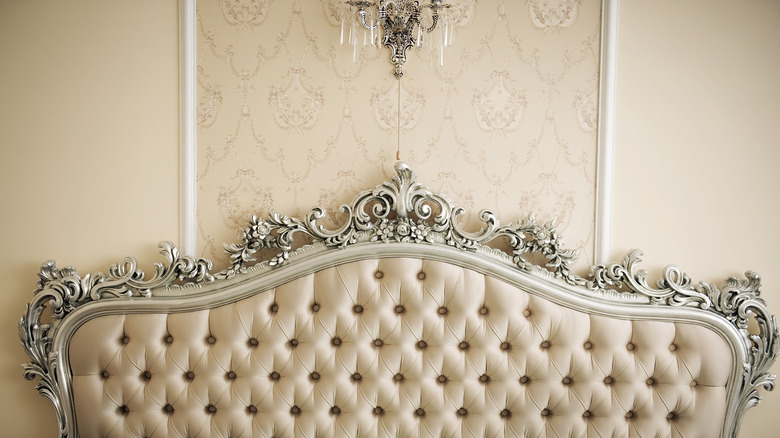 Subbotina Anna/Shutterstock
This all-beige tufted headboard would look exquisite in any royal-inspired bedroom. We love the added details on the trim that really would make your room a total standout in the design department. It just goes to show that beige doesn't have to be boring!
9. Victorian elements for a little girl's bedroom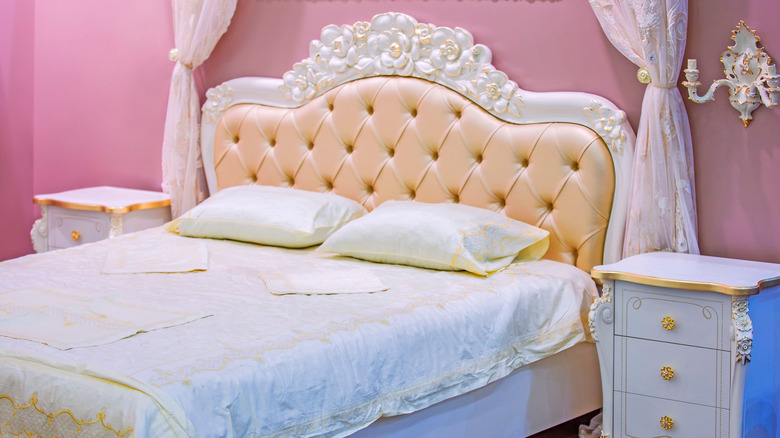 Olga Prava/Shutterstock
Your little princess would love this Victorian-style bedroom. With walls painted in a bubble gum pink hue, a peachy tufted-style bed, luxe draping, and a stylish sconce all make this room a total inspiration. Plus, we can't take our eyes off the detailed dresser with the gold handles.
10. A little bit of satin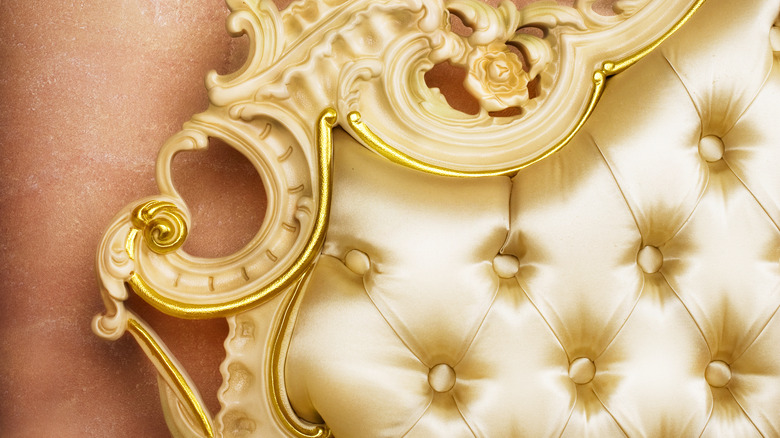 Subbotina Anna/Shutterstock
It's all in the details with this luxurious tufted-style bed. It has elaborate designs accented with 24-carat gold, and the tufted area is made of luxe satin, which looks flawless.
11. Choose a beautiful color palette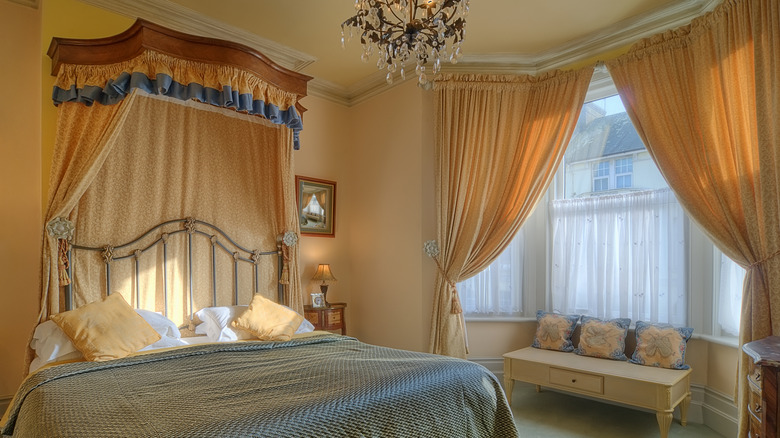 Marcin Sylwia Ciesielski/Shutterstock
This gorgeous bedroom with a king-size bed has a lovely color palette that you can emulate at home. The light peach drapery on the curtains and the bed canopy look great mixed with a soft baby blue.
12. A pop of pink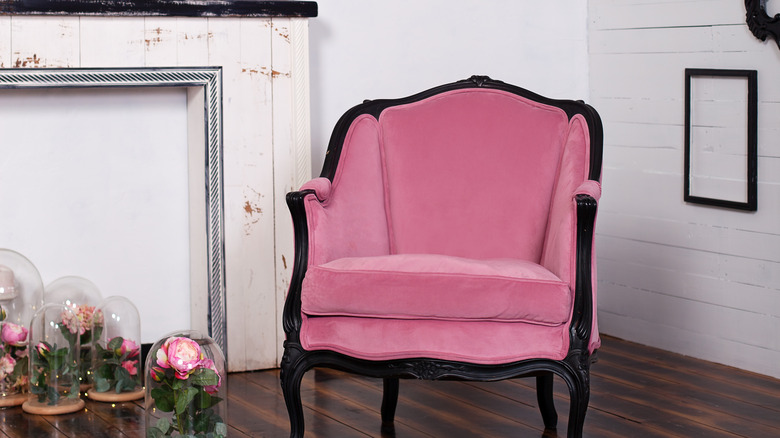 stock_studio/Shutterstock
Adding a pop of color to vintage furniture pieces, as this homeowner did with their beautiful, bright pink chair accented with black, will look great in the corner of a Victorian-inspired bedroom. Get creative and watch how a dose of modernity can transform a space. 
13. A chair that resembles a throne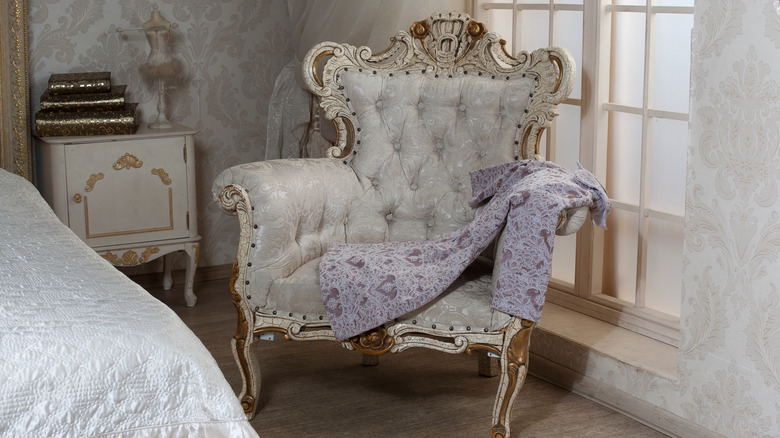 Orehova/Shutterstock
We think every bedroom should have a royal-inspired seating area. This iconic royal chair is not only beautifully crafted but also a luxurious addition to any bedroom. So whether you use it as a relaxing place to read or watch TV, it's the perfect accessory for your room.
14. Deep green and peach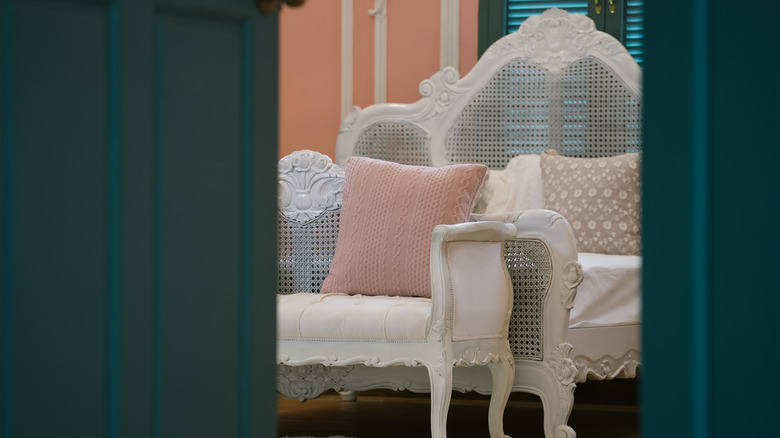 WichitS/Shutterstock
Vintage Victorian-style furniture looks incredible against an otherwise modern color palette! Bright peach walls and dark green accented doors give the room a contemporary feel.
15. Add a blue and white vanity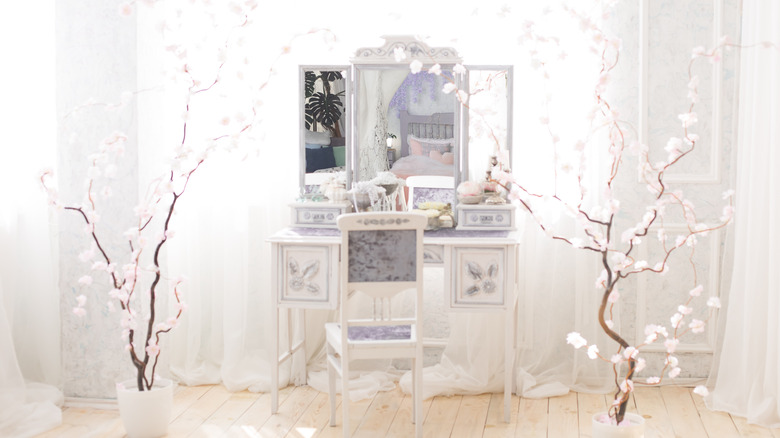 Svetlana Satsiuk/Shutterstock
This blue and white vanity would be gorgeous in the corner of any Victorian-inspired bedroom. It's beautiful, paired with ethereal white drapes and light flooring.
16. Mirror Mirror
Inna Levchenko/Shutterstock
Add two mirrors to a bedroom mantle or table for a beautiful addition to your Victorian-inspired bedroom! Not only will this detail give your room the aesthetic you're after, but these mirrors can make your room look larger, which we love!
17. A Victorian vibe with a wall of books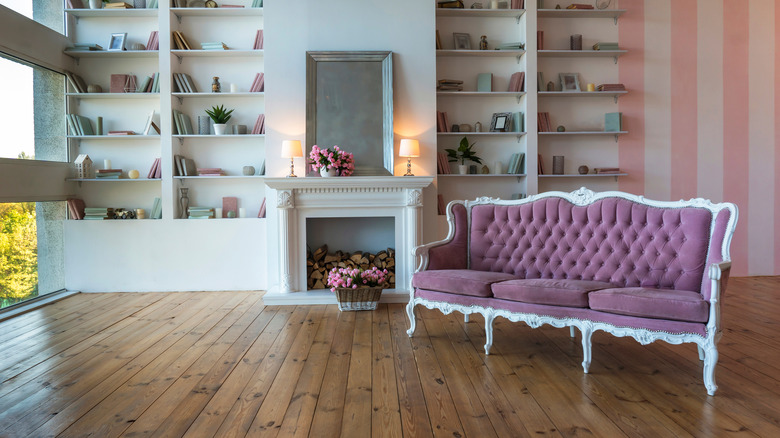 G.MARTYSHEVA/Shutterstock
If you have a large bedroom, consider adding a gorgeous Victorian-style tufted sofa to the space and a wall of shelves so that you can feature your favorite books. We don't know about you, but we'd spend all day devouring our favorite books in this space.
18. Rewind time with this writer's nook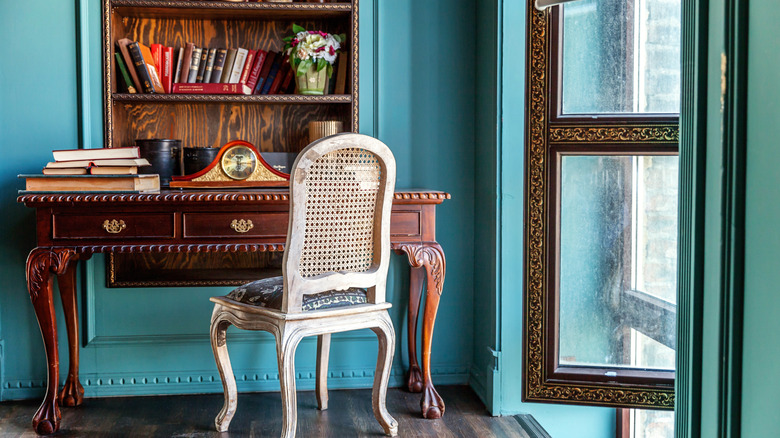 Julia Zavalishina/Shutterstock
This inspirational corner provides plenty of ways for one to recreate the space in their modern home. The vintage old-world desk, clock, and beautiful books tell us a story of a time that stands still, and we are entirely here for it! Although, we must admit that those turquoise walls simultaneously make this room feel modern!
19. Gray room for a goddess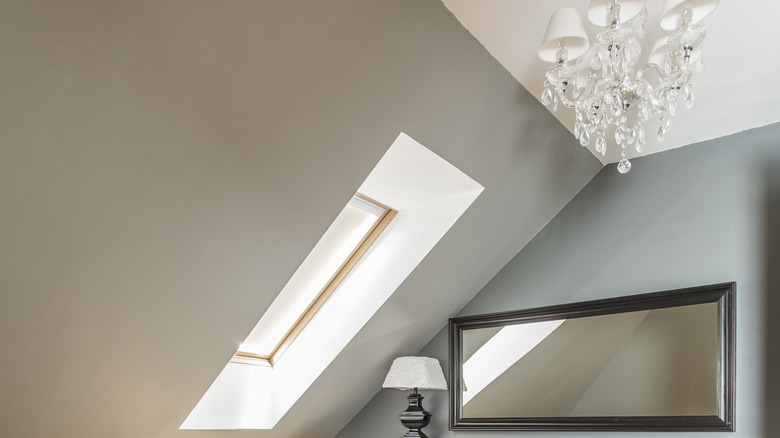 Photographee.eu/Shutterstock
As interior designer Kate Watson-Smyth explains to Architectural Digest, the color gray can work in just about any room, from the kitchen to the bedroom. The designer notes that it pairs really well with white trim but also looks beautiful if the entire room is doused in a neutral hue.
20. A unique spin on a tufted headboard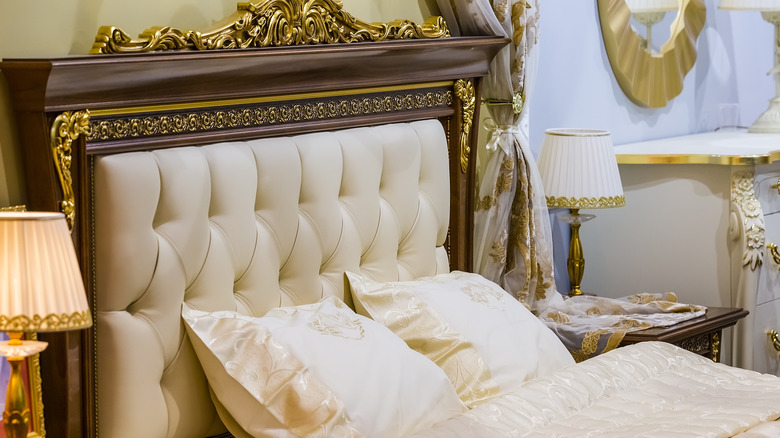 Olga Prava/Shutterstock
This headboard has a unique shape — it's enveloped in mahogany and accented in luxe golden details, so we had to add it to our list of Victorian-inspired bedrooms. Finish off the room with beige bedding and accents, including lighting with shades in a neutral hue.
21. An exquisite wallpaper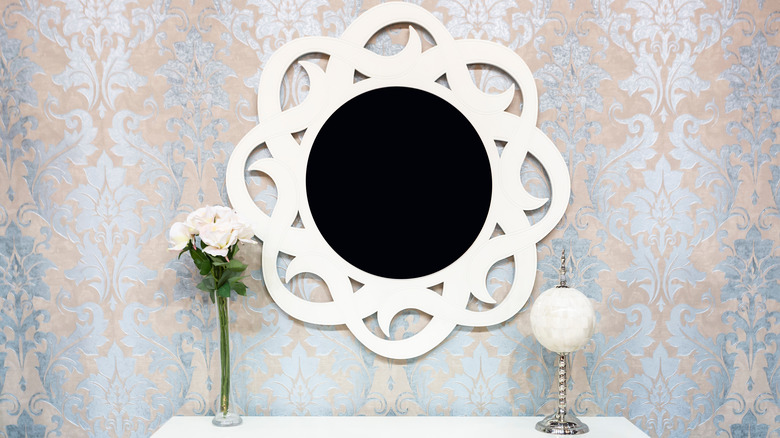 Little honey/Shutterstock
According to WallsNeedLove, wallpaper became a massive trend during Queen Victoria's reign in the 1800s. Popular styles included patterns, especially florals, as well as color combinations like greens and blues or reds and oranges. So if you're looking to add Victorian elements to your bedroom, you can't go wrong with finding a pretty patterned wallpaper.
22. A little princess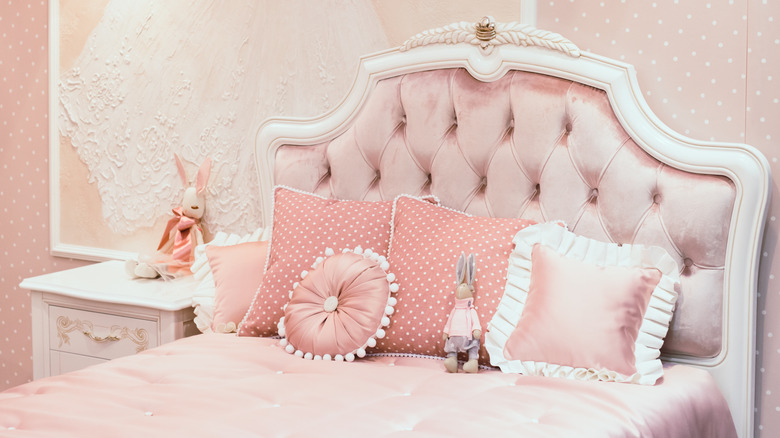 Little honey/Shutterstock
Consider giving them the Victorian-inspired bedroom of their dreams if you have a little child. Light pink walls, a tufted headboard, and an intricately detailed dresser make this room a dream come true.
23. An elaborate dressing table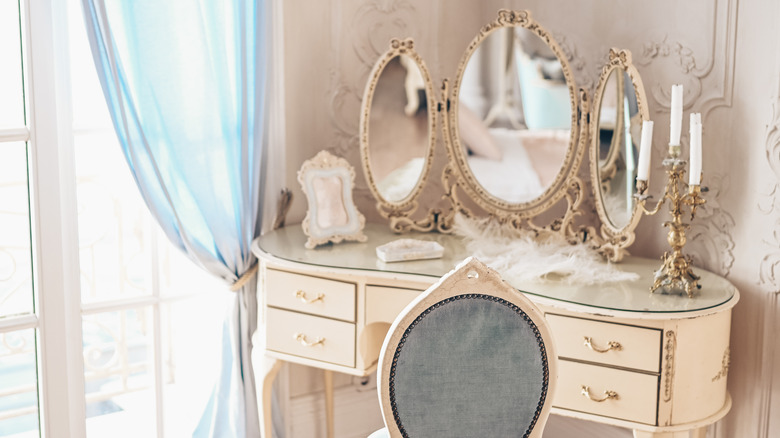 Alina Troeva/Shutterstock
This elaborate dressing table would look fantastic in any boudoir. The sizeable decorative mirror and a candelabra transport the entire space to the Victorian era, which we love! Next, find a chair that looks like it has been plucked from the time, and you have the perfect inspiration for the corner of your bedroom.
24. Inspo fit for a princess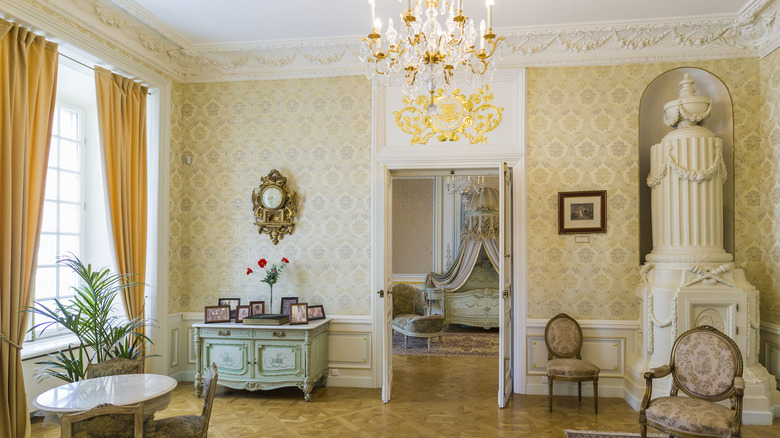 Dmitry Morgan/Shutterstock
This massive apartment-like bedroom has two spaces — just like you would expect from the era of luxury! The bedroom features a gorgeous, opulent drapery with a chaise lounge next to it. The space at the forefront features a seating area, a dresser with many family photos, and plenty of seating for guests.
25. Doused in pretty pale pink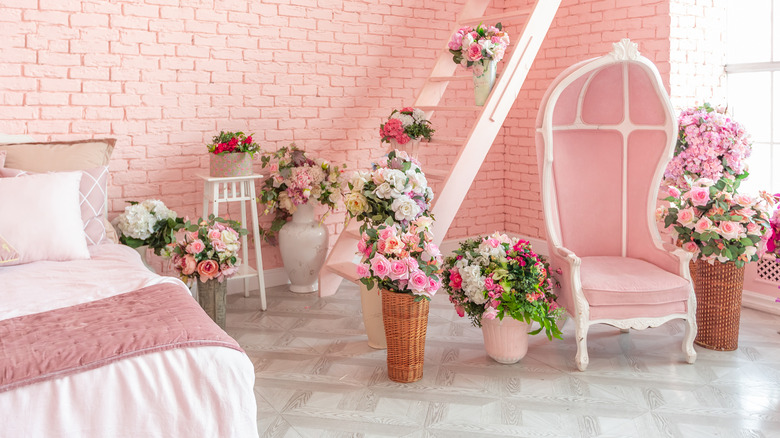 Pinkystock/Shutterstock
While it may not be a traditional color from the Victorian era, if you love light pink, we say go with it! Of course, you can bring Victorian-inspired pieces such as elaborate furniture like this chair, and we can't get enough of those flowers!
26. A neutral stunner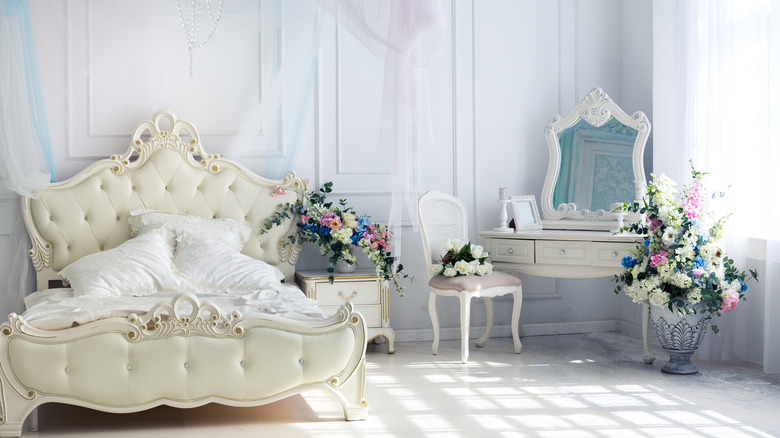 Pinkystock/Shutterstock
This bedroom features furniture pieces and walls in a beige hue, and with the ornate design of the effects, it could never be boring. Bringing in several large pots of colorful flowers adds a pop of color, and if you have a garden, this could be a simple mood lifter!
27. Shades of blue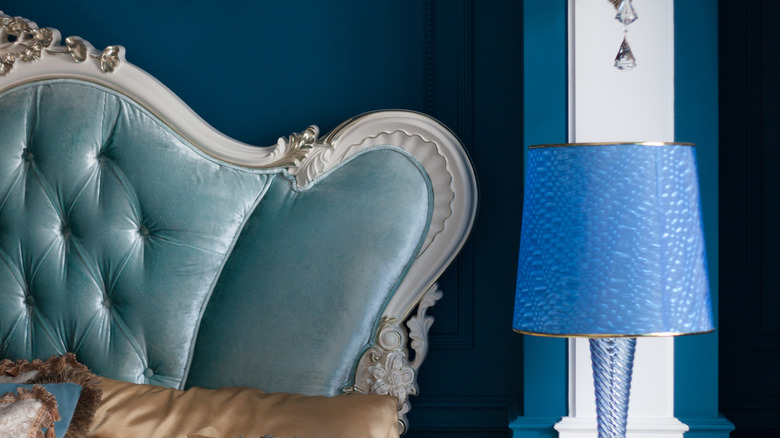 Nelia L/Shutterstock
This gorgeous bedroom just goes to show how different hues of blue can work great together flawlessly. Shades like teal and cobalt blue are undoubtedly an iconic combination to consider for your Victorian-inspired bedroom.
28. A light green classic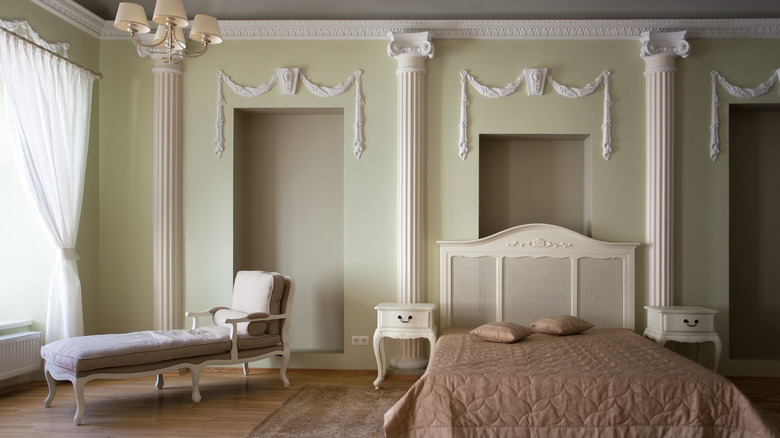 Enrika Samulionyte/Shutterstock
This classic bedroom features a fainting couch facing the window so you can live that leisurely life as they did back in Victorian times, such as reading a good book. Other elements of the room we love are the ornate decorative elements on the walls, the unique furniture, and the light green walls.
29. Royal vibes are always a good idea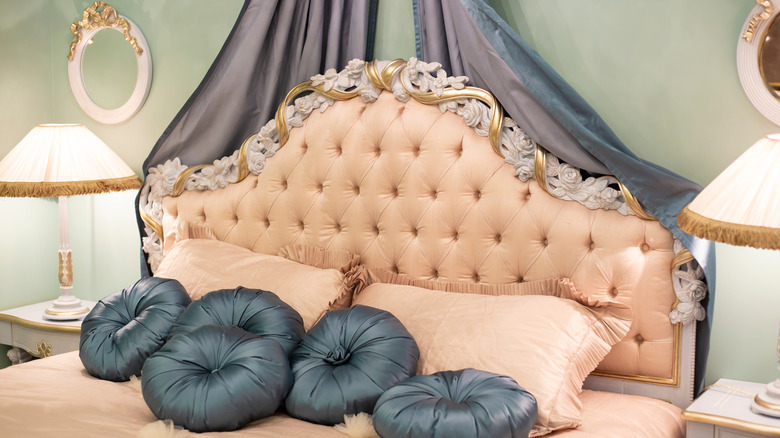 Little honey/Shutterstock
Another excellent color combo to think about is light peach and green. The bedding and tufted headboard are doused in peach, while the drapery and circular satin pillows are in a beautiful green.
30. An elaborate retreat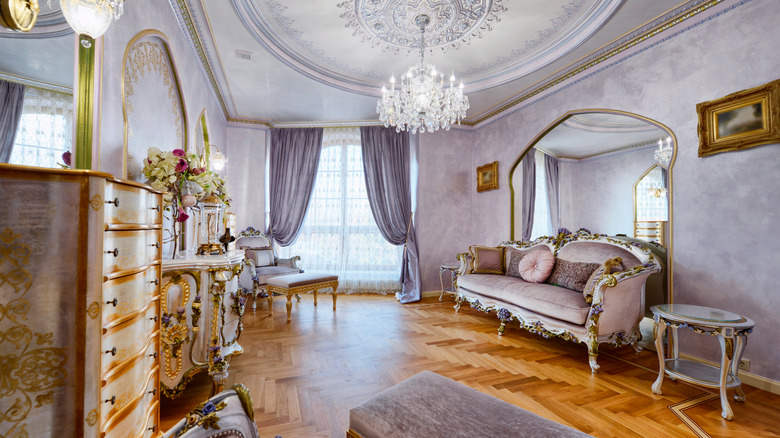 Vadim Ovchinnikov/Shutterstock
If your bedroom is oversized, you can create several seating areas, and who wouldn't want this view as you're lying in bed? The large mirror behind the ornate sofa, the gorgeous chandelier, and the chaise lounge in the corner of the room make this bedroom an absolute standout.