10 Ways To Incorporate Embroidery Art In Your Home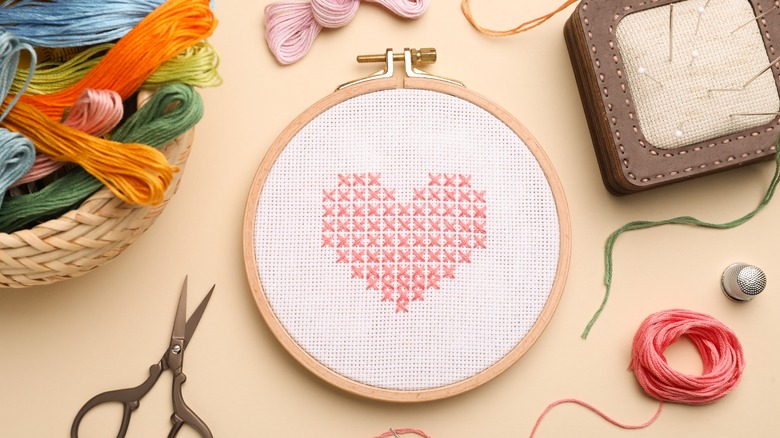 New Africa/Shutterstock
Embroidery art features unique designs on cloth or fabric and is created using a needle and thread. Nowadays, this art form is practiced around the world – but embroidered art has a long history. It actually began as early as 30,000 B.C. in China and the Near East, per Say It With Stitches. Throughout time, embroidery has demonstrated power and wealth, because embroidered pieces had to be made by hand. However, with the invention of the embroidery machine in the 18th Century, embroidered pieces became accessible to everyone.
Now, embroidery is a way for people to decorate both their clothing and their homes. Embroidered art can be a great way to add a dash of bold color to an otherwise monochromatic room. The stitching also adds texture and intrigue. There are many forms of embroidered art, including wall art, bedding, and rugs. Below, you'll find ten different ways to incorporate embroidered art into your home.
1. Embroidery hoop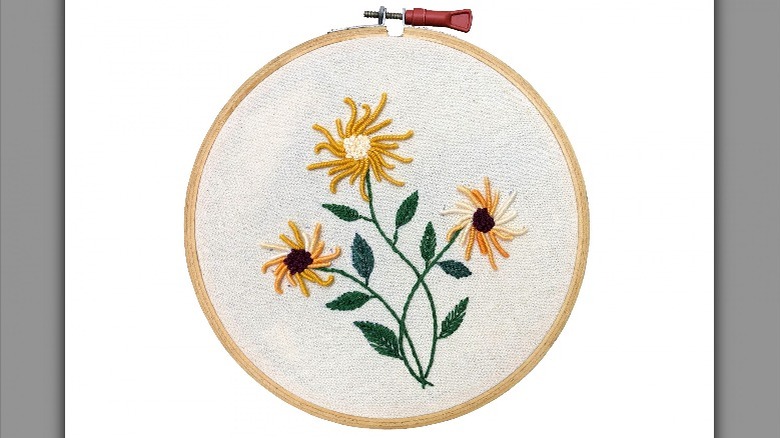 K.K.T Madhusanka/Shutterstock
One of the most popular pieces of embroidered art nowadays is the embroidery hoop. This art piece features a stitched design on the front and exposed threads on the back. The design can be anything, from a saying to a nature scene to a simple object. An embroidery hoop would be a great addition to a gallery wall or a styled shelving unit. 
2. Wall art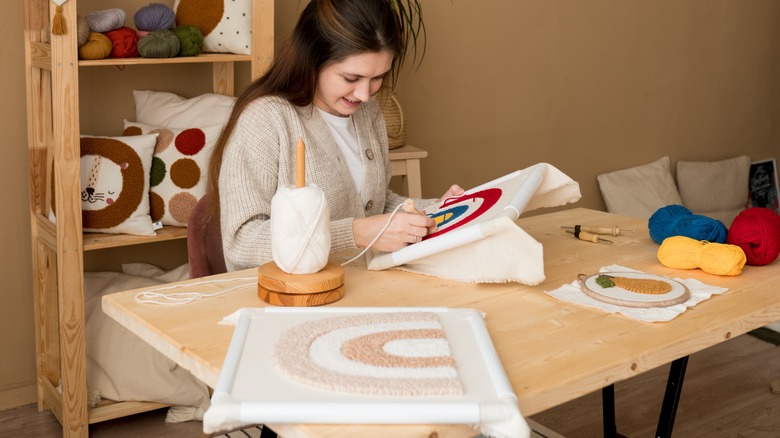 Tatiana Gordievskaia/Shutterstock
Another way to incorporate embroidery into your home is with a large piece of wall art. In this image, the girl is making rainbow wall art with thick yarn, which would be perfect for a child's nursery. For a more sophisticated and detailed look, you could get a piece of embroidery made with thin thread, and it could display whatever you'd like. 
3. Pillow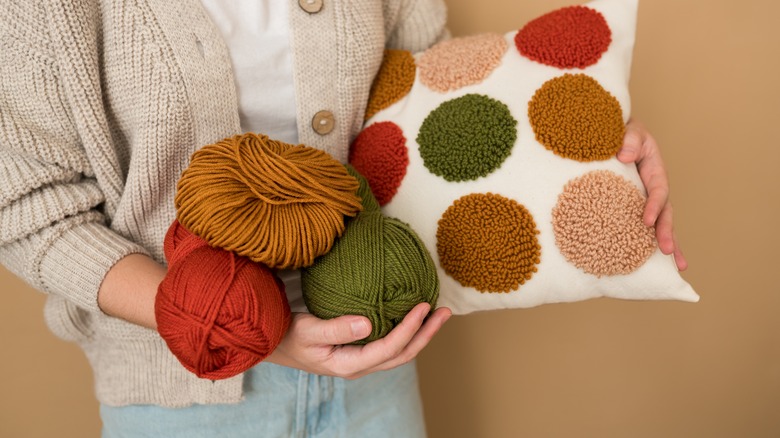 Tatiana Gordievskaia/Shutterstock
Embroidered pillows are a great way to add bold color and fun texture to your bedroom or living room. The above pillow was created with yarn and features many fall colors. A pillow could also be embroidered with a smaller design, like a few flowers, to add a small detail to your room. This is a great and easy way to add an embroidered piece to your space. 
4. Quilt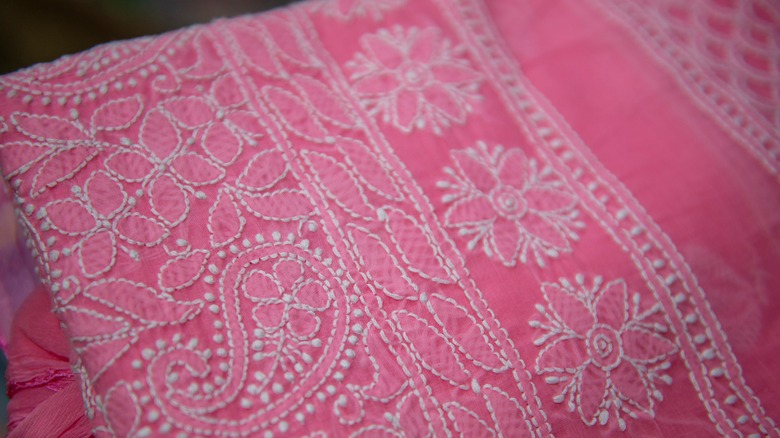 PradeepGaurs/Shutterstock
To add embroidery to your bedroom, you could spread a quilt over your bed. This will add lots of detailed design to your bedroom. However, a huge, heavy quilt may be too much for some. If you just want to add a dash of embroidered design to your bedroom, you could get an embroidered throw blanket instead and spread it at the bottom of your bed. 
5. Clothing
Another very popular way to use embroidery is in clothing. Adding textured designs to clothes makes them more interesting and beautiful. Embroidery can be stitched directly into clothing, or an embroidered patch could be added to already made clothes. To display an especially beautiful piece of clothing, like an embroidered jacket or dress, you could keep it hung on a clothing rack — or you could hang it on the wall like wall art. 
6. Welcome mat
To add an embroidered piece to the front of your home, you could pick up an embroidered welcome mat to put in front of your door. The above image is a welcome mat embroidery pattern. This is a great way to welcome your guests with a piece of art that looks homey and cozy. Or, you could welcome guests with an embroidered piece of art on your door. 
7. Rug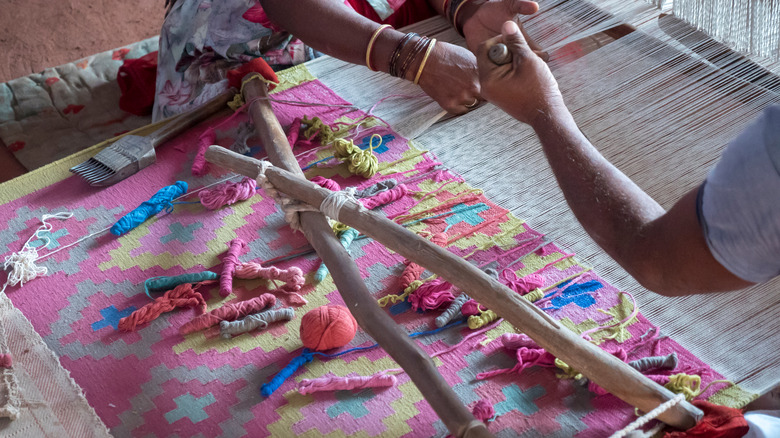 azadjain1/Shutterstock
To add texture and interest to your living room, dining room, or bedroom, you could add an embroidered rug. Embroidered rugs are typically colorful, unique, and full of fun designs. The one above is made with many different colors and creates a continuous pattern. You could also layer an embroidered rug with another woven rug to add lots of texture. 
8. Seasonal art
If you like switching out your decorations often, you could get multiple embroidered seasonal decor items. The above embroidery hoop is for Thanksgiving. If you like embroidery hoops, you could get a different one for each holiday. You could also get four different pieces of embroidered wall art, one for each season, and switch them out with the changing seasons. Because embroidered pieces are typically lightweight, they are easy to move around and replace. 
9. Placemats
To add embroidery to your dining room table, you could consider getting embroidered placemats. You can even make embroidered placemats yourself. Placemats are also a decor item that is easy to replace and they can be switched out with the changing seasons or whenever you desire a refresh. They can also make your dining room much homier and more inviting. 
10. Tapestry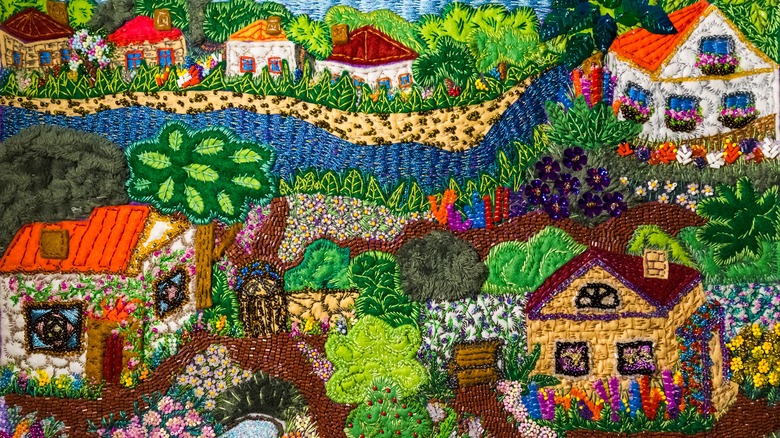 Tatiana Popova/Shutterstock
Finally, you could hang an embroidered tapestry in your home. The colorful and fun tapestry above would be perfect for a child's playroom or nursery. Unlike regular wall art, embroidered tapestries add extra dimension with the texture of the threads. You can also make your own tapestries for a personalized touch, or simply buy a unique tapestry to make any space feel cozier.