20 Floral-Inspired Home Designs That You'll Want For Your House
When incorporating floral designs into your home, there is no end to the styles, combinations, colors, and patterns you can choose from. According to Verdissimo, florals can brighten a room and your mood, creating an energetic atmosphere and bringing in comfort. Many people like to include some kind of floral accent in their home, whether it is a loud statement piece or a subtle design in a smaller room. Applying these charming additions to an existing aesthetic comes down to personal taste, and no two homeowners are the same when it comes to florals.
Including them in your living space doesn't mean picking one type, design, or a living bouquet and calling it quits. Florals are perfect to decorate a single area or mix and match throughout the house, and it is all up to your imagination how to incorporate them. Just like in nature, these versatile blooms can fit in almost any scenario with the right amount of planning and creativity. Regardless of what your home features right now, there is always room for a floral addition to really make it pop.
Floral drapery
Floral curtains are the perfect way to incorporate vibrant or moody blooms into a room. You can pick a splash of color to work the decor around or use them as a statement piece in a color-blocked space.
Blooming wallpaper
Nothing makes a room pop like a bright wallpaper, and floral designs are sure to draw the eye. For a truly "wow" factor feel, go with something vivid and accentuate it with matching pieces that pull the colors out even more.
Framed florals
Florals are ideal for statement pieces, and something as simple as a framed picture can make a room pop. Choosing a single bloom that fits the mood of your space will tie everything together and give off a tone of sophistication thanks to the simplicity it offers.
Color your world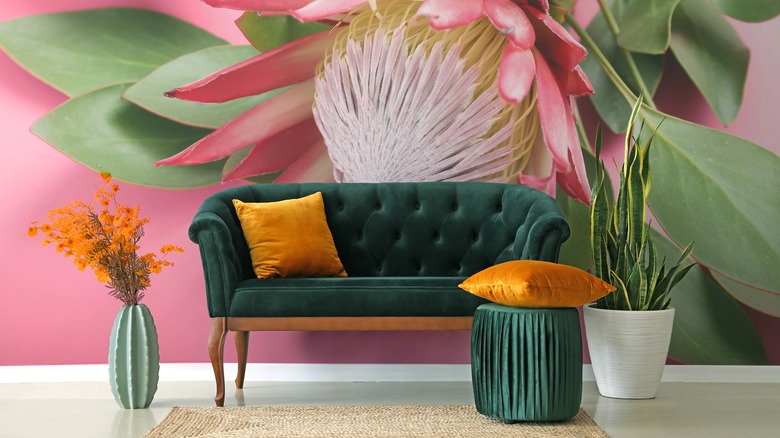 Pixel-Shot/Shutterstock
Murals aren't just meant for the outside of buildings — in fact, they make incredible backdrops for a room that needs a little something special. Pair a large floral mural with a statement couch, chair, or another piece of furniture to keep attention on the backdrop.
Blooming bedding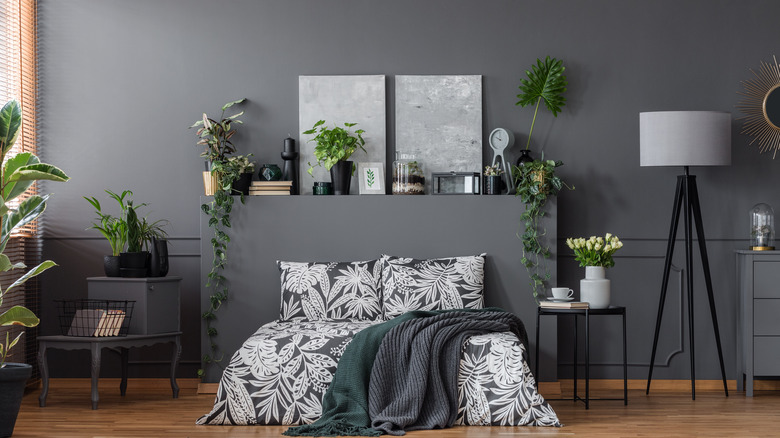 Photographee.eu/Shutterstock
Floral prints and patterns on your duvets, pillows, or blankets provide a great juxtaposition to solid colors, bringing texture to any room.
Moody blooms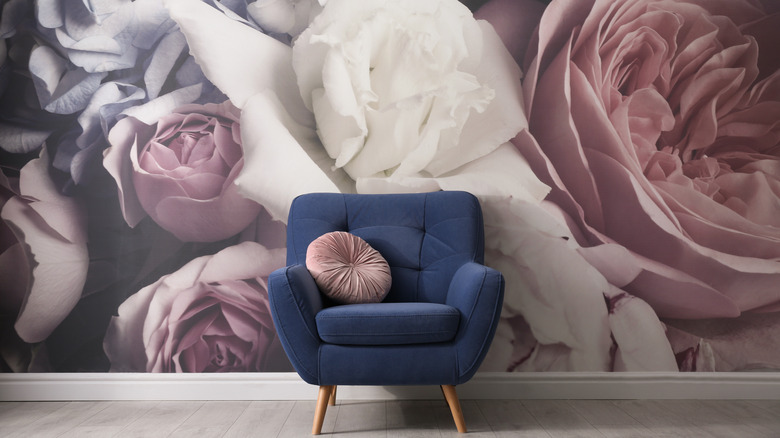 New Africa/Shutterstock
Choosing a moodier floral wallpaper can change a room completely, and different patterns give a space a new personality. Choose darker blooms to create a subdued feel, perfect for darker-hued furniture and decor.
Florals in the details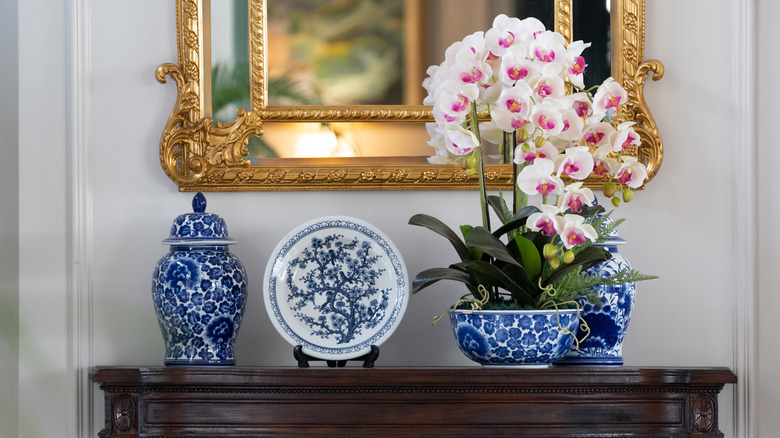 WichitS/Shutterstock
Dedicating a table or shelves to floral patterned decorations gives entryways, hallways, and living spaces the perfect amount of detail without feeling overpowering.
Add a little greenery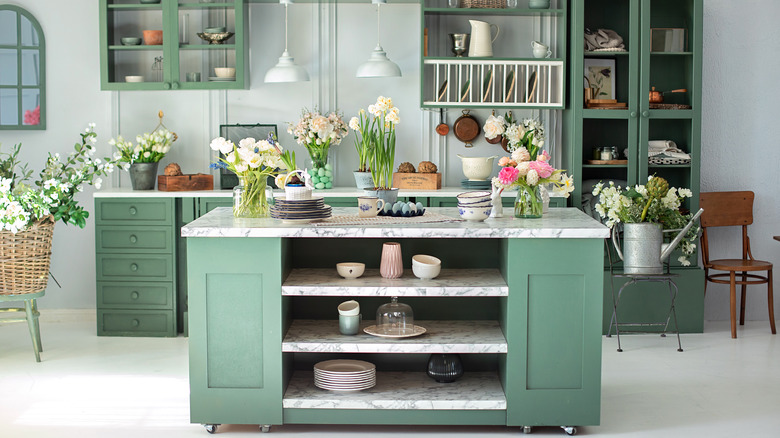 stock_studio/Shutterstock
Painting cupboards, drawers, or other storage areas a sage or neutral green provides the perfect backdrop for a floral theme. The hues are reminiscent of nature and will compliment any fresh flowers you bring into the space. 
Grow your space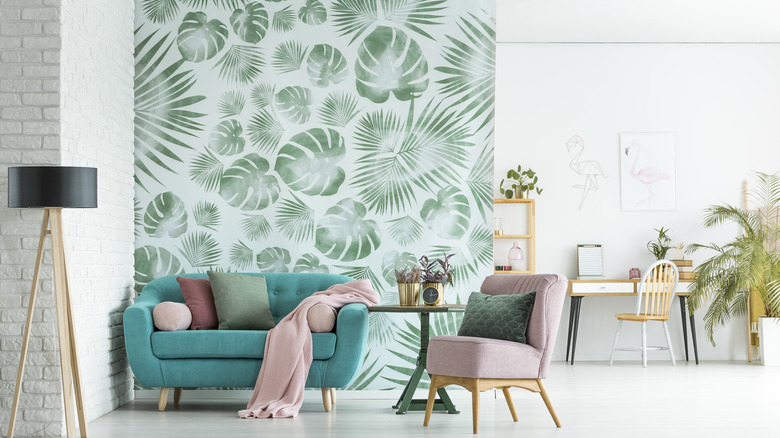 Photographee.eu/Shutterstock
Using a floral design on a separating wall is a great way to differentiate one room from another, especially if they are semi-connected. A vibrant wallpaper or mural on the dividing wall will create a clear line between the two while still pulling the styles together.
Headboard horticulture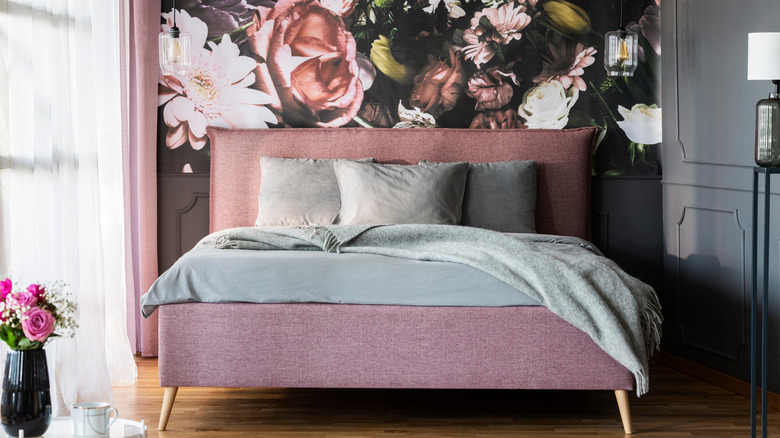 Photographee.eu/Shutterstock
Accentuate your headboard with a beautiful blooming mural or floral wallpaper, creating a statement wall that makes your dreamy bed the main attraction.
Become the blooms
Not all floral home designs need to boast full blooms. Instead, pull a color scheme from your favorite flowers and create your very own bouquet palette. Turn a room into a dreamy oasis filled with complementary tones just like those found in nature.
Mirror, mirror
Adding a mirror to any room opens up the space, and choosing one with an elegant floral design can soften the decor just the right amount. Subtle molding or crowning is the perfect detail for any home design looking to add a floral touch.
Eye-catching backdrops
Tiles are a great way to decorate a kitchen or bathroom wall, and adding a floral pattern creates an eye-catching design that transforms any surface. Choose bright tones to incorporate a pop of color or use darker blooms to embody a moody vibe.
Fragrant fillers
Counter solid colors and decorations with a floral throw pillow to instill a little pattern throughout a room. One or two well-placed cushions can tie blooms into a living space without drawing too much attention.
Simple pleasures
To keep a minimalistic feel, hang a simple floral-themed painting or photograph that only features one or two blooms. This will tie the whimsical feel of nature in with the modern design of your living space.
Texture in bloom
Decorating a blank space with fake flowers brings texture to a room and brings out the other colors nearby. Use embellishments like single flowers on a board, unadorned wall, or hang them from the ceiling to create a dreamy indoor garden.
Mix to match
Mixing and matching florals creates a magical dwelling and can be done without looking too cluttered. Choose larger prints for furniture and rugs, then smaller, less busy floral prints for the wallpaper.
Complimentary florals
Contrast thick floral patterns with simplistic paintings or photographs to counter the interacting blooms. This will leave a room open while still providing a vibrant pop from the busier pieces.
Indulge in nature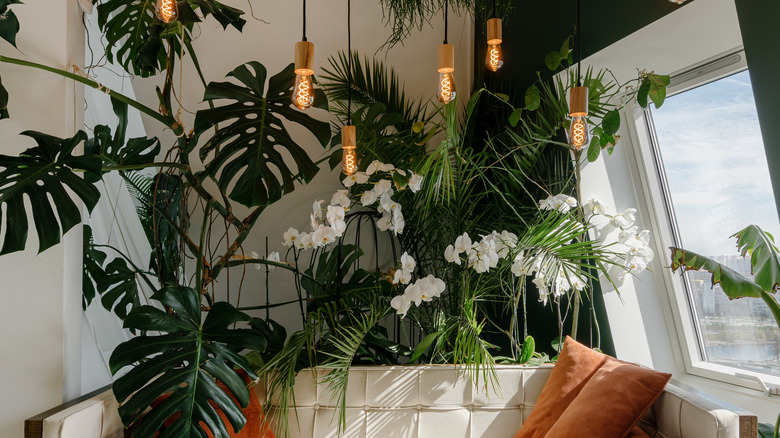 brizmaker/Shutterstock
There is no limit to the number of plants and flowers you can incorporate in a room, so let your floral dreams go wild when it comes to a favorite living space. Fake or real, it doesn't matter as long as it suits your vision and desires.
The bigger the blooms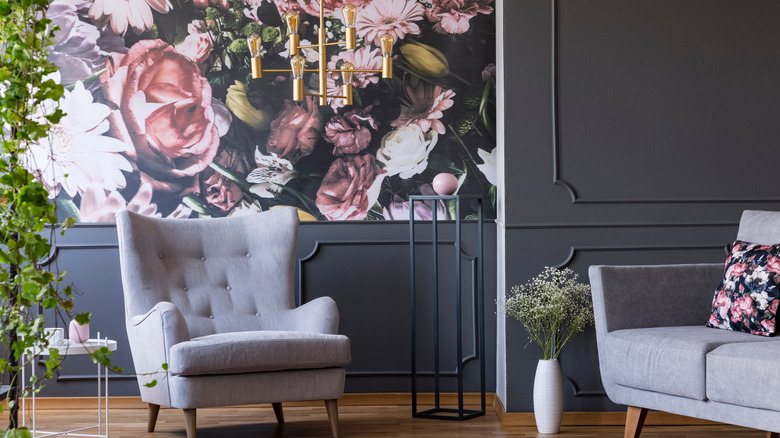 Photographee.eu/Shutterstock
Create a truly spectacular section dedicated to giant blooms, then accent them with smaller throw pillows, trinkets, and other pieces. Use solid furniture to compliment a large mural and paint surrounding walls a similar shade that blends while pushing attention toward the floral aspects.