How To Clean Hard-To-Reach Spots When You Have High Ceilings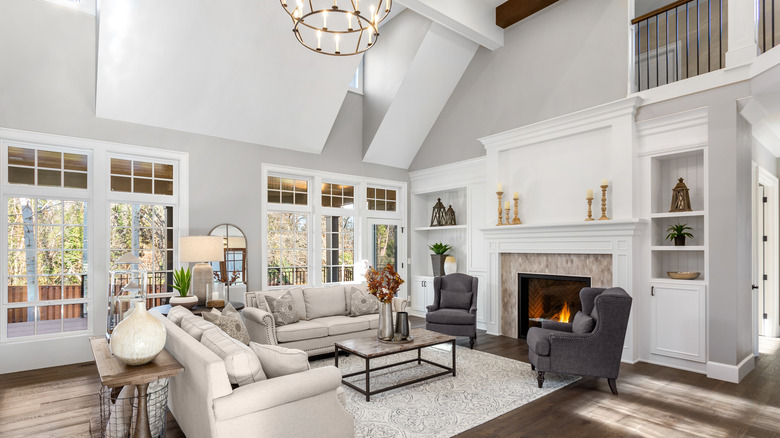 Breadmaker/Shutterstock
High ceilings, otherwise known as cathedral or vaulted ceilings, look magnificent. Fundamentally, high ceilings are coverings above eight feet tall, which are very popular in home design today. However, one downside you may not think about when considering vaulted ceilings is that they can be hard to clean. Ceilings can easily collect dust, dirt, and cobwebs and could be breeding grounds for mold and mildew. So cleaning them is essential, not only to maintain your house but also to keep your family safe from sickness and allergies.
It would be best if you cleaned your ceilings once every two weeks, per HomeTalk. But when it comes the time to clean your vaulted ceilings, it can be hard to reach them. Of course, you could climb up on a tall ladder – but this can be inconvenient and unsafe. Luckily, there is a better way to clean your ceilings; all it requires is one device.
What you need to clean a high ceiling
To clean a vaulted ceiling, you should invest in a telescopic or expanding pole, per the Unicomposite. It is a long pole that extends to reach very high areas in your home. This device is excellent for multiple purposes, including cleaning, dusting, painting, and changing light bulbs. These poles can be purchased for under $100.
Some of the benefits of using a telescopic pole include seamless access. You won't need a ladder, but you can clean your ceiling while standing firmly on the ground. Second, you can attach different cleaning devices to the end of your telescopic poles, such as a microfiber cloth or a duster. To clean a ceiling fan, Rescue My Time Cleaning Service recommends using a forked duster that can bend around the blades. Finally, these poles can adjust to multiple different heights. This means that if you have a slanted vaulted ceiling, you can clean every single spot.
How to clean a high ceiling
HomeTalk outlines the best way to clean a high ceiling. The first step is to protect your furniture with tarps, plastic wrap, or old sheets, and this will ensure that none of your belongings get covered in the dust falling freely from above. The second step is to turn on all the lights, making it easier to see the dust that has accumulated on your ceiling. Third, make sure to use a face mask and protective eye gear. Large amounts of dust can cause allergies and sickness.
Fourth, dust the ceiling, making sure to reach the corners. Rescue My Time Cleaning Service recommends starting at the highest point and moving downwards. Fifth, wipe down your ceiling fan, light fixtures, or other hard-to-reach places with a microfiber cloth or a duster, and these can be attached to the end of a telescopic pole. Sixth, dust the walls to remove any fallen debris. Finally, you can remove the sheets from your furniture and vacuum the floors.