Can You Get Discounts On Your Closing Costs?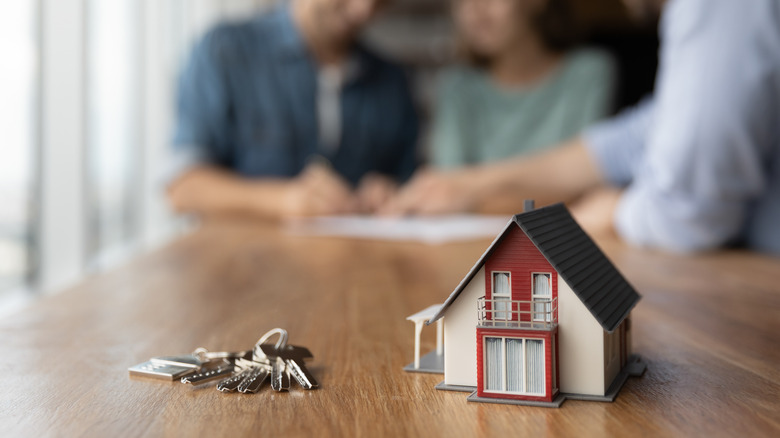 fizkes/Shutterstock
If you're taking out a mortgage in order to purchase a home, you'll have to pay closing costs, and they may add up to more than you think. Closing costs typically make up as much as 6% of the total cost of the home. These costs can come from origination, appraisal, or loan application fees. You will also be charged for credit checks, taxes, title searches, and more, per Rocket Mortgage. Other costs you may not at first consider include things like flood determination and monitoring fees, pest inspection fees, and the transfer of homeowners' association fees, per Investopia.
If this is not your first homebuying experience, you know that closing costs add up quickly. Luckily, there is a way to get a discount on these fees. You can actually negotiate with your seller or work with your mortgage lender and real estate agent to lower closing costs. However, not all costs can be lowered. It's important to know which fees can be negotiated and how to go about negotiating them.
Which fees can be negotiated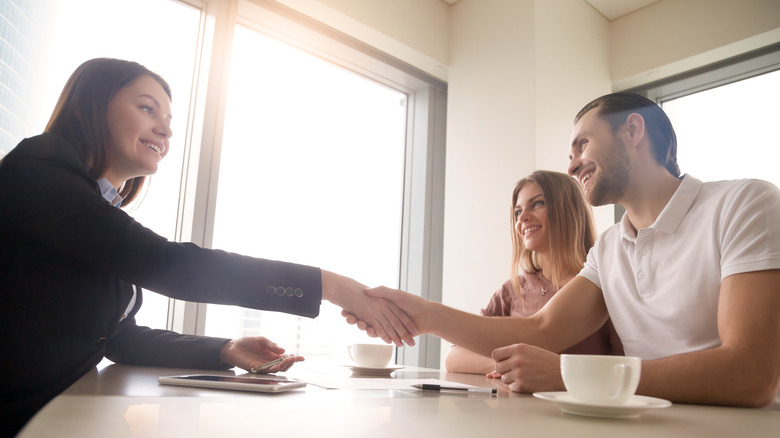 fizkes/Shutterstock
Generally, closing costs charged by the lender are negotiable, while fees charged by the government or another third party are not. Rocket Mortgage outlines which fees could possibly be lowered and which ones have to be paid.
Homeowners insurance can be negotiated. To do this, compare rates to see if you can find a better deal. You can also lower your discount points, which are a fee to get a lower rate on your mortgage. By applying for a lender credit your upfront costs may go down, but beware that this also causes your interest rate to go up. Loan application fees and origination fees, which come from the lender, could be lowered or even completely removed, especially if the lender is charging you an excessive amount of fees. Finally, you could ask your lender to look for cheaper options for title insurance, though they aren't required to lower this.
Other closing costs that are non-negotiable include any fees charged by a third party. For instance, all government fees or taxes will need to be paid in full. Fees for the property check, appraisal of the home, and credit check are also non-negotiable, as well as any courier fees for the transfer of documents to other parties.
Tips for negotiating lower closing costs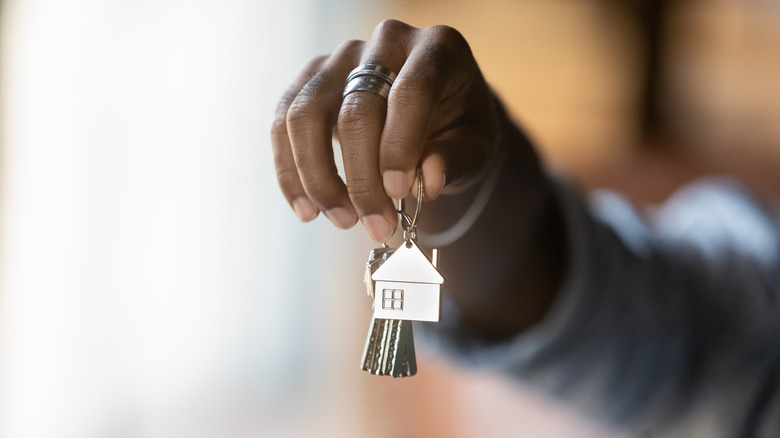 fizkes/Shutterstock
When negotiating lower closing costs, be prepared to do your homework. Investopia emphasizes the importance of looking at the loan estimate, a document that outlines all closing costs. This document has to be provided to the buyer at least three days after receiving a mortgage application, but could be provided sooner upon request. It's important to look over this document with your lender to see if certain fees can be lowered, negotiated with the seller, or removed. Something to watch out for is excessive and/or unnecessary lender fees, otherwise known as junk fees. If asked, these can sometimes be removed.
According to Bankrate, you'll want to put in the time to find cheaper options for certain services in your area. For example, the pest inspection and survey costs may be less expensive if provided from a different company than what your lender suggests. Another tip is to ask the seller if they can pay for some of the closing costs. This is where your negotiating skills will come in handy.
If you don't have the money for closing costs up front, you could choose to have a no-closing-cost mortgage, per Rocket Mortgage. However, this again will cause you to pay more in interest in the long run. Finally, closing on your mortgage at the end of a month will result in less prepaid interest.