Why You Should Buy Garden Seeds In Bulk At Home Depot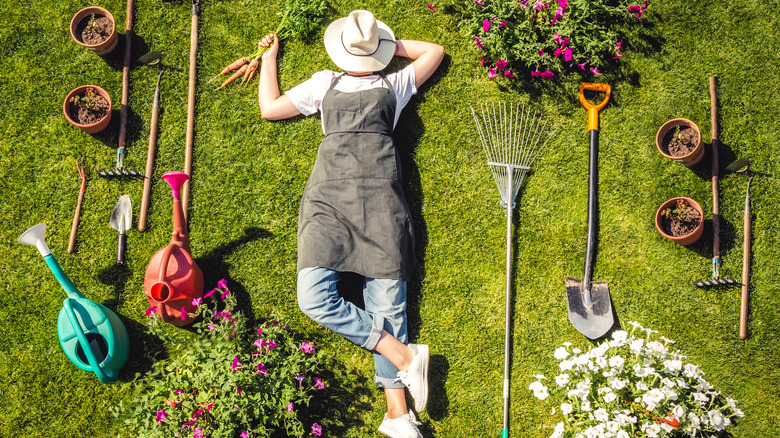 Shyntartanya/Shutterstock
What better way to get outside more often this summer than starting your very own garden? Whether you want to produce your own fresh fruits and vegetables or simply brighten up your outdoor area with a garden of flowers, gardening is packed with a variety of benefits for both you and your family.
Eating Well mentions that beyond simply being a fun outdoor project, gardening is also considered physically and mentally healthy and comes with a number of rewards. For example, just as you burn calories going on a walk, you burn calories by working in your garden. Similar to exercise, gardening is also proven to prevent chronic diseases, such as heart disease. Mentally, gardening, and general time spent outdoors, are known for reducing stress and easing depression, as well. Finally, from working in your garden, you are rewarded with fresh produce for your kitchen or vibrant flowers to brighten up your yard.
Despite these many benefits, however, you may worry about the cost of this new hobby. Luckily, The Krazy Coupon Lady claims that there are many hacks to get passed those pricey tags, starting with the seeds you need to start your gardening journey.
Home depot seed hack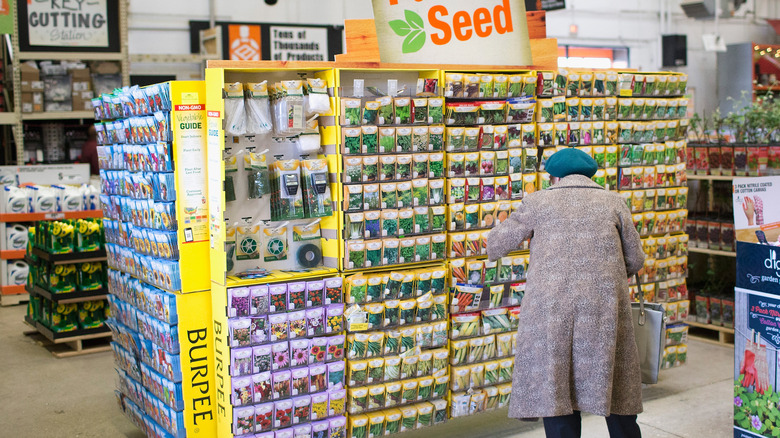 Scott Olson/Getty Images
When you go looking for seeds at a local retail store, like The Home Depot, you find a variety that you can purchase in small packages. Although these small seed packages only contain a small pinch of seeds, they cost approximately $2 to $3 per package (per The Home Depot). $2 to $3 for a small package of seeds may not seem outrageously expensive, but The Krazy Coupon Lady still suggests taking advantage of her Home Depot hack to make the most out of your seed purchase.
When it comes to specifically purchasing seeds at The Home Depot, the more seed packages you purchase, the cheaper they become. Purchasing six packets of seeds will give you a 10% discount off your total seed purchase, and this discount only increases with the more seeds you buy. For example, purchasing twelve packages of seeds will give you a 20% discount, which is basically getting you two packages of seeds for free. So, when you take a trip to purchase your gardening seeds at The Home Depot, don't just purchase one package. Go ahead and try out a variety because it'll definitely be worth the price.