The Unexpected Name Home Depot Was Almost Given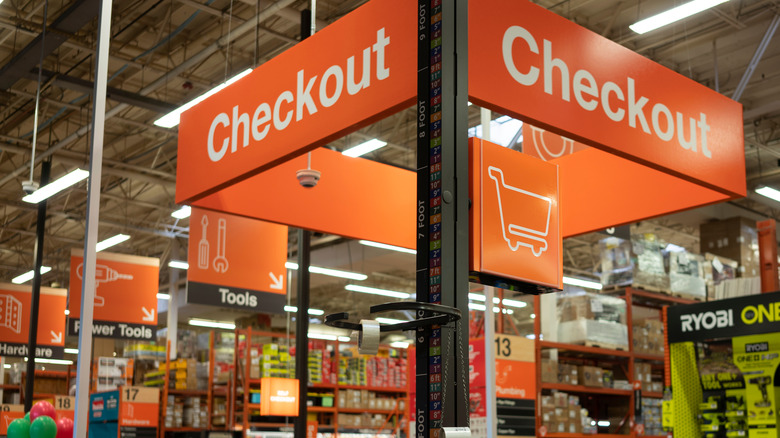 Tada Images/Shutterstock
In 1978, Bernie Marcus and Arthur Blank sat in a Los Angeles coffee shop discussing a potential business endeavor they wished to explore. Their idea was to create a superstore that acted as a one-stop shop for do-it-yourselfers. Their store, however, was not just about the product. Along with having everything one could need for any type of home improvement project in one place, Marcus and Blank also wanted the right employees. Those equipped with the knowledge and skillset to help customers find exactly what they are looking for and walk them through a variety of different home improvement processes, per The Home Depot.
From its first opening in Atlanta, Georgia, the franchise quickly grew to over 2,200 stores with 500,000 reliable employees across three different countries. Today, The Home Depot continues to be one of the world's largest and most popular home improvement retail stores. However, the moniker "The Home Depot" was not the original name the franchise planned to have.
The original name and logo
The Business Insider informs that the franchise's original name was Bad Bernie's Buildall. It confirms that this name would not have yielded nearly as many customers as the franchise's current moniker. Making matters even worse, the logo was initially designed to be a man wearing a striped prison uniform. We cannot tell what inspired the idea at the time, and it is impossible to imagine The Home Depot without its Big Orange logo.
Fortunately, one of the company's first investors quickly opted to make a change. Marjorie Buckley came up with the name "The Home Depot" after coming across a train depot transformed into a stunning restaurant. The new name was simple, and Marcus and Blank loved it and quickly jumped on it. The public liked it, too, because without the name "The Home Depot," the franchise would, perhaps, have never gotten as far as it has today.