Alison Victoria's Top Kitchen And Bathroom Design Ideas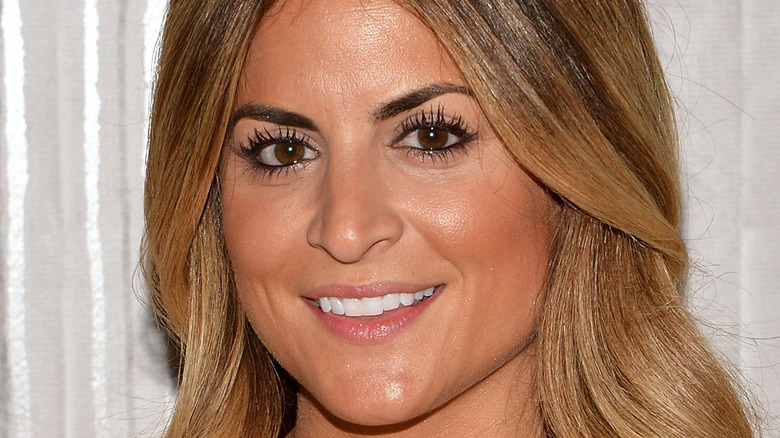 Slaven Vlasic/Getty Images
Alison Victoria is the Chicago-made host of the HGTV shows "Kitchen Crashers" and "Windy City Rehab," now in its third season, per the Chicago Sun-Times. Her current series focuses on thoughtfully restoring the city's historic residences while making them usable and comfortable for today's standards. Victoria knows her way around all kinds of houses, from a 19th-century bungalow to a sleek multi-unit high-rise. She's even flipped her childhood house — enhancing the character of the spaces with updates and unique finds while celebrating genuine but forgotten features. The changes Victoria implements aren't only cosmetic; in one renovation, she raised a gabled roof line, adding square footage to the second floor, more windows, and a double-doored entrance framed with a salvaged surround original to an opera house. 
HGTV describes her designs as glamorous, clever, and daring, with an additional emphasis on function and storage. In a nod to the language of her first program, Victoria partnered on a range collection with appliance manufacturer BlueStar, all within the green color palette — one Victoria feels affords a lot of variety and inspiration, including an emerald ring and a Dior bag, for example. She also loves the color's versatility and how it complements other elements. The company gleaned some of the designer's advice and asked her to share what was trending in kitchens and bathrooms. Here's what Victoria had to say.
Create affordable fun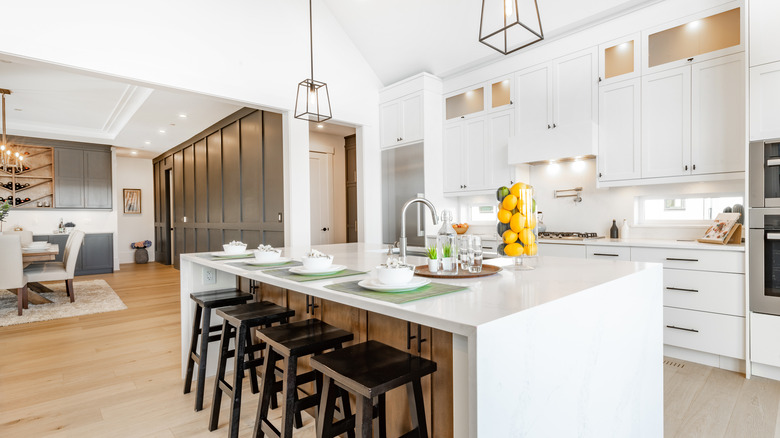 Sheila Say/Shutterstock
Notes BlueStar, Alison Victoria actually cautions against worrying too much about trends, particularly in the kitchen, where large expenditures during renovation are typical. She believes timeless and neutral pieces are a better choice for longevity in design, and she considers green a new neutral that works beautifully with wood tones and light and strong colors, like ivory and cobalt blue. Victoria suggests introducing a popular color or style via accessories: rugs, towels, countertop canisters, and dishes, to name a few. For something with more permanence and impact, a statement backsplash or an "it" faucet finish is an excellent spot to be playful or take a risk. 
However, Victoria touted a rise in innovative storage solutions as a favorable fad, listing features such as hidden storage and panel-ready appliances. HomeLight explains that high-end kitchen equipment draws buyers and can even be the catalyst for increased offers. The outlet points to a growing trend in appliance housing that resembles cabinetry and blends in with the surrounding space, especially desirable in open floor plans. According to Victoria, there is a trajectory toward kitchens being all but disguised, with everything concealed behind flush and modern millwork.
Wow with the powder room
As mentioned, although Alison Victoria prefers large pieces to be classic, she deviates from that principle regarding faucet finishes. Per BlueStar, she advocates for rose gold, brushed gold, and brass metallics in kitchen and bathroom design. Victoria notes that companies are responding to the rising interest through expanding selections. Houzz spells out the positives, citing their propensity to bring warmth, coziness, and an updated feeling to the spaces they occupy. The outlet claims swapping old hardware for one of these choices is budget-friendly, and the finishes pair successfully with any style. 
Victoria encourages going big in what is most likely the smallest room of the house — the powder room. This is where you can go bold with immersive color, patterned wallpaper, and unusual fixtures, and she observed that homeowners are mostly here for it, more willing to take the plunge in this mini space. According to Architectural Digest, dark hues or glossy paint create depth and the impression of more space, our minds allowing perimeter walls to float away. Additionally, the limited square footage means luxury options like high-end flooring and wall treatments might be more affordable.