How To Select The Right Lampshade For Your Lamp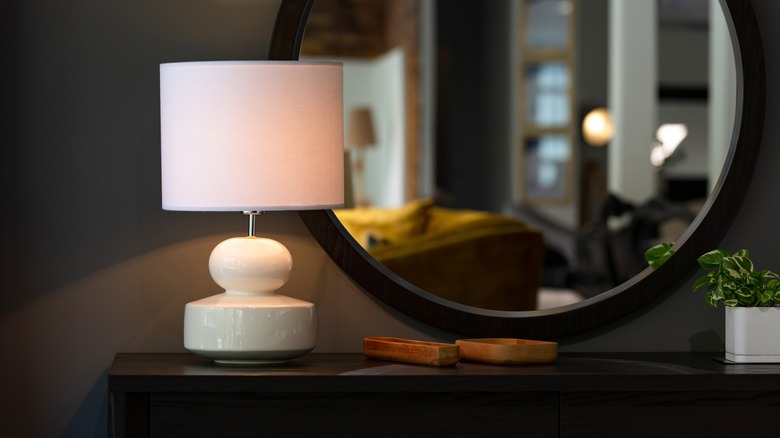 Masoud Rezania/Shutterstock
Choosing the right lampshade for a lamp can be a daunting task, as there are endless options to choose from. Showing up to a home décor store without thinking about what kind of shade you want will undoubtedly be overwhelming, and knowing which one is right for your lamp can be difficult. Adding to the pressure is the fact that choosing a lampshade is pretty important. As Lamps Plus explains, an individual shade can completely change the look of a lamp.
Luckily, there are a few easy tricks to help you choose the right lampshade for your lamp. The first thing you'll want to do is determine the size. Then, you can consider elements like the shade material and color. You'll also need to familiarize yourself with the different types of shades to determine which one is best for your lamp and your space. You'll also want to think about the lamp's use — will it only be used to brighten your home, or is it intended to make an impactful design statement? Read on to get started!
Factors to consider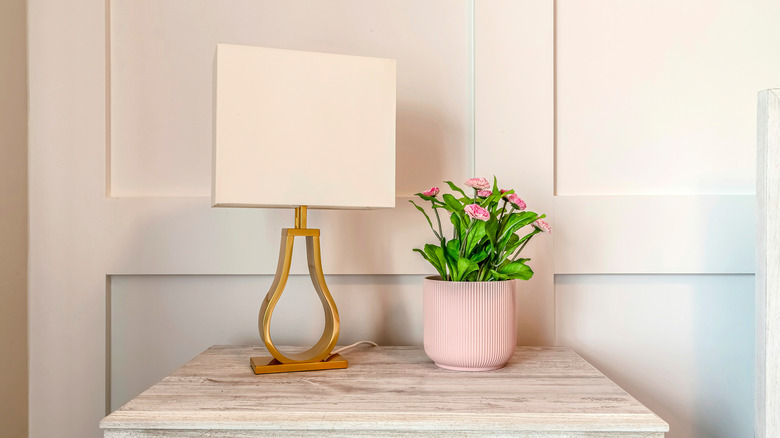 Jason Finn/Shutterstock
The first thing you need to consider is the size of your lampshade. According to Homedit, your lampshade should be ⅓ to ½ the height of the base of the lamp, and the width should be 1 inch wider than the widest point of the lamp. To determine this, you'll have to measure your lamp, then decide which size works best. According to Ballard Designs, the proper proportions are key. If you have a lampshade that's too big, your lamp will look top-heavy. On the other hand, if the shade is too small, the hardware may peek through the top, which is a big no-no.
Once you've settled on the general size of your shade, you can begin to think about the material and color. These elements will largely be determined by how you intend to use the lamp, per Wayfair. Does the lamp need to provide lots of light? If that's the case, choose a muted color and translucent material. If the lamp is going to be a design piece, a bolder color that matches your décor will surely make a statement. For ambient lighting, a darker shade that projects a soft glow is best. 
Different types of lampshades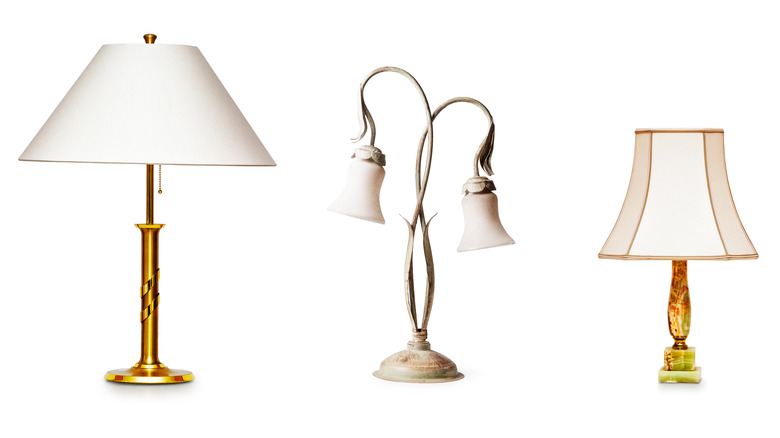 Irina Fischer/Shutterstock
Finally, you'll want to consider which type of shade is best for your lamp. Generally, Ballard Designs says to match the style of the lamp's base to its shade. For instance, if you have a square lamp base, a square shade will look best. However, if you want your lamp to stand out, choosing a shade that wouldn't normally go with the base may create greater visual interest.
There are six basic lampshade options, as outlined by Wayfair. The most popular is the empire shape. This lampshade is shaped like a wide cone, with a larger bottom. Ballard Designs says that if you can't decide on a shape, empire is a safe choice because it goes with just about everything. Similar to the empire, a basin shade allows light to escape from the bottom, but it's shaped like an upside-down bowl. The third type is a bell shade, which is typically used in classic and traditional design. It's also shaped like a cone, but with more elegant, curved sides. A drum shade has a wide cylinder with even sides, which allows light to escape through both the top and bottom of the shade. If you have modern décor, you may want to choose a rectangle or square shade. Finally, if you want your lamp to really stand out, you could choose a unique novelty shape that best reflects your own personality and sense of style.