The Right Time To Buy Paint At Home Depot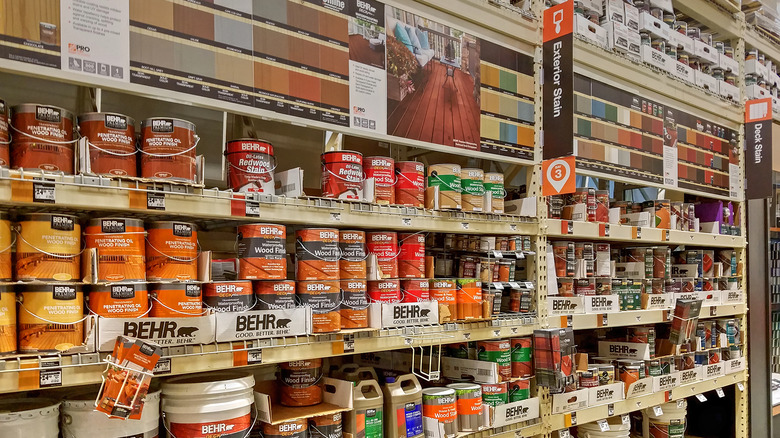 QualityHD/Shutterstock
While The Home Depot is likely one of your go-to destinations to stock up on tools and materials for your next home improvement project, it is also one of the best places to stock up on paint, according to Consumer Reports. In a test of dozens of interior and exterior paints from various brands and different types of finishes, Consumer Reports notes that BEHR — the paint brand sold exclusively at The Home Depot — scored the top marks in several categories. The various interior paints by Behr that were tested were all noted to have performed exceptionally well, and the exterior BEHR paints beat out the competition in every category.
While you want your paint to perform well, you also don't want it to break the bank. It is possible to score savings on paint and other merchandise at The Home Depot throughout the year at one of their sales events that sporadically pop up. But the best and most guaranteed way to score paint at the most heavily discounted rate is knowing which sales events to stock up at.
Buy paint over a holiday weekend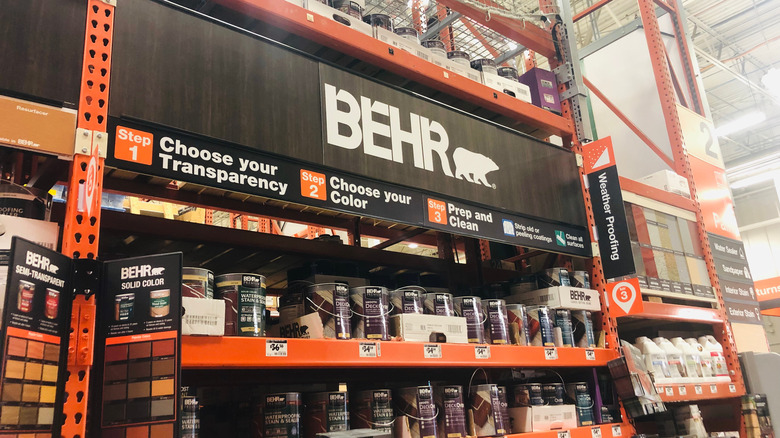 melissamn/Shutterstock
According to Bob Villa, the retailer holds their best sales on paint during holiday weekends such as Memorial Day, Labor Day, and the Fourth of July. Shoppers can expect to save $5 off paint gallons and $20 off five-gallon paint buckets. And with Consumer Reports noting that Home Depot's top paints range from $25 to $40 per gallon depending on the type and finish, a $5 savings can be significant – especially if you are painting multiple rooms or the exterior of your home.
If you miss a sale and can't wait until the next one to give your space a paint facelift, check out the Mistint section of the paint department. When customers change their mind about a paint order, or if the color doesn't come out as intended when mixed, it gets drastically marked down instead of simply being thrown away. This collection of mistinted and "oops" colors is a great place to shop if you aren't sure exactly what shade you are looking for or if you aren't necessarily dead set on any particular hue.