15 Ideas To Spice Up A Blank Wall
The walls of our rooms are like thoughts in the mind — we need blank spaces to rest and engaging ideas, and too much trivia dilutes concentration, leaving us scattered. What we convey with them tells something about who we are. Yet people say, "If walls could talk ..." 
Paint purveyor Sherwin Williams groups pigments by personality type in their Color ID quiz; Are you a Free Spirit, a Nurturer, a Trendsetter, or a Dreamer? We assert one could be all of those and more — what you are is an Individual, and your home should reflect your unique point of view. Enveloped and fortified, we are provided the safest place for expression: a panel of paper, a spot of stone, a layer of brick; each feels different, each a statement. Do we take a risk, create calm, bring in nature, manufacture joy? Whatever you choose, your walls are up for it.
1. Neon
Neon combines edge and rawness with chemistry and a process of precision — creating an exciting design element and a conversation piece in a space. These art installations are easy to order through maker websites and online retailers; for a customized phrase, seek out an artisan. 
According to Decoist, neon is appropriate for any room in the house, from over-the-bed dreamy notions and foodie inspiration in the kitchen to punchy, motivational one-liners for a home gym. The outlet calls it daring, sassy, colorful, and romantic — and we might add, electric.   
2. Brick veneer
Brick imparts character and texture while subtle shades of rosewood and rust infuse the space with warmth and color. Vintage Revivals reinvented their Utah home's identity — a " ... basic, beige box ... " — with a layer of brick veneer. The New Yorker wanted to create a city loft feeling in their living room instead, and brick, with its history and industrial roots, was a sure bet. Even covering just a portion of the wall, as shown above, or an architectural feature, like a jut out, for example (hello faux chimney!), can be impactful.
3. Drapery
According to House Beautiful, drapery is much more than a window covering, and we might be neglecting some attractive opportunities to use them creatively. In addition to clever and stunning applications, like fashioning a bed canopy or a sleeping nook from closet space, the outlet describes various reasons for using curtains along a wall. They conceal damage, add pattern and color as an alternative to wallpaper, become a lush background for artwork, and introduce texture, movement, and softness to the space. The ability of drapery to absorb sound and echoes is an invisible benefit.
4. Painted accent wall
An accent wall injects interest and vitality without covering the entirety of a room's walls in color or a darker tone; additionally, according to 360Painting, it can unify a color scheme and create drama, a focal point, and a sense of coziness. The outlet suggests that larger spaces are more suitable, with the technique a perfect way to break an open plan into intimate areas; conversely, an accent wall could add to the enclosed feeling in a smaller room. 
5. Marble tile
Choose marble tiles for the gorgeous and subtle look of the stone without the price tag. Additionally, tiles are much easier to install because of their smaller size and lighter weight compared to a slab. With grout lines similar to the stone color and careful placement to ensure some veining across edges, you'll have a beautiful and functional statement wall. An obvious choice in a bathroom or kitchen, marble is a less typical but appropriate treatment for a bar area, laundry room, or entry. 
6. Wallpaper
Wallpaper has come back in recent years as we move away from minimalist decor toward spaces filled with more character. It's a fantastic avenue for adding color, pattern, and personality. However, many of us are afraid of what we see as an intense commitment. To help overcome our fear, Vogue asked designers for their advice. The first tip is to consider room size — small patterns generally work best for small rooms, while the reverse is true. Next, they recommend sampling a section before deciding. And third, allow it to be bold — that's what it's there for.
7. Bookshelves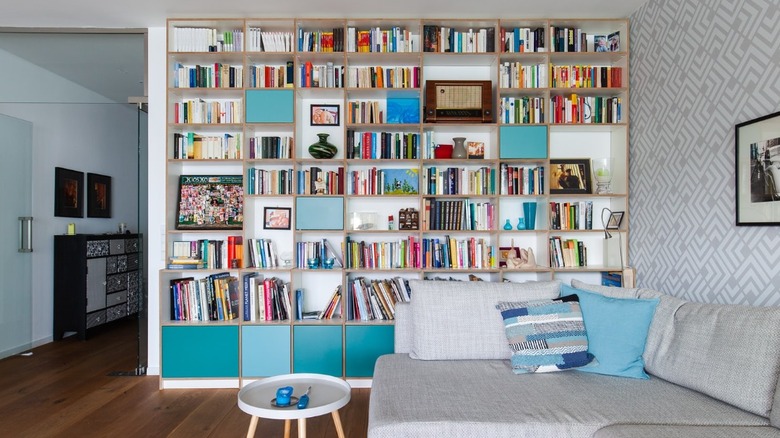 Bookcases have so much to offer. They are a feature — providing height and a focal point — while complementing the decor through the choice of wood, color, and style. They convey a visual narrative with the objects inside and hold worlds of ideas and memories just within reach. The modern example above highlights color and freshness, with turquoise fronts and jumbled spines. (Face pages forward for a neutral display.) Conversely, traditional wood shelves feel hushed and serious — like a library; painted built-ins present a classic farmhouse feel. Whatever your style, there's a bookcase for it.
8. Vertical garden
A vertical garden, or living wall, is an amazing concept and a new way to bring the outside indoors. For urban residences lacking an outdoor area and perhaps with limited floor space, the vertical greenery adds texture, vibrancy, and a sense of natural calm. It's also an ideal treatment for an unsightly lanai or patio wall. Lighting and a water source are essential considerations, per HGTV, and the outlet explains different methods for their implementation, including wood and steel framing and kits complete with irrigation systems. For hands-off options, some companies provide living wall installation and maintenance. 
9. Wood and plywood
Wood brings elements of nature to a room, from a polished and contemporary slab wall, as shown in our intro image, to a graphic yet subtle art piece, to a raw particle board backdrop — it's rustic, imperfect, and warm. Create a counterpoint to a modern and pristine interior, or layer its organic characteristics with equally handsome items like worn ceramic tile, stone, and rich textiles for a space with depth and interest.
10. Gallery wall
Vamp up a room and share your story with a gallery wall — a display of art and imagery that showcases your personality while simultaneously adding interest and color. There are many methods, from hanging matching sizes and frames and following a theme to celebrating variety in the dimensions, frame styles, and artwork. It can be a very affordable project utilizing flea market finds, cards and book pages, and even pretty paper; shop curated collections online for a potentially quicker yet more expensive option. 
11. Chalkboard
Give adults and kids an approved place to play with a chalkboard wall. Fabulous in a child's bedroom, it's also a fun idea for the kitchen, home office, or gym. Share menus, quotes, and motivational phrases, or let your inner artist have a turn with doodles and sketches. Home Depot explains the process, which isn't much different than conventional paint application, except that before the wall can be used, the whole thing must be scribbled with chalk and erased. Sounds kind of naughty and enjoyable!
12. Faux fireplace
Nothing beats the cozy ambiance of a fireplace. Unfortunately, if your home doesn't have one, adding one might be cost-prohibitive or not structurally feasible. Thus, DIYers have figured out how to mimic the real thing. Farmhouse on Boone installed a faux firebox beneath a recycled mantle they purchased through a second-hand marketplace, and the result is strikingly authentic. If you're less handy with construction, things can be simplified. The most important feature is the mantle, followed by a surround; a dark "insert"  — which could be a painted wall — and a pile of logs help further the idea.   
13. Mural
Painting is a fast and budget-friendly way to change a room and a vehicle for mood and style — a painted mural personalizes a space to a greater extent and can be simple or complex. The DIY duo behind Young House Love decorated a large wall of their daughter's bedroom with a fanciful mural, transforming it with color and pattern. They were pleased with the impact and called the process a combination of planning, preparation, and spontaneity. Their design blog demonstrates the supplies and steps involved; the painting required five hours distributed across 2.5 days, allowing dry time between layers. 
14. Picture frame molding
Create instant history and appeal in your space with architectural paneling. Realtor notes that decorative molding has been in existence for centuries, and the outlet shares its take on the most prevalent styles, including crown, chair rail, wainscoting, and casing. Picture frame molding brings to mind Parisian salons, classic drawing rooms, and the interiors of grand hotels and museums. Painting it a favorite shade means it will look phenomenal and allow the materials to be lower grade and, therefore, more affordable; The Coastal Oak used inexpensive and easy-to-install PVC trim for the feature in her primary bedroom makeover.
15. A leaning mirror
A leaning mirror provides an abundance of benefits, among them are function, light reflection, the illusion of more space, a focal point, and interest via the framing material. In the example above, the chunky, rustic wood contrasts beautifully with the modern style throughout the room, adding warmth; plus, the random and organic patterning of the grain speaks to the wallpaper behind the bed. One Kings Lane emphasizes another important reason you might want to invest in a leaning mirror — its contribution in pinning down that elusive design beast called the wow factor.