The Most Important Place To Use Magic Erasers That You're Probably Missing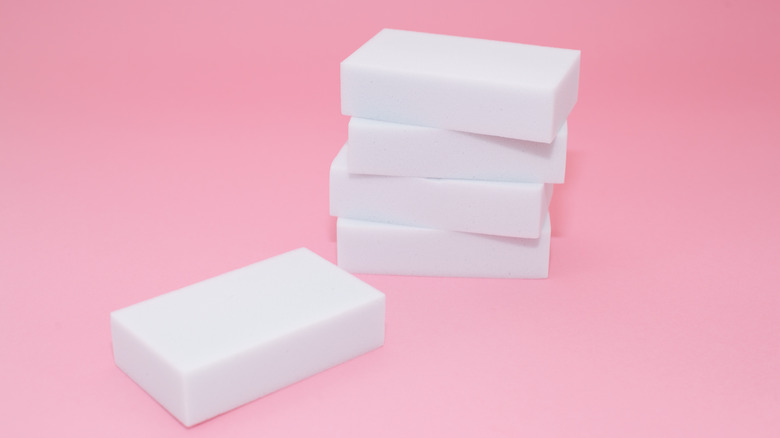 OlenaPalaguta/Shutterstock
Mr. Clean's Magic Eraser is a versatile cleaning tool you can use around your house. When in doubt, folks can reach for a Magic Eraser for a variety of tasks. Typical uses include cleaning bathrooms, wiping down the interior of kitchen appliances, removing wall and furniture stains, and lifting baseboard scuff marks, per Mr. Clean. However, there are quite a few more ways to clean with a Magic Eraser. According to The Maids, a Magic Eraser can be used to clean dirt from light switches, remove rust rings from bathtubs and sinks, freshen plastic storage containers, renew white sneakers, eliminate sticky residue, and remove built-up hair products on hair styling tools.
There is also another Magic Eraser use that we think everyone should know about. It's possible that this simple hack will save you time and money, too. In fact, this could arguably be one of the most important uses of a Magic Eraser sponge. 
Where to use Magic Erasers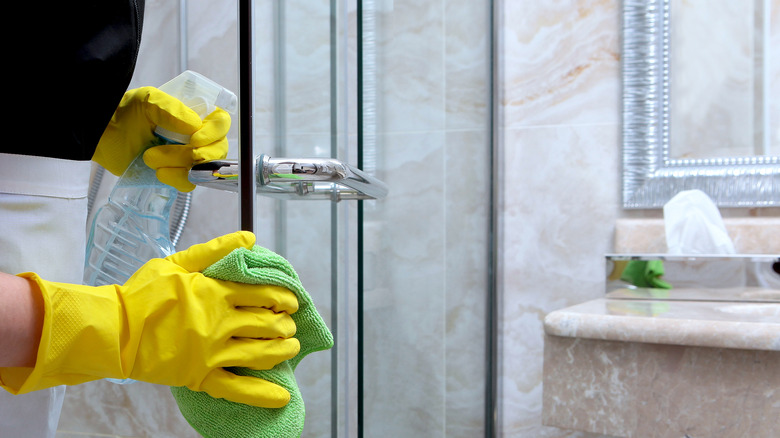 RusAKphoto/Shutterstock
While a Magic Eraser can be used just about anywhere in the home, many people miss this one place in the bathroom: their shower doors. Don't Pay Full says that a Magic Eraser sponge will prevent fogging on shower doors. It will also remove soap build-up and hard water stains. Mr. Clean also recommends using the Magic Eraser Foaming Bath on shower doors. They say this is because it contains a pleasant scent that will freshen your bathroom. 
In order to clean your shower doors with a Magic Eraser, first get the sponge wet. Then, you'll want to squeeze out the excess water. While applying pressure, wipe the sponge across your glass shower doors and see the fog and scum begin to fade. Another trick is to use a Magic Eraser in your shower tracks to remove soap scum and mold or mildew build-up.
Where not to use Magic Erasers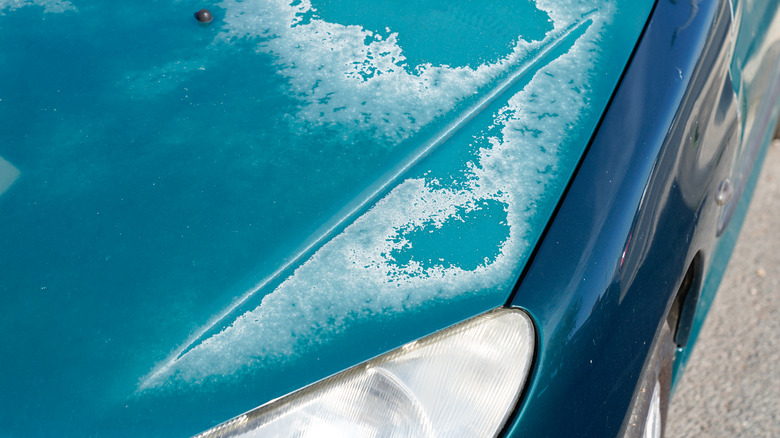 sylv1rob1/Shutterstock
As stated, Magic Erasers can be used to clean in many areas of your home, including areas that you might not be aware of. However, there are some places you should avoid using these sponges. This is because Magic Erasers are made out of melamine foam, which, while it provides great scrubbing power, it can also cause damage to certain materials.
Wow So Clean says to avoid using Magic Erasers on stainless steel appliances, while Favored Stone Guides says to avoid cleaning gentle countertop surfaces like laminate with them. This is because the sponge could dull the finish of these materials. A Magic Eraser can also damage your car's paint, so never use one on the exterior of your car. These sponges also shouldn't be used on nonstick pots and pans, as they could leave small scratches. Finally, don't use a Magic Eraser on wood or glossy paint, because it could strip the finish of both these materials.