The $60 Hack To Revitalize Old Kitchen Cabinetry
We may receive a commission on purchases made from links.
When it comes to your kitchen, organization is key. There should be a place for everything because no one likes a messy kitchen or a time-consuming clean-up. However, designing your dishware accordingly in your cabinets can constantly feel like a tedious task, especially if you're relentlessly doing it. Suppose you adore open shelving but still value the privacy of your dishware, especially if its display is currently messy. In that case, you can get the best of both worlds with pocket cabinet doors, according to House Beautiful.
Pocket doors are sliding cabinet doors that are designed to cautiously open and close into a slot within a frame, otherwise known as a pocket, These Three Rooms explains. They're modern and conventional, and they save major kitchen space. Moreover, they're a great option for kitchen décor and storage. Not to mention, they're efficient and effective, with a pocket door slide costing only around $60 on Amazon. Work smarter, not harder!
The uses of open pocket doors
If you're messy and keeping your kitchen cabinets together can feel like an unbearable task at times, then pocket doors are most definitely for you. You get the best of both worlds with the open of keeping them open or closed. When you host guests, you no longer have to worry about a time-consuming organized clean-up before they arrive. On the days when you want to tidy up and present a united front of organized dishware, you can do so intentionally, thoughtfully, and without feeling rushed.
Incorporate your favorite glassware, bowls, and more into these cabinets. Play around with your dishware set up and make it your own. The beauty of having two choices with pocket doors is that it's all up to you. They're easily accessible, but they can take up more space than ordinary cabinet doors, according to House Beautiful, because they hide inside the wall slot. Every kitchen differs in size, so if you have a smaller kitchen, plan your dimensions accordingly. Even if you're not doing a full kitchen renovation, this is the perfect subtle upgrade you need.
Preparation is important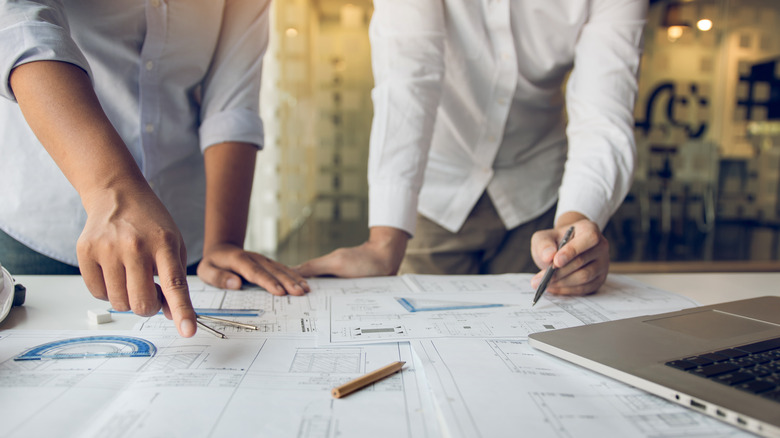 wutzkohphoto/Shutterstock
When it comes to installing your pocket doors, there are a few things that are important to keep in mind so you're more than prepared for this process. If you have some experience, installing a pocket door can be your own DIY project, according to Angi. However, if that's not the case, hire a professional because installing these pocket doors isn't entry-level DIY. Choosing the right wall is also important because you need enough space for the doors to slide easily without issues.
According to Angi, your wall of choice shouldn't have plumbing, electrical wiring, HVAC ductwork, or beams. Next, you need to stay on top of measuring; your wall should be thicker than the pocket door. You want to also buy a pocket door kit; these kits are generally between $60 and $400 based on what comes with them. Finally, make sure you have the correct tools, including a power drill, metal split studs, door jambs, hardware, and so on. Whether you're DIYing this project or leaving it to a professional, you'll be stunned by the result.