This Countertop Hack Will Save You Space In Any Tiny Kitchen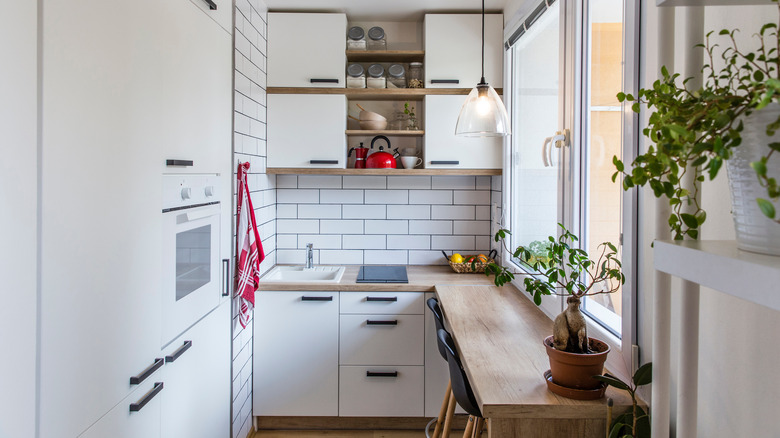 Michaela Komi/Shutterstock
Small kitchens come with a slew of challenges. According to Waukee Cabinet Works, not having enough storage space is a huge problem. Even if you do have ample storage space, you still might not be able to reach the back of your cabinets for easy access and keeping your kitchen organized can be difficult. You may also be missing adequate seating options in your kitchen, which can be frustrating. Another common problem is not having enough free, usable space on your countertops. Kitchen counters have a number of functions beyond holding small appliances like a toaster or a coffee maker. They are also regularly used as a workspace for laying out ingredients, chopping vegetables, and more.
From utensil racks to baskets and mason jars, there are a number of hacks that will save you space in a tiny kitchen. Yet rethinking the way you organize inside your cabinets may not get you everything you need. There is another way, and it comes down to how your countertops are designed. Following through on this project may save you even more space and make your cramped kitchen much more functional.
Designing countertops in a small kitchen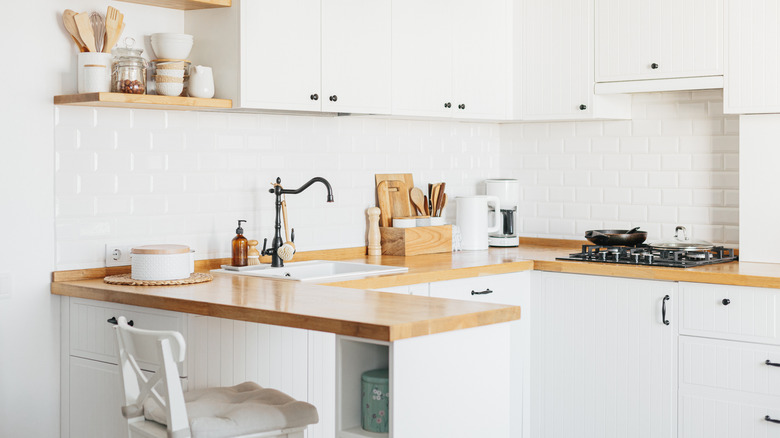 Switlana Sonyashna/Shutterstock
Most kitchens, even compact ones, have countertops that are of an equal depth throughout the space. According to Caesarstone US, standard kitchen countertops are 24 inches deep, which could be more than you actually need. All it takes is a tape measure to figure out the depth of your own counters and see if this holds true for you.
Minimizing the depth of one section of your kitchen countertop can actually be beneficial in a small kitchen. Homes & Gardens uses the term staggering to define this hack. It can be a great option for kitchens that don't have enough space for a full table or bar seating. By simply minimizing the countertop depth, you can create a designated breakfast bar or general seating area. This can also help resolve the issue of not being able to reach the back of your storage spots because the cabinets or shelves above a more shallow countertop will be easier to reach. You could also install open shelving above a shallow countertop to hold things like mugs, spices, or jars.
Other space saving tips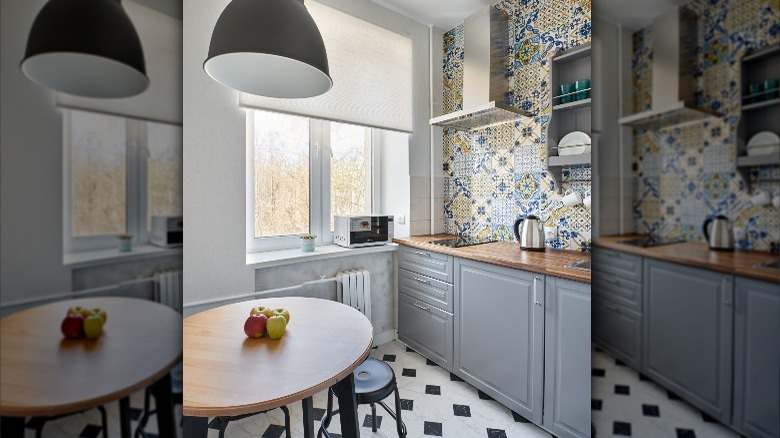 Iglenas/Shutterstock
For even more ways to save on space we looked to Wren Kitchens who recommend focusing on making countertop spaces multi-functional. For instance, a seating area could double as extra preparation space while making a meal. To free up the limited space on your counters, consider storing appliances you don't use everyday inside your cabinets. This could include your blender, toaster, or coffee maker.
When remodeling a small kitchen, one of the most important things to consider is the layout. You'll want to design a kitchen that places large appliances in the most convenient spaces. Your sink, fridge, and oven should not be more than nine feet away from each other, which probably won't be a problem in a small space. Also keep in mind that placing them closer than four feet apart can have the opposite effect and make a kitchen feel crammed. For convenience, make sure your dishwasher is near your sink. Finally, adding natural light to a small kitchen will make the space feel larger. Consider adding a window to your kitchen design or opening it up to a brighter room.