The Best Roof Color If You Have A Brown House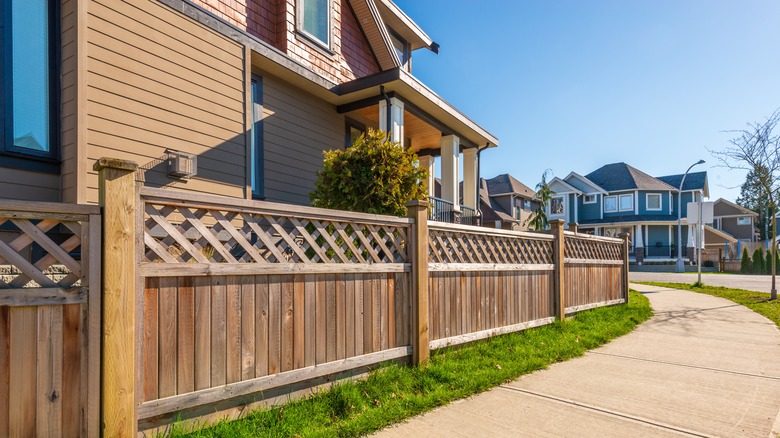 karamysh/Shutterstock
Deciding on an exterior paint color can be one of the most complex décor decisions you can make when decorating your house. As you know, paint color can set the overall tone for your home, so choosing one that suits your aesthetic is critical because we can guarantee that you'll live with it for a long time! According to Sharper Impressions Painting, you might want to consider bringing in the experts since a pro can help you decide, knows how lighting can change color, and is the best at knowing what hues pair well with other shades. Exterior paint color expert Amy Wax also notes that it's important to consider your home's architectural style when making exterior paint decisions, which is essential!
A brown house is an excellent option if you are a neutrals fan and want to play it safe in the design department. You might be wondering what color your roof shingles should be if you decide to paint your home any shade of brown. Take it from us; you just might be surprised by your options — keep scrolling to find out!
And the best color is...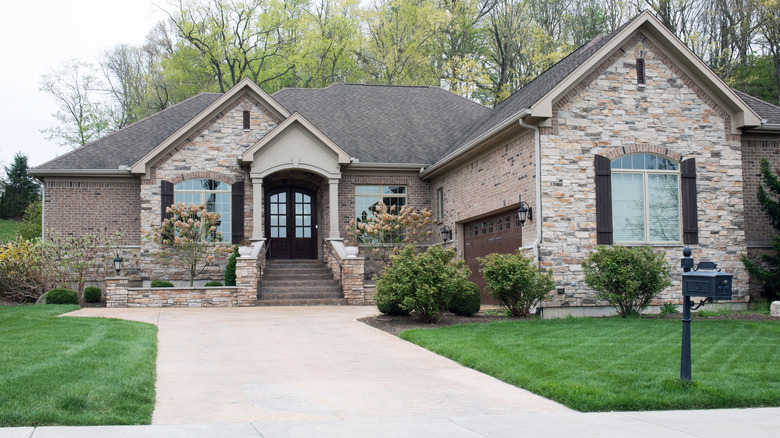 Susan Law Cain/Shutterstock
One would think a brown roof would look nice with a brown home, and it definitely can, but according to Heritage Construction, you don't have to go basic. Brown homes look excellent with a variety of roof colors, including light brown, green, blue, black, and charcoal, so you can really get creative when choosing a roof color for your home! The company points out that the contrast can make all of the difference and make your home stand out from the rest. More tips include using a composite shingle to give your roof dimension, considering your home's environment, and thinking about the weather, as the color can actually affect the amount you pay for heating and cooling.
Lastly, if you want to add color to your brown home's exterior, you can always paint your flower boxes an eye-popping hue since many colors look good with this neutral. Also, consider adding beautiful landscaping with lots of colorful flowers for a pop of color! That is one way to ensure that a brown home will never be basic.