40 Art Deco-Inspired Bathrooms That'll Take You Back To The Roaring '20s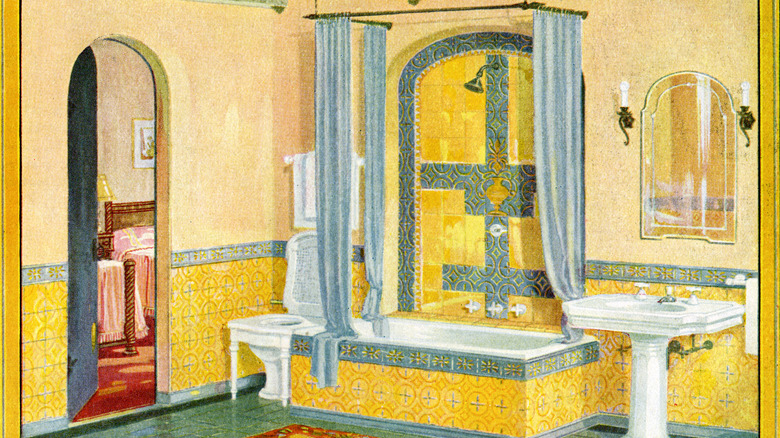 Graphicaartis/Getty Images
The roaring 20s were all about glamour, so you can imagine that luxurious details played a huge part in the decor of the time. According to MyDomaine, luxurious materials played a big role in decor, as did anything kitschy but also simple; symmetry was very popular for the times. Per the outlet, the Art Deco era can be found in well-known buildings such as the Chrysler Building and Empire State Building in NYC. Plus, a great representation of the glamour of the era can be watched in "The Great Gatsby" starring Leonardo Dicaprio.
According to Victoria Plum, a retail store specializing in bathroom furnishings and accessories, the bygone era of Art Deco is a look that many people still gravitate toward since the style is so timeless and elegant, and the look can be created to be more retro or more modern depending on your interpretation.
If you wish to emulate the luxurious glamour of the Art Deco period for your bathroom, we suggest you keep scrolling to see how you can add little doses of the Roaring '20s to this room.
Go for the gold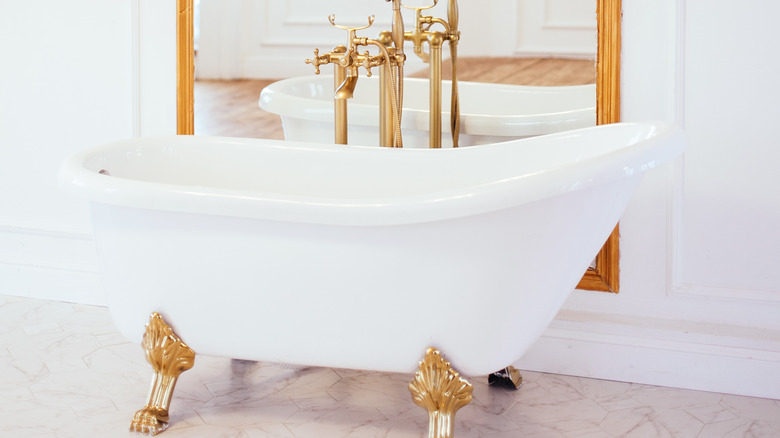 surflover/Shutterstock
With the time period being so luxurious, you can't go wrong with adding even a small dose of 24K gold. Adding gold to your clawfoot tub, which remained popular well into the 1920s, is an excellent way to bring a bit of glamour to your bathroom, as is a fabulous chandelier or a gilded mirror.
Classic Art Deco elements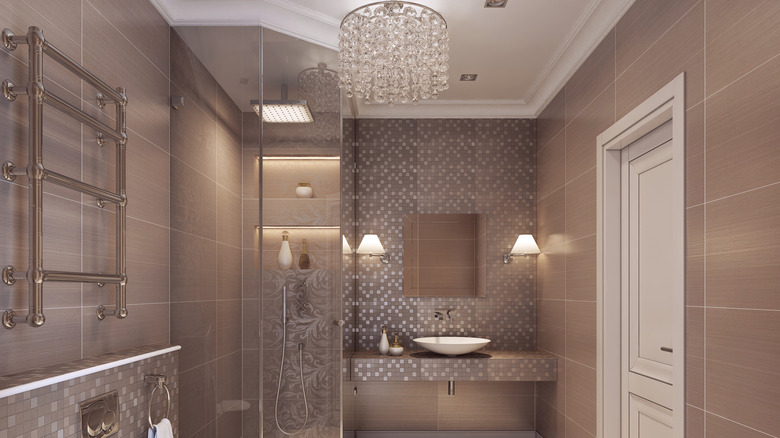 Kuprynenko Andrii/Shutterstock
This luxe bathroom has classic Art Deco elements found in the coffee-colored mosaic tile, symmetrical lighting, and glam chandelier, but it feels modern at the same time. A neutral bathroom is always a great idea, and although the time period loved color, this is a great way to bring the style into the 21st century.
Take inspiration from a hotel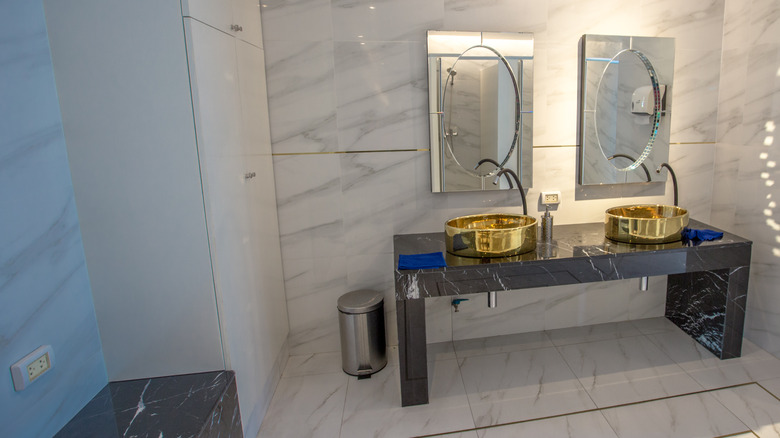 Bangprikphoto/Shutterstock
Traveling can be inspiring, even the bathrooms you see while you're vacationing. Case in point: This hotel bathroom in Bangkok was inspired by the Art Deco era. Notice the symmetrical elements of the golden sinks, opulent mirrors, and marble. The marble flooring even has a gold trim for added definition.
Dress it up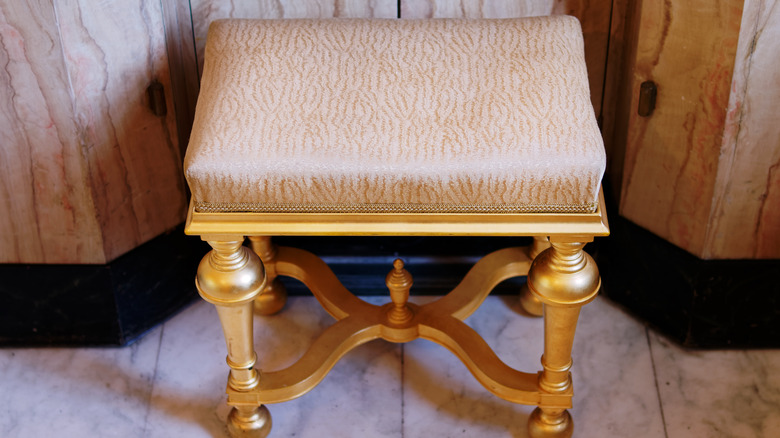 DRG Photography/Shutterstock
Inspiration can come from everywhere. This Art Deco-style stool from the bathroom of London's Eltham Palace is a luxurious touch and would look great at a dressing table inspired by the 20s. This Art Deco mansion is swarming with inspiration. However, if you do only one thing, we suggest adding a Roaring '20s-inspired stool to your loo.
Go for bold patterns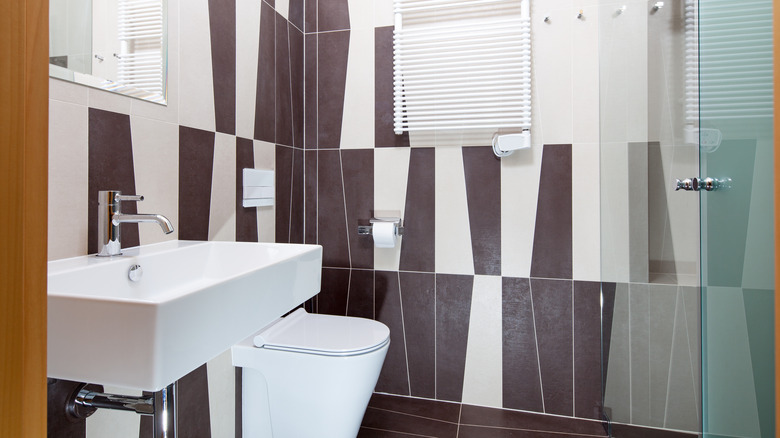 Alex Gorins/Shutterstock
According to Why Tile, an Art Deco style is as much about elegance as it is about bold, unique patterns, so don't be afraid to do something a little different regarding your tile as this homeowner did with a bold, elongated tile pattern.
A vintage dressing table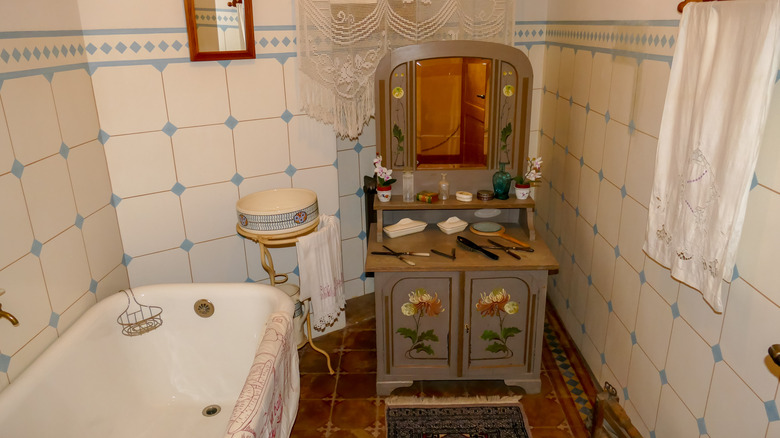 Sindii/Shutterstock
Add a dose of glamour with an elegant vintage-style dressing table from the time period. It will most definitely make your bathroom exciting and give you the look you are going after!
A chic vanity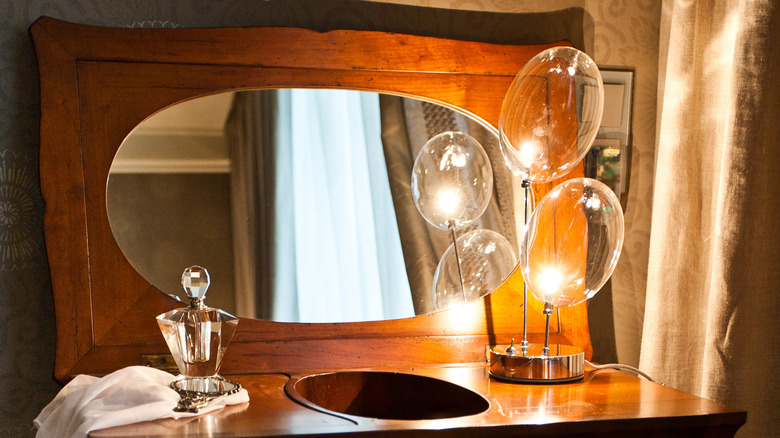 Ekaterina Milenkovic/Shutterstock
As much as the elegant decor was a sign of the times, so was a luxurious fashion sense. We suggest getting a vintage vanity from the 20s and 30s and emulating the latest makeup and hairstyles at your precious vanity.
Opulent Art Deco tile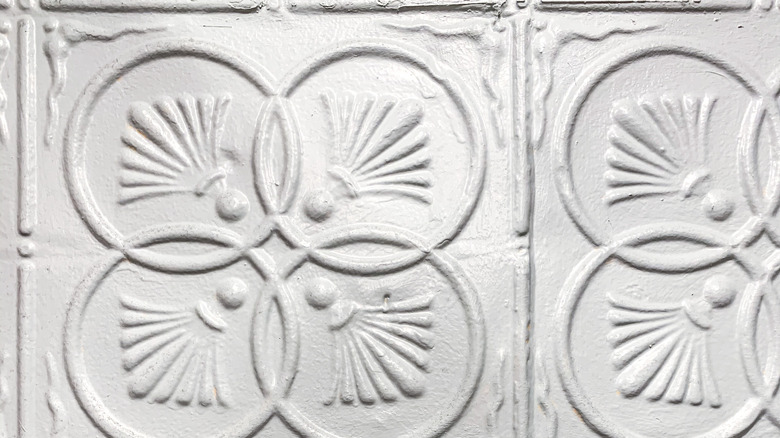 Becc Keezel/Shutterstock
One of the popular styles of the era was a shell pattern which is so easy to spot. We love this white version that would look beautiful in any bathroom yet subdued enough to bring the subtle design into modern times.
Bold geometric patterns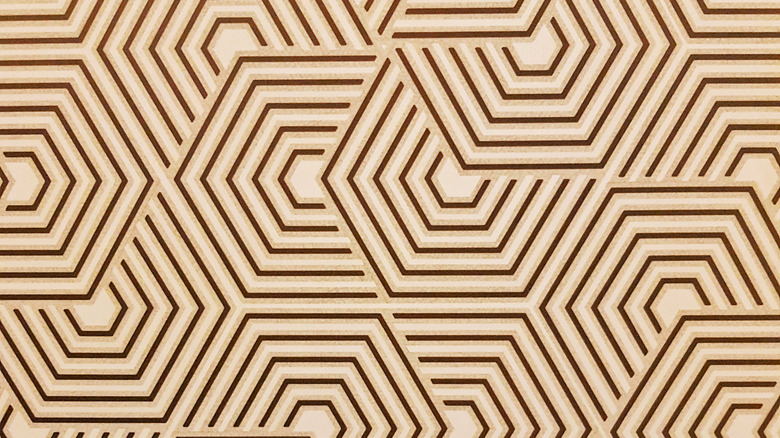 Reeda/Shutterstock
Alessandra Wood, VP of Style for Modsy, tells Forbes that homeowners should look for bold geometric shapes, which were extremely popular during the times. This abstract geometric tile would look just as stunning on the floors as on the walls, giving your bathroom the look it needs to capture the Art Deco style.
Luxury lighting that accentuates a bold wall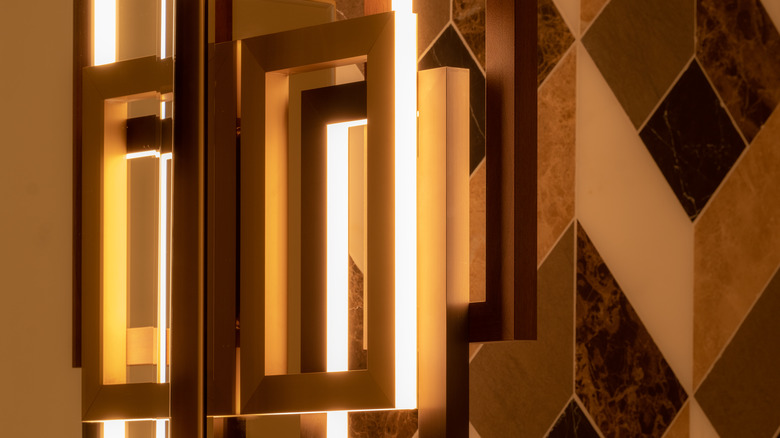 John Grummitt/Shutterstock
This stunning hotel wall features a bold pattern in luxurious neutral tones, including shades of brown, black, and gold, and is accentuated with extravagant geometric-shaped lighting.
Go for the globe
joeyg/Shutterstock
Globe lighting was popular in the 1920s and 30s and an effortless way to bring Art Deco style to your bathroom while keeping things simple and modern.
Show-stopping shades of color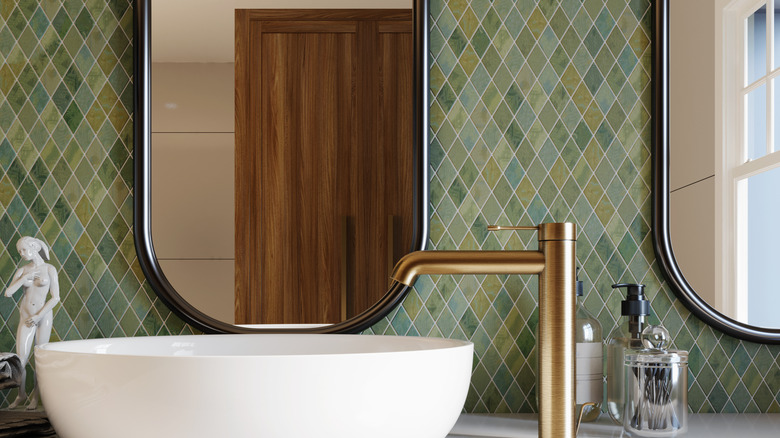 IZ1737/Shutterstock
As MyDomaine points out, If you want to add Art Deco inspiration to your bathroom, consider going for bold hues as this homeowner did with shades of luxurious green.
Always repurpose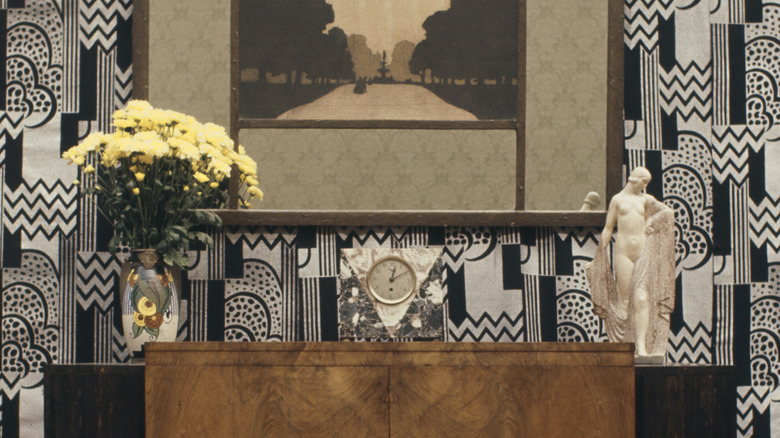 Tony Evans/timelapse Library Ltd./Getty Images
We love the idea of reusing furniture for other purposes, and we think this Art Deco sideboard from the 1930s would look absolutely stunning made into a sink. The cupboards make it perfect for storing away beauty products, and we think it looks incredible in front of a traditional wallpaper from the era.
A glam chandelier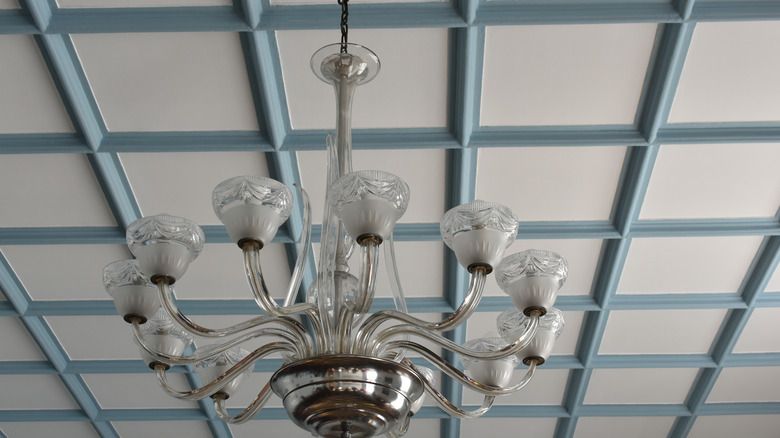 Kana_Trzc/Shutterstock
In keeping with the glamorous aesthetic, add a chandelier from the 1920s or 30s to your bathroom if it is large enough. It will indeed become a talking point of the entire bathroom.
Art Deco details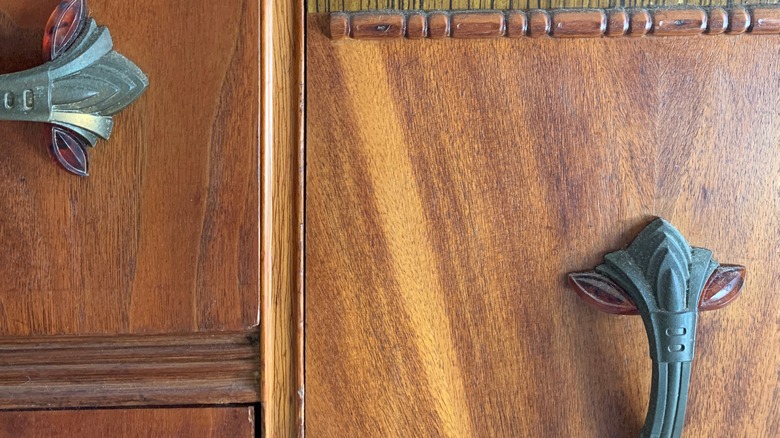 LisaChi/Shutterstock
If you reuse a dresser from the time period as your sink cabinet, we are sure that this piece of furniture with Art Deco drawer handles will get your guests' attention and add just the right amount of details from the era to your bathroom.
A burst of sun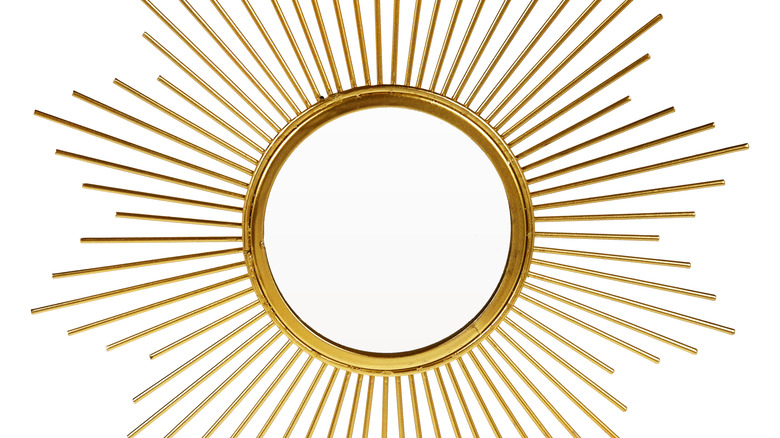 ProffiPhoto/Shutterstock
Blaine Robert Design suggests adding a sunburst to your Art Deco-inspired design, and we couldn't agree more. It would be beautiful as a piece of art in your bathroom and could double as the perfect mirror to touch up your makeup.
Luxurious lighting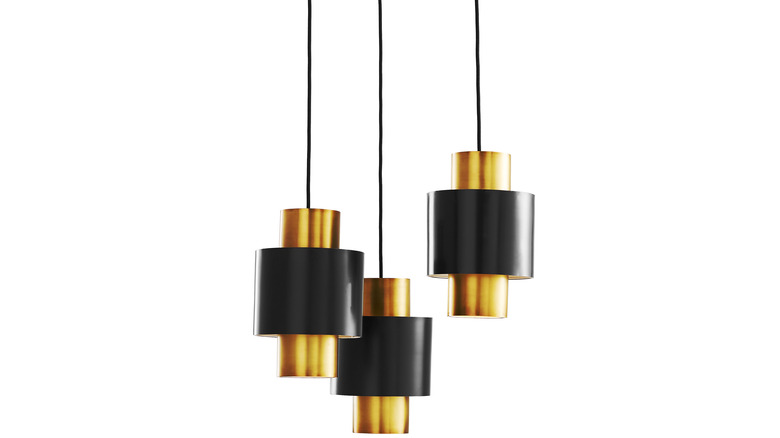 AlexPhotoGo/Shutterstock
Elegant lighting was a sign of the times, so be sure to add a stunning lighting scenario to your bathroom like this classic lighting with brass cylinders, which would catch anyone's eye for sure.
Mix and match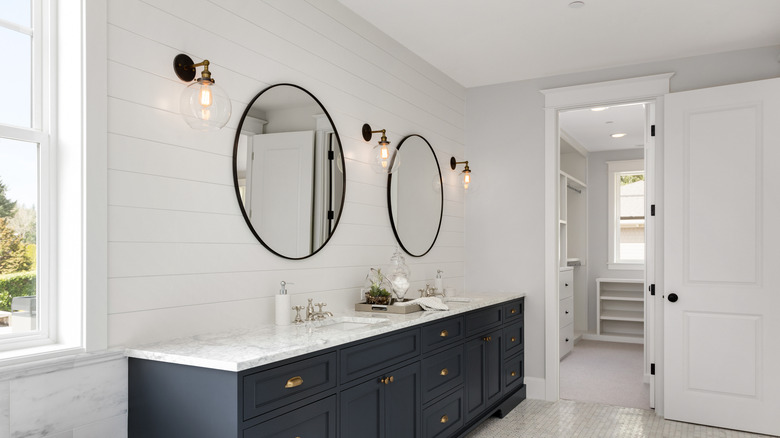 Breadmaker/Shutterstock
Bring a few elements from the Art Deco era, like symmetry, to your sink area with coordinating lighting and mirrors. Add a touch of opulence with shiny, classic tiles on the floors, and keep it traditional with a marble top for your sink.
Make it rain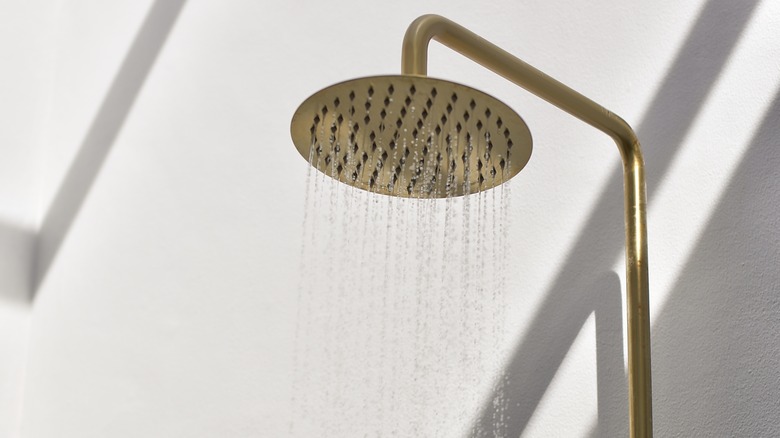 TukangPhotoStock/Shutterstock
Brass was a popular metal during the era, so consider adding a brass showerhead that can give your shower a little something extra.
Go over-the-top with marble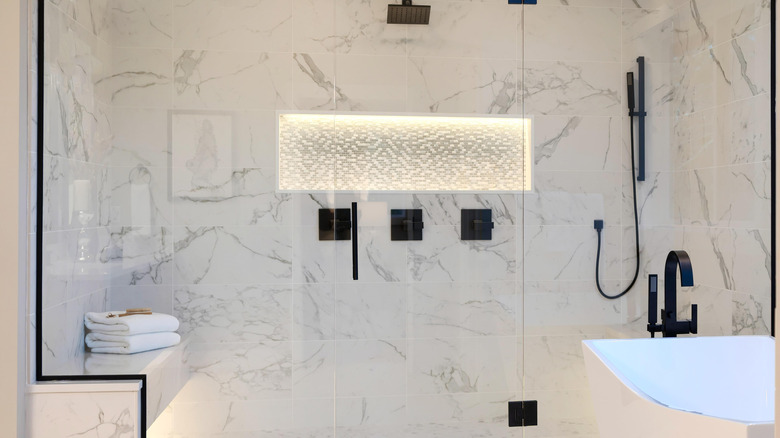 Artazum/Shutterstock
According to Digs Digs, marble is always a classic material in an Art Deco-inspired bathroom. This luxurious choice is timeless and adds a major dose of style.
A luxurious faucet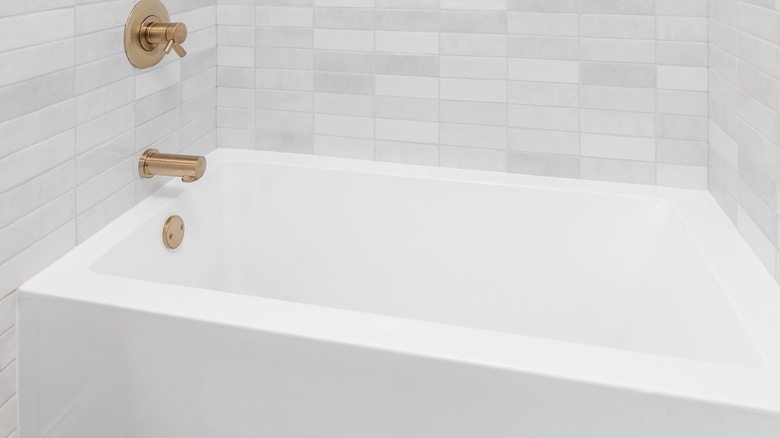 Hendrickson Photography/Shutterstock
This brass faucet is completely luxurious and looks chic against timeless tiles like these subway tiles. It's definitely a spot we could imagine spending a long time in, taking relaxing bubble baths.
Keep the stained glass window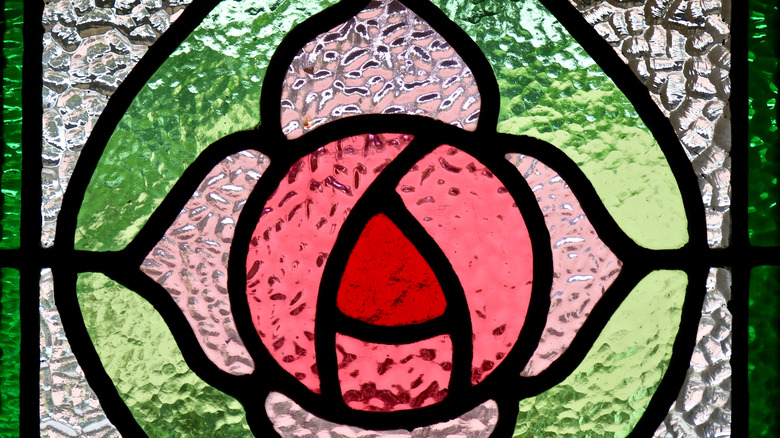 Dallasetta/Shutterstock
If your bathroom has an Art Deco stained glass window, make it a highlight. It would be the main focus of any room and look especially chic in any bathroom.
Retro globe lighting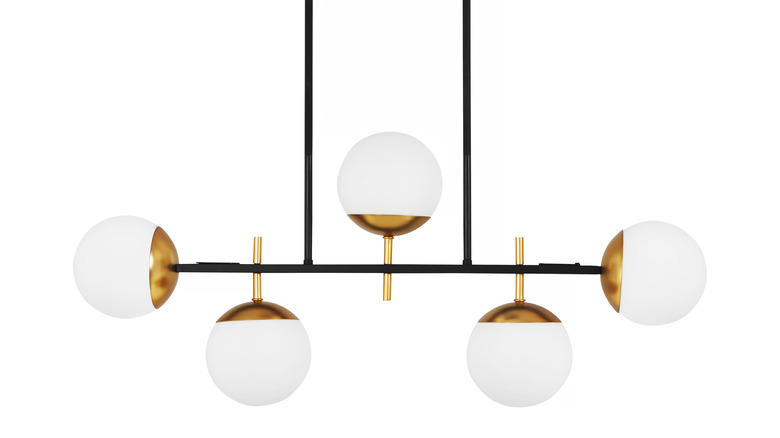 AlexPhotoGo/Shutterstock
This hanging light features five globes and would be beautiful as the focal point in your Art Deco-inspired bathroom.
Add an Art Deco door that wows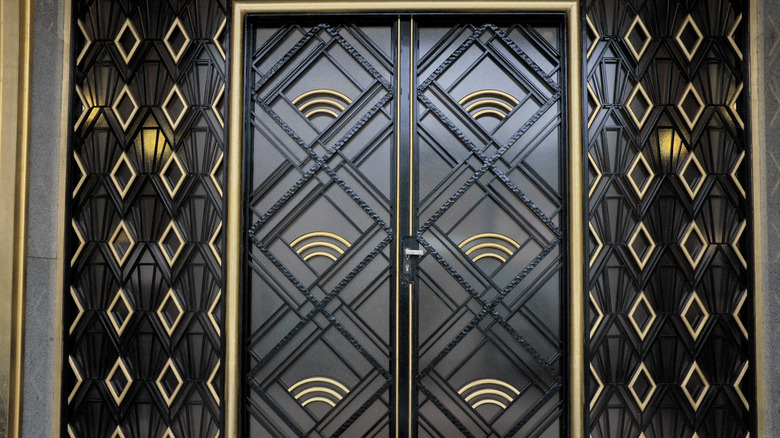 Bruno Bleu/Shutterstock
For a bathroom that will wow guests, add an exquisite door from the Art Deco era. If one is too hard to find, this would be easy to recreate with black and gold paint using shapes popular during the times.
A chair in an Art Deco shape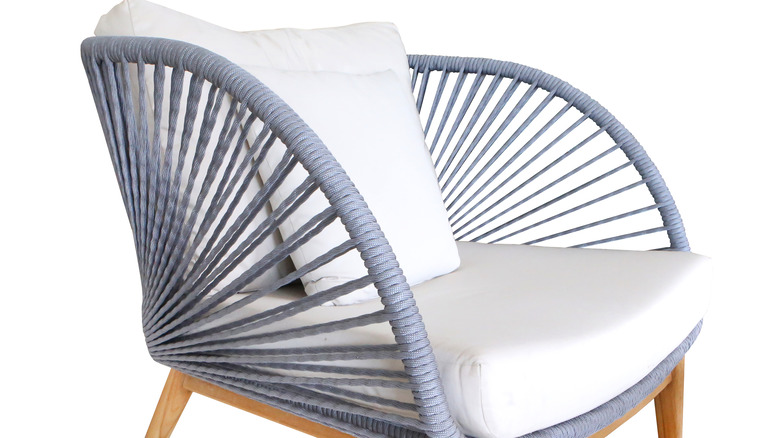 Anna Klepatckaya/Shutterstock
Art Deco style abounds with this unique wicker chair in a luxe fan shape. The light gray makes it look modern, and it would be the perfect addition to any dressing table in the bathroom.
Artistic mosaic tile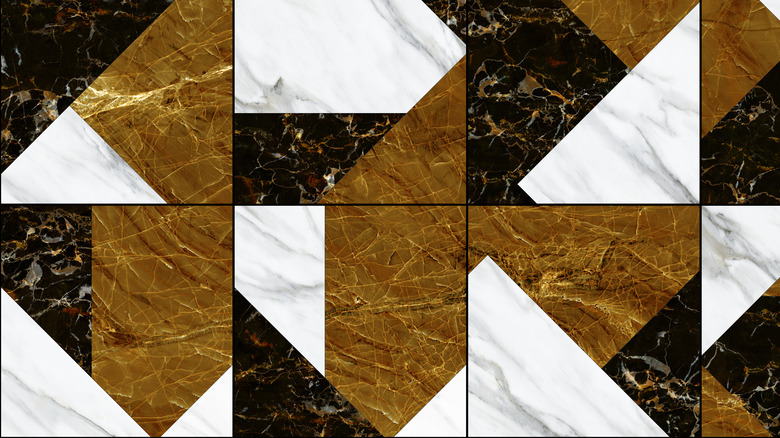 Sonia King/Shutterstock
This pattern tile features light brown, white, and black and would be an excellent choice for your bathroom floors in your 1920s and 30s-inspired bathroom.
An Art Deco style mirror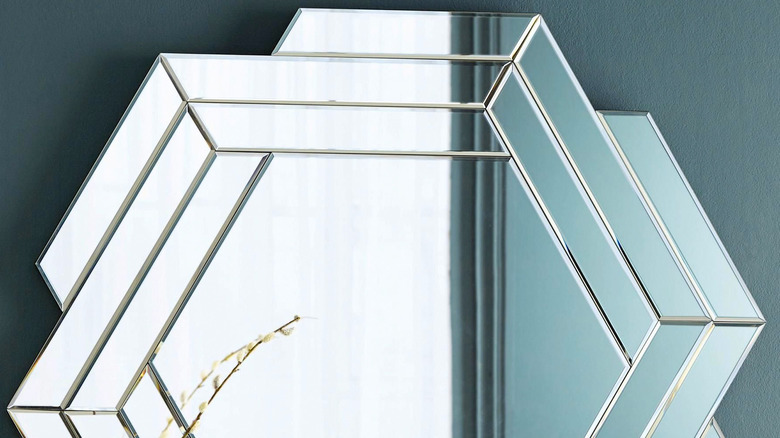 Gaf_Lila/Shutterstock
This mirror has gorgeous Art Deco elements and a simple elegance that would make your bathroom stand out. If you want, consider adding two mirrors above your double sink to create the perfect symmetrical look that would make this room your favorite spot in the house.
On a pedestal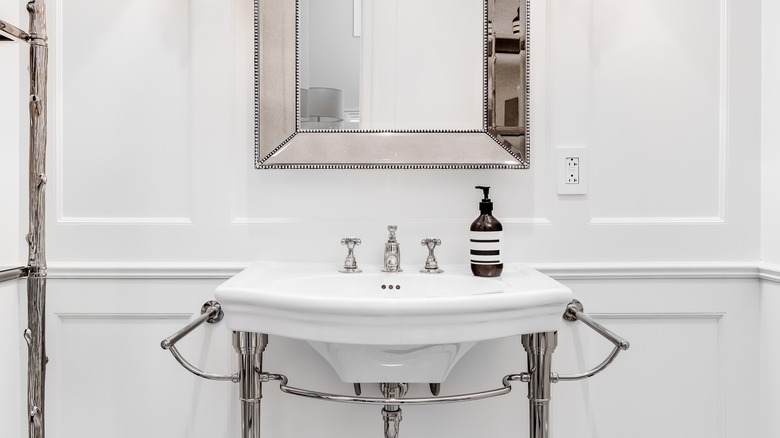 Hendrickson Photography/Shutterstock
You can't go wrong with a classic pedestal sink that looks so chic in a smaller bathroom. A glamorous mirror above it and classic wall sconces finish off the look of a simple yet beautiful bathroom.
An eye-popping wallpaper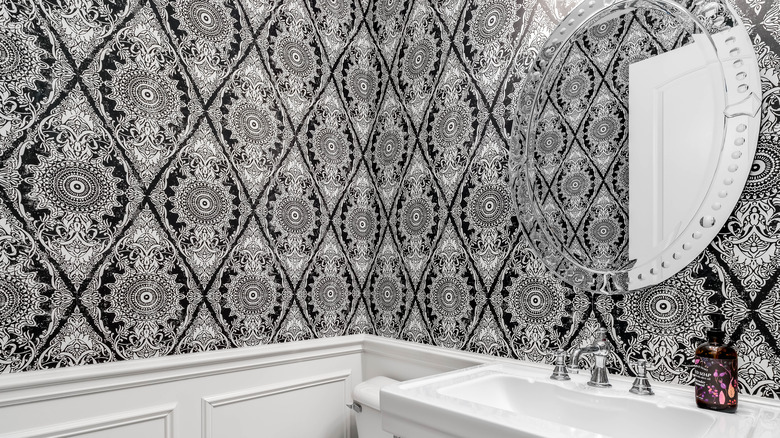 Hendrickson Photography/Shutterstock
A busy but elegant wallpaper would be an inspiration for many and the perfect way to add Art Deco style to your loo. So it doesn't take over the entire space, think about only adding the wallpaper to the top portion of the wall and having elegant molding on the lower half.
Mixing patterns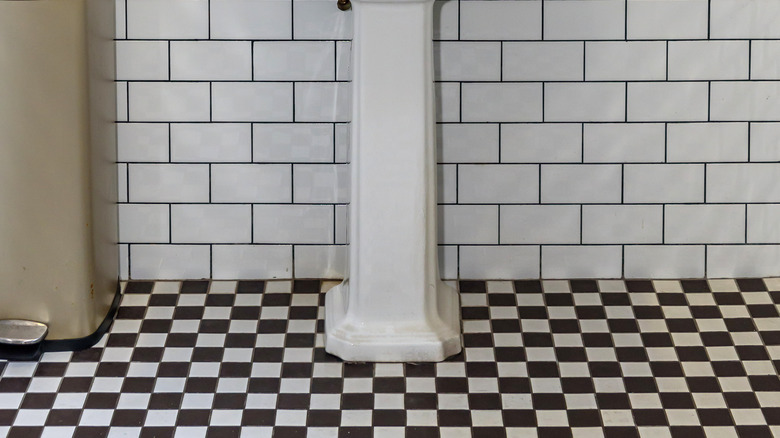 kaykhoon/Shutterstock
Traditional subway tile looks great with bold checkered flooring and a classic porcelain vintage sink — a look that stands the test of time.
A bold beautiful teal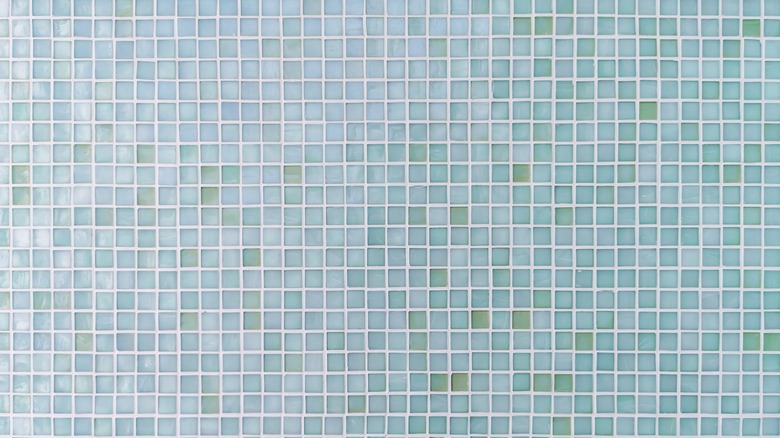 pixmeeup/Shutterstock
A light teal tile in a classic shape would make any bathroom a total stand-out. Since bold colors were popular during the Art Deco times, this is a great way to add modern style to a vintage-inspired bathroom.
Pink and black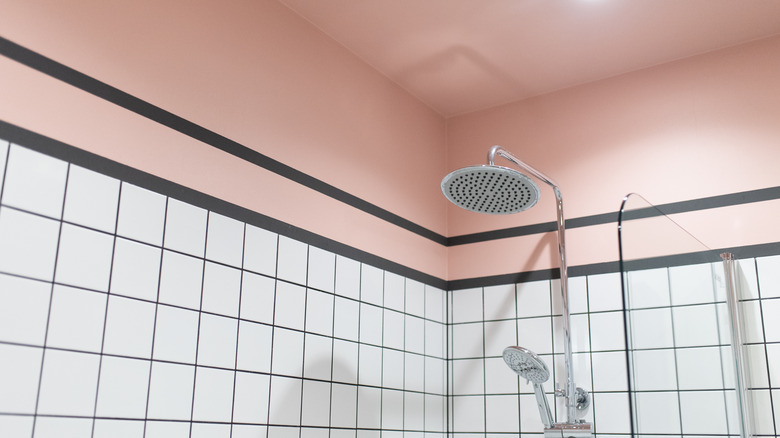 Anastasiia Chepinska/Shutterstock
One color combination we love from this era is pink and black, which would bring out the best of the Art Deco era. If you don't want to splurge on tiles, think about using paint to incorporate the look into your bathroom.
Marble tiles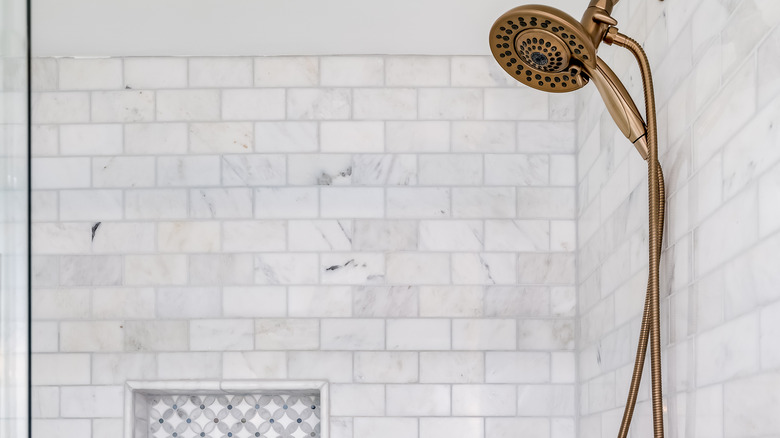 Hendrickson Photography/Shutterstock
Sophisticated subway tiles in a luxurious material like marble is a great way to add roaring 20s style to your bathroom while keeping the look modern.
Go for a herringbone pattern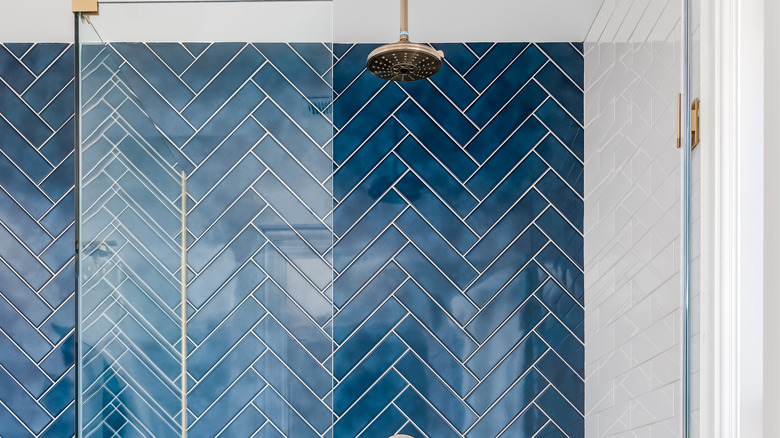 Hendrickson Photography/Shutterstock
A powerful blue hue looks even more decadent in a unique pattern. We love how this herringbone pattern takes a traditional twist on a bygone style.
Elegant accessories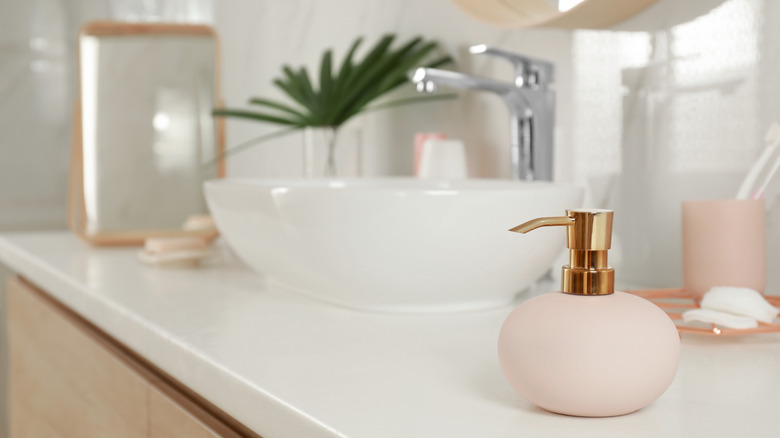 New Africa/Shutterstock
Put the focus on pretty accessories like making sure you have a nice soap dispenser in a light pink hue, which was popular for the times.
A perfect glass door
Imagno/Getty Images
This glass door celebrates the era perfectly and would be a great door to the bathroom or even made as a stunning shower door.
Triangular stunner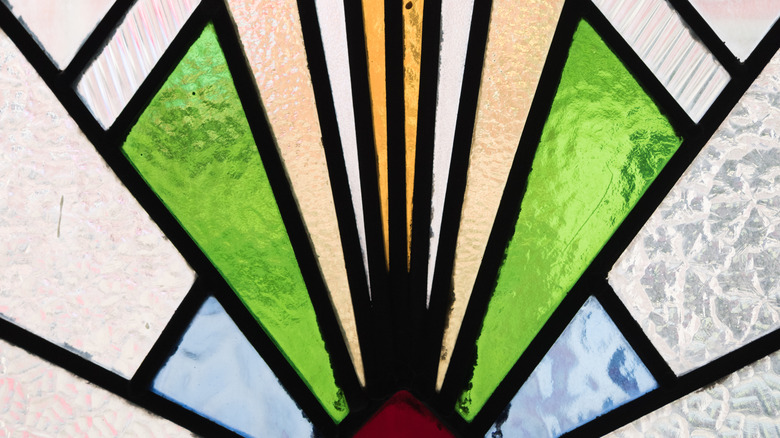 seeshooteatrepeat/Shutterstock
This stained glass window in a triangular shape with the colors green, blue, and yellow is a gorgeous example of an Art Deco design that would be the showpiece of your bathroom.
A wall of traditional Art Deco shells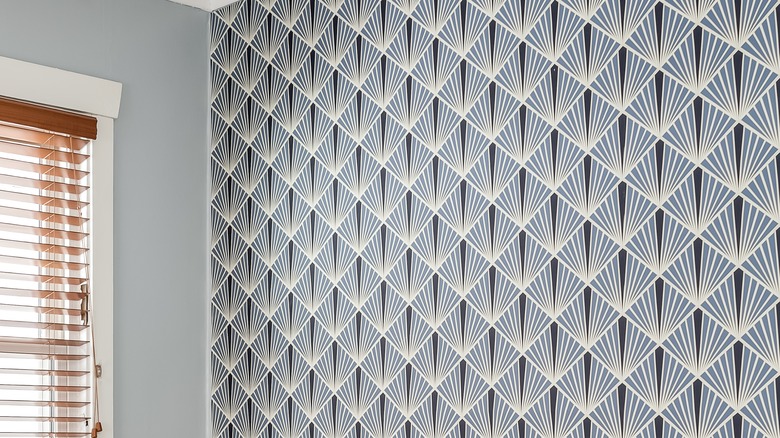 Fio Creative/Shutterstock
This wallpaper features the traditional Art Deco shells and would look perfect in a small powder room, giving it the feel of the bygone era.
Luxe white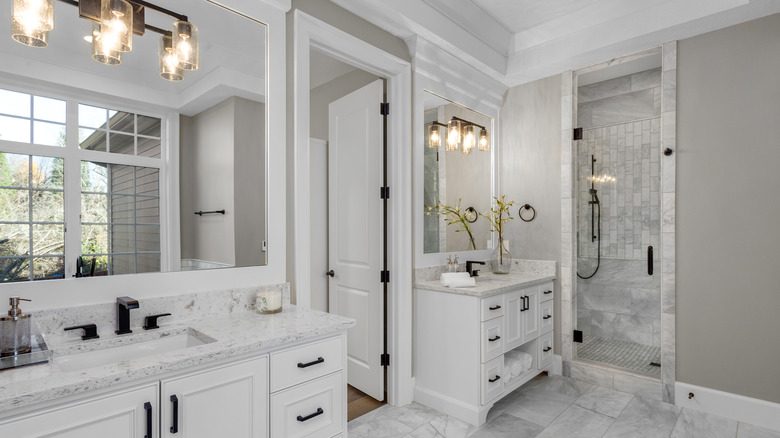 Breadmaker/Shutterstock
An elegant white bathroom has all of the opulence one would expect in a bathroom from one of our favorite eras. Luxurious lighting, marble seen in the shower and floors, and quite possibly the best part ... plenty of space.
Lavish marble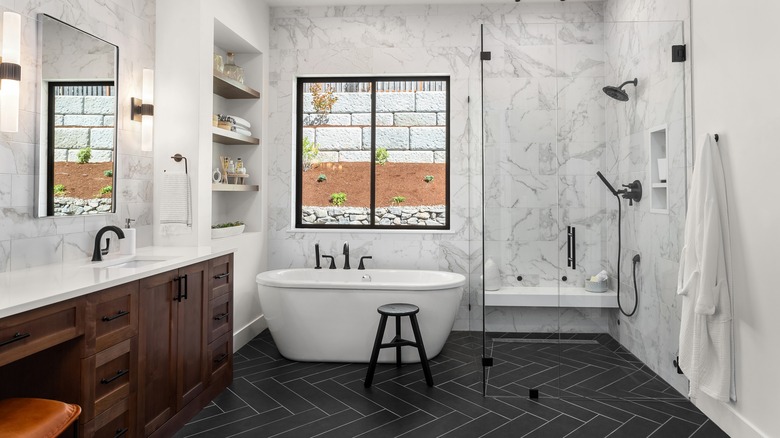 Breadmaker/Shutterstock
A decadent bathroom inspired by a luxurious era wouldn't be complete without adding marble throughout, just like in this space!