The Least Expensive Sofas At West Elm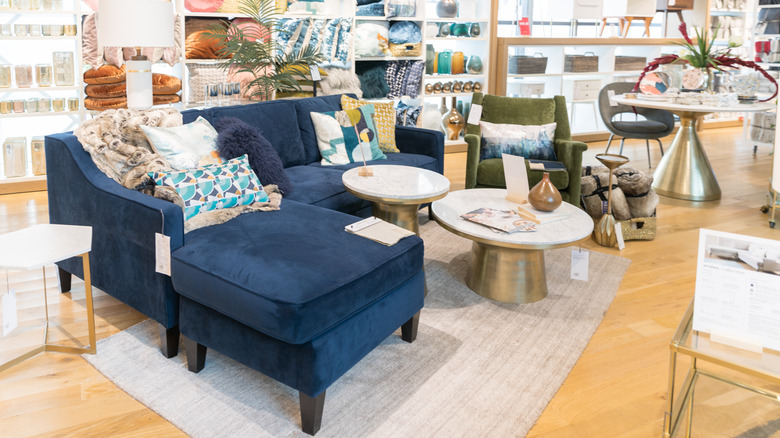 Helen89/Shutterstock
West Elm is a brick-and-mortar and e-commerce purveyor of home goods known for a sleek, contemporary aesthetic and a roster of designer collaborations. Elle Decor calls the furniture and home accessories retailer a winning source for the modern style devotee, lauding the selections as innovative, trendy, and original and explaining that most products are ideated in West Elm's Brooklyn, New York, design studio. It's worth drawing a parallel between the brand's modern offerings and its headquarters' dynamic, urban locale. West Elm was opened in 2002 (via parent corporation Williams-Sonoma's official website) and now has over 100 stores; Williams-Sonoma, Inc. CEO Laura Alber has said that of their divisions, the company was most excited by the potential for growth of the West Elm brand, per Retail Dive.
According to USA Today, the retailer had a slightly unusual approach to selling furniture and home decor — they hosted in-store pop-up boutiques featuring the wares of local makers and workshops that provided an experience while also creating a reason for customers to visit a location in person. Relative to this, Elle Decor points to the brand's collaboration with independent, small artisans and craft communities and the resulting influence on the brand's unique product line. The outlet also notes budget-friendly pricing as additional grounds for patronizing the collection. With that in mind, we wondered what a range of stylish yet affordable furniture pieces at West Elm would look like. Where better to start than one of the most essential and most-used household items?
Style and budget-friendly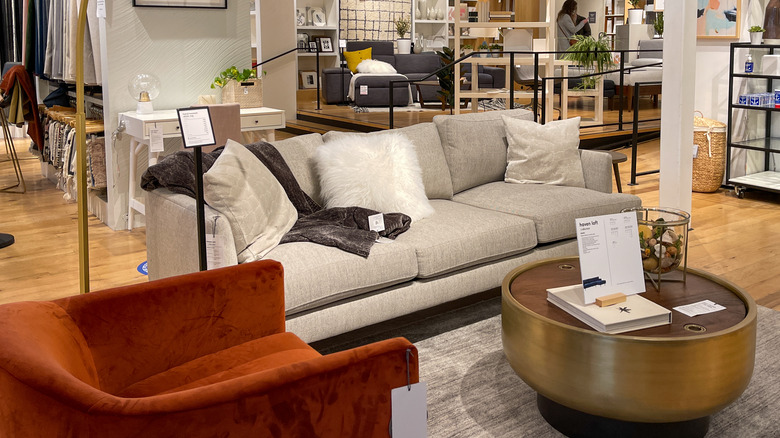 Joni Hanebutt/Shutterstock
House Beautiful believes that a sofa is a crucial investment, possibly one of the biggest you'll make for your home; it needs to be functional, durable, and comfortable. In addition, most people would prefer that it be good-looking. Ballard Designs ranks a sofa as a must-have item and recommends buying a classic piece covered in fabric geared for performance. The West Elm website displays various sofa options, from small-scale apartment sizes to room-filling loungers deserving of their own address, with many available in a choice of fabrics. 
Using the 'High to Low" price search function, the most inexpensive sofa result is a clean-lined, mid-century-inspired design. The Oliver Sofa starts at $649 and is available covered in a Pewter linen weave, a Dark Olive chenille (a cozy choice), or a light neutral twill called Dove, two of which are noted as fabrics suitable for high-traffic. It can be purchased in two lengths — 72" and 82" or two and three cushions, respectively. The description lists solid wood legs, a sinuous spring seating system, and a frame constructed of solid pine and engineered wood. A neat tight back, tapered track arms, and tall legs make the silhouette feel refined. Pop Sugar recently explored West Elm to find their eight favorite sofas, saying that the brand currently has some excellent fashion-forward pieces. The Oliver received their top billing for the best affordable option. The outlet liked its design adaptability, suggesting that the neutral textiles and classic shaping complement many decorating styles.
Style and selection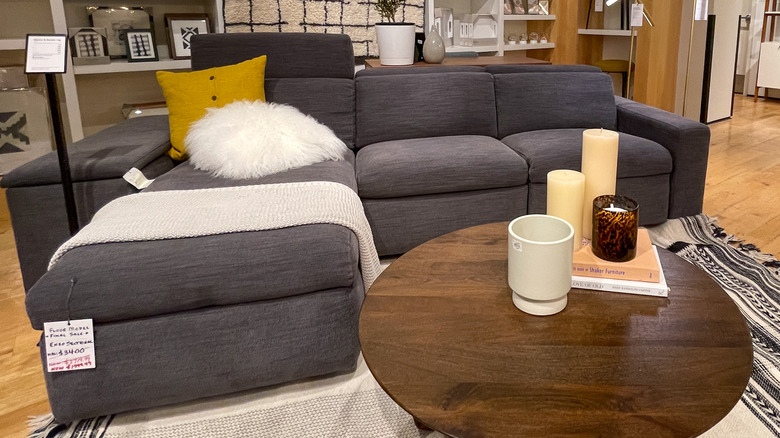 Joni Hanebutt/Shutterstock
The Drake Sofa is offered in three lengths, topping out at a 91" option. Normally listed for $1,399 and up, it's on a limited-time special starting at $840. Customization is offered with a range of over 90 covers and two stain colors for the legs. A noticeable difference between Oliver and Drake is the presence of comfortable button-tufted back cushions. This piece has wooden legs and sinuous springs, yet the frame is made from oak (a harder and therefore more durable wood than pine, according to Wirecutter) and engineered wood. 
The Penn Sofa is a glamorous alternative with curved arms and metal legs; it's available in one fabric, but it's a moody charcoal chenille. The sofa is a medium size 86". The description notes a pine and engineered wood frame, sinuous springs, and semi-attached back cushions, which means comfort without slippage. The Auburn Sofa is $899 and 70"; it's another option available in a single fabric only. It's set apart with a flat-pack design allowing disassembly for easy moving, and rounded corners give the shape a softness and contemporary vibe.
Lastly, the Harris Sofa is the sole profiled option without a high-legged silhouette. It's a build-your-own version customizable in various lengths, depths, seat cushions, and fabrics. Beginning at $899, it offers the most personalization of these. However, an engineered wood frame and plastic legs might be the compromise. Home Stratosphere reviewed West Elm sofas with Harris among them. The outlet thought it looked comfortable but was disappointed, rating it a five on its nappability scale.