15 Amazing Ways To Design Your Sloped Backyard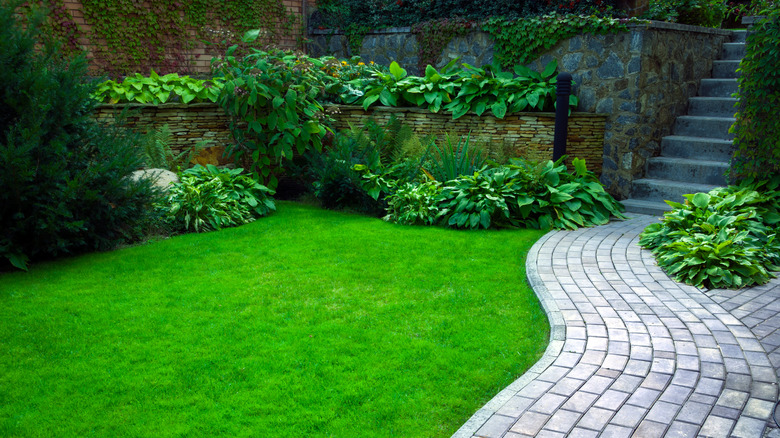 Andrey tiyk/Shutterstock
Perhaps something like this has happened to you before: While house hunting, you stumble upon the perfect home in your price range. It's the ideal size, would go great with your style, and has all the desired amenities. However, it has a sloped backyard, a huge deal that is holding you back from moving forward with the buying process.
In truth, many people consider a sloped backyard a deal-breaker when buying a new house. This is because it typically comes with several challenges, per Fine Line Homes. A sloped backyard can be hard to maintain, tough to navigate for the disabled and injured, and may lead to erosion. Also, it does not allow one to create an enjoyable outdoor living space. However, there are a number of ways to create a yard that's easy to maintain, erosion-free, and pleasant, even on a slope. Below are several unique ideas if you need some sloped backyard design inspiration.
1. Staggered stone walls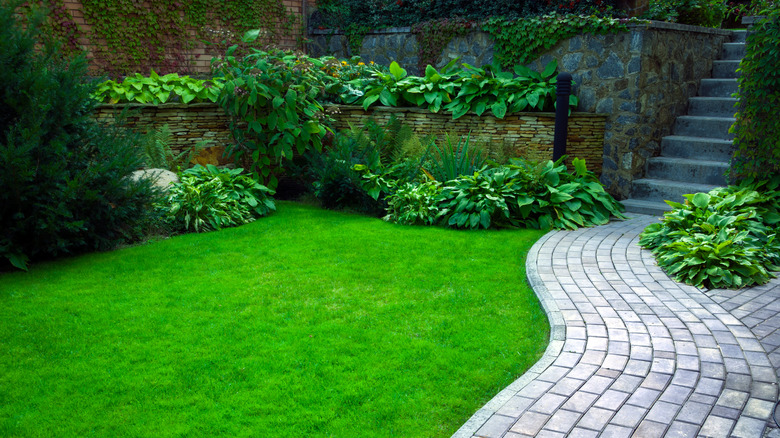 Andrey tiyk/Shutterstock
A great way to minimize erosion and make a sloped backyard easier to maintain is by adding retention walls. These walls can also make the space more put together and give your plants a designated area. Adding multiple stone walls at different levels can create lots of interest in your backyard. This outdoor area has two retention walls made from different types of stone. 
2. Stone steps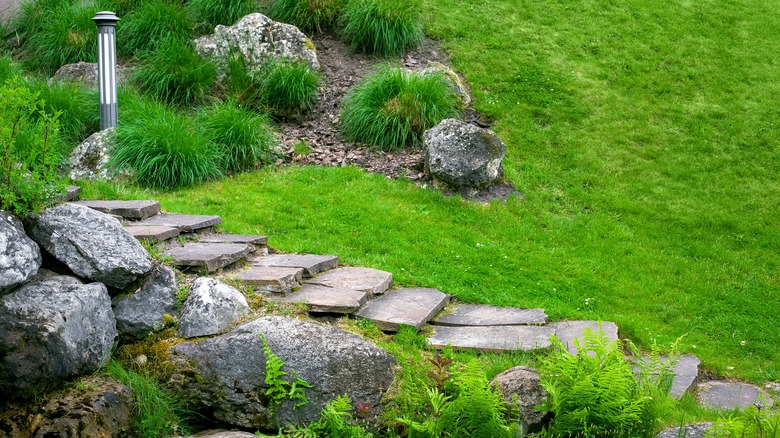 Bespaliy/Shutterstock
You'll probably need a staircase to reach the bottom of your sloped backyard. If you love earthy, natural materials, you could create a stone staircase out of an extensive collection of flat rocks. This will allow you to use all of your sloped backyard because you'll be able to reach even the lowest part of the hill. It will also create a designated pathway for walking around the yard. 
3. Brick steps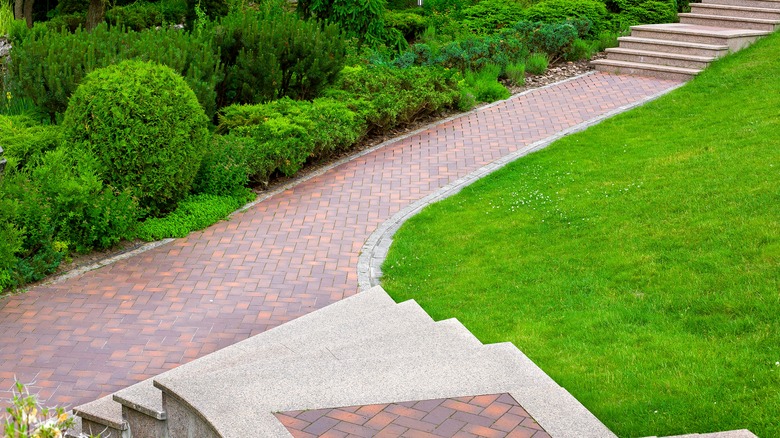 Bespaliy/Shutterstock
You could create a staircase and path out of concrete or bricks for a cleaner look. This path is well maintained and gives this backyard a modern appearance. It would also be easier to maintain than stone stairs because they do not allow grass to peek through the gaps. Also, even after years of use, this brick and concrete path would still look great after being cleaned with a pressure washer. 
4. Hedges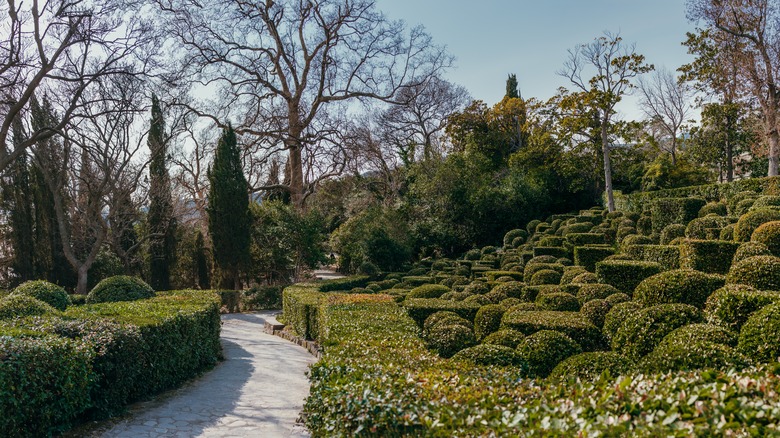 Truba7113/Shutterstock
If you love the look of greenery, you could add a field of shrubs to your backyard. These plants are great for landscaping because they're easy to maintain. This space has multiple shrubs, all trimmed into unique shapes. It makes the slope look purposeful and blends seamlessly into the area. Add a concrete path through the hedges to make the space functional. 
5. Water feature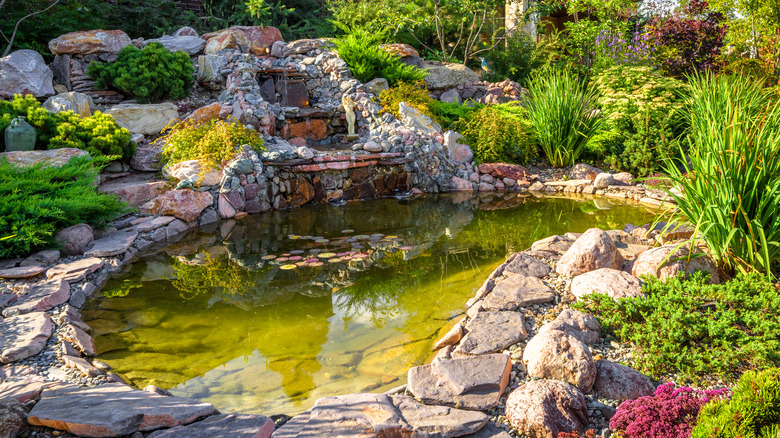 Viacheslav Lopatin/Shutterstock
A slope begs for a water feature like a waterfall because you won't have to design an incline in the earth to support the flow. This backyard has a cascading stone waterfall that runs into a small fish pond. Surrounding the small pool of water with lots of plants will make your outdoor space look like a beautiful sanctuary. 
6. Flower beds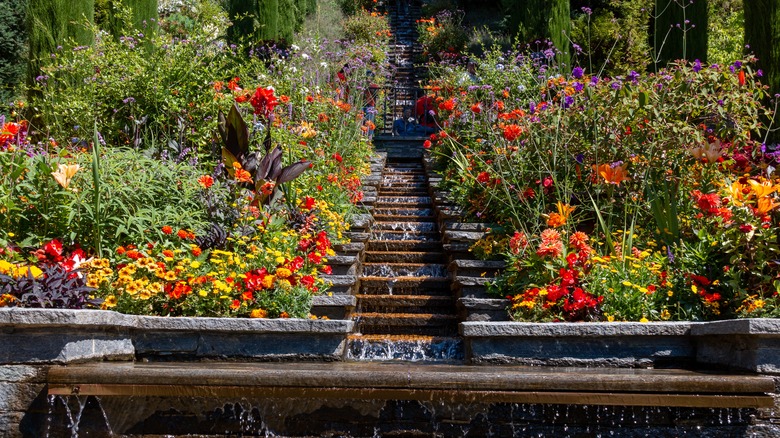 RSK Foto Schulz/Shutterstock
This backyard is unique and has many colorful flower beds stacked in a staircase-like design. Between the flower beds is a long waterfall, allowing the space to look extra elegant and fun. This layout would be pretty easy to maintain because there's no grass to mow or greenery to trim, and if you chose perennials, you wouldn't have to plant new flowers yearly. 
7. Designate grassy areas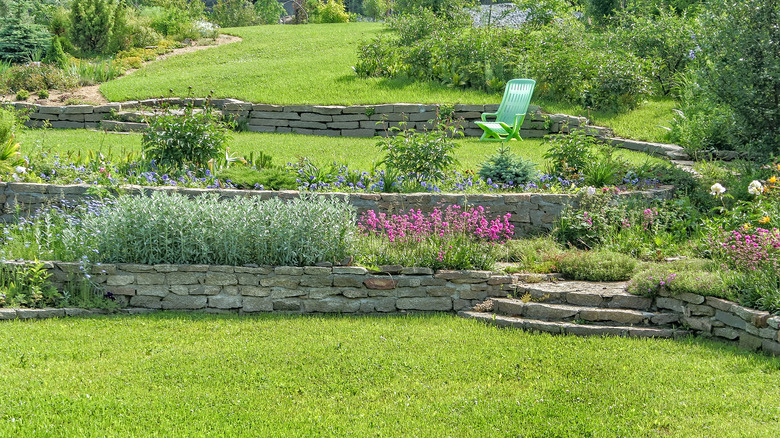 HaiGala/Shutterstock
If your primary concern is creating a functional living space in your backyard, consider designating grassy areas with stone retaining walls and plants. This will allow you to have sites for outdoor furniture and even yard games. Short staircases can connect the various spaces, permitting you to maximize the area in your sloped backyard, even the ones at the lowest point.
8. Stone landscaping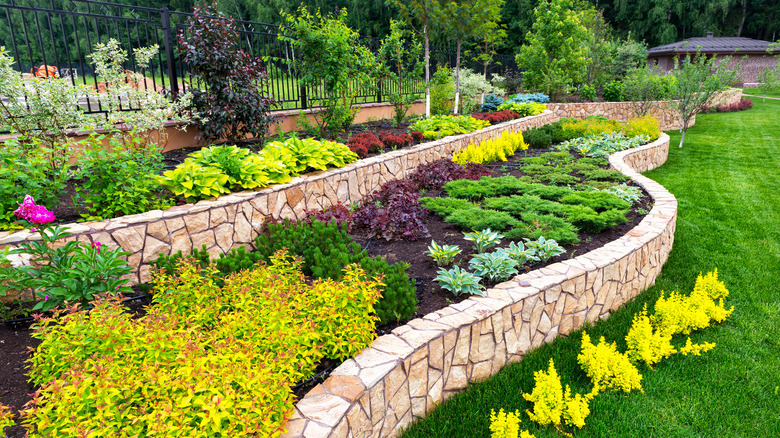 Viacheslav Lopatin/Shutterstock
Stone landscaping, while helping minimize erosion, also looks fantastic. These stone retention walls hold many different colorful plants, adding to the intrigue of the backyard space. The stone walls are also curved for a unique feature, and a great benefit to using them is that they can come in a number of colors and designs, so the look is entirely customizable to your preferences.
9. Concrete retaining wall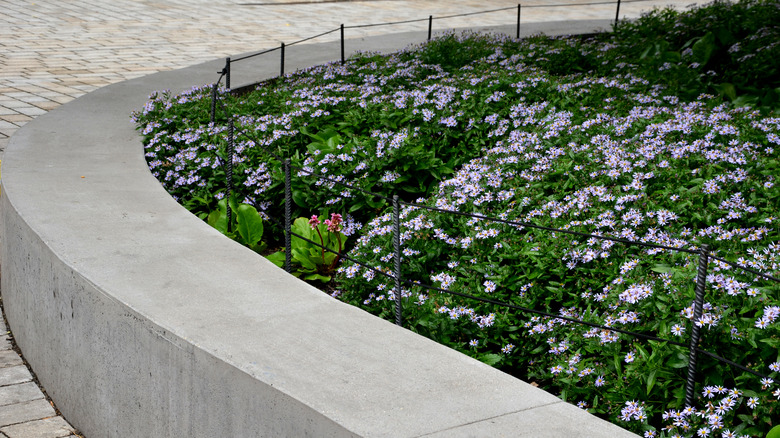 Beekeepx/Shutterstock
Similarly, you could add a concrete retention wall to your sloped backyard. As pictured, this could be used to designate a space for landscaping and growing various greenery. You could also utilize a concrete retention wall to maximize the useable space in your backyard. But for a more daring project, employ it to level the ground in your yard to create a flat plane on your sloped area. 
10. A hammock or swing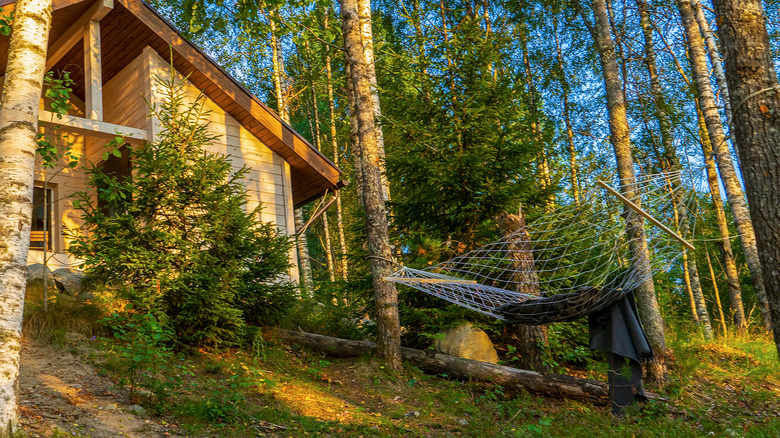 Tatyana Andreyeva/Shutterstock
Instead of placing typical yard chairs in your sloped backyard, opt for a hammock or other hanging chairs or benches. These are better options because they don't require a leveled ground to be functional. Also, it can be fun to lay in a hammock or sit in a chair that suspends in the air on a relaxing day.
11. A slide for the kids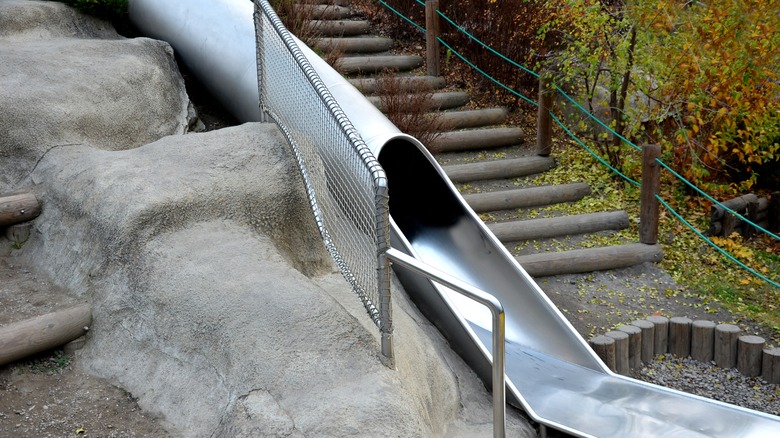 Beekeepx/Shutterstock
A sloped backyard can be heaven to a small child. If you live in a cold climate, it will be the perfect place for sledding in the winter. During the summer months, to keep your kids busy outside, you could embrace your sloped backyard and install a long slide with stairs beside it for climbing back up the hill. 
12. Winding path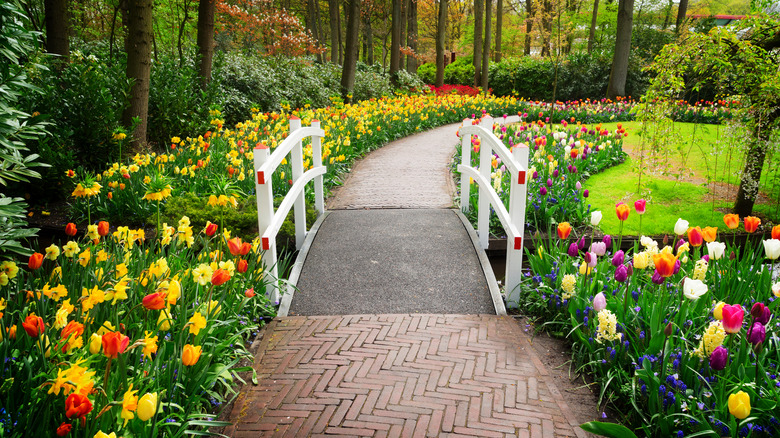 Neirfy/Shutterstock
If you love taking strolls, consider transforming your backyard into a large garden, complete with a winding path. This can help you make the most of your sloped backyard by giving the space beauty and functionality. Also, you would create a picturesque outdoor area when gazing at the space from a distance, say, from a balcony or upstairs bedroom. 
13. A patio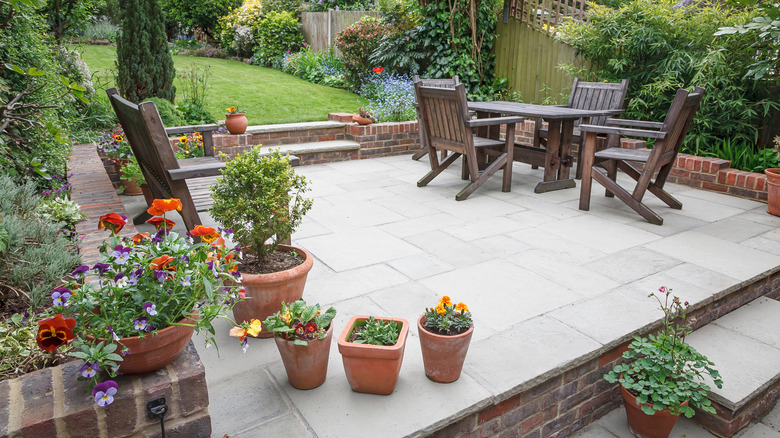 Paul Maguire/Shutterstock
Add a flat concrete or brick patio to create an entertaining space in a sloped backyard. This one is on a hill with brick stairs on either side, but the patio itself is flat. This can become the perfect space for potted plants, lawn chairs, a fire pit, a grill, or an outdoor dining table. Adorn the patio with greenery for added visual interest and privacy. 
14. A porch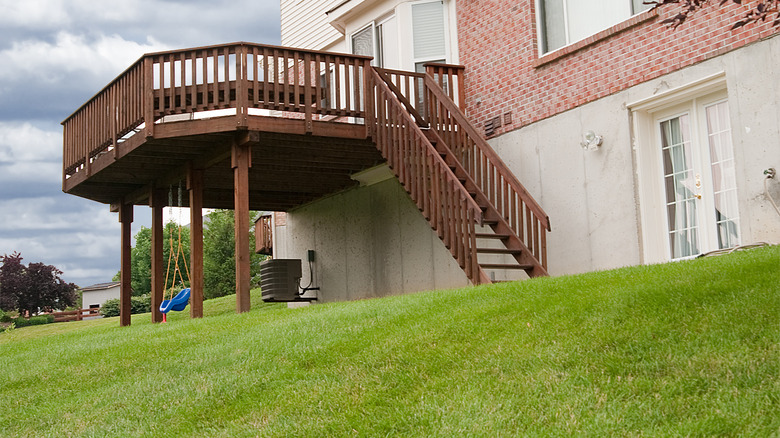 Anne Kitzman/Shutterstock
Add a large porch to your house to make your sloped backyard more functional. While this may be costly, it can create a pleasant outdoor space for you to enjoy. As pictured, you could also use the porch underneath to hang swings or other equipment. Or, you could place another source of entertainment under the porch, like a hot tub. 
15. Build up your backyard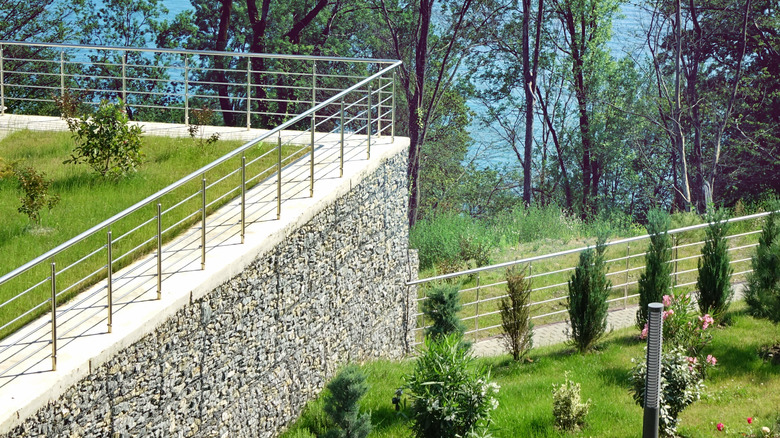 AVN Photo Lab/Shutterstock
Finally, if a sloped backyard isn't your cup of tea, you could always choose to level the ground or add an elevated structure to it. This will make the land completely flat and will most likely be expensive. But if you want to add a large pool to your backyard, it may be your only option. This route can also give you a great view of the rest of your property or the one behind you.