Why Buying Appliances At Home Depot May Cause You Trouble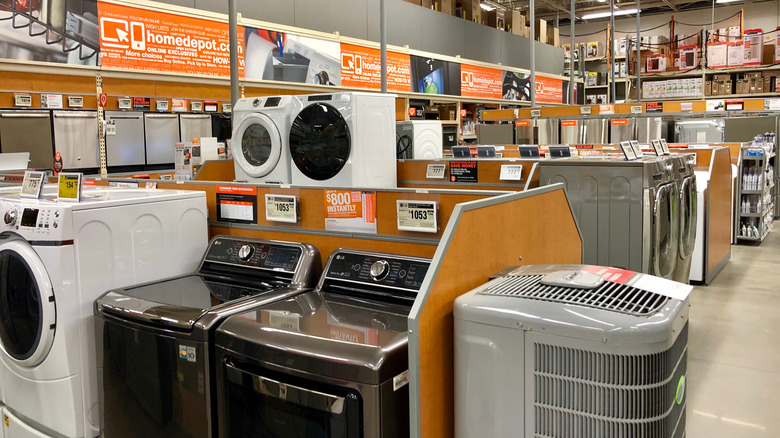 Robert Gregory Griffeth/Shutterstock
If you love completing home improvement projects, you probably spend some time inside The Home Depot. This store sells just about everything you may need to improve your home, from wooden planks to paint to tools. The Home Depot is a great place to buy all the tools and materials needed to complete a DIY project.
However, there are a few things CBS News says to avoid purchasing at The Home Depot, and these include their appliances. This is most likely because The Home Depot focuses on providing the tools necessary to complete home projects -– they don't focus on selling appliances. Whatever the reason, purchasing appliances from The Home Depot can be a hassle. While The Home Depot carries a decent selection of different appliance types and brands, their customer service isn't the best, and the return policy on major appliances may cause some frustration. Because of these reasons, you may choose to buy your appliances elsewhere.
Why to avoid Home Depot's appliances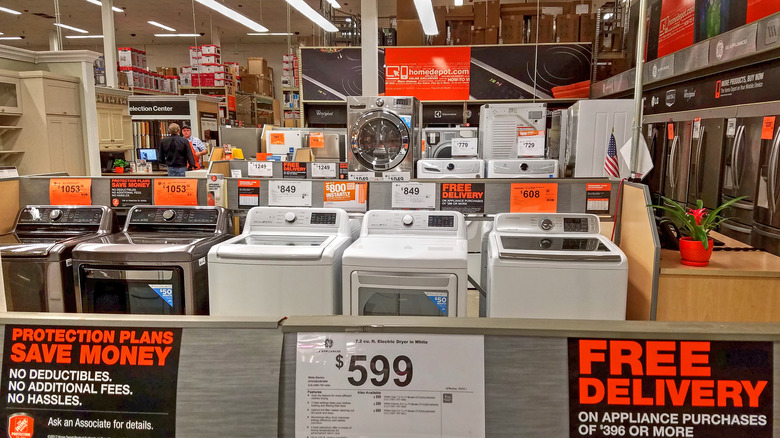 QualityHD/Shutterstock
While The Home Depot has a decent selection of appliances, they're lacking in good customer service. CBS News says that The Home Depot representatives aren't likely to have the most knowledge on what appliance is best for you. While they may be able to point you in the right direction, if you're not sure what appliance to purchase, the customer service may fall short. Some appliance-specific stores also do repairs in-house.
Another con to purchasing appliances through The Home Depot is their return policy. You'll want to thoroughly check for dings, scratches, or errors at the time of purchase or delivery to your home because, after 48 hours of receiving the appliance, The Home Depot will no longer allow for returns or exchanges and will, instead, direct you to the manufacturer. This could be frustrating if you discover that an appliance doesn't work more than two days after you purchase it. This could also make getting a new appliance difficult.
Other stores to consider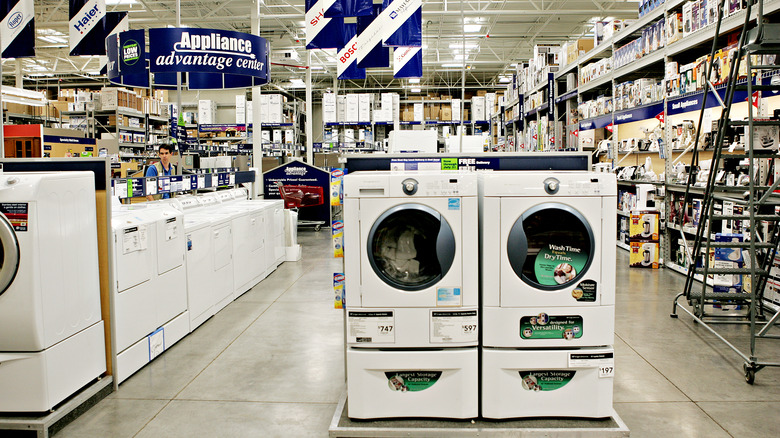 Bloomberg/Getty Images
The best place to buy appliances, according to CBS News, is in local stores. This is because stores that specialize in appliances will be able to answer your questions more accurately and quickly. However, if you're looking to buy your appliances from a large chain retailer, according to Appliance Analysts, Lowes has a larger selection than The Home Depot.
Business Insider lists some other stores that many praise for their appliances. Among them is Costco. This is because Costco has a good selection, great customer service, and will remove your old appliances for free. They also often have the best prices overall –- and they sometimes have promotions for Costco members, which could save you even more money. You could also try ABT Electronics or the Nebraska Furniture Mart. While these stores have limited locations, they are also applauded for their excellent customer service and wide choice of options. Finally, Amazon may be another store to try. While the selection isn't as large, they have great customer service and usually provide free delivery and placement for major appliances.