The Least Expensive Headboards At West Elm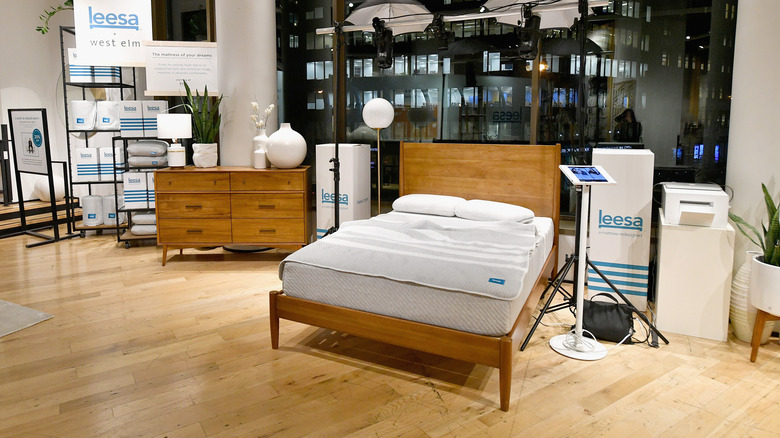 Dia Dipasupil/Getty Images
Whether you're looking for a fresh start in a new home or remodeling a forever home, finding the right furniture on a budget can be a challenge. Home Advisor claims that most Americans spend nearly $16,000 on furnishings for their home. Some even go as far as spending over $31,000 for a single room. Although there are plenty of bargain stores that can get you the cheapest price on common household furnishings, luxury stores, like West Elm, are still tempting to explore.
Chic Pursuit claims that, unlike other furniture stores, West Elm is owned by Williams-Sonoma Inc., which is a company popularly known for producing the best modern and popular trends for your home. Beyond their great reputation, you can also shop at West Elm with confidence, knowing that you are investing in high-quality products that will add beauty and durability to your living spaces. Although many of the items you find at West Elm may give you sticker shock, there is a selection of items that shoppers with strict budgets may find more financially appealing. Let's take a specific look at some of the least expensive headboards you can find at West Elm.
The cane wall-mounted twin headboard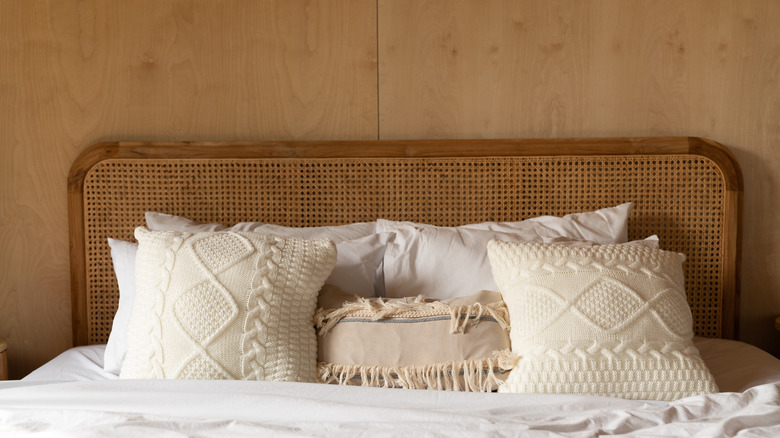 NMC2S/Shutterstock
Currently, the cheapest headboard you can purchase at West Elm is their Cane Wall-Mounted Twin Headboard. The original price of this twin-sized headboard is $249, but for a limited sale price of $199.20, this beautiful, handcrafted piece can make the perfect addition to a children's or guest bedroom within your home.
West Elm Kids shows that despite its price, this product proves to have the same high quality as any other West Elm product. As mentioned before, the headboard is a handcrafted furniture piece made with a strong, durable wood frame and handwoven rattan. Because the product already comes pre-assembled, it is also considered a very easy piece to add to your home as it only takes a few minutes to attach to the wall above your chosen twin-sized bed.
Increasing the desirability of this product even further, its beauty is also not very difficult to maintain. West Elm Kids highly recommends avoiding any type of harsh chemical on this product's durable yet delicate surface and only resorting to blotting or wiping with a simple, clean cloth if spills happen to occur. On a regular basis, however, frequent dusting is the only maintenance that is necessary to upkeep this product, making it a cheap, beautiful, and easy addition to your home design.
The simple upholstered wall mounted headboard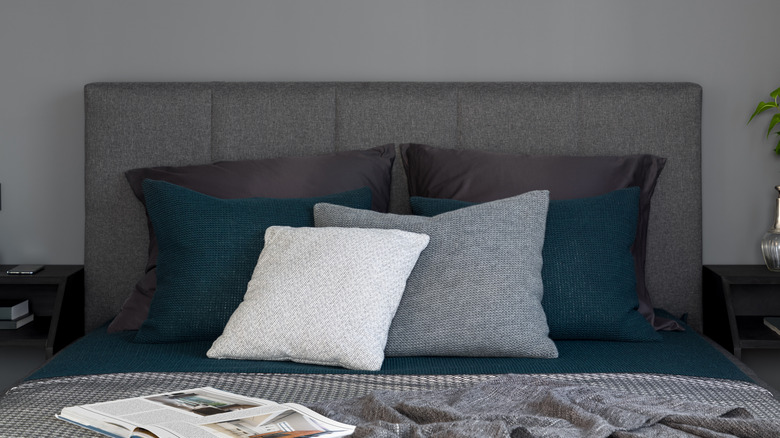 Dariusz Jarzabek/Shutterstock
Another considerably cheap headboard option at West Elm is their Simple Upholstered Wall Mounted Headboard. Although the $429 to $599 price range is much more expensive than West Elm's rather cheap Cane Wall-Mounted Twin Headboard, it has the ability to attach to a full-sized, queen-sized, or even a king-sized bed instead of simply a small, twin-sized bed. The product also comes in a variety of different colors, fitting the exact style of whichever room you wish to place it in.
West Elm explains that this headboard was made with a strong and durable plywood frame and can be customized with any upholstery fabric you wish to use. Its pre-assembled features also make the piece very easy to add to your home because it only takes a few minutes to attach the headboard to the wall above the bed of your choice.
Unfortunately, extra precautions must be taken when it comes to maintaining the style and beauty of this piece of furniture. West Elm informs that to keep the color of the upholstery fabric from fading; it must be kept out of direct sunlight. If spills happen to occur, they must also be attended to immediately by either blotting or cleaning with a clean cloth or sponge. Finally, the creases and surfaces of West Elm's Simple Upholstered Wall Mounted Headboard must be vacuumed on a regular basis to prevent the build-up of dust, dirt, and grime that could potentially impair the furniture's look.