30 Gorgeous Home Wine Cellars To Make You Want Your Own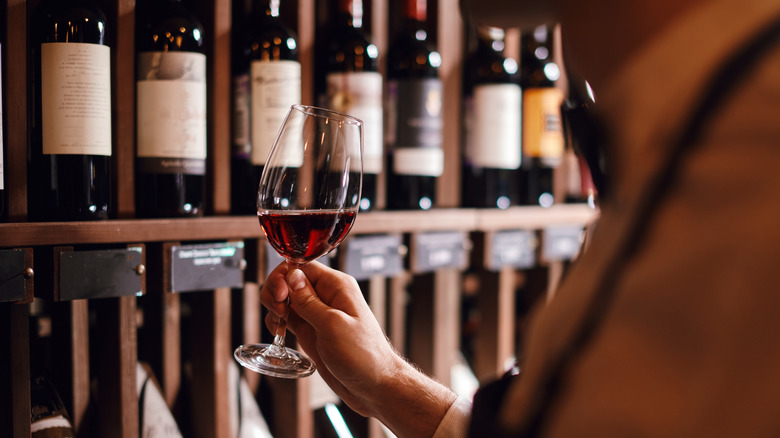 UfaBizPhoto/Shutterstock
Calling in all wine connoisseurs, your dream wine cellar awaits. If you're a wine connoisseur, you know having a wine cellar of your own is a privilege, and it should be designed as such. Your preferred décor style is up to you, whether old-fashioned or modern, but a healthy balance of both can be perfected with access to the right inspiration. If you want your wine to be stored correctly for longevity yet stylishly, pour a glass of your favorite bottle, sit back, and take some notes. 
Whether you're preparing to build your in-house wine cellar and need some renovation inspiration or just dreaming of the possibility, you've come to the right place. According to Sommi Wine Cellars, you can design a wine cellar that's modern yet authentically one-of-a-kind with the proper knowledge materials and styling tips. Get into these inspiring home wine cellars that will absolutely blow your mind.
1. Differentiating wine racks
Who says your wine cellar has to look old and outdated? This home wine cellar is luxurious, bright, and elegant. It gives a slightly rustic feel to the space with the chestnut wood, yet it's modern, as represented by the ceiling lights and trapezoid racks.
2. The more modern, the better
With a bar in the center of the main wall as a stunning focal point, this attractive, modern wine cellar creates balance by incorporating both racks on either side of the wall and wine fridges.
3. Shelf organization is key
With candlesticks and a barrel, this wine cellar is more grunge, rustic, and less modern and standard. It's perfect for wine storage and simply running down to grab a bottle.
4. Minimal décor
It's a healthy balance of modern and old-world with standing wine barrels, minimal décor, and a wine bar on the mid-center wall. The wine glasses are a nice touch, and the décor colors offer a more ordinary and natural feel to the room.
5. Labels are a must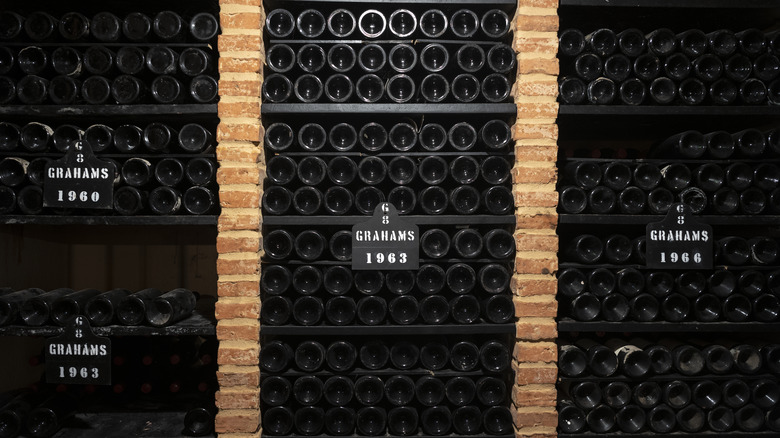 Tim Graham/Getty Images
These subtly-labeled wine racks are perfect for keeping your bottles in an organized manner. Not to mention, the dated labels are designed to take you back to another time period.
6. Color coordination is key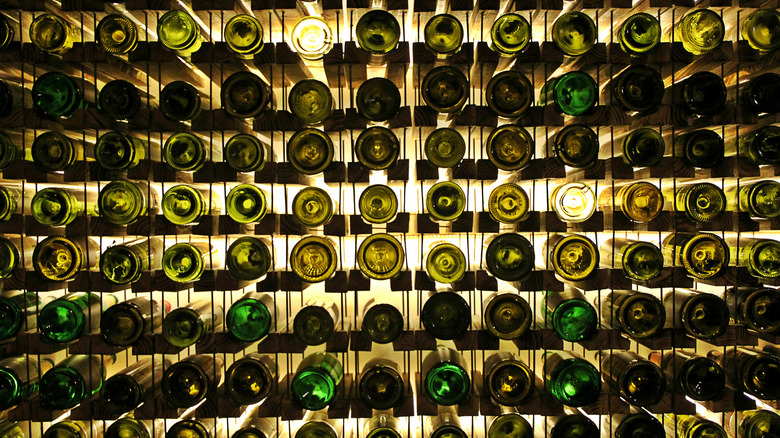 Yulia Mikula/Shutterstock
This wine cellar is uniquely different and designed to follow a specific pattern. Choose a color theme and incorporate it with your wine.
7. A mesmerizing focal point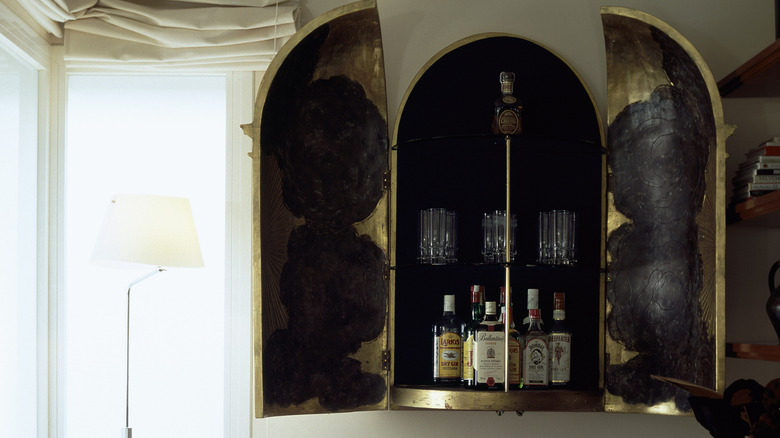 Construction Photography/avalon/Getty Images
This wall wine cellar makes for a beautiful focal point in a living room. It's the first thing that will catch your eye when you enter the space.
8. Sometimes a room isn't necessary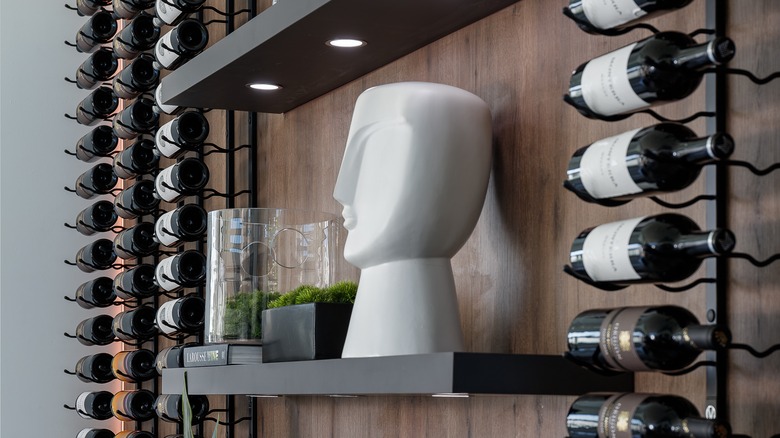 Cassanas Photography/Shutterstock
Sometimes wall space is all you need, and traditional racks are the way to go. It looks divine paired next to glassware, plants, or ceramic decor.
9. The darker the better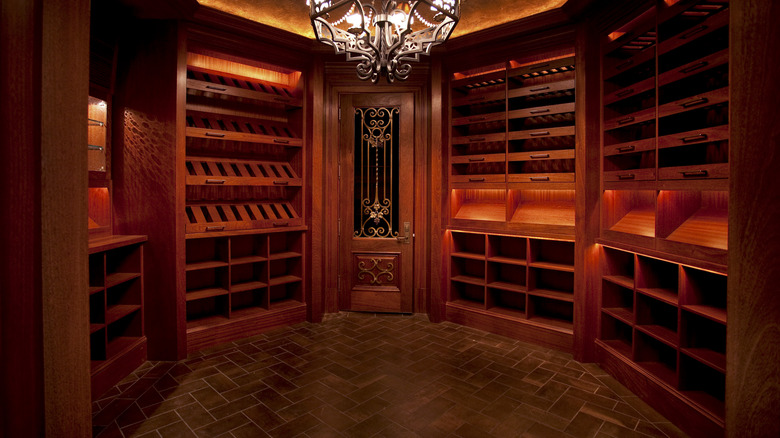 Bloomberg/Getty Images
Because wine is best maintained in a dark space where natural light is minimal, this beautifully darkly lit wine cellar is perfect for preserving the bottles. Not to mention, the chandelier is jaw-dropping.
10. Space-friendly is better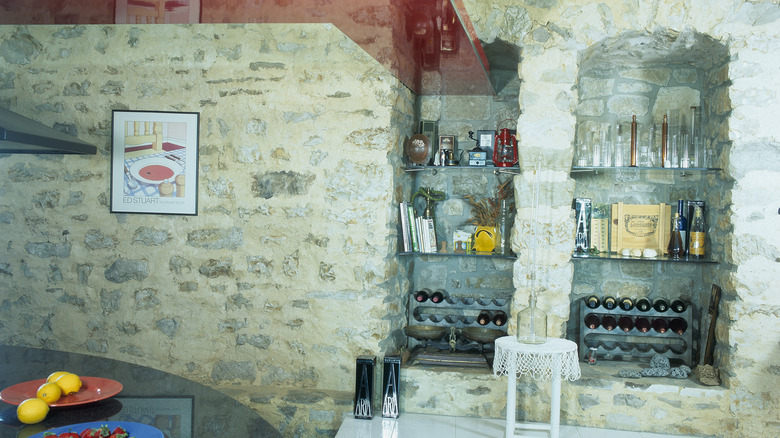 Construction Photography/avalon/Getty Images
Small wine racks save space and look beautiful in any kitchen, especially one made of stone. Add it to your kitchen bar area for subtle spruce-up.
11. Go all out
Jenson/Shutterstock
Single wine racks are elegant, over the top, and perfect for spacious, bright rooms — not to mention the beautifully put-together mirrored table in the center. Your guests' jaws will drop to the floor every time they behold this neat, clean, and elite space. 
12. Circular is better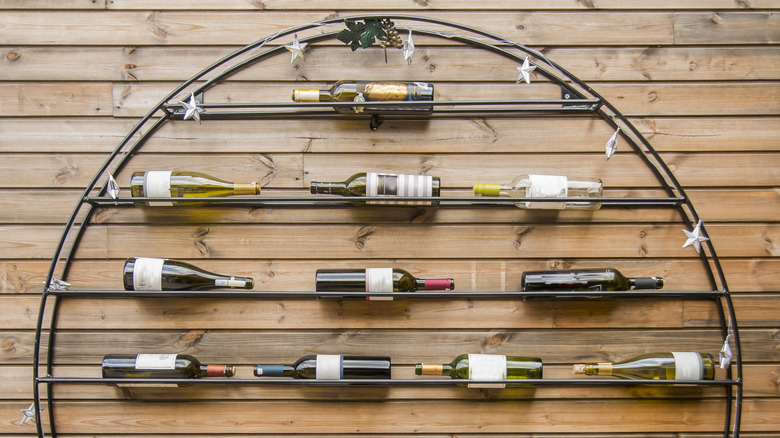 attraction art/Shutterstock
A large round circular wine rack on your wall makes for a great piece of stylish décor and art. You'll wonder why you never got one before.
13. The more the merrier
Similar to a shoe closet, this wine cellar is tightly yet neatly organized by color and brand. The horizontal racks are great for extra space.
14. A hidden wine cellar
How many people have a wine cellar next to their stairs? It's cozily hidden, distinctive, and unique, and it'll be a pleasant surprise for all. The geometrical style is a nice touch.
15. Very contemporary
This wine cellar is contemporary and sleek with its granite and beige wall tiles. The barrels add a retro yet chic touch with the open racks, and it's perfect for grabbing a bottle or having a quick drink.
16. A living room or a wine cellar?
The perfect combination of the best of both shows. Grab a glass of wine and relax on the couch — less than a foot away.
17. Organization is everything
It's aesthetically pleasing and chic. Design your glassware in an organized formation next to your storage wine racks to bring a luxurious feel to the space.
18. More is better
If you have a wine cellar that just seems endless, add more wine storage slots than you may think you need. Incorporate a small section to hang any glassware neatly. You'll never run out of wine space and always be amazed by the visual effect.
19. Keep it simple
If you care about more storage space and less about décor and aesthetics, invest in a small yet still open wooden cellar to keep your wine stored nicely.
20. Relax and unwind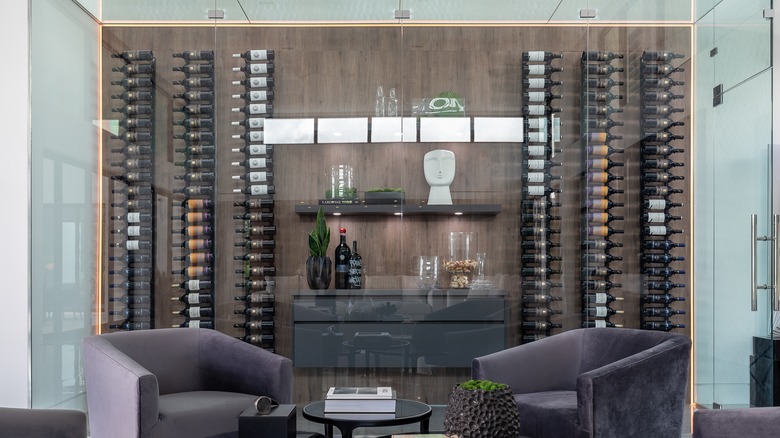 Cassanas Photography/Shutterstock
Create your wine cellar and a room of relaxation. Make an aesthetically pleasing vertical design of your wine collection for all to see centered in your living room. It makes a beautiful focal point, and it's the first thing that catches your eye every time.
21. Wine shelving is a great option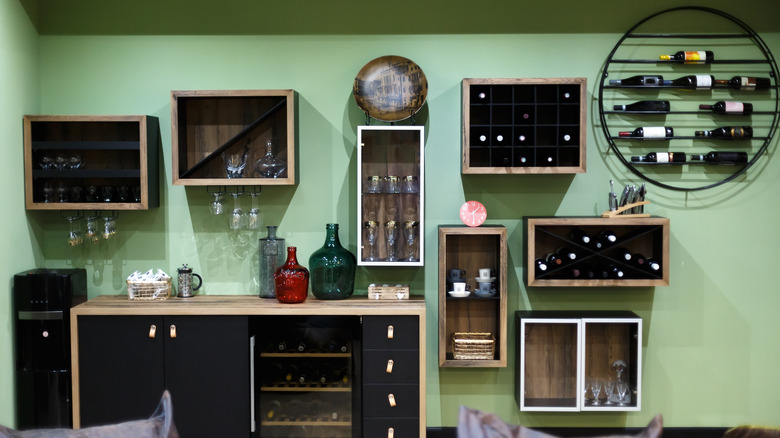 Vrn36/Shutterstock
If you're someone who doesn't have the space for an extensive wine cellar, go for smaller wine rack shelves that you can hang on the walls that will have a similar effect to a huge wine cellar.
22. Shelving variation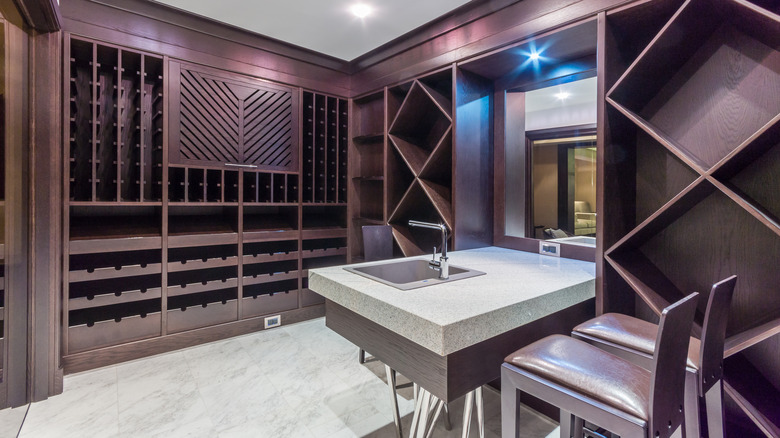 Alhim/Shutterstock
This dark cellar is spacious and comfortable, and it's befitting for a drink or two; the white flooring brings the space together beautifully, as does the variation of shelving.
23. Brick, brick, and more brick
Hendrickson Photography/Shutterstock
This stone wine cellar is stunning. It takes you back to another time period and stands out with its brick landscape, stone floor, and wooden bar area in the center.
24. A wine cellar isn't always necessary
Maybe you don't necessarily want a wine cellar. Perhaps, unique shelving to store your wine is a better vibe for your home décor — it's also easier to maintain. 
25. Make it your space
If you like to create or work while enjoying a glass of wine, design a workspace for yourself in your wine cellar to relax and focus.
26. If you got it, flaunt it
If you're invested in it financially and personally, your wine cellar should look elegant. Go for gorgeous chandeliers, white tile flooring, and brown décor to keep the natural yet contemporary vibe of the room — the more luxurious, the better.
27. Less is more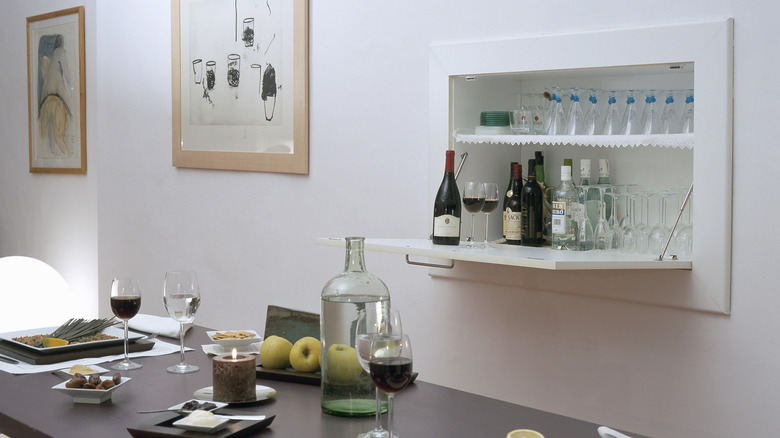 Construction Photography/avalon/Getty Images
Build your own personal wine cellar as a small room in your window. It's unexpected yet so convenient for space.
28. Get a wine fridge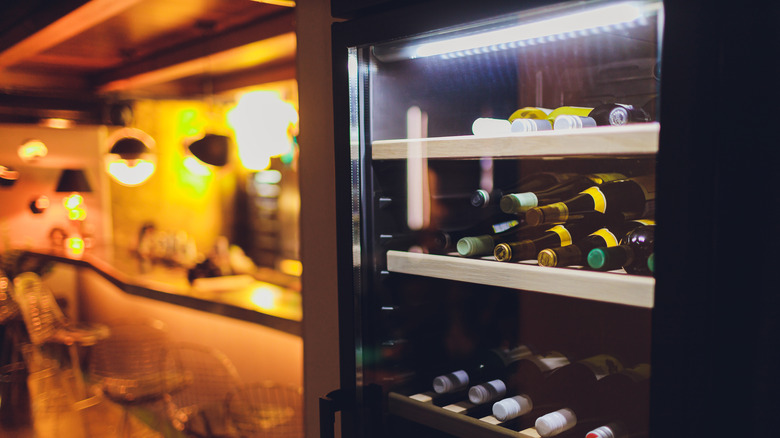 Vershinin89/Shutterstock
If a wine cellar is not doable in your home, no worries. Get a cute wine fridge to keep all your best bottles of wine preserved for a long time so you can drink confidently.
29. Take it to another century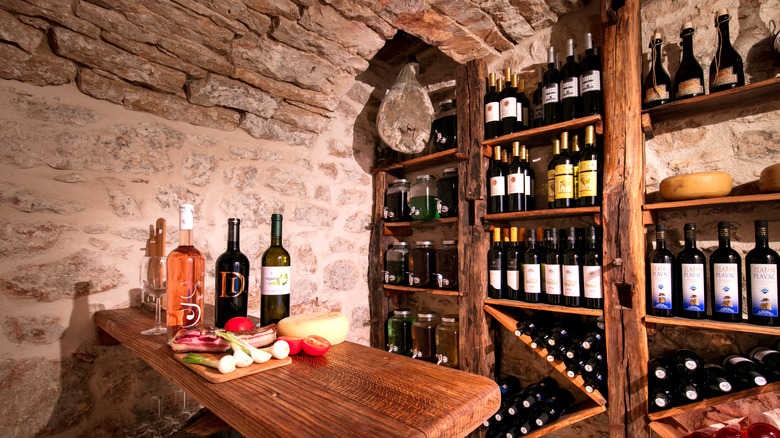 Stjepan Tafra/Shutterstock
If you can appreciate a period back in time, go all out with a cave-like wine cellar to feel like you're living in a Victorian period.
30. Lock up and stock up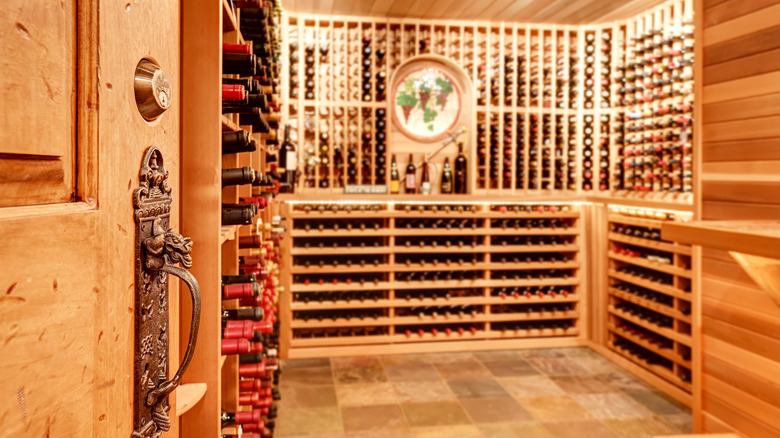 Artazum/Shutterstock
A beautifully crafted door handle is the ultimate way to welcome yourself and anyone to your wine cellar. It's unique, looks beautiful, and feels ancient; no one will know what they're walking to.