The Easiest Way To Save Money On Landscaping That You May Not Know About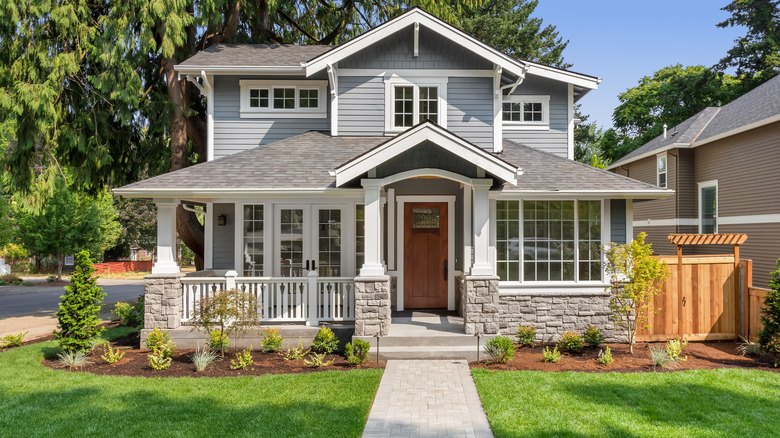 Breadmaker/Shutterstock
Beautiful landscaping offers many benefits beyond improving curb appeal. Peterson's Landscape & Maintenance Services states that landscaping provides a better overall quality of life. Landscapes and lawns keep the space around your home up to 30 degrees cooler than solid surfaces, such as concrete, and 20 degrees cooler than uncovered soil. Trees add even more cooling effects. Although landscaping is beautiful, it can be very expensive to create and maintain.
You can hire a landscaping company to do all the work, but be prepared to spend a lot of money on plants, materials, and labor. You also have to consider maintenance. If the landscape company is planting, you are less likely to know how to maintain the plants yourself. However, if you start the learning process from the beginning of your landscape adventure, you will save money up-front and again every year. You'll also get the benefit of fresh air, exercise, and the pride of doing it yourself.
Shop clearance sales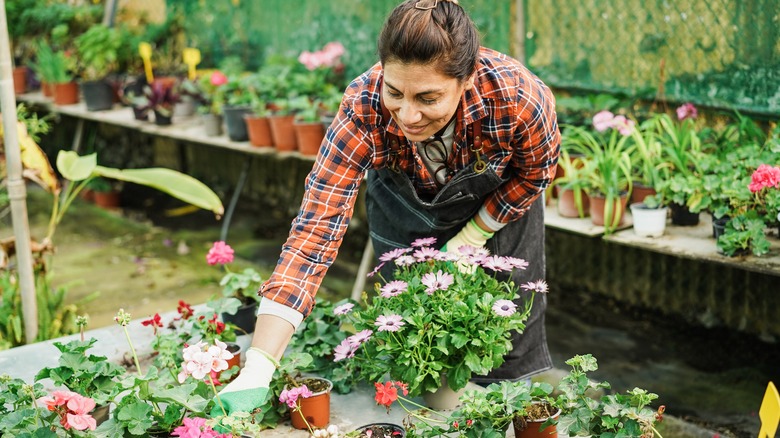 DisobeyArt/Shutterstock
Most people do not know that plant nurseries often have huge markdowns on plants in the late summer and fall. Bankrate states that buyers often see 30% to 50% discounts on the cost of trees and shrubs, sometimes more. Companies do not want to have to care for these plants over the winter, but for the buyer, this is the perfect time to plant. According to the University of Maryland Extension, the ideal time to plant shrubs and trees is in the fall before the ground is frozen.
This is also a great time to stock up on perennials. These plants return year after year, as opposed to annuals which only last one season. Avoid buying annuals while you are shopping end-of-season clearance sales because they are likely at the end of their lifespan, but you can plant most perennials in the fall. Take your time to learn about the plants you select and make sure they are appropriate for your USDA Plant Hardiness Zone.
Choose drought-tolerant plants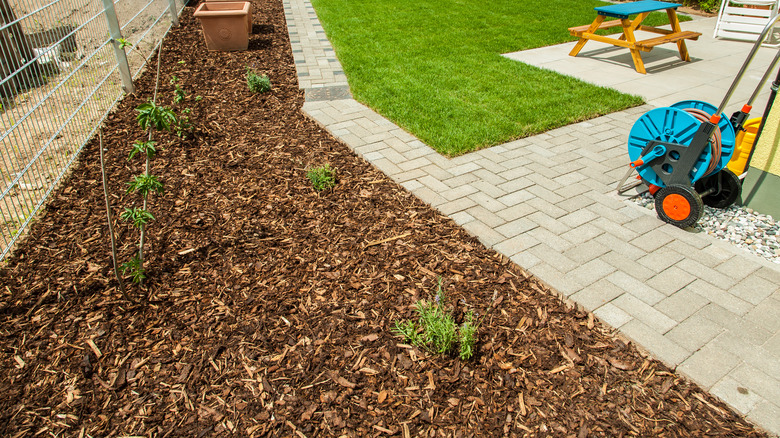 Ingrid Balabanova/Shutterstock
As you learn about the plants you choose for your landscaping project, look for those that are considered drought-tolerant. This is the easiest way to save money on landscaping. These plants require less water, which saves you time and money. By selecting plants that require less water, you can avoid installing –- or paying a professional to install –- an irrigation system. This may also be a necessity in areas that often have water usage restrictions, according to Allstate Landscape Services. While you watch your neighbor's landscape wilt and die, you know that you have made a good choice with your landscape plants.
Drought-tolerant plants that are appropriate for your landscape are like any perennial in that they will vary by location. Plants that grow well in California landscapes are very different from those that survive Maine winters. To learn more, Pennington suggests contacting your local extension office, which provides help to everyone from farmers to home gardeners.