Did Joanna Gaines' Style On Fixer Upper Inspire An Unexpected Wall Art Trend?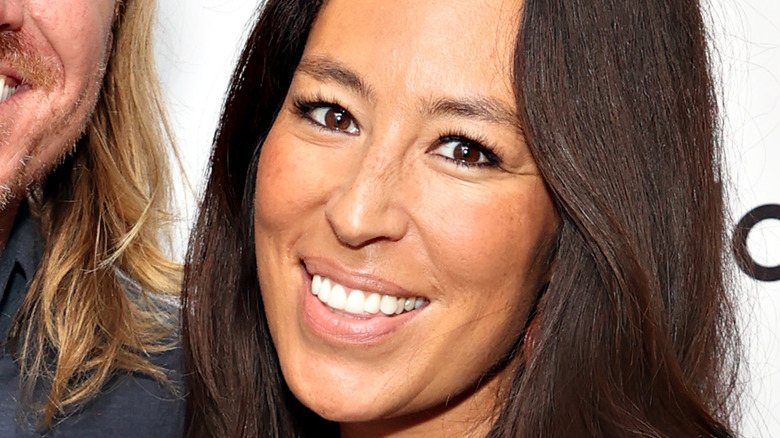 Cindy Ord/Getty Images
It can be pretty interesting to think about how everyday items that we take for granted came into use. Take wood cutting boards, for example, an item that gained entrance into North American kitchens in the early 1920s when the invention of the circular saw made it easier to cut a nicely shaped board, per Staatik. While vintage cutting boards are frequently seen as props in farmhouse designs, including those popularized by Joanna Gaines of "Fixer Upper" fame (via HGTV), they have a long history of use before they got elevated to wall art. 
Back in Medieval times, a rough piece of wood called a trencher was used as a plate — and this was a step up from the original trencher which was originally a piece of dried bread on which the food was served, per Britannica – progress. Additionally, in the early 1900s, kitchens were still pretty simple and often without any kind of cabinet, according to Superior Shop Drawings. If you weren't using your cutting board, it's easy to imagine that you would have leaned it against the wall or hung it up so it would be out of the way. Bingo, presto — wall art!
Fitting in with the farmhouse aesthetic
Joanna Gaines is arguably the queen of farmhouse chic. It makes sense that she would use cutting boards as wall art, then; the beautiful and rich colors and patina of wood are an attractive addition to any décor, including the one she helped popularize, per HGTV. Gaines uses a combination of cutting board shapes and wood textures to create unique accents which are not limited to just the kitchen, either; they can be displayed in other spaces in the home. 
Many cutting boards have a hole pre-drilled in the handle to make it easier to hang on a wall, but you can always drill your own. Gaines also overlaps several cutting boards and stands them on an open display shelf or on top of a flat oven hood. If you've inherited an old cutting board, using it on your walls is a great reminder of generations of cooks in your family, too.