The Least Expensive Bedding At Urban Outfitters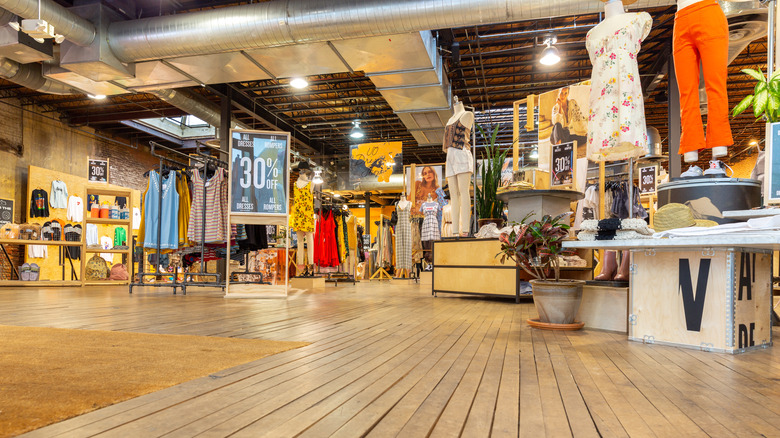 Mihai_Andritoiu/Shutterstock
Buying a house doesn't simply make it your home. To make a house a home, you need to fill it with items and accessories that add comfort and functionality to your spaces, per HGTV. However, finding the right accessories and items can be difficult, especially when you are on a strict budget. Frugal Confessions claims that households spend thousands of dollars a year making their house a home. Counting everything from decorations to repairs to paint, most average American families spend nearly $9,000 on things that make their house functional and comfortable. Although there are plenty of ways, you can budget regarding this category of your living expenses. Urban Outfitters offers quite a few bargains you may want to take advantage of if you are desperately looking for cheap ways to make your house feel homey.
Although the retailer is most famous for its variety of modern clothing and accessories, it also has a wide selection of decorations and functional additions you can use around your home or any other living space. Unfortunately, just like their clothing line, the home accessories that Urban Outfitters sells tend to be rather expensive. Luckily, with sales reigning over the entire store, some of its cheapest items can be purchased at an even higher bargained price. Let's look specifically at some of the least expensive bedding items they now sell at Urban Outfitters.
Pillow case sets
After a long day at work or shuffling between activities, coming home to a comfortable bed is one of the best things in the world. With these Urban Outfitters pillowcase sets, you can elevate that comfort without breaking your wallet. Urban Outfitters' T-Shirt Jersey Cotton Pillow Case Set is one of the cheapest bedding items you can purchase from their store. The set includes two 100% cotton and machine-washable pillowcases for the usual price of $29. For a limited time, however, you can purchase it for only $15. They also come in a pale chocolate color that can match various home styles.
For a similar price of $29, Urban Outfitters offers a Washed Cotton Pillow Case Set. Although this item is currently unavailable, it also contains two 100% cotton and machine-washable pillowcases. It offers various color options that the T-Shirt Jersey Cotton Pillow Case Set does not possess, for example, white, mustard yellow, and teal. These pillowcases are also ecofriendly and not made with harsh chemicals. Despite the differences, both pillowcases are soft and durable, providing you with the best and coziest night's sleep.
Duvet sets
Along with their pillowcases, Urban Outfitters also sells duvet sets that can upgrade your entire bed to a stylish and comfortable paradise. For example, their Checkerboard Duvet Set can not only add a unique touch to your bedroom but also encapsulates you with its smooth and comfortable cotton textures. The entire set is also eco-friendly and free from harsh chemicals. With its machine washable qualities, your bedding will also be easy to clean and maintain. Making this bedding even more attractive, the item is now temporarily on sale for only $40, with $79 as the original price.
You can also purchase Urban Outfitters' Toile Duvet Set at $79 to add a more vintage look to your bedroom. Unlike the Checkerboard Duvet Set, the Toile Duvet Set is a mixture of both cotton and polyester but still possesses the same comfortable and completely machine washable qualities. Its medium weight also makes your bed a relaxing paradise that can be enjoyed all year round.