The Most Popular Candles At Anthropologie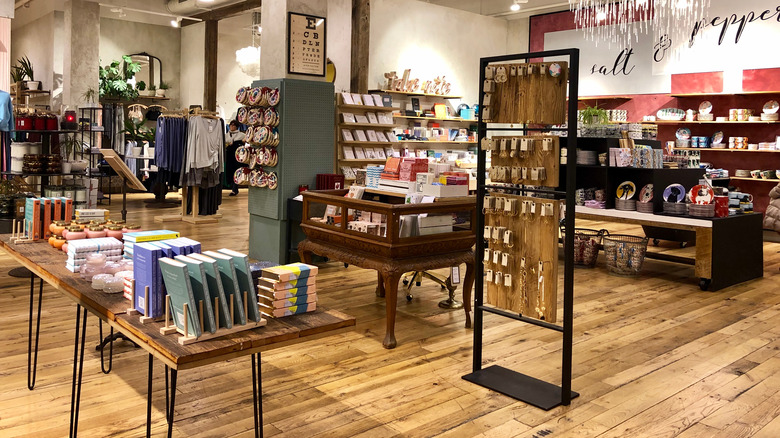 photocritical/Shutterstock
Anthropologie is a fashion and lifestyle retailer known for occupying a space businesses covet. According to MyDomaine, they are one of the few brands that successfully forecast trends rather than merely react to them. Luxe calls them the authority on Bohemian-chic and notes their aesthetic deftly incorporates varied identities, such as the worldly wanderer, urbanite, and the French girl whose style we all aspire to emulate. They collaborate with designers and artists to bring a creative and individual viewpoint to their wares via the official Anthropologie website.
The brand further supports its narrative through unique versions of itself in an arena where sameness and familiarity among chain locations are usually the goals. Per Business of Home, the company's brick-and-mortar stores are generally sited in buildings with an interesting history or architectural features, such as the 1992 flagship in a renovated auto mechanic shop. The windows are legendary among career visual merchandisers and consumers; Seattle Magazine explains that each store has a team of designers who ideate and craft the displays that Simon Said describes as incredible and iconic. 
Anthro has proven it believes in the power of a visual story. According to The Harvard Gazette, scent is as vital for engaging emotion and memory. Along with various decor goods to make the home a bit prettier, or clothing options to update a wardrobe, the company offers a broad array of scented candles to hit us right in the feels. We've researched to find out which are the favorites.
The signature scent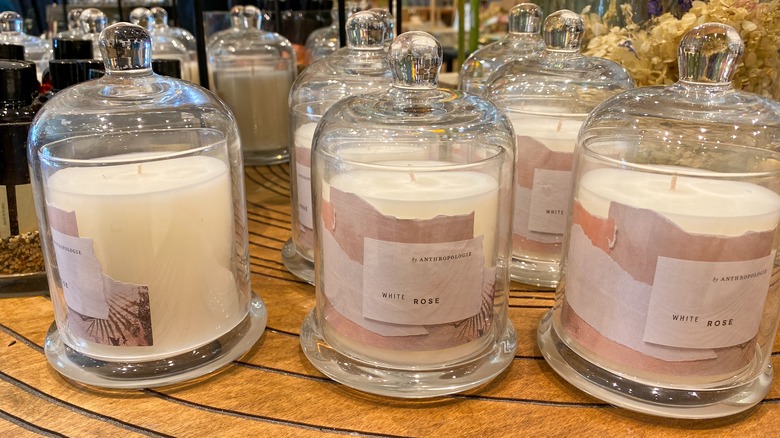 Joni Hanebutt/Shutterstock
Capri Blue Volcano could be called Anthropolgie's signature scent — the twenty-year-old candle maker notes that at each entrance, one would likely find this same evocative candle burning — it's one similarity you'll experience consistently among the different store environments. The Harvard Gazette explains that scent branding is a vigorously growing business application, and per Business Wire, the global scented candle market is expected to exceed $690 million by 2028. Scented candles help transport us to another place or time; in this case, we might either imagine ourselves on the Italian island of Capri or inside an Anthropologie store. 
Detailed by the fragrance purveyor as having an exotic aroma with citrus notes, Anthropologie adds tropical fruits and mountain greens to the description. The Capri Blue Capiz Jar Candle comes in a lustrous pink glass jar reminiscent of shimmering capiz shells. The candle is made of soy wax with a cotton wick; the 19 oz. size is $36.
Other favorites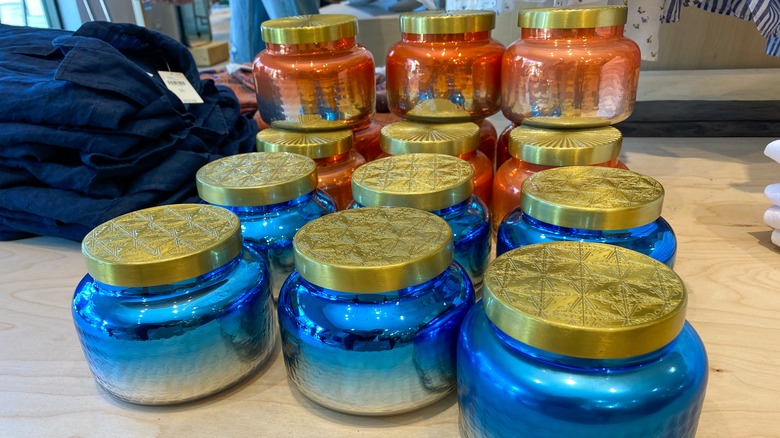 Joni Hanebutt/Shutterstock
The Boulangerie Jar Candle is designed and poured by Minnesota-based fragrance brand Illume. According to the official Anthropologie website, the company uses food-grade and all-natural ingredients. The scents in the Boulangerie collection are inspired by the tasty confections found behind a Parisian bakery or patisserie display case. They include Apricot Chantilly Cream, Angel Food, Vanilla and Fig, and Whipped Cream and Pear. Each soy-wax candle is contained in an antique reproduction French pot. The 6 oz. size is listed for $22. 
The beginning of Voluspa candles was developed in a California kitchen two decades ago, and the products are still handmade there. The company procures fine-fragrance quality ingredients globally and employs decorative, reusable vessels. The Voluspa Limited Edition Japonica Mini Candle is formulated with a coconut-wax blend and poured into a frosted textural glass jar. The line features six blends in a broad range from warm and earthy to fresh and citrusy. White lily, sugar cane, lavender, and vanilla pod are a few of the scent notes described. The 3.25 oz. version is available for $12.