25 Ideas To Make The Most Of A Small Walk-In Closet In Your Bedroom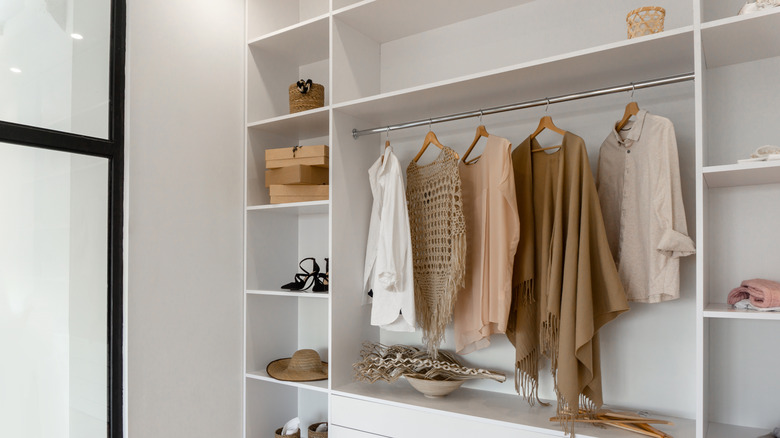 NataliaLavrivNedashkivska/Shutterstock
Having a walk-in closet instead of a reach-in can be a blessing, even if the closet is small. A walk-in will provide you with more wall and floor space. However, having a walk-in closet doesn't mean your clothes will magically be organized or that you'll instinctively know how to make the most of the space.
The Home Depot says that before tackling a closet renovation project, first thoroughly consider your closet needs. What will you be organizing in the space? Clothes? Accessories? Shoes? All of the above? Also, consider what aesthetic you prefer. Do simple wire shelves suffice, or do you want to mix different textures with baskets and bins? Do you think a custom built-in is worth the money? Knowing your needs before diving into renovations will help you achieve exactly what you desire. If you're looking for some ways to maximize the potential of your small walk-in closet, below are 25 ideas.
1. Declutter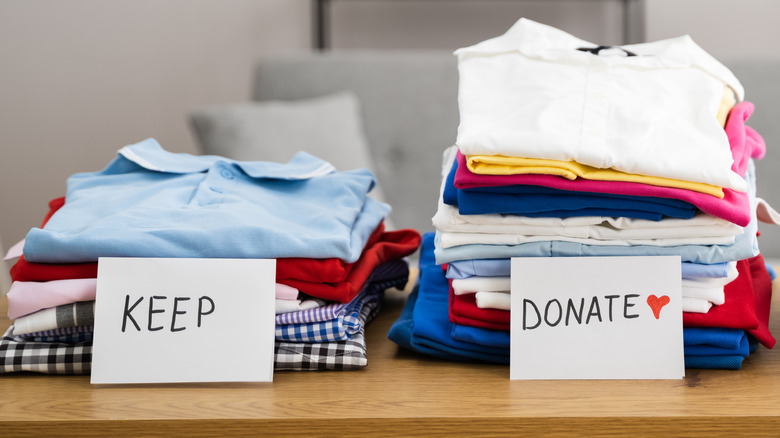 Andrey_Popov/Shutterstock
You probably don't want to hear this, but it's very important: start by decluttering. You can't make the most out of a closet that has too many items in it. Going through your closet and deciding what to keep and what to donate or throw away will help you pair down your items to only those you love.
2. Store away seasonal clothes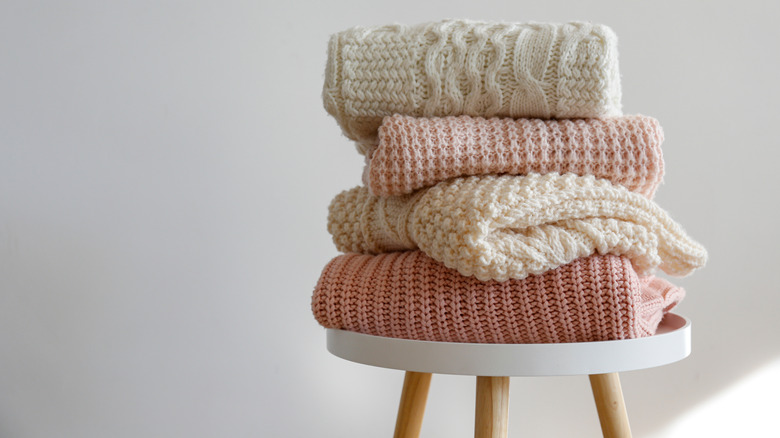 evrymmnt/Shutterstock
Another great way to add extra space in a small closet is by storing away your seasonal clothes. You could store your seasonal clothes in another area of your home, or you could keep the seasonal bins at the top of your closet.
3. Hang a shoe organizer on the door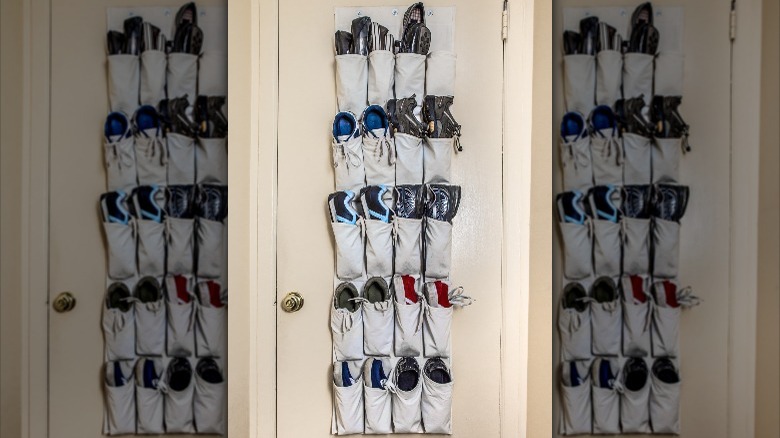 littlenySTOCK/Shutterstock
To make use of all the space in a small closet, don't overlook the inside of the door. If you're looking for an easy way to store your shoes, hang a shoe organizer over the door. These organizers could also store smaller items like gloves, scarves, winter hats, or socks.
4. Add a mirror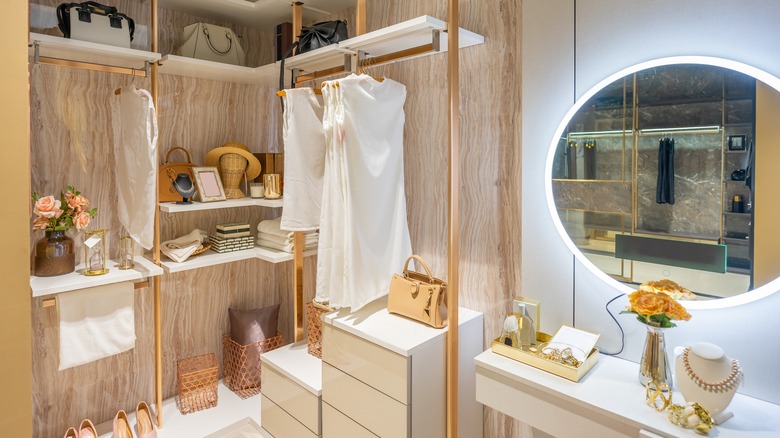 NavinTar/Shutterstock
If space allows, you could add either a hanging mirror or a floor mirror to your closet. While a mirror will help you pick out an outfit in the morning, it will also make your space appear larger. A mirror could also be hung on the inside of your closet door.
5. Use bins and baskets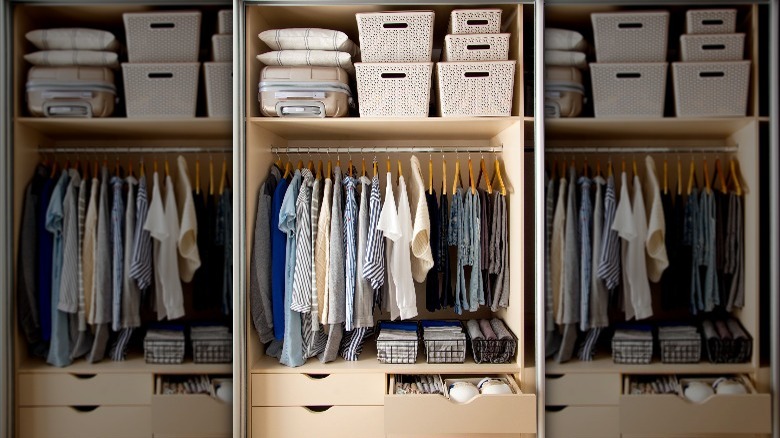 Kostikova Natalia/Shutterstock
Utilizing bins and baskets can be one of the best ways to keep your smaller items nicely organized. Not only will your items all be in one place, but they'll also be neatly tucked away and out of sight. Bins could be placed on shelves or on the floor to maximize your closet space.
6. Use open storage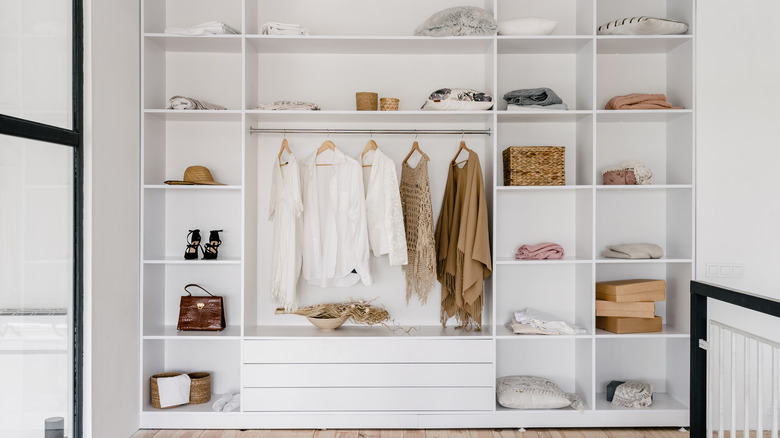 brizmaker/Shutterstock
On the other hand, you may find that storing your items out in the open is more useful for you. Placing items on open shelves will make them easily accessible and visible. You'll never forget about a hidden sweater or shirt again.
7. Rethink your hamper
Africa Studio/Shutterstock
It makes sense to place your hamper in the closet since that's most likely where you get changed every day. However, hampers take up a lot of space. If you need more closet space, you could relocate your hamper to your bedroom or bathroom, or purchase a smaller one. 
8. Purchase a jewelry organizer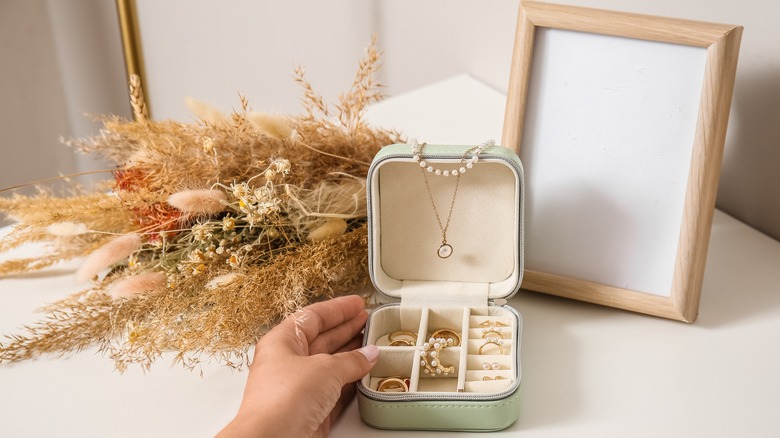 Pixel-Shot/Shutterstock
While jewelry could be organized on hooks in your closet, another idea is purchasing a jewelry box or organizer. This could help you keep track of all your delicate jewelry pieces while also minimizing the space they take up in your closet. The organizer could be placed on a shelf or inside a bin.
9. Add a chest of drawers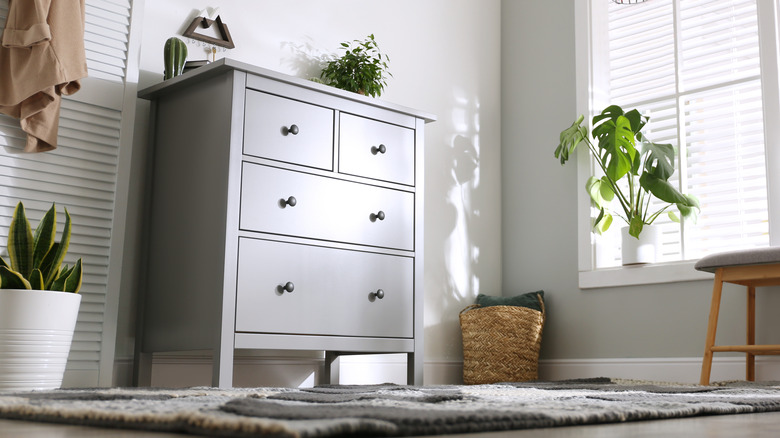 New Africa/Shutterstock
Folding your clothes instead of hanging them could also help you maximize the space in a small closet. If you'd rather have your clothes stowed away, consider placing a chest of drawers inside your walk-in closet.
10. And add drawer organizers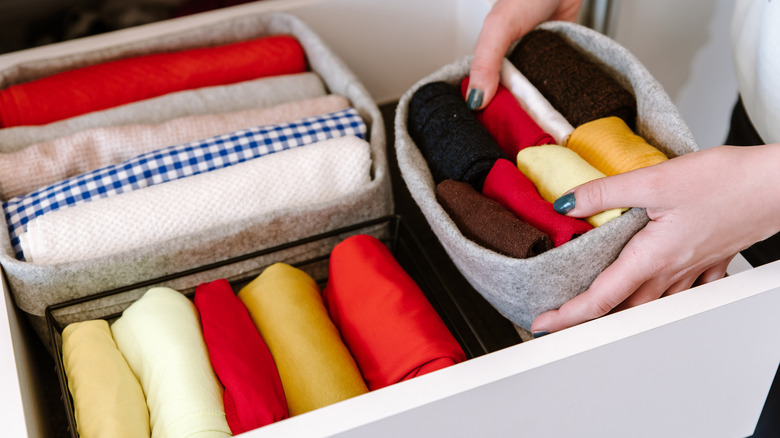 Damian Lugowski/Shutterstock
To get the most use out of your chest of drawers, you could also purchase drawer organizers. These will keep your items separate while being in the same drawer. This could also save you space because it will force you to compactly fold your clothes so they can fit inside the organizers.
11. Add a cube shelf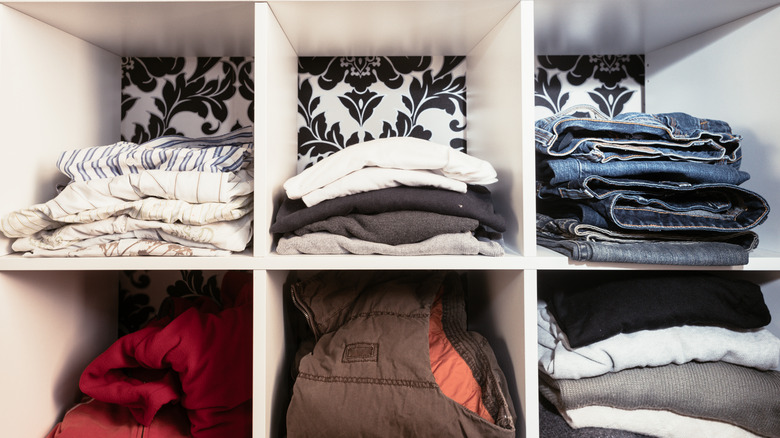 GillianVann/Shutterstock
A cube shelf can also be a great piece of furniture to add to your closet. Cube shelves could be used to store bins and baskets, or they could be used for open storage. They are fairly inexpensive and easy to find at the store.
12. Add a shoe rack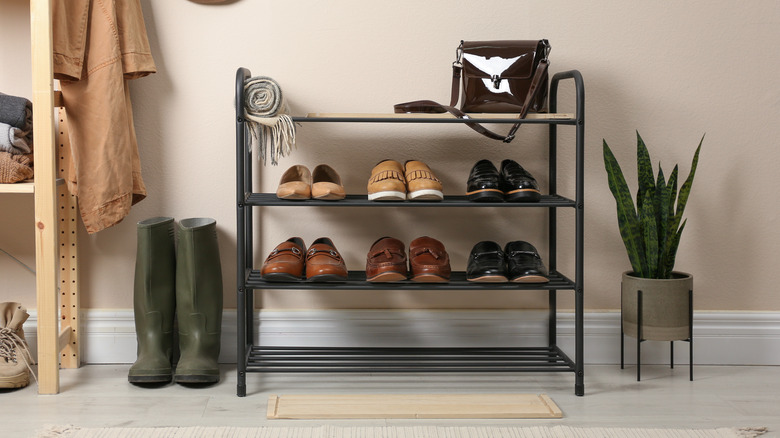 New Africa/Shutterstock
If you don't have shoe shelves or an over-the-door shoe organizer, you could place your shoes on a floor shoe rack. This will help keep your shoes organized and make them easily accessible.
13. Get custom built-ins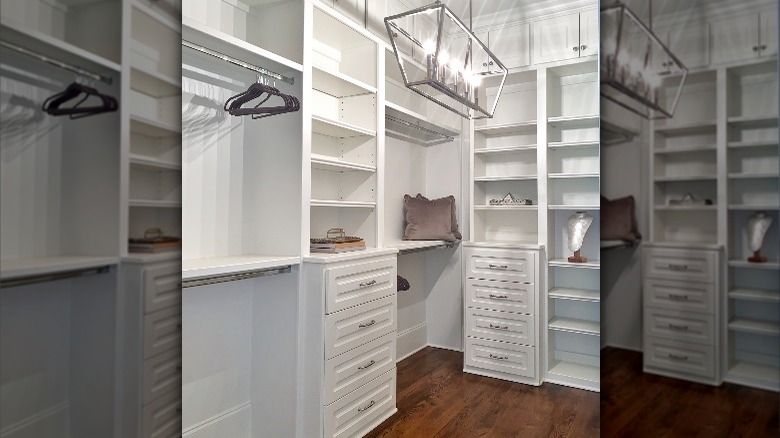 Mary Rice/Shutterstock
To truly maximize the space in a small closet, you could get custom built-ins. However, this option is fairly expensive –- it will most likely cost you at least a couple thousand dollars. To save some money, you could try DIYing closet built-ins with the help of IKEA shelves.
14. Replace your hangers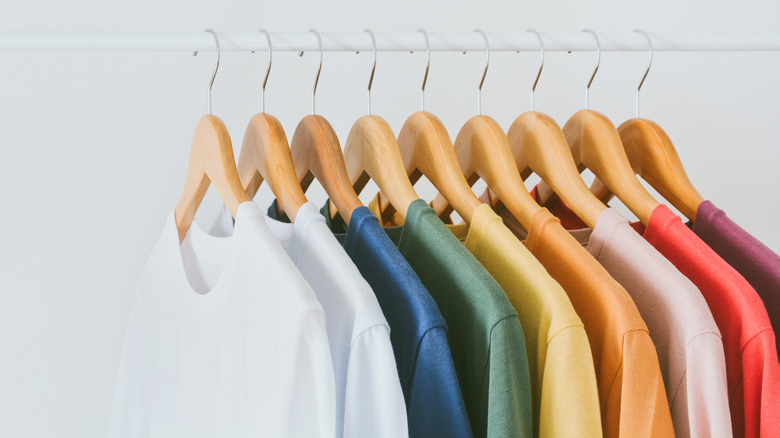 iamtui7/Shutterstock
The type of hangers you use could be doing your small closet a disservice. When choosing hangers, you'll want a slim design. However, wire hangers are slim, but they may damage your clothes. Wooden hangers will maintain your clothes but will also take up more room. A good middle ground may be plastic hangers. 
15. Hang your bags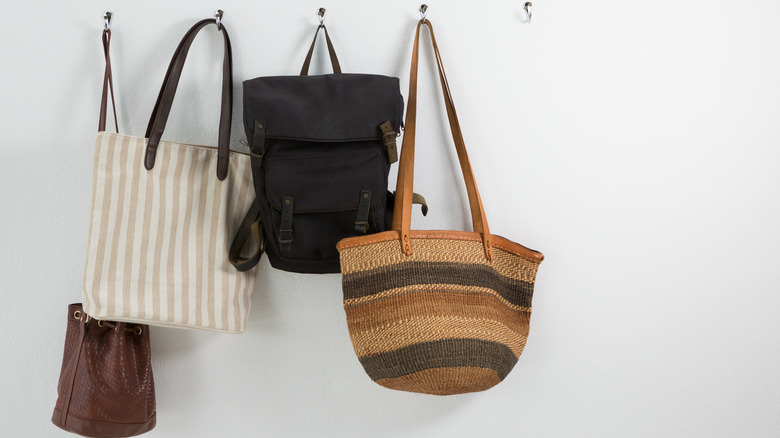 wavebreakmedia/Shutterstock
Bags could be stored away in bins or stacked on shelves. Another option is to hang your bags on hooks. Purses and other bags may take up the least amount of space if they are hung on the wall or on the inside of your closet door. Hanging your bags will also help them maintain their shape.
16. Hang your pants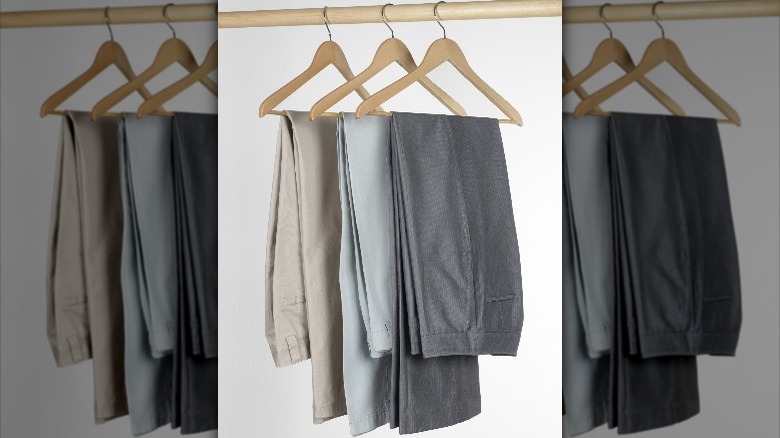 Phil Lenoir/Shutterstock
Hanging your pants may help you stay more organized. You could always fold your pants into a pile or in a drawer — but these options can get messy when you're trying to find a specific pair of pants. To save space and keep your closet organized, you could try hanging your pants on hangers.
17. Hang your hats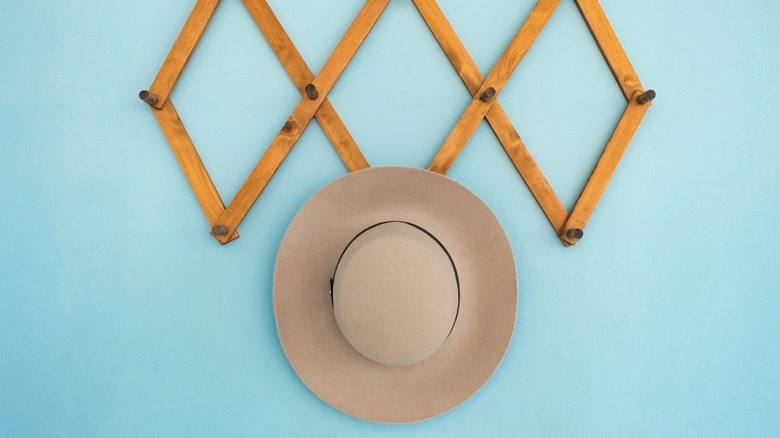 Demetrio Zimino/Shutterstock
You can also hang your hats on the wall in your closet space. This may be a better option than storing your hats in a bin because hats take up quite a lot of room. They will also be easier to see when hung on the wall. 
18. Make your daily items the most accessible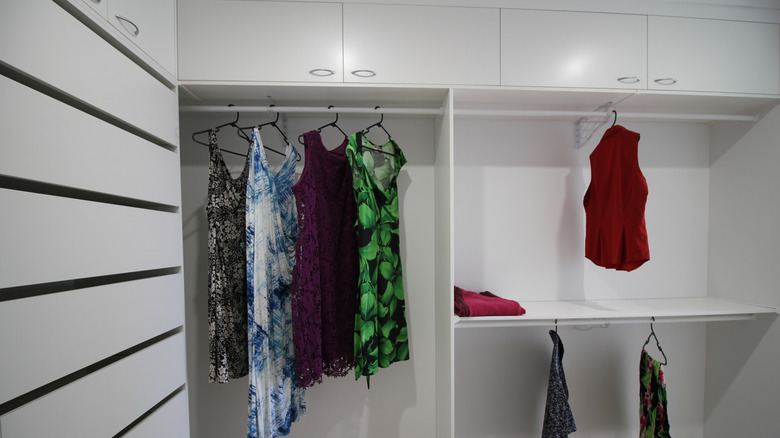 Falko-Hus/Shutterstock
To improve the functionality of a small closet, make sure you keep your daily items accessible. For instance, in the above closet, it wouldn't make sense to store items you use every day in the high drawers. Instead, keep items you use most frequently at eye level or below.
19. Place bins beneath hanging clothes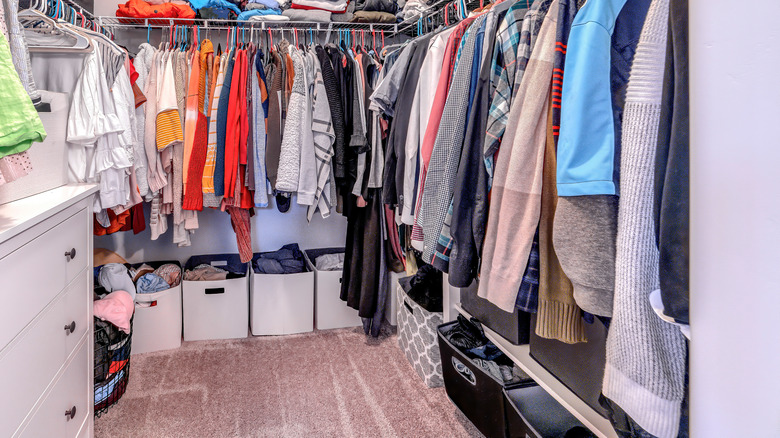 Jason Finn/Shutterstock
If you're really tight on space and aren't sure what to do, you could always use the empty space underneath hanging clothes for bins. You could use open bins without lids, as pictured, or you could stack bins with lids. Choosing containers that match your style can also make your closet space look more aesthetic.
20. Relocate coats to the coat closet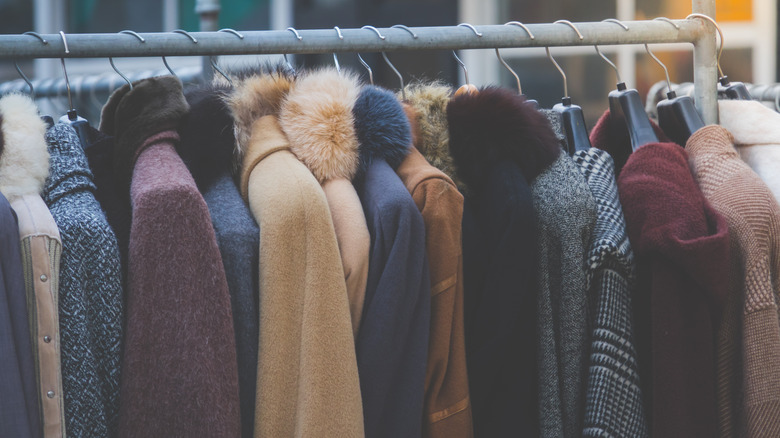 Ko Backpacko/Shutterstock
Another way to free up bedroom closet space is to relocate your coats. If your home has a coat closet, consider hanging these bulky items there. This will free up some much-needed space in the closet while also making it more convenient to slip your jacket on before leaving your house.
21. And your shoes, too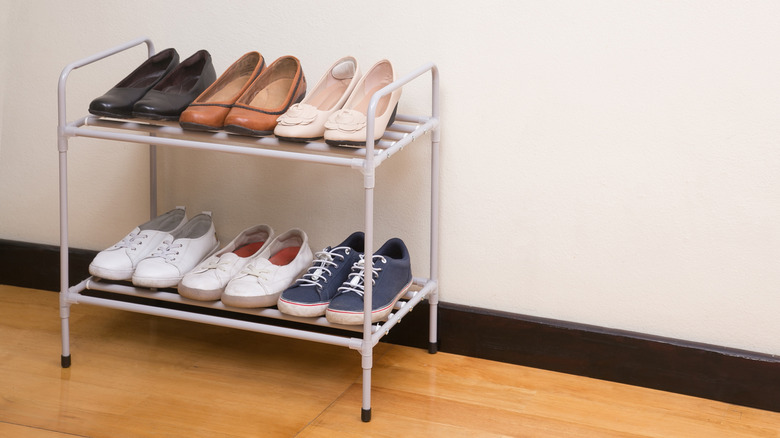 Venus Angel/Shutterstock
You could also relocate your shoes to your coat closet or entryway space. When doing this, be sure to keep your shoes nicely organized with an over-the-door or floor rack shoe organizer. Relocating your shoes could make it easier to slip on and off your shoes when leaving and entering your house.
22. Use all your wall space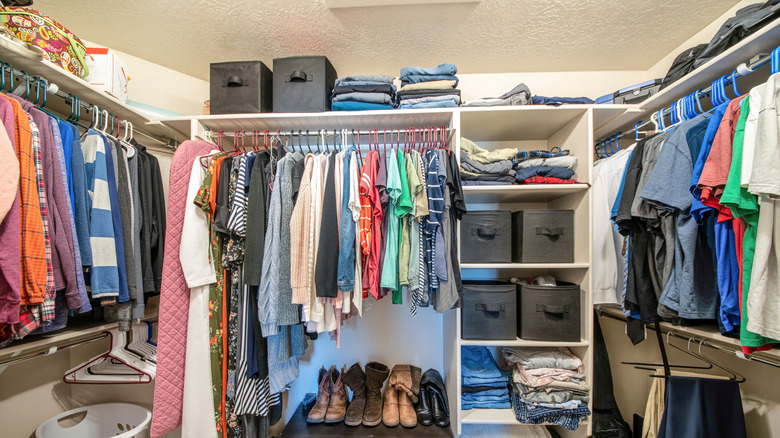 Jason Finn/Shutterstock
Utilizing every square inch of your wall space will help you maximize your small closet space. Consider using areas like the wall behind the door to hang accessories or other items. Adding hooks and shelves to every space in your closet will make it the most functional for you.
23. Organize your clothes by type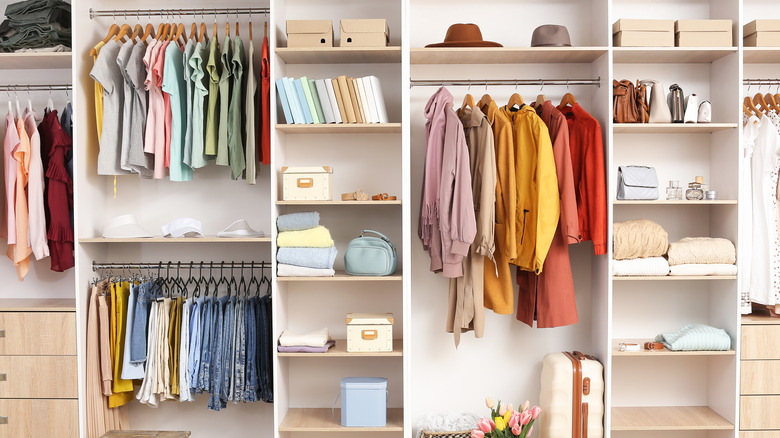 Pixel-Shot/Shutterstock
In small closets, organization is extra important. A great way to organize your clothes is by type. Hang all your casual shirts in one place and your blouses in another. Separate out your jeans from your work pants. Keeping things organized by type can make it easier to find the clothes you need.
24. Organize your clothes by color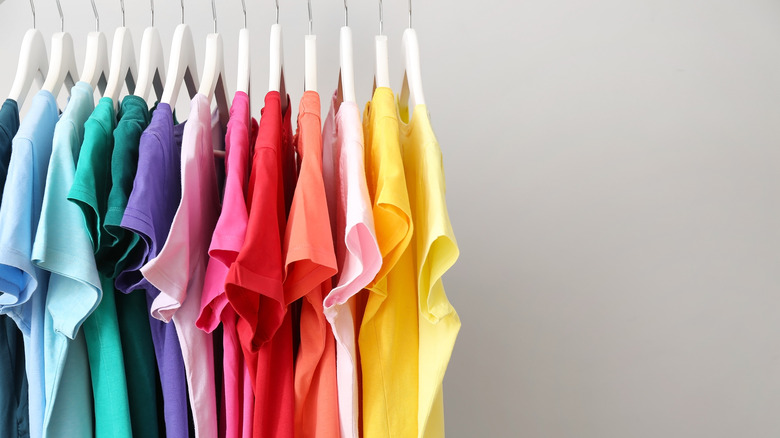 Pixel-Shot/Shutterstock
Another way to organize your clothes is by color. You could either line your clothes up in rainbow order or separate the neutral pieces from the colored ones. This could be especially helpful for those that have trouble creating outfits in the morning. 
25. Use all your vertical space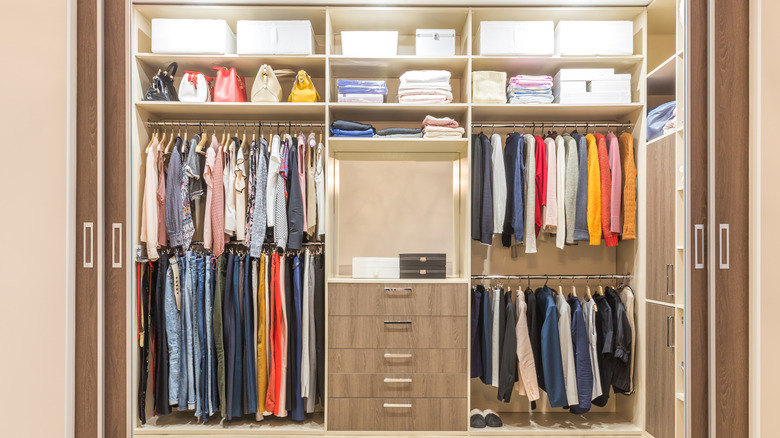 mariakray/Shutterstock
To make the most out of a small closet, be sure you use all the vertical space you can. The empty space above your shelves could be perfect for storing seasonal items, bags, or rarely used accessories.