Jenna Perusich Dishes On What It's Like Working With The Property Brothers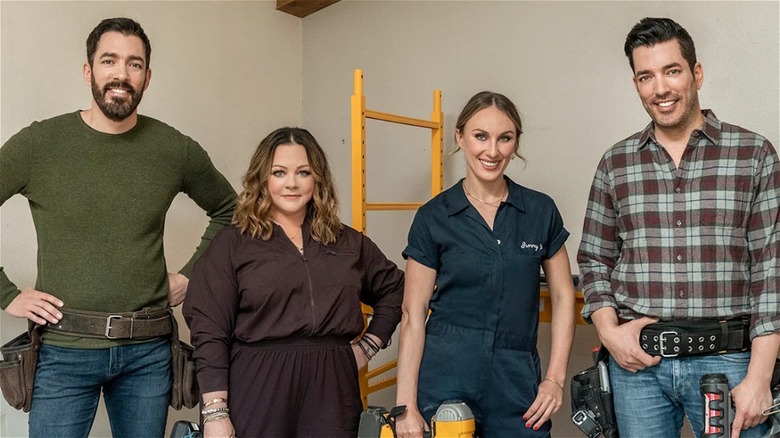 HGTV
If you've ever sat down to watch your favorite house flipping show on HGTV, chances are you're familiar with the Property Brothers. Canadian twins Drew and Jonathan Scott have made big names for themselves on the network throughout their multiple series — from their design show "Property Brothers: Forever Home" to competing in "Brother vs. Brother" and beyond.
Their newest project has been executive producing "The Great Giveback with Melissa McCarthy and Jenna Perusich." It isn't the Property Brothers' first time working with these two either. In 2020, they all designed a space together on an episode of "Celebrity IOU." Now, the actresses have their very own network show, and they wouldn't have dreamed of working with any other designers than the Scott brothers. "[They were] the best leaders to guide us into this world," Perusich said during an exclusive interview with The List.
Perusich, who is McCarthy's cousin and a successful actress in her own right, has always been impressed with how the Property Brothers tackle every project at hand. As soon as she signed on to host "The Great Giveback," she knew she was working with the best in the business. "I couldn't wish to work with anyone better," Perusich gushed, and there's something special she'll never forget about working with the Scott brothers, too.
The Property Brothers pay attention to details that many people miss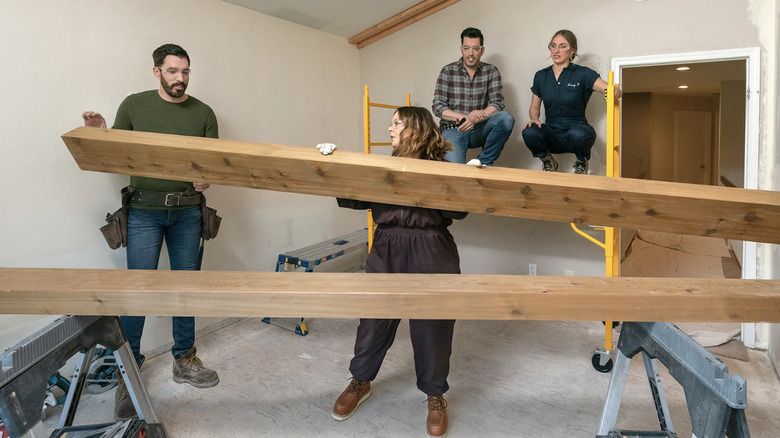 HGTV
Since working with the Property Brothers, there's always been something that has stuck out to Jenna Perusich. "What was so apparent from when we first started working together: They care," Perusich said. "And they are professional, and they have an eye, and they have an expectation that this is done really well, because this is someone's home."
There's a lot that goes into a home renovation, and while designing a space for someone else, the Scott brothers wanted to make sure every detail was exactly right for the big reveal. "They notice how an edging is on a piece of millwork, how something's lining up, how a beam is lining up in the corner," Perusich continued. "They notice those tiny little details, and that is really what makes the wow factor come to be when every little detail is polished."
Now that "The Great Giveback with Melissa McCarthy and Jenna Perusich" has wrapped up, all Perusich wants is the opportunity to work with the Property Brothers on another project. "We always talk about [how] we need to do a brother/cousin, brother/cousin challenge," Peruisch added — so who do we need to call in order to make this happen?
The final episode of "The Great Giveback with Melissa McCarthy and Jenna Perusich" airs tonight, July 25th, at 9:00 p.m. ET on HGTV.