The Least Expensive Cribs At Target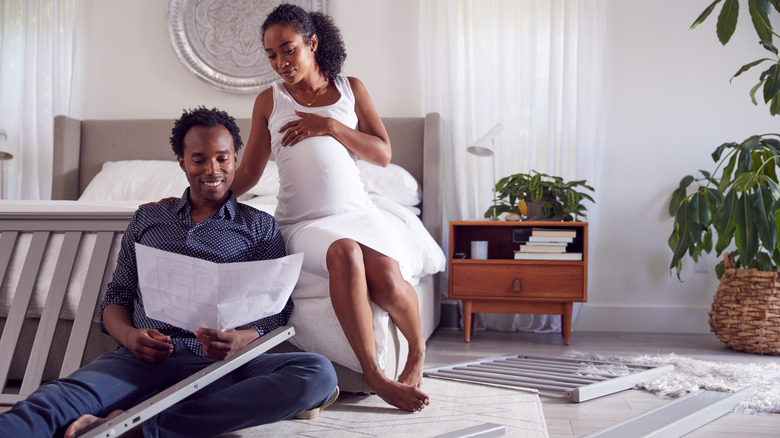 Monkey Business Images/Shutterstock
One major reality about babies is that they are absolutely expensive. From the necessities they need to all the toys they want, nothing comes cheap. In fact, according to New York Life, babies can cost anywhere $20,000 to $50,000 just within one year of their birth. Of course, this depends on location, income, and other things. However, it doesn't change the fact that having babies is no easy task, mentally, physically, and financially.
Luckily, some retail outlets have items available at a low cost; stores such as Target or Walmart are some of the most convenient places to buy the items you need for your baby. Of course, you can always thrift shop or buy secondhand items as well. However, if you want something new, these big box juggernauts won't disappoint.
Ranging from large items such as cribs and strollers to small items like pacifiers and diapers, there is no shortage of what these retailers have to offer. Still, these products, like one might think, are still costly. However, they are still lower in price than what you might find for sale at other large corporations. So if you're in need of a crib and are looking at Target, here are two of the least expensive options you can choose from.
Delta Children Adley's 3-in-1
The cheapest crib that Target appears to sell is the Delta Children Adley, a 3-in-1 crib that retails for less than $125. To make raising your child just a bit easier, while obviously being a crib, this multipurpose item also doubles as a toddler bed and a daybed. However, in order to convert this crib, a kit is needed that is sold separately. Overall, it's large in size, as expected, and is 55 inches wide, a little over 37 inches tall, and 31.5 inches deep. It also comes with a mattress support that can be placed in three different positions. However, the mattress itself is also sold separately.
Additionally, this crib also comes in three colors: Bianca white, dark chocolate, and gray. Currently, this item has a 4.2 on a five star rating scale and has been rated over 500 times. 65% of these ratings were five stars as well. It also has been recommended over 250 times with a rating of 89%. Out of a scale of 5, it rated 4.3 in ease of setup, 4.4 in safety, and 4.2 in design. Overall, this appears to be a good quality crib at a low price that will make your life a bit easier as your child continues to grow.
Storkcraft Pacific's 4-in-1 crib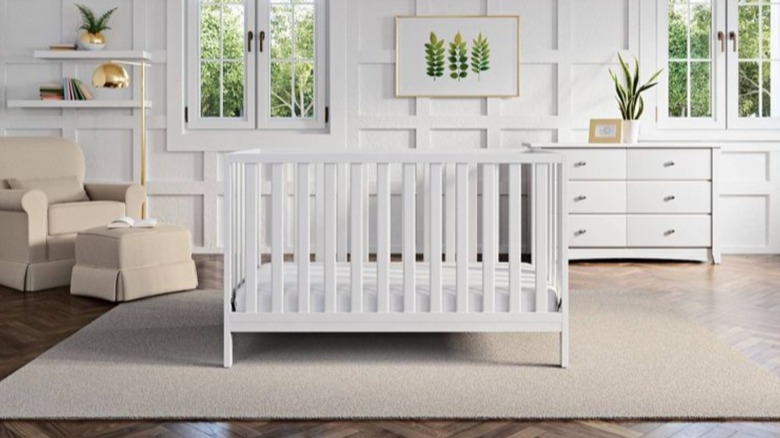 Target
If you're looking for a crib with an additional feature, Target sells a Storkcraft Pacific 4-in-1 piece that will likely meet your needs. Costing a little more, the retail price for this crib is just under $140. Aside from the crib feature, this item also has a toddler bed, a daybed, and a full-sized bed. Of course, in order to convert to any of these, you will need a kit as well as the mattress desired; both of these are sold separately. It also comes with a mattress support with three adjustable positions. The crib measures at almost 54 inches wide, a little over 33 inches tall, and around 29 inches deep.
Much like many others, this baby bed comes in a variety of colors including white, black, and gray. Therefore, no matter what theme your nursery is, you're sure to find a color that will match with it. Out of a five star rating, this crib falls at a 3.8 as it has only been rated 16 times. Additionally, 38% of these ratings were five stars. It also has a recommendation rate of 83% with a total of six recommendations. On the standard five star scale, it rated 5.0 in setup, 4.3 in design, and 4.7 in safety. This is a solid crib for parents that want their bed to grow with their child.