15 Affordable Fencing Ideas To Enclose Your Yard
Putting a fence up around your yard isn't necessarily easy — especially if you plan on building a fence yourself in order to save some money — but it can be key if you want your outdoor space to also be a private sanctuary. Moreover, a fence might be necessary if you have pets that you want to keep safe in your yard.
When it comes to the cost of a fence, there are various things to consider such as how tall and long you need your fence to be and what kind of material you want to use. That's not to mention the cost of labor. Beyond, Home Depot notes that the amount of money needed to pay for a fence may also depend on things like permits and where you're located. While that means the exact cost of your fence can seriously fluctuate depending on various factors, Forbes Adviser notes that the average privacy fence costs in the range of $3,300. With that in mind, you might be interested in finding a cheaper option. In that case, check out the following affordable fencing ideas that will enclose your yard.
1. Use branches as fence posts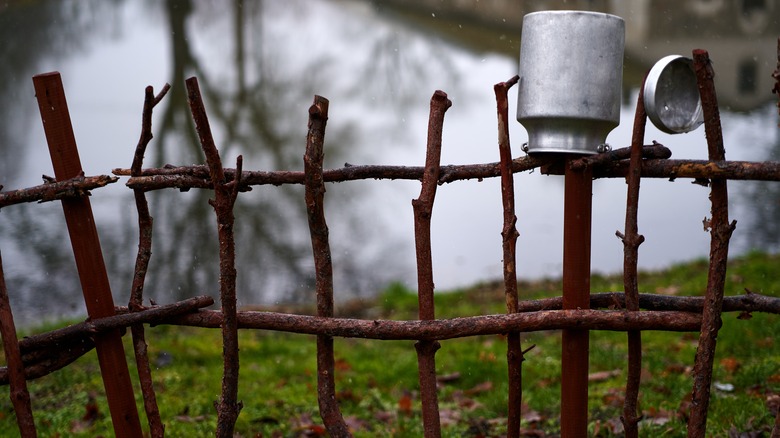 nadia_if/Shutterstock
When you go for a walk, you might want to start picking up any sturdy branches and attractive sticks that you spot along the way. Or, if you have a fair share of trees on your property, then you can even collect them from your own yard. When you have enough stored away, you can use them to create an affordable fence. The only things you might end up having to pay for are nails, screws, or wire and potentially cement to keep the posts in place.
2. A low metal fence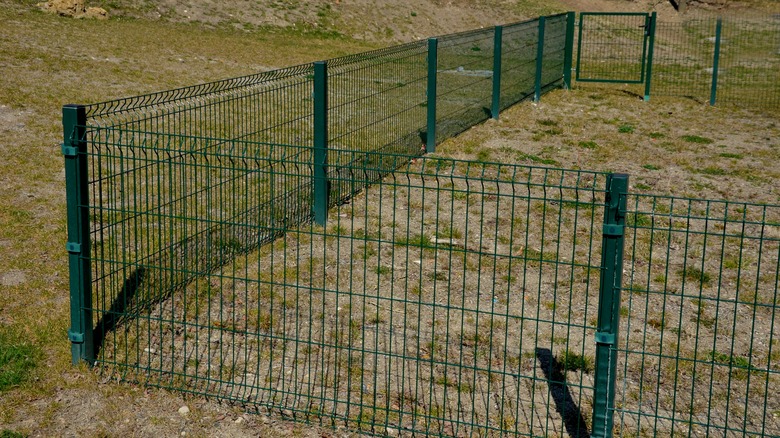 Beekeepx/Shutterstock
A metal fence might be all that you need to enclose your yard. While you could opt to attach the fence wire to metal posts, you could also choose to use wood posts instead depending on what you have available or are able to find at a reasonable price. You can also shave a few bucks off of your budget by keeping the fence low so that it doesn't require as much material.
3. Fabric and wire fence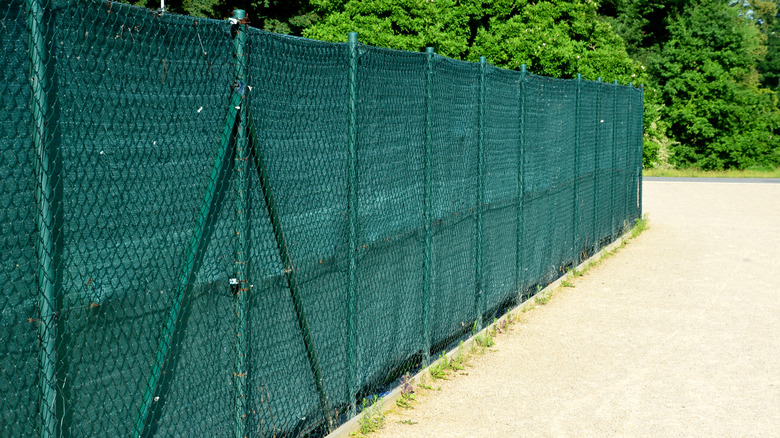 Beekeepx/Shutterstock
If you want to enclose your yard with an affordable fence that ensures plenty of privacy, then you should consider putting up a wire fence with a lining of outdoor fabric. You could opt for both green wire and green fabric, which will blend in with the grass, trees, and plants around your home, or you can go with a colorful fabric such as a beautiful blue, lilac, or purple, a stunning sunny yellow, or a combination of pleasant shades.
4. Fence with spaced-out posts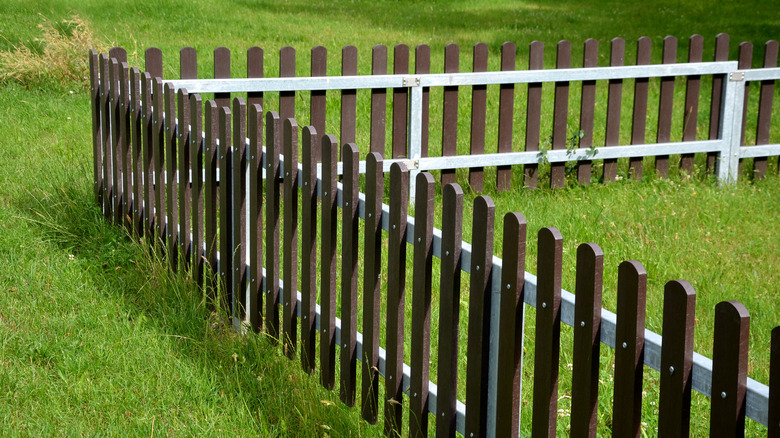 Beekeepx/Shutterstock
When designing your new fence, you may want to consider intentionally leaving some room between each post. Not only will this give the fence a unique look, but you'll also be able to save on the cost of materials since you won't need as many panels. You can save even more money by opting for a fence that's on the lower side, which may not offer a lot of privacy, but will enclose your yard.
5. Alternate fence posts
You can also save money on the cost of wood by strategically spacing out your fence posts, and by using some slats that are smaller than others. While it's a practical, budget-friendly choice if you have varying lengths of wood, it can also add an extra level of visual interest to the look of your fence. The fence posts can also be as high or as low as you want which means that you could opt for a fence that's as tall as you are or one that just comes up to your knees.
6. A wood and wire fence
Wooden posts with wire strung across are all you need for this affordable fence. The thickness and number of wire lines that make up your fence will depend on what you might want to keep in or out of your yard, and how much money you have to put toward materials. You can also choose to save money by leaving both the wire and posts unpainted.
7. Painted lattice fence
Lattice often costs less than slats or panels and can be just as pretty thanks to its crisscrossed design. In addition, if you have some money left in the budget to purchase paint, then you can personalize the design. Depending on your preference, the color of your home, and any potential limitations in your neighborhood, you could choose anything from white to steel grey to neon pink.
8. Woven willow wicker fence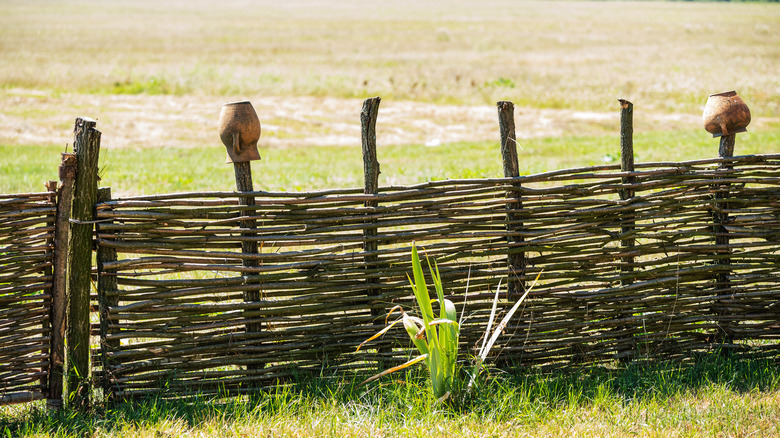 Lesia Kapinosova/Shutterstock
Wicker can be used to make functional and fabulous pieces like baskets, furniture, and, yes, an affordable fence. If you opt for something like willow wicker or a similar material that both looks great and is cheap or free, then the lovely long strands can be woven into a full panel. The stronger the wicker, the more secure your fence will be while a tighter weave will provide more privacy. It may take a few hours (or days) to create this fence, but what you spend in time you'll surely save in money.
9. A classic chain link fence
A chainlink fence can be a great option if you need something that can handle variations in the landscape. Relatively affordable and pretty easy to install, you simply need metal posts and a roll of pre-made chainlink. This type of fence won't block the view into your yard and will allow you to see out, which is something that your dog might appreciate. 
10. Flexible mesh fence
On top of a mesh fence being affordable, homeowners love that it's flexible and offers a view of what's on the other side. At the same time, mesh fences are available in a variety of colors, heights, and lengths. If you have little ones or pets, you might also like the fact that mesh is on the softer side, which means that it won't hurt if they happen to run into it.
11. A PVC fence
PVC fences aren't always an option that's more affordable, but when wood prices rise, it might be a better choice. The ability to shape PVC allows companies to create pannels that resemble wood or mimic metal. At the same time, you can choose an affordable PVC fence in whatever style or size you want in order to get one that best suits your home.
12. Chicken wire fence
Chicken wire can do more than just keep farm animals from roaming too far from home. It can also be used to create an affordable fence around your yard. Along with being secure — if set up and anchored well — chicken wire is also thin which means that you may barely notice it. Chicken wire can be combined with a larger wire for a little more stability or be used on its own when secured between fence posts.
13. A tree trunk fence
If you have easy access to trees or logs, then you can use them to create a unique fence. Simply remove the branches and leaves before taking off any bark that isn't in great shape. Then use smaller trunks or ones that have been cut in half as posts for your fence and place the larger trunks diagonally between them.
14. An antique fence
While antique fences aren't necessarily cheap, you might be able to get one for a bargain if you restore it yourself. That may require some research to determine what size and kind of fences are available to you, and choose one that fits your requirements and your budget. Then, it's time to roll up your sleeves, sand off the old paint, get rid of the rust, make repairs, add new paint, and install.
15. Reclaimed wood or barn board
Although new wood can be costly and might not suit your budget, you can achieve a similar look at a more affordable price by opting for reclaimed wood. While you want to make sure that any secondhand wood you purchase is in decent condition, there's no doubt that aged wood can boast a lot of character. Wood that has been reclaimed from an old house or aged barn board can be used to make a stylish yet solid fence.